Give the foodies in your life something tasty for the holidays. Here are over 30 homemade food gift ideas, including baked goodies, homemade jams and jellies, and other edible Christmas gifts.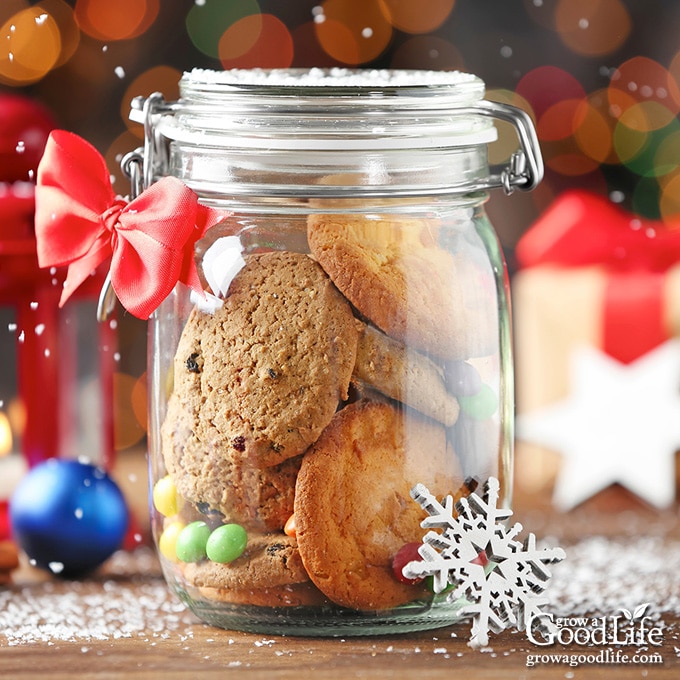 It's the time of year to think about the perfect holiday gift for friends, co-workers, or family. Need some gift ideas? Consider something from the heart of your home — the kitchen.
Homemade food gifts are always remembered because they are personal and come from the heart. Discover how to make the perfect homemade edible gifts for friends, co-workers, and family with these ideas:
Food Gifts from the Kitchen
Make your friends ooh and ahh with homemade food gifts this holiday season. Create some edible presents that everyone will enjoy. Here are some culinary inspired gifts that you can make in your kitchen.
Homemade Jellies and Jams
Giving gifts made from homegrown ingredients from your garden, or local farmers' market makes the present extra special. If you preserve your own food, you may already have plenty of jam and jelly to give away. If not, it is easy to make a batch with these canning recipes.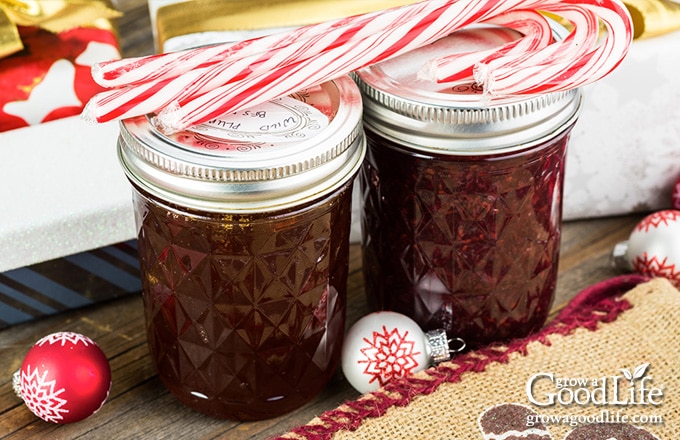 You don't even need a special water bath canner, you can use a large pot to boil the jars and make them shelf stable. Choose a pot that is tall enough to cover the tops of the jars for several inches, plus a few more inches to prevent boiling water from splashing onto your stove. Place a small metal cooling rack on the bottom of the pot to hold the jars up and away from direct heat, so they won't break. You may need to can in batches depending on the size of your pot.
Spiced Apple Jelly
Apple jelly is an old-fashioned homemade gift that's perfect for the holiday season. Making it is a relatively simple process, and all it takes is some apples, lemon juice, sugar, water, and warm spices. Follow the recipe below.
Sweet Cherry Jam
Cherry jam is a sweet treat that is perfect for the holiday season. Imagine your receiver smiling as they open a jar of homemade cherry jam, knowing that someone who cares spent time making this for them. If you can't find fresh cherries, substitute frozen or drained canned fruit to make this recipe.
Honey Sweetened Grape Jelly
Grape jelly is an easy way to make perfect gifts for friends and family. This is a simple recipe for making grape jelly that can be gifted to friends and family on Christmas or any time of the year. The best part is you can use bottled grape juice!
Maple Vanilla Peach Jam
Jam is a sweet and easy dessert that can be made with fresh, frozen, or canned fruit. This peach jam is sweetened with maple syrup and vanilla for a delicious jam that can be used as a topping for baked goods, smeared on toast, or swirled into yogurt.
Strawberry Jam
Crafted with care, this jam captures the essence of sun-ripened strawberries, whether fresh or frozen, ensuring every spoonful bursts with natural sweetness. What sets our strawberry jam apart is its low sugar content, letting the strawberries' natural goodness shine. It's a taste of summer that can be savored all year round.
Blueberry Jam
Handcrafted from fresh or frozen blueberries, this jam showcases the luscious, sweet-tart flavors of blueberries at their finest. With just the right touch of sweetness and a low sugar content, it's a delightful treat for your loved ones.
Raspberry Jam
Crafted from fresh or frozen raspberries with minimal added sugar, this jam is a delightful balance of sweet and tart. Whether you're gifting it during the holiday season or savoring it yourself, our raspberry jam is a vibrant burst of flavor that captures the essence of homemade goodness.
Home Grown Dried Herbs
If you grow your own herbs, dehydrate extra so you can give some away as gifts. Package them up in sweet jars or tins and add a decorative label. Dried oregano, parsley, rosemary, garlic powder, red pepper flakes, and onion powder have many uses in the kitchen, and your receiver will think of you every time he or she reaches for the jar.
• See How to Dry Herbs for more details
Garlic Powder and Onion Flakes
If you have someone on your gift list that loves to spend time in the kitchen experimenting with recipes, make garlic powder, onion powder, or onion flakes and jar it up as a gift for your favorite cook.
Herb and Spice Blends
You can use dehydrated herbs from the garden or purchase quality dried herbs and spices in bulk and create homemade seasoning blends.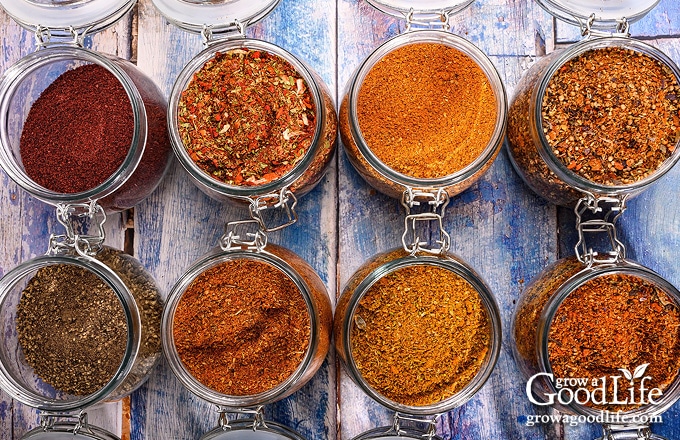 Here are some herb and spice combos to get you started. Makes about 2 ounces:
Cajun Spice Blend: 2 tablespoons cumin powder, 2 tablespoons ground coriander, 2 tablespoons paprika, 1 tablespoon dried oregano, 1 teaspoon black pepper, 1 teaspoon cayenne pepper.
Chili Seasoning: 3 tablespoons chili powder, 2 tablespoons paprika, 1 tablespoon cocoa powder, 1 teaspoon Mexican oregano, 1 teaspoon sugar, 1/2 teaspoon cumin, 1/2 teaspoon ground coriander, 1/4 teaspoon red pepper flakes, 1/4 teaspoon ground black pepper, and 1/8 teaspoon salt
Curry Blend Seasoning: 2 tablespoons cumin powder, 2 tablespoons ground coriander, 2 tablespoons ground turmeric, 1 teaspoon ground cardamom, 1 teaspoon ground cinnamon, and 1/2 teaspoon cayenne pepper.
Greek Spice Blend: 2 tablespoons dried basil, 2 tablespoons dried oregano, 2 tablespoons dried parsley, 1 tablespoon garlic powder, 2 teaspoons dried rosemary, 1 teaspoon dried thyme, 1 teaspoon ground pepper, and 1/2 teaspoon ground nutmeg.
Italian Seasoning: 2 tablespoons dried basil, 2 tablespoons dried oregano, 1 tablespoon dried parsley, 1 tablespoon dried thyme, 1 tablespoon dried rosemary, 1 teaspoon garlic powder, and 1 teaspoon onion powder.
Baked Presents
Homemade sweets, cookies, and baked goods are always appreciated presents and hostess gifts. Wrap up these treats in decorative cellophane gift bags or tins, dress them up with ribbons and labels, and give them as festive food gifts to family and friends.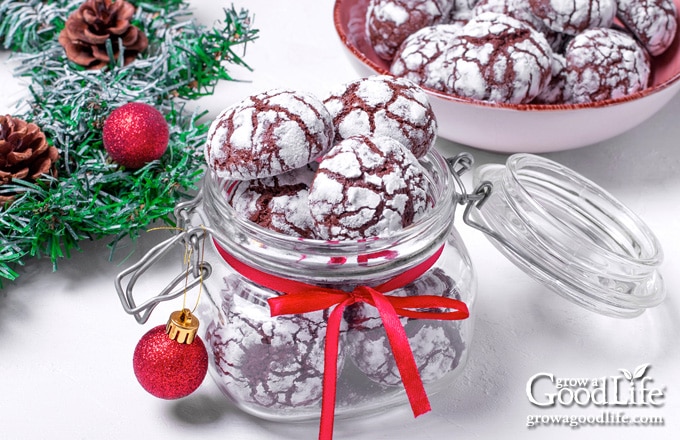 Chocolate Crinkle Cookies
Chocolate crinkle cookies are a traditional holiday treat that never seems to go out of style. These fudgy chocolate cookies are coated with powdered sugar before baking. As the cookie bakes, it cracks into a festive black and white cookie. Read on for the full recipe and step-by-step instructions to make chocolate crinkle cookies.
Old Fashioned Gingersnaps
Gingersnap cookies are a nostalgic favorite that is perfect for gifting in winter or any time of the year! They are flavored with warm spices, including ginger, cinnamon, cloves, and molasses. Gingersnaps are a delicious cookie enjoyed with coffee, tea, or as an after dinner treat. The crispy structure makes them an easy cookie to package as gifts.
Soft Molasses Cookies
Molasses cookies are a delicious sweet treat that will satisfy any cookie craving. They can be given to friends, neighbors, teachers, or family members as a great gift for the holidays. The ingredients for this recipe include traditional holiday flavors such as cinnamon, cloves, nutmeg, and molasses, and make a soft cake-like cookie that is easy to package as gifts.
Toasted Almond Anise Biscotti
Biscotti is a delicious Italian cookie that makes the perfect gift for friends and family alike. These toasted almond anise biscotti are a tasty, nutty treat perfect for snacking or as an accompaniment to coffee or tea. As an added bonus, this recipe can be made in advance, giving you more time to focus on the people you're baking for.
Oatmeal Chocolate Chips Cookie Mix in a Jar
A jar of cookie mix is a fun gift for any occasion. It's inexpensive, creative, and easy to make. It's also a great idea for someone who has everything because it can be personalized with the recipient's favorite flavors. This oatmeal chocolate chip cookie mix in a jar is sure to please anyone who loves cookies. Plus, it makes the perfect hostess gift!

Homemade Zucchini Bread
Warm hearts and delight taste buds with the gift of our homemade zucchini bread. Crafted with care, this moist and flavorful loaf is a testament to the goodness of home-baked treats. Share the warmth of your kitchen and the love you put into each slice by gifting homemade zucchini bread.
Homemade Vanilla Extract
One of the most personal presents you can give someone who loves to bake is a bottle of homemade vanilla extract. Making vanilla extract is easy and fun, and the taste is so much better than anything you can find in stores. Homemade vanilla extracts need at least 2 to 4 weeks for flavors to infuse and develop fully. Start making these early and you will be ready to bottle several up to give to someone special.
Homemade Pickled Foods
Homemade pickles are the perfect food to give as a gift to the pickle lover in your life. They can be prepared in large batches well in advance and preserved in jars for easy storage. Dress up the jars with cute labels, ribbons, fabric, and attach a pickle fork. It's sure to be appreciated, as this is one gift that nobody can buy in the store!
Pickles are a great way to explore home canning. All you need are canning jars, lids, and a safe recipe for home canning. Like jellies and jams above, you can use a large pot instead of a water bath canner to process the jars and make them shelf stable.
Pickles need time for the flavors to develop. Make these pickles ahead of time, or tell the receiver to let the jar sit on the shelf for a few weeks before opening the jar. Here are some popular pickle recipes:
Bread and Butter Pickles
If you know someone who likes sweet flavors, then bread and butter pickles are the ones to include in a gift basket. Bread and butter are a type of sweet and sour pickles made with cucumbers, salt, vinegar, sugar, and pickling spices. The sweetness from the sugar balances the tartness from the vinegar.
Kosher-Dill Pickle Spears
Classic kosher dill pickles are a popular type of pickle that boasts a salty, vinegary, and bold dill flavor that will appeal to most pickle lovers on your list. These pickles are usually sliced long-ways into spears to make them easier to eat right from the jar or to garnish a burger or sandwich.
Pickled Red Onions
Everyone loves pickled red onions, but not everyone has the time to make them. A jar of homemade pickled red onions is a great option to share with your foodie friends. They are an excellent condiment that can be used in so many ways, such as a salad or sandwich topping, and adding extra color and flavor to tacos. These jars make a great gift because they last longer on the shelf and can also go into the refrigerator once opened.
Dilly Beans
In this recipe, fresh string beans are pickled using a salty brine and generous amounts of garlic, dill, and red pepper flakes for a little heat. They are delicious for snacking right out of the jar, and make a great side to any meal, or on a charcuterie board. Gift a jar to someone who appreciates the dill side of pickled delights.
Candied Jalapeños
These candied jalapeños make an unforgettable homemade gift perfect for those with an adventurous palate. Each jar is filled with the perfect balance of heat and sweetness, making it a versatile condiment for various dishes. Whether paired with cheese and crackers, added to sandwiches, or used to elevate recipes, these candied jalapeños will surely be a hit.
Giardiniera Pickled Vegetables
For the pickle enthusiast in your life, our Italian-style pickled vegetables are a gourmet delight. This medley of colorful and crisp vegetables, packed with a harmonious blend of flavors and a hint of spiciness, makes for a thoughtful and delicious gift.
Pickled Garlic
Looking for a unique and pungent homemade gift that's sure to leave a lasting impression? Our pickled garlic is the answer. Each jar is filled with plump garlic cloves that have been transformed into savory, tangy, and slightly crunchy morsels of flavor. It's an excellent addition to any food lover's pantry. Whether used to add a zesty kick to your favorite dishes or savored as an irresistible snack, our pickled garlic is a versatile and memorable gift. It's the perfect choice for those who appreciate the bold and aromatic charm of garlic in its pickled form.
Other Edible Christmas Gifts
Consider gifting any DIY food gift you can make in the kitchen. Any custom crafted homemade edible gift will be loved and appreciated by your friends, family, and coworkers.
Bourbon Cherries
Giving bourbon cherries as a holiday present is an old-time custom that we need to revive! Infusing jars of pitted dark sweet cherries with bourbon produces a fruity concoction that can be used for desserts, drinks, or enjoyed fresh from the jar. Make these well in advance so the fruit has time to infuse, and decorate with a label and holiday ribbon. They are so good that you'll want to save a few jars for yourself.
Homemade Salsa
This jalapeno-tomato salsa is easy to make and can be given away as gifts. It also tastes great with fresh tortilla chips or on top of nachos. Home-canned salsa is a good choice for a food gift because it doesn't need to be refrigerated, and it has a long shelf life.
Homemade Applesauce
Celebrate the taste of the orchard year-round with our homemade canned applesauce, the perfect gift to warm the hearts of your loved ones. Each jar is a jar is a taste of homemade goodness that brings back memories of family gatherings and cozy autumn afternoons.
DIY Culinary Kits
Are you overwhelmed with all the ingredients and instructions needed to make your own homemade food gifts? Then consider these easy to use kits. Each kit contains the main ingredients, step-by-step instructions, and containers to make your own homemade food gifts.
Ways to Package Homemade Gifts
Homemade food gifts can be hard to package in a way that looks thoughtful and attractive. The secret is to get creative with your packaging! There are plenty of ways to package your creations for gift giving, and we'll go over a few options here:
Dress Up Jars
I love preserving extra salsa, jam, and jelly each year for gift giving. I dress up the jars with fabric, labels, ribbons, and package them up in gift baskets along with some homemade cookies, breads, and other complimentary specialty items.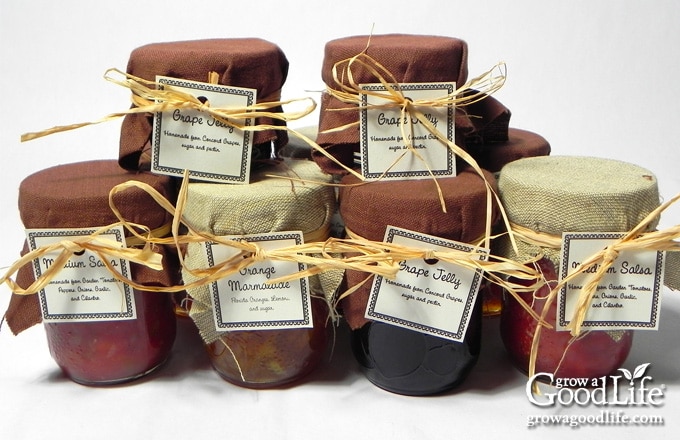 Gift Bags
This is my favorite way to package up homemade goodies as gifts. Paper and cellophane gift bags come in so many sizes and colors and can be dressed up with ribbon, tags, and stickers. Choose a gift bag that will easily hold the items you are packaging, wrap each item in a contrasting colored tissue paper, and nestle it into the bag.
Gift Baskets
Gift baskets are fun because they can be mixed and matched in any way you choose. You can simply arrange several types of homemade items into a gourmet gift basket, or build your basket around the item you are gifting. For example, if you are giving jellies or jams as a gift, include a homemade loaf of bread, and a couple of cute jam spoons. If you are sharing jars of homemade salsa, include a few bags of artesian tortilla chips, and some festive looking dried peppers.
To make your basket, first layer something to cushion and hold the items. You can use some colorful kitchen towels, shredded kraft paper, or crumple up some tissue paper. Begin to build your basket by placing the tall items in the back, and working in smaller items towards the front. Fill in with Christmas ornaments, pinecones, peppermint candy canes, and more shredded paper to secure the items. You can go wild add a few apricots, apples, oranges, small bags of nuts, fudge, truffle, and caramels. Wrap the basket with clear cellophane or tulle, and add a pretty bow.
Cookie Tins
If you are gifting cookies, then cookie tins are the way to go! Place a layer of parchment paper on the bottom, and arrange stacks of cookies to fill the tin. Add another layer of parchment paper, and some crumpled tissue paper or popped popcorn to help cushion the cookies and prevent breakage. Cover and add ribbon and a gift tag. I like to attach a vintage Christmas ornament to the tin to dress it up a little.
—
What homemade gifts will you give this year? Let us know in the comments.
You May Also Like:
Gifts for the Home Canner on Your List: Whether you're shopping for a seasoned canner or someone just starting their preserving journey, our curated list has the ideal gifts. Simplify the lives of home canners with thoughtful presents that enhance their culinary adventures. From essential canning equipment to kitchen tools that spark creativity, our gift guide has it all. Your thoughtful gesture will be cherished in every jar they fill and every meal they prepare.
10 Cookie Mix in a Jar Recipes eBook
Homemade gifts are always appreciated because they come from the heart. Even if you are not crafty, you can give DIY gifts to your family and friends with these easy recipes for making cookie mix in a reusable jar.

This article was originally written November 16, 2015. It has been updated on October 31, 2023.