There are many ways to dry herbs so that you can enjoy them all year. Learn when to harvest and how to dry herbs to preserve their essential oils for the greatest flavor intensity and medicinal properties.
There is nothing better than the flavor and aroma of herbs harvested fresh from the garden. I really miss it when the garden season is over. While I do grow many herbs in containers over the winter to use in cooking, I also like having plenty of dried herbs on hand. Most of the flavors of fresh herbs will be lost in meals that are simmered or cooked for a long period of time.
The intense and concentrated flavor of dried herbs works better for meals that are cooked slowly such as soups, stews, and roasts. Instead of purchasing dry herbs and teas, I try to grow, harvest, and preserve my own.
How to Harvest Herbs for Drying
Herbs can be harvested as needed throughout the growing season once there is enough foliage on the plant to support growth. Snipping the plants regularly help to encourage new growth and keep the herbs healthy. Limit these harvests to less than one-third of the plant so it keeps growing and producing more foliage. The ideal time to harvest most herbs for the best flavor is early in the morning right after the dew evaporates, but before the sun's rays evaporate the aromatic oils.
When to Harvest Herbs for Peak Flavor and Aroma:
Herbs that you plan to dry for storage should be harvested at their peak to conserve the herbs' natural oils responsible for flavor, aroma, and medicinal properties. The timing depends on the plant part you are harvesting and how it will be used:
Foliage: Herbs grown for their foliage should be harvested before the plant blooms. The flavor of the leaves turns bitter after the plant flowers and begins to go to seed.
Flowers: Herbs grown for flowers have the highest oil concentration and flavor when picked just after flower buds appear but before the blooms open fully.
Seeds: Herbs grown for their seeds should be harvested after the seeds mature and dry on the plant. They will usually turn dark brown or black when ready.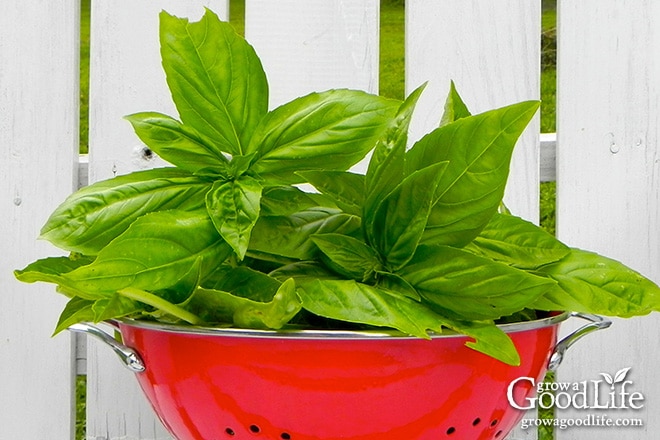 How to Gather Herbs:
Choose healthy foliage, flowers, or seeds for drying. Use scissors to clip off the stems cleanly. Discard any moldy, diseased, or insect damaged parts.
Leafy Annual Herbs: Harvest leafy, annual herbs like basil and marjoram by pinching off leaves from the tips of the stems right above a pair of leaves. The plant will sprout two branches above the leaves and continue to grow. This is also called "pinching off" and encourages the plant to become bushy and produce more tender foliage. Harvest leafy tips frequently and clip off flower buds to keep the plant producing. Harvest the entire plant before your first frost.
Leafy Perennial Herbs: Perennial herbs such as thyme, sage, and tarragon can be harvested by the stem or sprig. Harvest the herb by cutting the stems 3-4 inches from the base of the plant. Harvest herbs with long stems like parsley and oregano by cutting the stem near the base of the plant. Harvest rosemary by cutting stems above a pair of leaves and it will branch out and continue to grow. Continue to harvest perennial herbs until about 4-weeks before your first frost. As winter approaches, allow the plant to focus on winding down for the season before going dormant.
Blossoms: Some herbs have single flowers, while others present their blooms in clusters along a stem, or spikes. Single blossoms such as chamomile, calendula, and feverfew are harvested by picking the individual flowers when the flower is opened fully. Harvest spiky blossoms when some of the flowers are open by cutting the stem several inches from the base of the plant or above the top set of leaves.
Seeds: Herbs harvested for their seeds, such as anise, caraway, coriander, and dill are dried mostly on the plant. Allow the herb to form flowers and go to seed. After flowering, seeds swell and ripen from green to brown or black as they dry. Seeds are ready to pick when they are dry. Most often, seeds will spill out when the seed head is touched. Hold a container under the seed head and clip the stem so the seed cluster falls into the container along with any seeds released.
How to Dry Herbs for Storage
After harvesting, you want to dry herbs quickly to preserve their essential oils for the greatest flavor intensity and medicinal properties. I don't add moisture by rinsing my herbs, unless I can see visible dust or pests. Herbs must be dried completely before storing in jars. Ideal drying environment is in a dark, warm, dust-free area with good air circulation. Leaves are ready for storage when they feel dry and crumbly. Here are several methods to dry herbs for storage:
Hang and Air Dry Herbs: Air-drying is the easiest method to dry herbs with stems. Tie the stems into small bundles and hang them upside down in a dry, warm, dust-free, and airy place out of direct sunlight. I like to use elastics around the stems because they will still hold the bunch together as the stems shrink when they are dry.
Air Dry Herbs Using a Drying Screen: Alternatively, you can spread the herbs out on a window screen or drying screen to dry. Suspend the drying screen over two chairs so the air can circulate above and below the screen. See how to make your own drying screen or check out these Stacking Herb Drying Racks from Gardener's Supply.
Use a Food Dehydrator: Our summers here in Maine are humid, and the moisture in the air can prevent some herbs from air-drying naturally. I use a food dehydrator to dry herbs faster. A dehydrator works by circulating a gentle flow of air through screens. Use low heat so you don't degrade the quality of the herbs.
Further Drying Seeds: Remove the seeds from the seed heads and spread out in a shallow layer in an open container to dry further for about 1-2 weeks. Separate the seeds from the seed head and chaff.
I like to place the seed heads in a paper bag with a few holes poked in the top for air. After a few weeks, I give the bag a good shake to release the seeds from the seed head. Then I separate the seeds from the dried plant material and spread them out in a shallow container for additional drying before storing.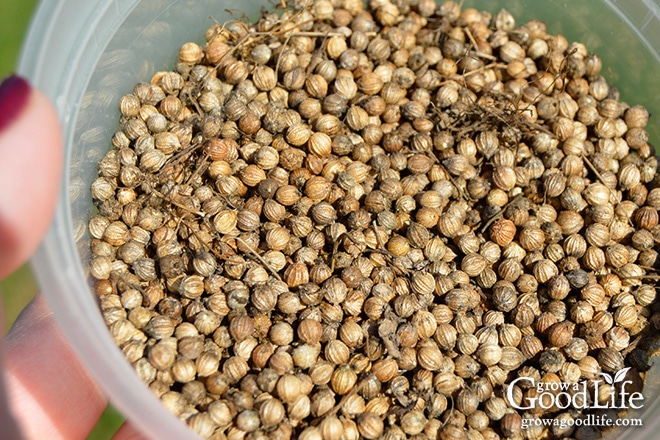 How to Store Dry Herbs:
Once the herbs are completely dry and brittle, remove the leaves from the stems and store loosely in clean glass jars or containers with airtight lids. To retain the herbs' flavor and potency, don't crush or crumble them until just before using. Label your jars the name of the herb and the date.
Store your jars in a in a cool, dark place, away from heat, humidity, and temperature fluctuations. Believe it or not, the kitchen cabinet is not the ideal place to store dry herbs. I keep the bulk of my herbs stored in large jars in a in a cool, dark little-used closet. I fill up small herb jars with about a month's worth of herbs for the kitchen cabinet. Dried herbs will remain potent for at least six to 12 months when stored properly.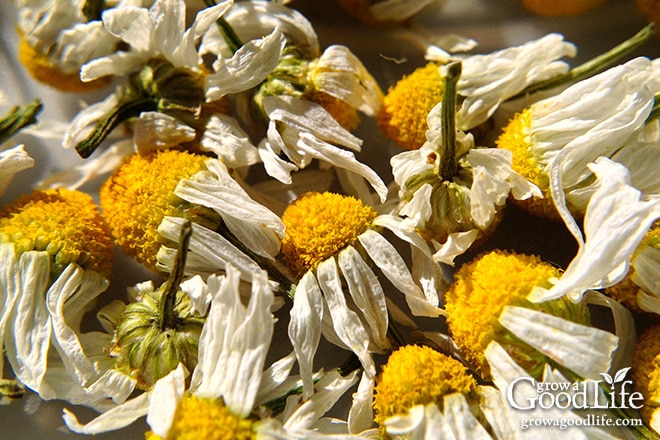 Keep in mind that strength in dried herbs is more concentrated than fresh herbs. If you have a recipe that calls for fresh herbs, substitute with about one-third the amount of dried herbs.
Growing your own culinary and medicinal herbs is very rewarding. Here are some additional articles on growing and preserving your own herbs:
Good planning is key to a successful vegetable garden
Whether you are new to growing your own food or have been growing a vegetable garden for years, you will benefit from some planning each year. You will find everything you need to organize and plan your vegetable garden in my PDF eBook, Grow a Good Life Guide to Planning Your Vegetable Garden.