These bread and butter pickles have a crisp texture and a balanced sweet and sour flavor. The sweet and tangy crunch is irresistible.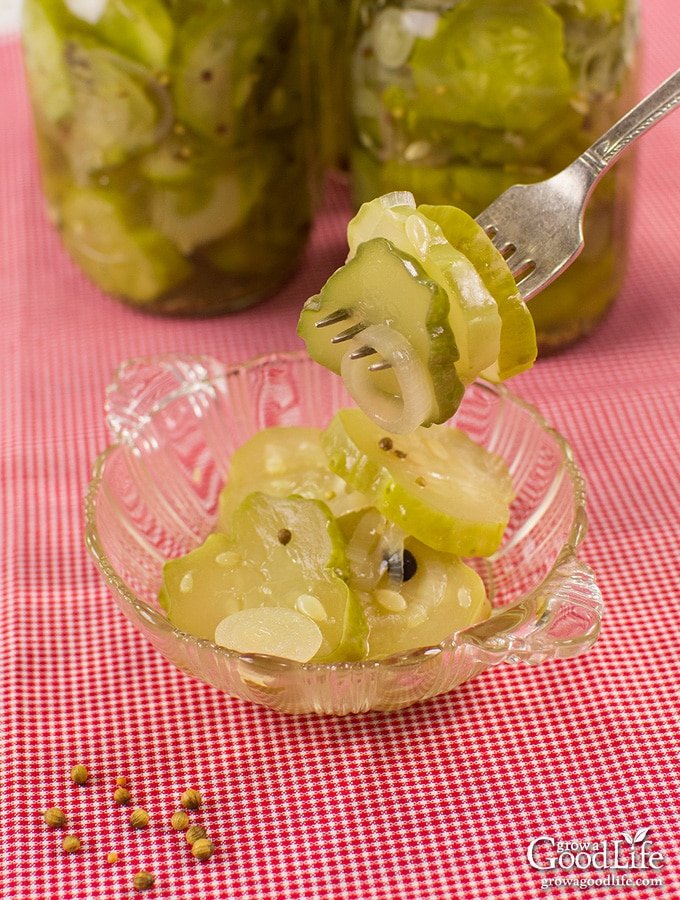 "I love pickles!" Kevin said as I planned the garden soon after moving to our property.
With this in mind, I planned on growing a bunch of pickling cucumbers. I was not a fan of pickles, so normally I grew only a few cucumber plants to eat fresh and in salads. However, this was the year I acquired a lot of canning jars, and I was determined to fill each one with garden grown goodness.
Cucumbers ended up exceeding my expectations that year and were my most prolific producers. I barely kept up with processing them into endless batches of pickles. I made bread and butter pickles, kosher dill pickle spears and sweet pickle relish from the Ball Blue Book Guide to Preserving.
Soon my shelves were filled with jars and jars of pickles. We had so many pickles that I began asking Kevin if he wanted pickles almost with every meal. I gave jars of pickles and relish away and still had shelves full years later.
Thankfully, I learned my lesson and only plant just a few cucumber plants to provide enough for fresh eating and a few batches of canned pickles and relish.
I have never been a big fan of pickles until I tried this recipe from a dear friend. I call this recipe Granny's Bread and Butter Pickles. These bread and butter pickles are a perfect balance of sweet and tangy flavors. They are perfect for burgers, sandwiches, or snacked right out of the jar.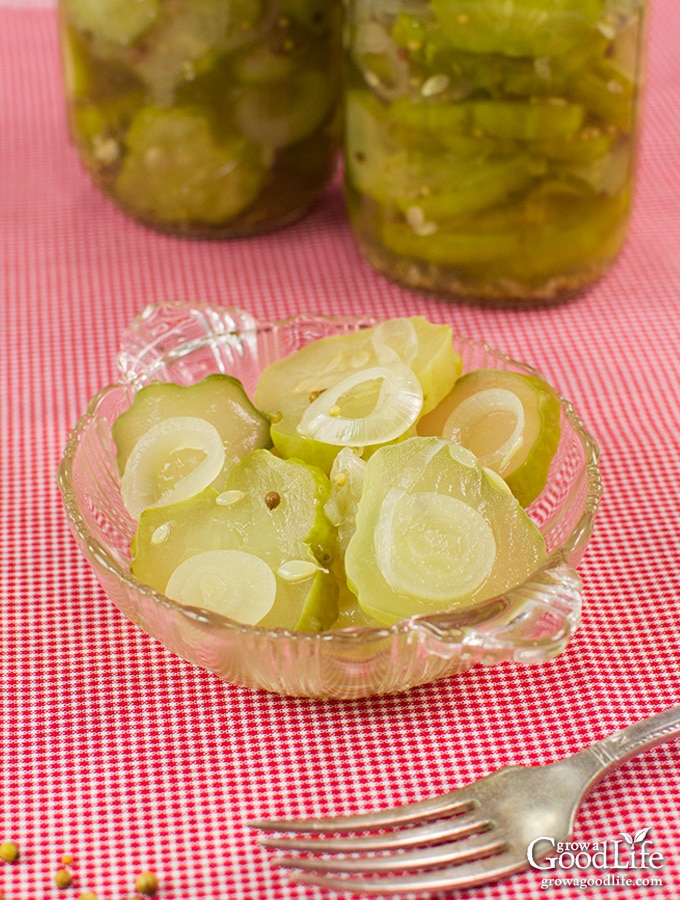 Tips for Canning Bread & Butter Pickles
Cucumbers: Select crisp, freshly harvested pickling cucumbers. Pickling cucumbers are short, thin skinned cucumbers that are primarily used for processing or pickling. Skip the waxed cucumbers at the grocery store. The wax prevents the pickling liquid from penetrating the cucumber.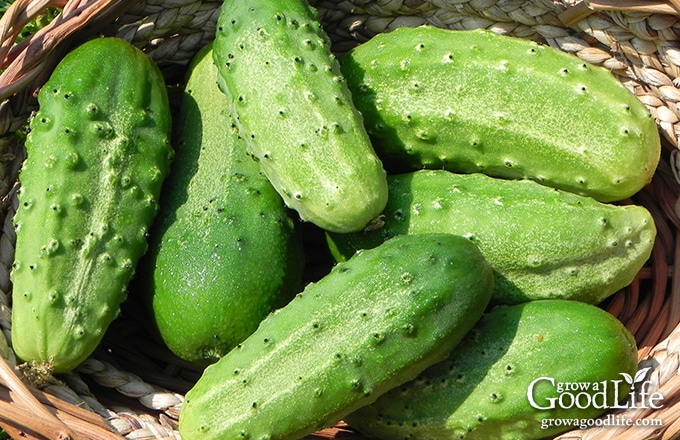 Canning Salt: Be sure to use pickling salt also known as canning salt. Table salt contains iodine and anti-caking agents that can darken pickles and cause cloudiness in your jars.
Vinegar: Use commercial vinegar with at least 5% acidity. Apple cider vinegar is made from fermented apples and adds some nice flavor. It will darker your pickles slightly.
White vinegar is clear vinegar made by distilling corn and rye. Choose an organic brand to avoid genetically modified corn.
Equipment for Canning Bread & Butter Pickles
Lids and bands
Canning tools: lid lifter, jar lifter, canning ladle, funnel, and bubble popper
Plus basic kitchen supplies such as a large sauce pot, large bowl, small pot, towels, knife, and a cutting board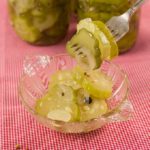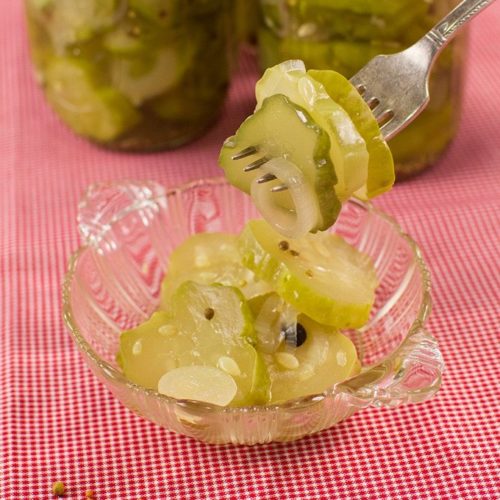 Granny's Bread and Butter Pickles Recipe
These bread and butter pickles are a perfect balance of sweet and tangy flavors. Perfect for topping your favorite burgers or adding to salads.
Keyword:
bread butter pickles
Instructions
Prepare your cucumbers and onions:
Wash cucumbers, cut into 1/4-inch slices discarding ends. Peel and thinly slice onions. Combine sliced cucumber and onions a large bowl.

Sprinkle canning salt over the top of the cucumbers and onions, cover with ice and water, and let stand for 3 hours.
Prepare your canning equipment:
Wash your jars and lids in warm, soapy water and rinsing thoroughly.

Place jar rack into water bath canner, set jars in the canner, add water to cover jars, and boil jars for 10 minutes to sterilize.

Warm your lids in a small pot of water over low heat. Keep jars and lids warm until ready to use.
Make your bread and butter pickles
In a large pot, combine sugar, mustard seed, celery seed, ground turmeric, peppercorns, and vinegar. Heat just to a boil.

Drain and rinse the cucumber and onions under fresh water. Add the drained cucumber and onion slices to the large pot and return to boil. Reduce heat and keep warm as you fill your jars.
Can your bread and butter pickles
Spread a kitchen towel on the counter. Use your jar lifter to remove the warm jars from canner. Drain and line up the jars on the towel.

Use your canning funnel and ladle to, add the hot cucumbers and onions loosely into hot jars leaving 1/2-inch headspace.

Ladle the hot liquid over the pickles maintaining 1/2 inch of headspace. Remove air bubbles with the bubble popper and wipe the rims. Use your magnetic lid lifter to lift lids out of the warm water, center lid on the jar, and screw on band until it is fingertip tight.

Using jar lifter, place jars carefully into water bath canner on the jar rack leaving space in between them. Once jars are all in canner, adjust the water level so it is 2-inches over the tops of the jars. If adding water, use the hot water from your small pot.

Cover the canning pot and bring the water to a rolling boil over medium-high heat. Process pickles for 10 minutes.

When processing time is complete, turn off heat and allow the canner to cool down for 5-minutes. Spread a kitchen towel on the counter. Use a jar lifter to lift jars carefully from canner and place on the towel. Allow the jars to cool for 12 to 24-hours. You should hear the satisfactory "ping" of the jar lids sealing.

After 12 to 24-hours, check to be sure jar lids have sealed by pushing on the center of the lid. The lid should not pop up. If the lid flexes up and down, it did not seal. Refrigerate jar and use up within a few days.

Remove the screw on bands and wash the jars. Label and date the jars. Store in a cool, dark location. Allow 4-5 weeks for the pickles to develop their flavor. Use within a year.
This recipe was originally published July 5, 2015. It has been updated with additional information and new photos.
If you know someone who doesn't like pickles, let them taste these pickles. Granny's Bread & Butter Pickles are so sweet that it may just convert them into a pickle lover too.
Canning Resources
You May Also Like These Canning Recipes:
Good planning is key to a successful vegetable garden.
Whether you are new to growing your own food or have been growing a vegetable garden for years, you will benefit from some planning each year. You will find everything you need to organize and plan your vegetable garden in my PDF eBook, Grow a Good Life Guide to Planning Your Vegetable Garden.