A great way to preserve apples when they are in season is to make your own homemade applesauce and can it in a water bath canner.
We are blessed with a glorious apple harvest from our trees this year. I am trying to keep up with the harvest and preserve all the apples I can. The quickest and easiest way to process a lot of apples is to make applesauce. This is also a good way to use up those imperfect apples too. Just cut away the bad spots before processing.
I prefer my applesauce smooth with a consistent texture. I skip peeling the apples and use a food strainer after cooking to remove skins and smooth out the applesauce. If you don't have a food strainer or food mill, you can use an immersion blender, regular blender, or even a food processor to blend out the chunks for a smooth applesauce. Just peel the apples before cooking if you do not want peelings in your finished applesauce.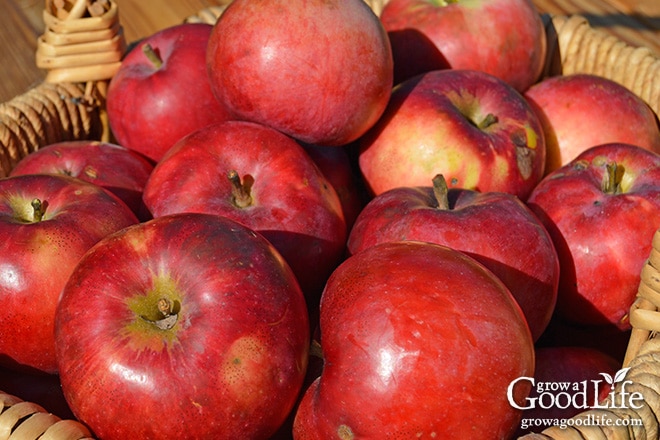 Unlike many canning recipes, apples do not need special ingredients to make apples safe for canning. Apples are high in acid and have enough natural sugar to preserve well when canned in a water bath canner. You can add spices such as allspice, cinnamon, ginger, nutmeg and lemon juice or lemon zest. You can also sweeten if desired with sugar or honey.
Select apples that are naturally sweet and you won't need to add any sugar or honey at all. You will need about 14 pounds apples for a canner load of 9 pints.
Equipment for Canning Homemade Applesauce
Water Bath Canner
Large saucepan
Small pot of water over low heat
9 pint jars
Lids and bands
Food Strainer or Food Mill
Canning tools: lid lifter, jar lifter, canning ladle, funnel, and bubble popper
Kitchen towels
Knife
Large spoon
Cutting board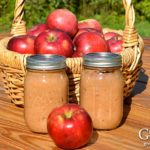 Homemade Applesauce for Canning
A great way to preserve apples when they are in season is to make your own homemade applesauce and can it in a water bath canner.
Instructions
Prepare your apples by washing in plain water. Cut into chunks, remove cores, and add the apples to your saucepan. Add just enough water to the pot to prevent sticking.

Cook the apples over medium-low heat to soften, stirring occasionally so to prevent sticking. After the apples are soft, turn off the heat and allow the apples to cool.

Prepare your jars and lids by washing in warm, soapy water and rinsing thoroughly. Place jar rack into water bath canner, set jars in the canner, add water, and boil jars for 10 minutes to sterilize. Warm your lids in a small pot over low heat. Keep jars and lids warm until ready to use.

Run the cooled applesauce through a

Food Strainer

or

Food Mill

to remove skins, seeds, and to smooth out the sauce.

Return the applesauce to your saucepot. Taste the applesauce and add your cinnamon (and any other spices, if using). Start out with just a little and adjust until you are happy with the flavor. Bring the applesauce to a boil over medium-high heat while stirring to prevent sticking.

Spread a kitchen towel on the counter. Use your jar lifter to remove warm jars from canner, drain, and line up on the towel. Use your canning ladle and funnel and add applesauce to warm jars leaving 1/2-inch headspace. Wipe the rims. Use your magnetic lid lifter to lift lids out of the warm water, center lid on the jar, and screw on band until it is fingertip tight.

Using jar lifter, place jars carefully into canner leaving space in between them. Once jars are all in canner, adjust the water level so it is at least one inch above the jar tops. Add more boiling water if needed so the water level is at least one inch above the jar tops. When adding water, use the hot water from the small pot your lids were in. Pour the water around the jars and not directly onto them.

When processing time is complete, turn off heat and allow the canner to cool down and settle for about 10 minutes. Spread a kitchen towel on the counter; remove the cover by tilting lid away from you so that steam does not burn your face. Use a jar lifter to lift jars carefully from canner and place on the towel. Allow the jars to cool for 12 to 24-hours. You should hear the satisfactory "ping" of the jar lids sealing.

After 12 to 24-hours, check to be sure jar lids have sealed by pushing on the center of the lid. The lid should not pop up. If the lid flexes up and down, it did not seal. Refrigerate jar and use up within a few days.
Recipe Notes
Calories based on 1/2 cup serving size.
There are many different ways to prepare your apples for applesauce. They way you decide to make a batch depends on the tools you have on hand. If you don't have a strainer or food mill, peel and core your apples before cooking, then crush them with a potato masher for a chunky style applesauce. Try this Homemade Chunky Applesauce recipe at Little House on the Prairie. For smaller batches, consider using trying this recipe for Crockpot Applesauce.
You May Also Like:
Good planning is key to a successful vegetable garden.
Whether you are new to growing your own food or have been growing a vegetable garden for years, you will benefit from some planning each year. You will find everything you need to organize and plan your vegetable garden in my PDF eBook, Grow a Good Life Guide to Planning Your Vegetable Garden.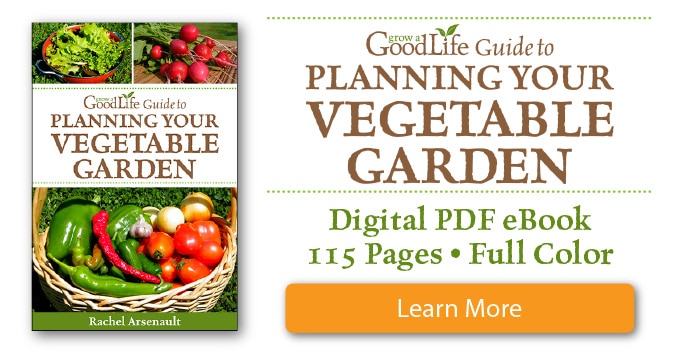 Never miss a post. Sign up for the free Grow a Good Life Newsletter and we'll send you an email with all the new articles posted on the website: