These almond anise biscotti are bursting with toasted almonds and subtle anise flavor. They are ideal for dunking in a cup of coffee or tea.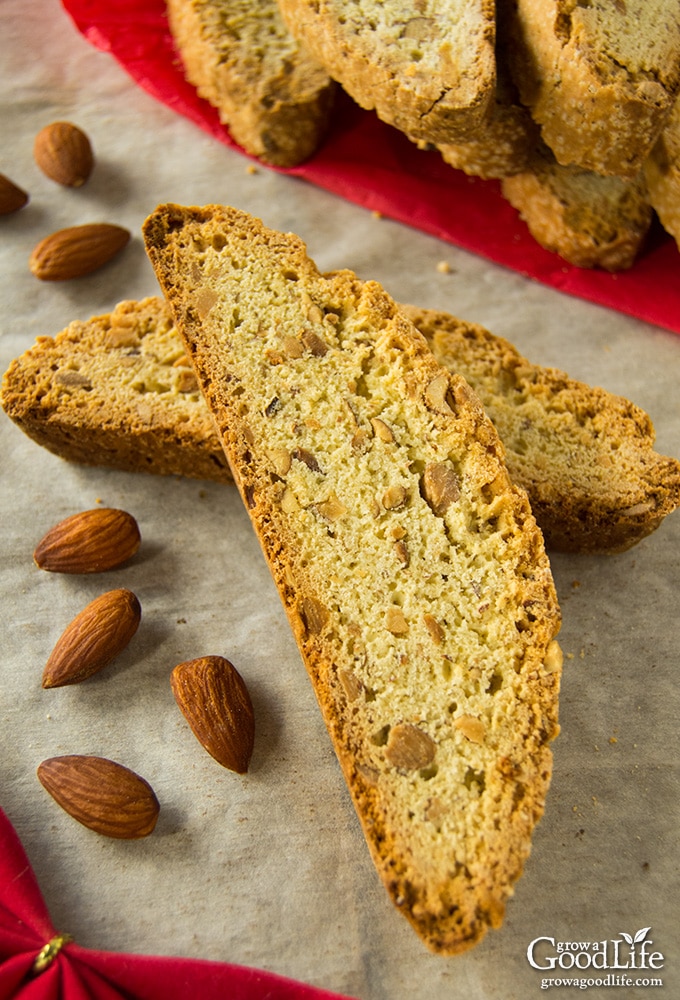 This is a recipe I have been tinkering with for a while. When I proudly presented one of my first batches to my father at Christmas time, he remarked that they were, dry and hard. Hmm….I thought of biscotti as something to dip into coffee or tea, but he had another vision.
Homemade Italian biscotti are yet another treat that my Aunt Mary used to make for us, especially around Christmas. Her recipe was mixing a bit of this and that until the dough "felt" right.
Unfortunately, none of her recipes were written down and now that she is gone, many of her delicious baked goods are only a memory. I have been on a quest to replicate some of the recipes that brought warm memories to our family especially around the holidays.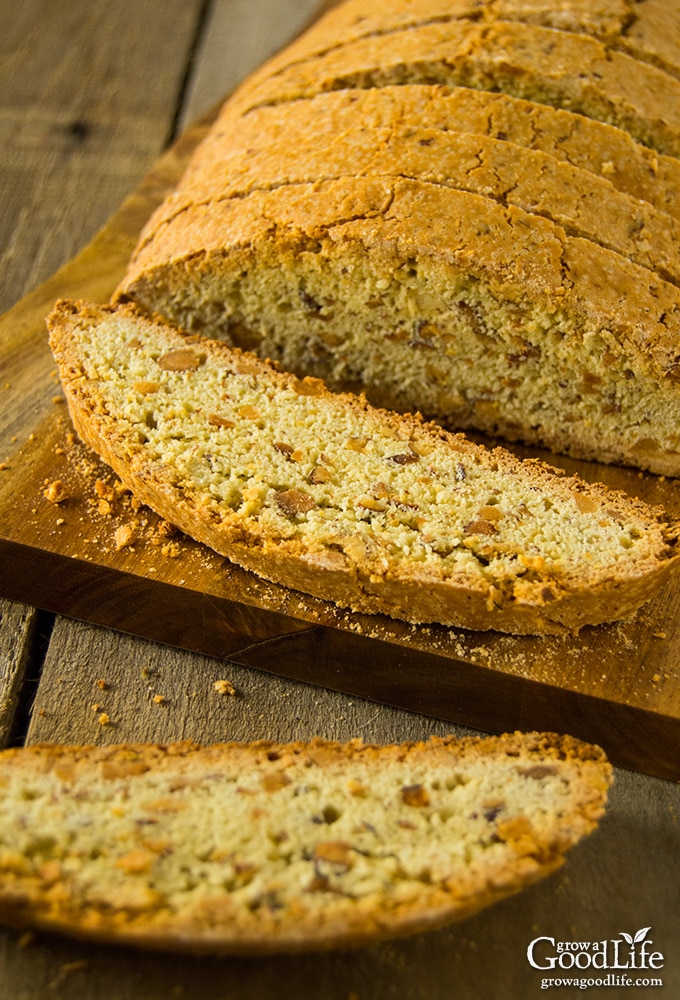 Biscotti are usually baked twice and this may be where I went wrong the first time when trying to reproduce Auntie's version. Traditionally, biscotti are baked the first time as a flat loaf, then sliced and baked again until the portions are hard. Auntie's biscotti were softer and could be eaten as a crunchy cookie without having to dip into a beverage to soften. The longer you bake the biscotti the second time, the harder they are.
This toasted almond anise biscotti recipe is inspired by Auntie's biscotti. She made them quite large as compared to modern coffee shop biscotti. These can be enjoyed as a crisp cookie, or they can be baked longer the second time for a firmer biscotti that stands up to dipping into your beverage of choice.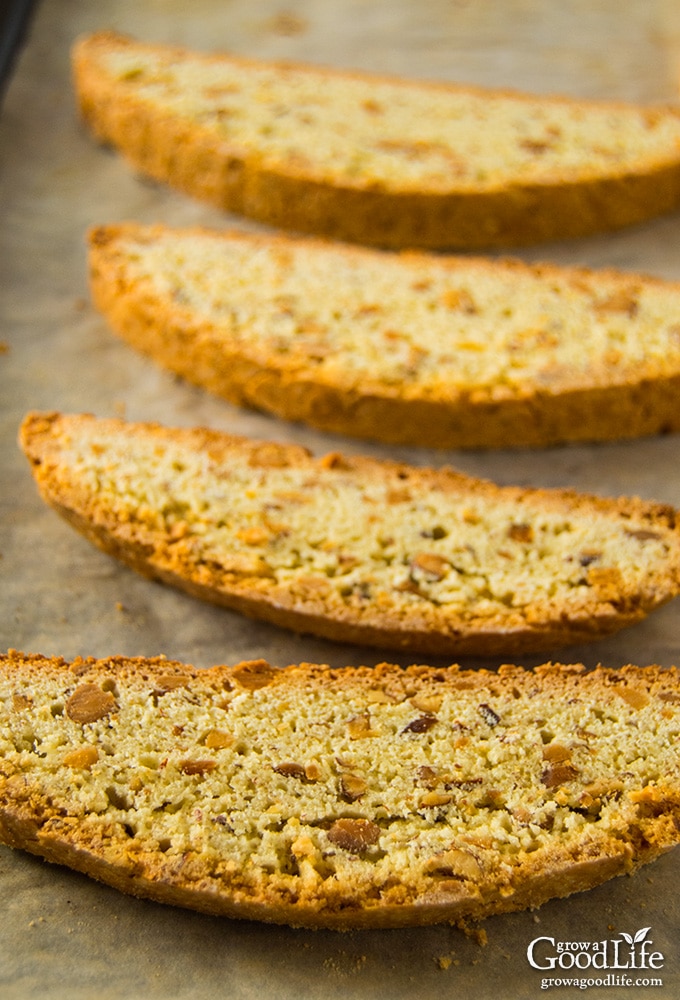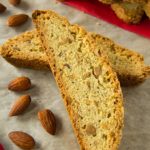 Toasted Almond Anise Biscotti
These almond anise biscotti are bursting with toasted almonds and anise flavor. They are ideal for dunking in a cup of coffee or tea.
Instructions
Toast your almonds by placing them in a skillet over medium heat until the almonds are fragrant and golden brown. Stir them frequently so they brown on all sides and remove any that brown quicker than others. It should take about 3-5 minutes. Remove the toasted almonds from the heat, wrap them in a kitchen towel, and crush them with a meat mallet.

Preheat your oven to 350˚F and line a baking sheet with parchment paper.

Add the crushed almonds, flour, baking powder, and salt to a large bowl and stir to combine. Set aside.

Using a stand mixer, beat the eggs, sugar, almond extract, anise extract, and optional anise seeds on medium speed until light and fluffy, about 5 minutes. Add the flour mixture a little at a time. If the mixer begins to strain, work the rest of the flour in with a wooden spoon or your hands. The dough will be firm and sticky.

Gather the mixture into a log shape and place it in the center of the prepared baking sheet. Wet your hands and pat the dough into a 4 x 12 inch dome shaped slab.

Bake in preheated oven for 50-60 minutes, or until brown and firm when you touch the top with your finger. Remove the biscotti from the oven and let it cool. Reduce your oven heat to 300˚F.

Once the biscotti slab is cool enough to handle, transfer it to a cutting board. Use a serrated knife and slice into 1/2-inch wide biscotti. Place slices cut side down on the baking sheets, and bake again until desired crispness. If you want softer biscotti, bake about 8 minutes on each side. If you are aiming for harder biscotti that will stand up to dunking, bake about 20 minutes on each side. Let the biscotti cool completely on the baking sheets or a wire cooling rack. Store in a metal tin. Makes about 16 biscotti.
You May Also Like:
Good planning is key to a successful vegetable garden.
Whether you are new to growing your own food or have been growing a vegetable garden for years, you will benefit from some planning each year. You will find everything you need to organize and plan your vegetable garden in my PDF eBook, Grow a Good Life Guide to Planning Your Vegetable Garden.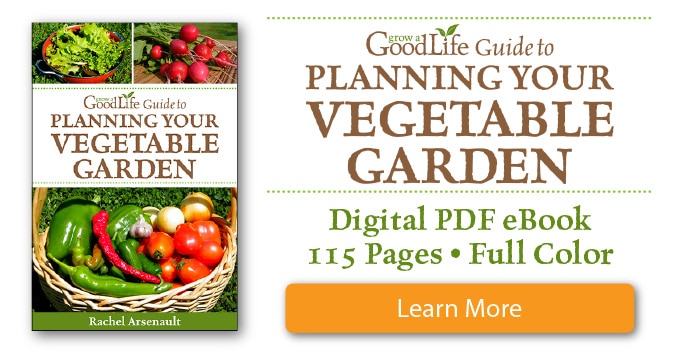 Never miss a post. Sign up for the free Grow a Good Life Newsletter and we'll send you an email with all the new articles posted on the website: