Growing onions from seed opens up a wide diversity of shapes, flavors, sizes, and colors to grow. Here are some tips on selecting varieties for your growing area and how to start onions from seed indoors under lights.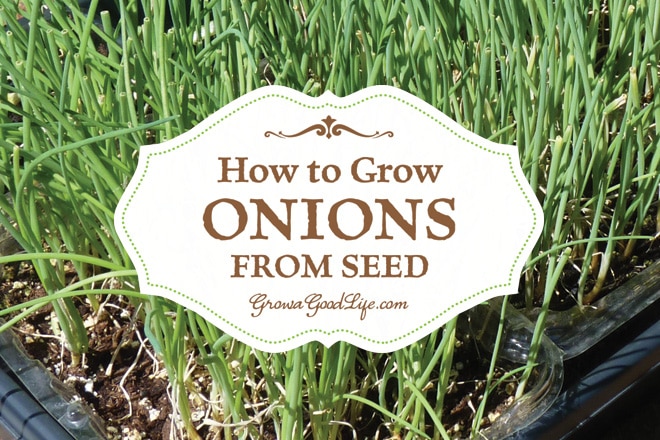 Onions are a staple in the kitchen and essential for adding flavor to numerous dishes all year long. One of my garden goals each year is to plant enough onions to satisfy our meals, canned sauces and salsas, and winter storage.
Onions can be planted from transplants, sets, or started from seed. Onion transplants are sold in bunches and can be purchased online or at your local garden center. Onions sets are immature bulbs grown the previous year and are easily found at your local garden centers and nurseries in the spring.
I remember planting onion sets as a child when my family "put the garden in" every spring. When I started my own garden, I continued the tradition of purchasing scoops of onion sets and pushing them into the ground in spring. Overall, I didn't have very good success with growing onions from sets. Some were duds that failed to sprout and some ended up bolting before forming large bulbs. The onions that did grow from sets were rather small and didn't last long in storage. I also wasn't content with the limited variety of onion sets available and usually labeled as yellow, white, and red.
Growing onions from seed opens up a wide diversity of shapes, flavors, sizes, and colors to grow.
How to Grow Onions From Seed
Onions take a while to develop from seed. Sowing inside in January or February under growing lights then transplanting to the garden in early spring is the only way that I can grow onions from seed and have them mature in my zone 5 garden. If you live in more southern areas, you can plant onion seeds in late summer to early fall, overwinter, and they will begin growing when the weather warms.
Select Your Onion Seeds:
Onion seeds do not last long so only purchase seeds that you will use within one or two years. If you are planning on storing onions for winter use, select varieties that are known for their long-term storage capabilities. Also be sure to select varieties for your growing area. Onions are divided into short-day, day neutral, and long-day:
Short-day onions are ideal for the plant hardiness Zone 7 and warmer where the mild weather allows them to grow through the fall and winter months and harvested in March, April and May. Short-day onions are triggered to bulb when sunlight increases to 10-12 hours (look yours up here). Some common short day onions are Red Burgundy, Vidalia, and Red Creole.
Day-neutral, or intermediate-day onions can be grown in almost all climates. Day-neutral onions are prompted to bulb when sunlight increases to 12-14 hours. Common day-neutral onions are Candy and Cabernet.
Long-day onions are what we grow in the North in plant hardiness Zone 6 and cooler. They are sown early under lights and transplanted to the garden in spring so they have plenty of time to grow before forming bulbs. Long-day onions are triggered to bulb when sunlight increases to 14-16 hours (look yours up here). Some common long-day onions are Paterson, White Sweet Spanish, and Ailsa Craig.
How to Sow Onion Seeds: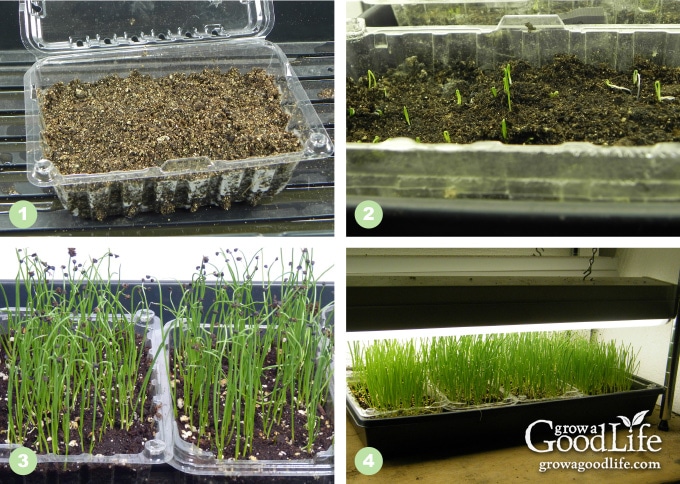 Start onion seeds indoors 8-10 weeks before your last frost date (look up yours here at PlantMaps.com). I use recycled berry containers to grow onion seedlings. The containers are about 4 inches deep and have plenty of holes for drainage.
1. Fill your containers with pre-moistened seed starting mix, sprinkle the seeds evenly on top of the soil, mist with water, cover with 1/8-inch of seed starting mix, and press down gently to be sure the seeds are in contact with the moist soil.
2. Label the containers, place in a seed flat or water proof container, cover with a humidity dome, and place on a heat mat or in a warm area around 70-75°F (21-24°C).
3. Once the seeds sprout, remove the humidity dome, and place under lights in a cool location (See How to Build a Grow Light System).
4. Keep soil evenly moist. Water with diluted fish emulsion or compost tea every two weeks. Trim the tops with scissors to keep the onion seedlings around 3-inches high. This will help the containers from becoming top heavy and furnish more nutrients to the roots instead of the foliage. The trimmings can be added to soups, salads, or used as a pizza topping.
Harden Off the Onion Seedlings: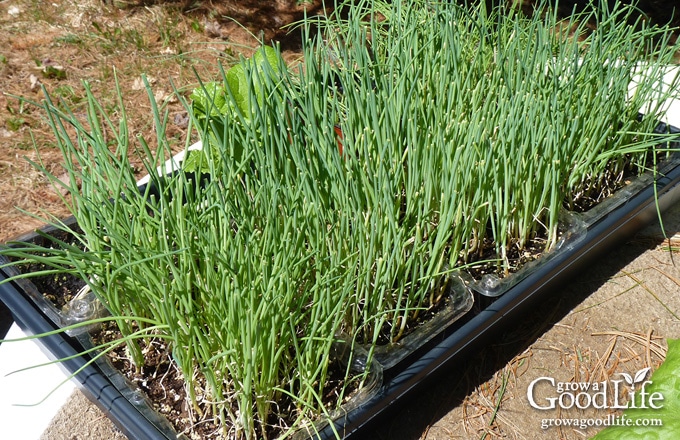 Onions are cold hardy and can endure cool spring temperatures. Begin hardening off onion transplants about 4-weeks before your last expected frost date (look up yours here). Watch your weather for freezing temperatures. Onions can withstand cool temperatures but the young seedlings are vulnerable to frosts and freezes. How to Harden Off Transplants.
Hardening off is the process of adapting plants to the outside so they can adjust to sunlight, cool nights, and less frequent watering. Begin hardening off in a sheltered location for a few hours on the first day, increase a little each day, until the seedlings are outside overnight.
Transplanting Onion Seedlings to the Garden: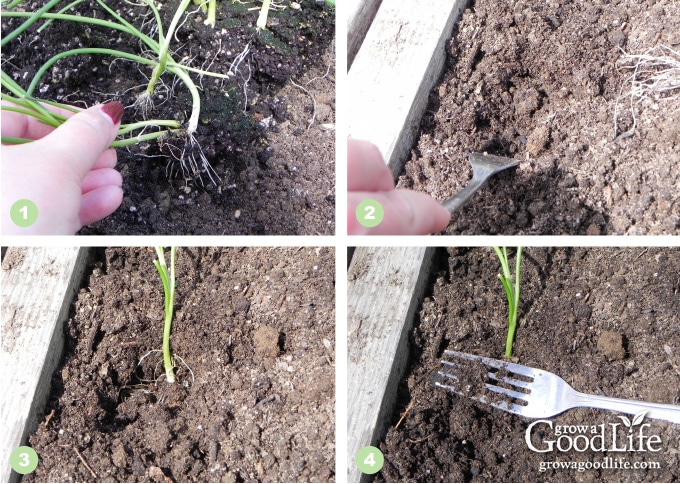 Select a growing location that receives full sun or six or more hours of direct sunlight per day. Onions grow best in loose, fertile soil that drains well. Amend with finished compost to add nutrients and organic material to aid with drainage. Before planting, work in an all-purpose organic fertilizer, such as Espoma Plant Tone into the soil.
1. To transplant, remove the seedlings carefully from the container by squeezing the plastic gently, hold your hand over the seedlings, turn the container upside down, and shake gently.
2. Most times the root ball breaks apart when removed from the container. If the onions are more densely seeded, the roots will hold the soil together more firmly. Gently tease the onion seedlings apart for planting one at a time so the roots don't dry out.
3. Transplant the separated seedlings 3 to 4 inches apart depending on the variety (check the seed package for recommended spacing). I use a fork or small tool to transplant onion seedlings. I pull the soil forward, place the onion seedling in the hole, and gently push back the soil. No patting or tamping in.
4. Once seedlings are transplanted, water the bed gently. Onions have a shallow root system and need to be watered frequently to keep the soil evenly moist. Keep the bed weeded so the onions don't have to compete for nutrients or resources.
Onions can be harvested young as green onions or left to mature fully. Onions are finished growing when the tops flop over. Stop watering at this point and wait for a dry day to harvest. Harvest, lay out to cure, and store for winter. Visit this link for more information on How to Harvest, Cure, and Store Onions.
You May Also Like:
[sc:gglnews ]