This chunky, low-sugar cherry jam is delicious slathered on toasted homemade bread, swirled in yogurt, or drizzled over ice cream. Less sugar lets the natural fruit flavor shine.
Cherry season is fleeting. Fresh cherries are only available for a short time. Each year, I try to eat my fill, and then capture the delicious, flavor of sweet cherries in as many ways as I can.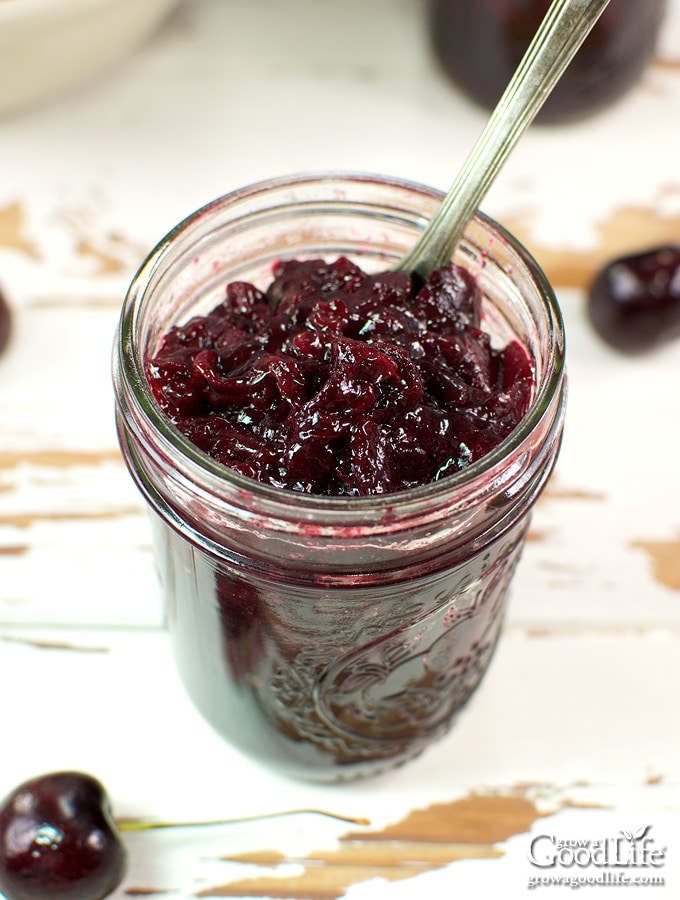 Sometimes, I am so excited to see cherries in the grocery store that I over do it and pick up too many. Since cherries don't last long after harvesting, they tend to perish quickly in the refrigerator. This is my go to recipe for preserving the sweet fruit into a versatile cherry jam before they spoil.
Tips for Making Sweet Cherry Jam
This recipe uses Pomona's Universal Pectin instead of your regular boxed pectin. Pomona's is a citrus pectin that is a little different than your typical boxed pectin. It uses calcium powder to gel instead of lots of sugar. The benefit is you can use less sugar allowing the natural fruit flavor shines in your jellies and jams rather than the sweetness of the sugar. You can find Pomona's Universal Pectin on Amazon.
Equipment Needed:
Water Bath Canner or large pot
Potato masher
Lids and bands
Canning tools: lid lifter, jar lifter, canning ladle, funnel, and bubble popper
Plus basic kitchen tools such as a large sauce pan, small pot, bowl, towels, potato masher, and measuring cup.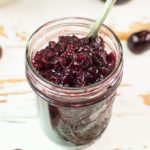 Small Batch Sweet Cherry Jam Recipe
This chunky low-sugar cherry jam is delicious slathered on toasted homemade bread, swirled in yogurt, or drizzled over ice cream.
Ingredients
2

pounds

sweet cherries

1/4

cup

water

1/4

cup

lemon juice

(juice from one lemon)

1

cup

cane sugar

3

teaspoons

calcium water

from the Pomona's box

4

teaspoons

Pomona's Universal Pectin

from the Pomona's box
Instructions
Prepare your calcium water ahead of time by combining 1/2 teaspoon calcium powder (from the small packet in the Pomona's pectin box) with 1/2 cup water in a jar with a lid. Shake well. Store extra in the refrigerator for other canning sessions.

Wash your jars, lids, and canning tools in warm, soapy water. Rinse thoroughly to remove all suds. Place the jar rack into water bath canner, set the jars in the canner, add water, and boil jars for 10 minutes to sterilize. Warm your lids in a small pot over low heat. Keep jars and lids warm until ready to use.

In a small bowl, add sugar, pectin powder, and stir to blend together. Set aside.

Wash the cherries, stem, and pit. Add the prepared cherries and water to your large saucepan. Simmer on low heat until the cherries soften and release their liquid, about 5 minutes. Crush gently with a potato masher or the back of a large spoon. Add the lemon juice, calcium water, and stir to combine.

Bring fruit mixture to a boil over medium-high heat. Add the pectin-sugar mixture and stir to dissolve. Continue stirring until the jam comes back to a full boil and begins to thicken, about 2-3 minutes. Once it boils, remove from heat.

Spread a kitchen towel on the counter. Use your jar lifter to remove warm jars from canner, drain, and line up on the towel. Use your canning ladle and funnel and add the Cherry jam to the warm jars leaving 1/4-inch head space.

Swirl your bubble popper through the jar to release air bubbles. Wipe the rims of the jar. Use your magnetic lid lifter to lift lids out of the warm water, center lid on the jar, and screw on band until it is fingertip tight.

Using jar lifter, place jars carefully into canner leaving space in between them. Once all the jars are in canner, adjust the water level to at least one inch above the jar tops. Add more hot water if needed so the water level is at least one inch above the jar tops. When adding water, use the hot water from the small pot your lids were in. Pour the water around the jars and not directly onto them.

Cover the canner and bring to boil over high heat. Once water boils vigorously, continue boiling for 10 minutes at altitudes of less than 1,000 ft. (adjust processing time for your altitude if necessary).

When processing time is complete, turn off heat and allow the canner to cool down and settle for about 10 minutes. Spread a kitchen towel on the counter; remove the cover by tilting lid away from you so that steam does not burn your face. Use a jar lifter to lift jars carefully from canner and place on the towel. You should hear the satisfactory "ping" of the jar lids sealing. Allow the jars to cool for 12-24 hours.

After the jars cool, check to be sure jar lids have sealed by pushing on the center of the lid. The lid should not pop up. If the lid flexes up and down, it did not seal. Refrigerate the jar and use up within a few weeks.

Remove the screw on bands and wash the jars. Label, date, and store your jars in a cool, dark place. Use within 12 months. Refrigerate your jam once opened and consume within 3 weeks. Yields about 4-5 half-pint jars.
Another way I use cherries is to make a large batch of freezer friendly Cherry Sweet and Sour Sauce to last us all year. Also try this Cherry Barbecue Sauce recipe from our sister site.
Got sweet cherries in your refrigerator? This small batch, sweet cherry jam will help you preserve sweet cherries before they are past their prime.
What's your favorite way to take advantage of cherry season?
You May Also Like These Preserving Posts:
Good planning is key to a successful vegetable garden.
Whether you are new to growing your own food or have been growing a vegetable garden for years, you will benefit from some planning each year. You will find everything you need to organize and plan your vegetable garden in my PDF eBook, Grow a Good Life Guide to Planning Your Vegetable Garden.