Show how much your close friends and family mean to you by custom crafting a unique personal gift for them that they will cherish. Handmade gifts are the perfect solution for the people on your list who are difficult to shop for.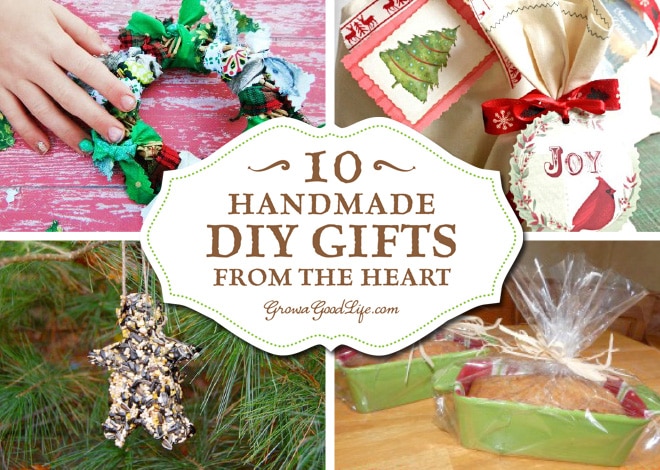 DIY gifts are personal and can be uniquely tailored to the recipient's favorite colors, scents, or inspirational sayings. Custom crafted, homemade gifts are always cherished because they are meaningful and come from the heart.
This post is the fourth in a series of handmade gifts and tutorials shared by fellow bloggers. Be sure to also check out 20+ Homemade Food Gifts from the Kitchen where you will find recipes for homemade jams, infused liqueurs, and other special treats that you can make in your own kitchen. Give the gift of peace and tranquility with hand crafted bath and body presents that you can make yourself using natural ingredients with the tutorials and recipes found here with over 15 Homemade Bath and Body Gifts.
Also see 10+ DIY Gifts for the Home for even more homemade gifts including homemade photo coasters, herbal dream pillow, and more. When combined with the projects below, there are over 60 homemade DIY gifts ideas and tutorials to inspire you to create your own unique homemade gifts from heart this year.
10+ Handmade Gifts from the Heart
The links below are all about the final touches for your homemade gift giving including handmade ornaments, unique DIY gift packaging, and last minute homemade gifts and stocking stuffers:
Gift Wrapping
Beautifully wrapped gifts are so pretty that they become part of the gift itself. Here are some creative and artful ways to package your homemade gifts for memorable giving:
Handmade Ornaments
Cute and creative ornaments are a gift that keeps on giving. It's like finding lost treasure every year when unpacking the tree ornaments to decorate for Christmas. Each handmade ornament brings a smile and warm thoughts of the person who gave it to us.
Last Minute Homemade Gifts:
Show your friends and family how much you care by creating a thoughtful, unique gift just for them.
What homemade gifts will you give this year?
Let us know in the comments.
You May Also Like: