Do you have an area of your garden that is shaded part of the day? If you think you can't grow anything there, you are wrong. There are many vegetables that grow in shade. Some even thrive when sheltered from the intense rays from the summer sun.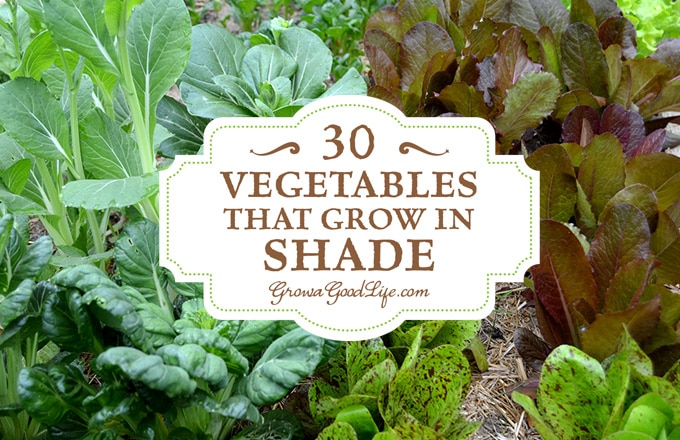 Trees and buildings in and around your yard can make it difficult to choose a garden location. The shadows cast by objects change throughout the day and with the season as the sun shifts. Luckily, there are many edible plants that can thrive in partial shade, dappled shade, or in as little as 3-6 hours of sunlight a day.
I have trees all around the yard that shade different parts of the garden during the day. The south end of the vegetable garden starts out as full sun in the spring, and then changes to different degrees of partial sun as the sun shifts throughout the growing season. I try not to look at the shaded areas as obstacles. Partially shaded places can provide a perfect microclimate for vegetables that prefer to avoid the strong midday sunshine of summer.
Understanding Sun Exposure:
There are three basic sunlight conditions that are used to describe the amount of sun during the prime-growing season:
Full Sun: Full sun areas receive direct sunshine for 6 or more hours per day between the hours of 10 am and 6 pm. In northern climates where the sun strength is weaker, plants requiring full sun do better with 8 or more hours per day.
Partial Shade: Partial shade or partial sun both refer to areas that obtain 3-6 hours of sun each day. Partial sun areas receive 3-6 hours of direct sunlight but are shaded the rest of the day. Partial shaded spaces are moderately shaded during part of the day or receive filtered or dappled sunlight all day. Dappled sunlight is where the light is filtered through the leaves of trees.
Full Shade: Full shade areas receive no direct sun or reflected light during the day. An area with deep shade is not a good place for growing vegetables. All plants need some light to grow.
Embrace Your Unique Microclimate:
A microclimate is the climate of a small area that is different from the area around it. A partially shaded section of your yard is different than one that receives full sun all day long. A shady spot is a microclimate that can be ideal for growing some vegetables that wither in direct sunlight.
Partially shaded garden areas provide an opportunity to extend your cool-season crops from spring into early summer. A little shade in late spring will help prevent your leafy greens from turning bitter and bolting as the temperatures rise.
Plant your fall garden under the dappled canopy of trees in late summer and the plants will be well established when the leaves fall in autumn. The extra available sunshine and cooler temperatures will catapult the growth of your autumn veggies.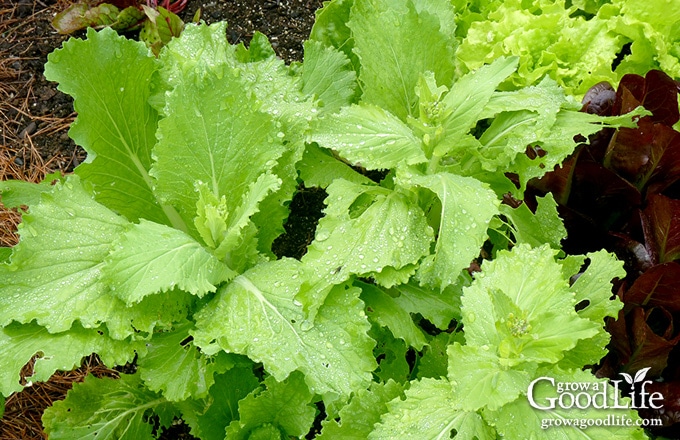 30+ Vegetables That Grow in Shade
While the heat loving tomatoes, melons, and peppers prefer drinking in as much sunshine as they can get, some crops wither and die in hot, bright sun conditions. There are plenty of vegetables that grow in shade, dappled sunlight, or with as little as 3-6 hours of sunlight per day:
Vegetables that fruit from a blossom, such as cucumbers, tomatoes, peppers, and squash are the least tolerant of shady areas. Plant these in full sun areas that receive the most direct sunlight per day.
Root vegetables, such as beets, carrots, and potatoes will grow in partially shaded areas that have less direct sunlight, but will appreciate at least a half-day of full sun and some partial shade.
Leafy vegetables, such as chard, spinach and salad greens, are the most tolerant vegetables that grow in shade. In fact, keeping these plants shaded as the season heats up will help them last longer. Plant these crops in areas on that are moderately shaded during part of the day or receive filtered or dappled sunlight all day.

Consider experimenting with these vegetables that grow in shade:

Broccoli
Celery
Chinese Cabbage
Garlic
Horseradish
Kale
Kohlrabi
Leeks
Lettuce
Mizuna
Parsnip
Peas
Potatoes
Radish
Rhubarb
Rutabaga
Scallions
Tips for Growing Vegetables in Shade:
Use Good Soil: If you are going to challenge your shade-tolerant crops to grow in partial shade, provide them with good-quality soil with plenty of nutritious compost. If tree roots are a problem, consider using a raised bed or growing vegetables in containers.
Moisture Requirements: The watering needs of your shade garden will be different than a garden in full sun. Moisture doesn't evaporate as quickly in shade so you may not need to water as often. However, if your shade garden is near trees, you may need to water more frequently since your plants will be competing with trees for moisture. Also the leafy canopy can prevent rain from reaching your plants. Water when the soil feels dry and mulch to conserve moisture.
Watch for Pests: Shady and cool areas are very welcoming to slugs and snails. Consider using a border of crushed eggshells to deter slugs or provide a hospitable living area to Attract Frogs and Toads to Your Garden.
Maturation Times: Vegetables that prefer more sunlight but can grow in shade will grow slower. Expect to wait for a little longer for the plants to mature than what is indicated on the seed package to make up for the less than ideal growing conditions.
Start Seedlings Indoors: Start your own transplants from seed indoors and plant them in your shade garden when space opens up with these 10 Steps to Starting Seedlings Indoors.
Direct Sow Seeds in Your Garden: Some crops are easy to grow from seeds planted directly in your garden. Here are 13 Easy Vegetables to Direct Sow
Succession Planting: Keep your garden beds producing throughout your growing season with these 3 Succession Planting Tips to Maximize Your Harvest.
Experiment with a small shade garden and see which vegetables succeed. Also try growing in containers that can be moved to different locations. Knowing the type of vegetables that grow in shade will help you make the most out of your gardening space.
Do you have any other tips for growing vegetables in partial shade?
Did you find any of these tips worked especially well for you?
I'd love to hear from you in the comments below!
You May Also Like These Gardening Articles
Good planning is key to a successful vegetable garden
Whether you are new to growing your own food or have been growing a vegetable garden for years, you will benefit from some planning each year. You will find everything you need to organize and plan your vegetable garden in my PDF eBook, Grow a Good Life Guide to Planning Your Vegetable Garden.