Are you ready for canning season? It can be overwhelming when your vegetable garden harvest comes in all at once. Here are six tips to help you gather the proper canning supplies and equipment to prepare for the canning season.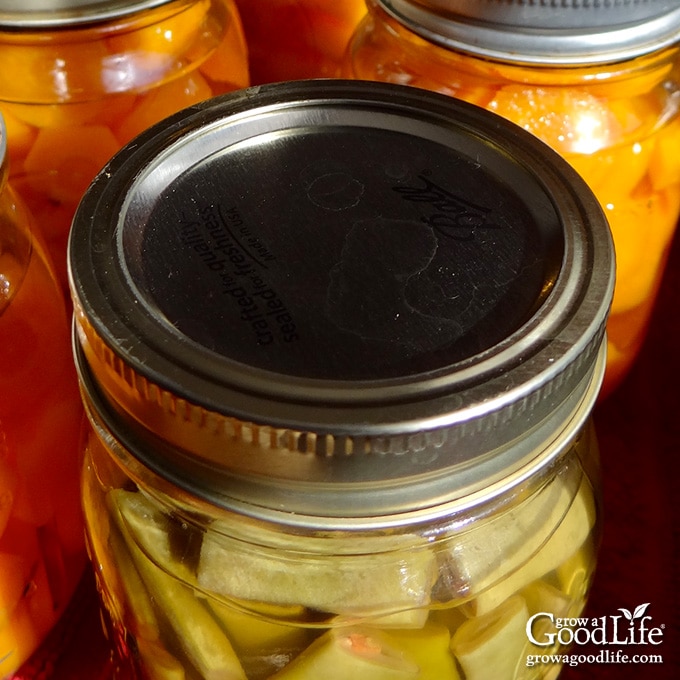 One of the delights of summer is the abundance of fresh, organic vegetables that are available. The advantage of home gardening is that you can harvest and enjoy your vegetables when they are at peak flavor and nutrition.
My goal each year is to try to grow enough food for fresh eating and to preserve for winter. Since our growing season is short, this means that the majority of the harvest all comes in around the same time.
Some of the harvest can be cured and stored on shelves in our cool basement over winter. The garlic and onions are cured and stored in baskets, the potatoes and other storage crops will be harvested later in the fall and added to the storage shelves.
If you grow a vegetable garden, you know how crazy it can get when the harvest begins.
Late summer finds the kitchen counters piled high with tomatoes waiting to be turned into canned tomato sauce and salsa. The refrigerator's crisper draws are crammed with string beans and carrots ready to be pressure canned. And the cucumbers are accumulating daily and desperately need to be turned into pickles.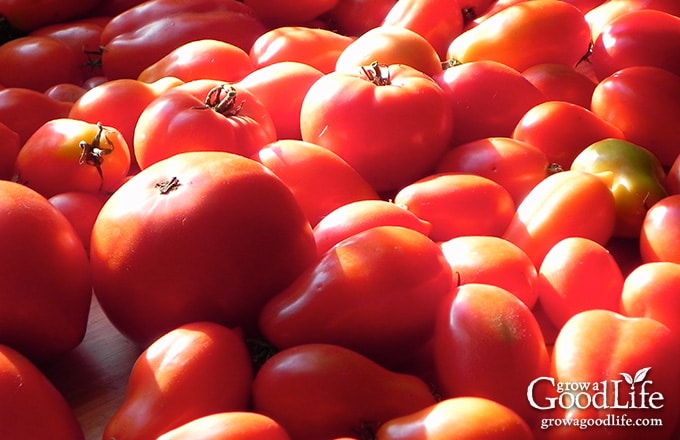 Yup, it is officially canning season.
Growing your own food can be overwhelming at times, but here are some strategies to prepare for canning season:
How to Get Ready for Canning Season
Even though I have canned for years, I always find the first canning project of the season awkward and clumsy. It takes me a few sessions to find a rhythm.
Preparing ahead of time can make the canning process so much easier. Take the time to get organized and evaluate your canning equipment, canning tools, and canning supplies with these tips:
Check Over Your Canners
Pull out your pressure canner and water bath canners from storage, wash everything in soapy water, and rinse well.
Water Bath Canner
Look over the canner and make sure it is ready for the season. A little rust and calcium deposits are ok because they won't come in contact with the food in the jars. However, check for chips and cracks, and make sure the handles are secure and can hold the weight of a filled canner.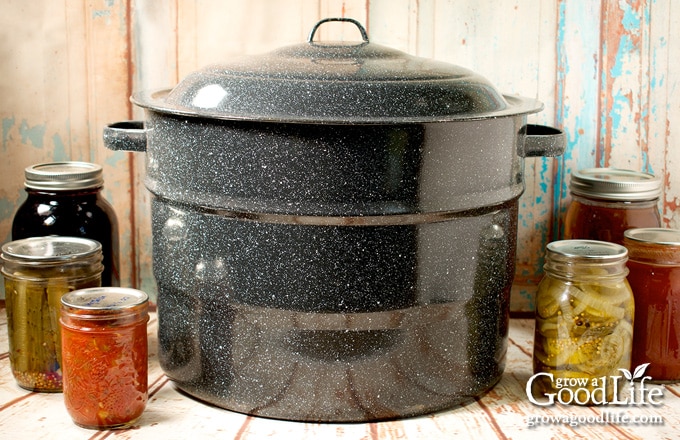 If in doubt, consider upcycling the canner into a whimsical container for growing edibles and purchase a new water bath canner. Here are my recommendations:
Victorio Roots & Branches Harvest Multi-Use Canner
This is a good quality heavy stainless steel canner with a smooth bottom that works on almost any cooktop, including induction ranges. It can be used as a boiling water bath or steam canner. You may find this canner under several brand names, including Victorio, VKP Brands, Roots & Branches, and Harvest.
Granite Wear Water Bath Canners
The Granite Wear speckled enamel canners have been the traditional pot for generations of home canners. In addition, they offer several canners specifically for water bath canning. Please note that all Granite Wear canners have ridged bottoms and are not recommended for smooth or glass top stoves. Some of the most popular models include the following:
Pressure Canner
Examine your sealing ring and replace it if needed. The rubber gaskets should be replaced every two to three years. Order an extra one now, so you have it on hand in case you need it. Check the pressure plugs and make sure they are clear.
If you use a dial gauge, have it tested to be sure it is accurate. Most extension offices will offer this service (look yours up here).
Review your pressure canner's manual to refresh your memory of the canning procedure. If you are learning about pressure canners, this article is a great reference: PNW 421: Using and Caring for your Pressure Canner by Pacific Northwest Extension Publications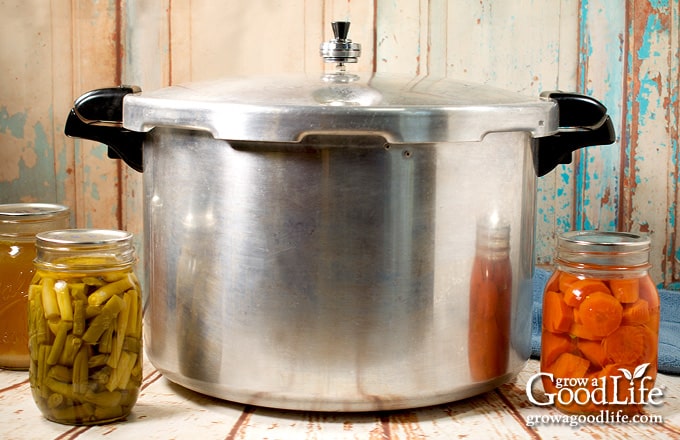 If you are investing in a new pressure canner for preserving low acid foods, stick to trusted name brands, including All American, Presto, and Mirro. Avoid no-name brands that you may find at discount stores and online because replacement parts are difficult or impossible to find, and there is no way to test the dial gauges for accuracy. Here are my recommendations:
All American Canners
All American brand pressure canners have been around since the 1930s. They are considered the Cadillac in canners and are often passed down from generation to generation. The most common models for home canning are the 915, 921, and 925. All have both a dial gauge and a weighted gauge.
Presto Pressure Canners
National Presto has been making pressure canners since 1905. They come in various models, including dial gauge, weighted gauge, and one for induction stoves.
Mirro Pressure Canners
There are two models of pressure canners currently made by Mirromatic, a 16 quart and 22 quart. Both are weighted-gauge canners. Please note that Mirro pressure canners have a concave bottom and won't heat properly on a glass or ceramic stove. They also do not come with canning racks, so you'll need to purchase one separately.
Presto Digital Electric Pressure Canner
As far as electric canners, there is only one I trust and can recommend so far. It's the Presto Precise Digital Pressure Canner. Although it has yet to be independently tested by the USDA Cooperative Extensions, it is included in a recent publication by the Pacific Northwest Extension.
I trust Presto products and feel confident recommending this canner. I have been using the Presto Precise Digital Pressure Canner since 2022, and it works wonderfully for both pressure canning and water bath canning. Jar capacity: 10 half-pints, 8 pints, and 5 quarts (Half-pints and pints only for boiling water method).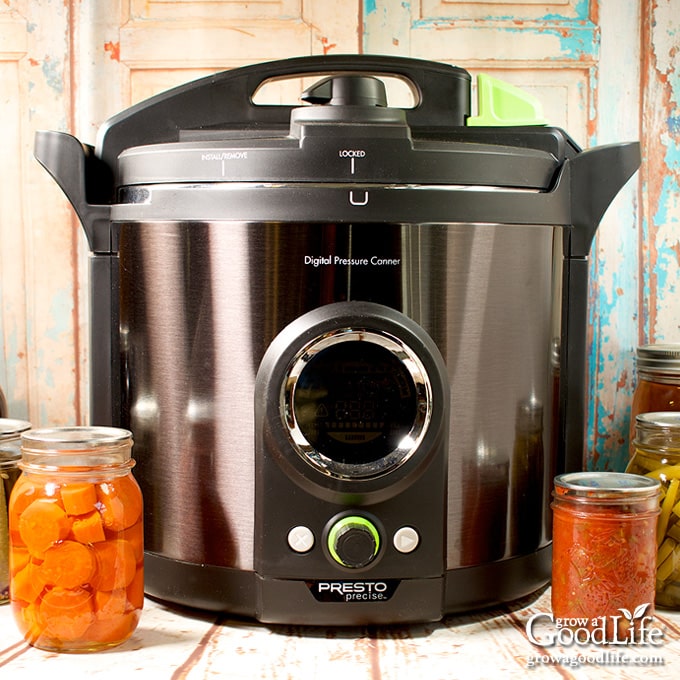 Collect Your Canning Tools
Gather your canning utensils together, wash them in soapy water, and rinse well. Store the clean tools in your canners, so they are easy to find when you are ready to can.
If you are new to canning, I suggest investing in the following essentials:
Organize Your Canning Jars
Sort through your empty canning jars and arrange them by size. Check the jars carefully for cracks and chips. Hold on to the original boxes for storage or purchase totes to keep the jars safe.
Take inventory of your empty canning jars so you have an idea of how many you have on hand. Keep an eye on sales flyers to make additional purchases of canning jars if needed.
Many new and unknown brands of mason jars are flooding the market, attempting to take advantage of the shortages that have occurred over the past several years. Unfortunately, from the reports I have read in my canning groups on social media, the quality is questionable, resulting in broken jars and wasted food.
Therefore, I recommend sticking to the following known mason jar brands: Ball, Kerr, Bernardin (Canada), and Golden Harvest.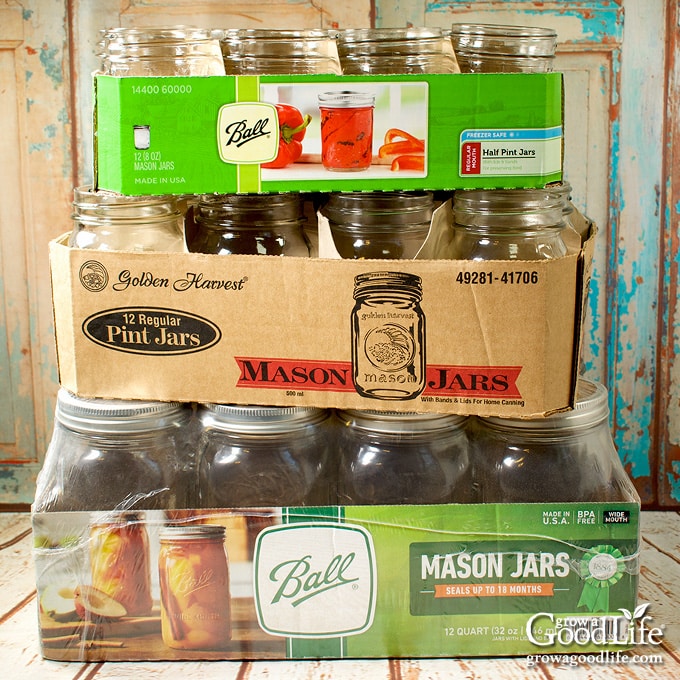 Home canning jars come in several standard sizes and two mouth openings. The most common jars are 32-ounce quarts, 16-ounce pints, and 8-ounce half-pints. Pints and quarts are handy for canning most foods, while half-pint jars are most often used for jams, jellies, and relishes. Wide-mouth jars have an opening that can be easier to fill, but most canners use a mix of wide and regular-mouth jars.
Purchase Canning Lids
Check over all your rings and discard the ones that are distorted, dented, or rusty. Purchase plenty of new canning lids early in the season. You don't want to run out when elbow deep in tomato sauce.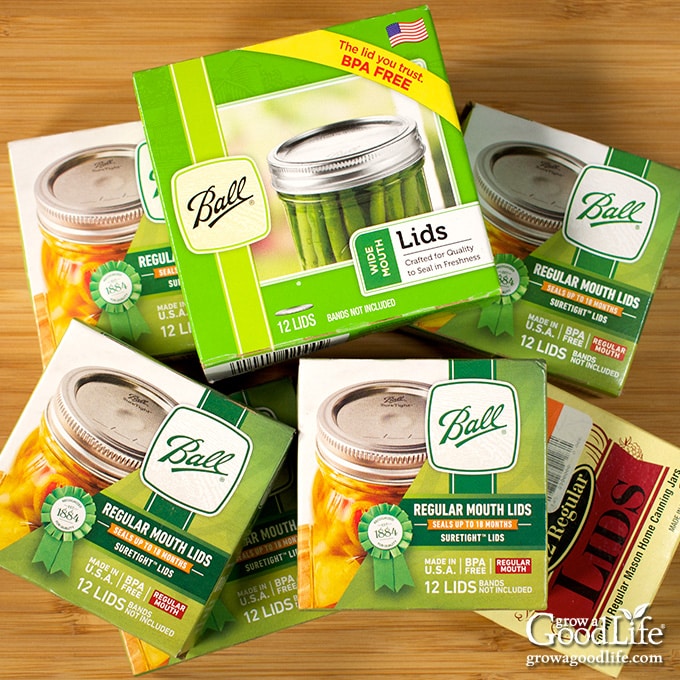 Just like the canning jars, there is an upsurge of generic canning lids flooding the market. Unfortunately, some of these are not good quality and will not seal properly or buckle when processed. So again, I suggest sticking to Jarden brand lids, such as Ball, Kerr, Bernardin (Canada), and Golden Harvest.
Review Your Canning Recipes
Pull out your canning books and check online for updated safe canning recipes. Familiarize yourself with the recipes' ingredients and the harvest needed for each procedure.
Unfortunately, with the number of online websites, blogs, and social media, it is difficult to know if these recipes are actually scientifically tested recipes that have been deemed safe.
Here at Grow a Good Life, we always use safe canning recipes from one of the reliable places listed below. Each recipe includes the source and any safe changes we have made or suggested. In addition, all the recipes are tested in our own home kitchen, photographed, and include tips to help you prepare the ingredients. As of 2022, we have reviewed all the recipes on the site to be sure they are updated and follow the proper current canning procedures.
First, bookmark this website: The National Center for Home Food Preservation. The canning recipes on this website are up to date and rigorously tested to be safe. There is also a plethora of information on safe canning backed by scientific testing, so you can be sure you are canning safely.
Then, consider adding these resources to your canning library:
Ball Blue Book Guide to Preserving 37th addition
The Ball Blue Book has been a trusted resource for generations and will be valuable to any preserver's kitchen. It was originally published in 1909 and updated frequently with recipes tested for safety. The current 37th edition was released in 2015, but the 36th edition from 2013 is still valid.
The Ball Blue Book is a classic reference book with over 500 recipes for preserving food. It includes recipes and easy-to-follow instructions for canning, pickling, freezing, and dehydrating all types of foods. There is a mix of water bath and pressure canning recipes.
Ball Complete Book of Home Preserving
This is an excellent book of research-tested recipes for canning and preserving at home. It includes detailed instructions for beginners, tips for experienced cooks, and 400 safe water bath and pressure canning recipes, including jams, jellies, salsa, relish, pickles, tomatoes, vegetables, meats, soups, stews, and sauces.
The All New Ball Book of Canning and Preserving
This book is a more recently developed publication by Jarden Home Brands, the current parent company of Ball. It deviates from the traditional recipes found in other publications by introducing more modern recipes for preserving food.
This book includes about 350 preserving recipes, including canning, fermenting, freezing, dehydrating, curing, and smoking, along with ways to use preserved food.
Ball Canning Back to Basics
This is an excellent book for beginner canners with easy-to-follow recipes for water bath canning. It contains 100 recipes for jams, jellies, fruit butters, sauces, and pickles.
So Easy to Preserve Home Canning Book
This canning book is published by the University of Georgia's Cooperative Extension and includes updated scientifically tested recipes that follow the U.S. Department of Agriculture safety recommendations.
This book has over 185 lab-tested recipes for canning, pickling, freezing, and dehydrating food.
Be wary of copies sold online by secondary sellers. There are many counterfeit copies that contain errors and omissions that may make the food unsafe for canning. The only authorized place to purchase this book is at the UGA Extension Publications SETP website:
USDA Complete Guide to Home Canning
This publication contains all the research-based recommendations and recipes for safe canning from the National Center for Home Food Preservation website and is updated regularly.
I will warn you that there are a lot of counterfeit copies of this book out there for purchase. Some have errors that could impact the safety of the canned goods. The only authorized source to purchase the print edition of this book is the Purdue University website:
It can also be downloaded for free in PDF format at the National Center for Home Food Preservation website. You could place the PDF files on a thumb drive and take them to a copy center to have it printed into a booklet.
Inventory Your Canning Ingredients
Assess your canning ingredient inventory, discard old or outdated items, and replace them with fresh ones. Stock up on the following canning ingredients in advance, so you are ready to go:
Vinegar
Vinegar is used in many canning recipes, from pickles to salsa. The standard vinegar strength for home canning is 5% acidity, sometimes listed as 50% grain. There are three types of vinegar I like to have on hand:
White vinegar is clear vinegar made by distilling corn and rye. It tastes more sour and acidic, but this may be just what you love about pickled vegetables. Choose an organic brand to avoid genetically modified corn.
Apple cider vinegar is made from fermented apples. It has a fruity tart flavor that blends well with vegetables. The color is amber brown and may darken your pickles slightly, but the taste is worth it.
Red wine vinegar is made from fermented red wine and adds a slightly sweet fruity flavor to the onions.
Pectin
Pectin is a gelling agent used for making homemade jams, jellies, and preserves. There are several brands and types of pectin, including powdered, liquid, and low-sugar. Each type of pectin works a little differently. Some recipes call for powdered pectin, while others use liquid fruit pectin. Having a variety of commercial pectin on hand makes it easy to preserve many different fruits. However, pectin does lose its potency over time, so be sure to purchase a fresh supply.
Pamona's Universal Pectin is my favorite type of pectin for making jams and jellies. It is a citrus pectin that lets you use less sugar and other sweetening alternatives than your typical boxed pectin. It works differently than standard pectin because it uses calcium powder to gel instead of lots of sugar. This allows the fruit flavor to shine in your jellies and jams rather than the sweetness of the sugar.
Pickling Salt
Pickling salt is a type of salt used for canning and pickling. It is a fine-grained salt that dissolves quickly and evenly, making it ideal for preserving food. Pickling salt, also called canning salt, is free of additives and preservatives, which can alter food flavor and make jars cloudy.
Pickling Spices and Herbs
Pickling spice is a blend of herbs and spices used to flavor pickled foods. The typical pickling spice mix includes cloves, cinnamon, allspice, ginger, and mustard seeds. You can buy pickling spice pre-mixed or purchase the individual ingredients so your receiver can mix their own.
Consider stocking your canner pantry with celery seeds, whole allspice, cinnamon sticks, turmeric, peppercorns, coriander seeds, cloves, and red pepper flakes.
Many canning recipes use dried herbs to add flavor. I like to keep a supply of dried oregano, parsley, bay leaves, and thyme on hand.
Citric Acid
Citric Acid is used in home canning to safely adjust acidity for preserving tomatoes and tomato sauce.
Lemon and Lime Juice
Commercial bottled lemon juice and lime juice are used to add flavor and adjust the pH in home canning recipes including tomatoes, salsas, jams, and jellies.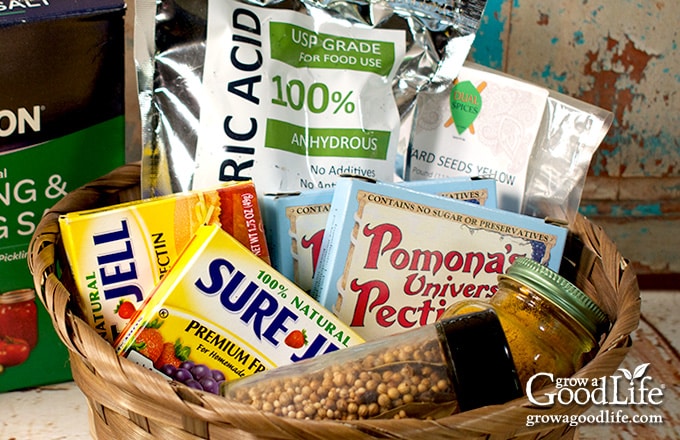 Consider Investing in Additional Kitchen Gear
These kitchen appliances, equipment, accessories, and prep tools can help make canning projects easier, especially if you preserve a lot of food:
Cadco Burner: This 1500-watt portable burner is highly recommended in many of my canning groups for those unable to can on their glass-top stoves.
Large Stockpot: Perfect for simmering a large batch of tomato sauce or making chicken stock. It can double as a water bath canner by adding a rack on the bottom.
Steam Juicer: A steam juicer is a kitchen appliance that extracts juice from fruit. The juicer works by boiling the fruit in water and then collecting the liquid. Steam juicers are handy for making home-canned juices, jams, and jellies.
Food Scale: A food scale is an important tool for home canning. It is used to weigh the amount of food that will be canned.
Food Strainers: A food strainer is a kitchen tool used to puree food and remove seeds and peels. These tools are a huge time saver when used to prepare large batches of tomatoes for sauce, puree apples for applesauce, and strain fruit for jams, jellies, and preserves. There are several tools that do the job::
Victorio Food Strainer: This food strainer attaches securely to a table or countertop. It has a large hopper where you place the food and a crank that pushes it through a sieve that removes the skins and seeds and crushes the flesh into a smooth puree.
Foley Food Mill: A food mill has a bowl with holes in the bottom and a crank with a blade that crushes the food and feeds the puree through the holes, leaving behind the seeds and skins.
Kitchen Aid Food Strainer: An attachment that works with a Kitchen Aid mixer that separates the skins and seeds from the pulp.
Vegetable Chopper: This tool comes in handy for slicing, chopping, and dicing food to make home-canned sauces, relishes, and salsas..
Stainless Steel Prep Bowls are ideal for holding big batches of food, are lightweight, easy to clean, and will not stain or retain food odors.
Large Colanders helps rinse and drain large amounts of fruit or vegetables.
Large Measuring Cups: Measuring cups come in all sizes, but a large measuring cup is especially useful for home canning. Look for one that is durable and easy to read.
Jelly Straining Stand and extra strainer bags: A jelly straining stand is an apparatus used to support a jelly bag or cheesecloth while the heated liquid drains from the solid foodstuff inside.
Candy Thermometer: Helpful for measuring the temperature to properly heat foods for canning and for monitoring the heat for making jams, jellies, and preserves.
Rubber gloves are extremely handy for handling hot peppers and beets to prevent burning and staining.
Kitchen timer: Helpful for keeping track of cooking and processing time.
—
Home food preservation season will be here soon. Canning is a great way to preserve your vegetable garden harvest. Now is a great time to review your home canning equipment and inventory your canning supplies.
Hopefully, these tips will help you prepare for the bulk of canning season, and soon you will fill your shelves with jars of homegrown goodness.
Good planning is key to a successful vegetable garden
Whether you are new to growing your own food or have been growing a vegetable garden for years, you will benefit from some planning each year. You will find everything you need to organize and plan your vegetable garden in my PDF eBook, Grow a Good Life Guide to Planning Your Vegetable Garden.