Are you ready for canning season? It can be overwhelming when your vegetable garden harvest comes in all at once. Here are six tips to help you prepare for canning season.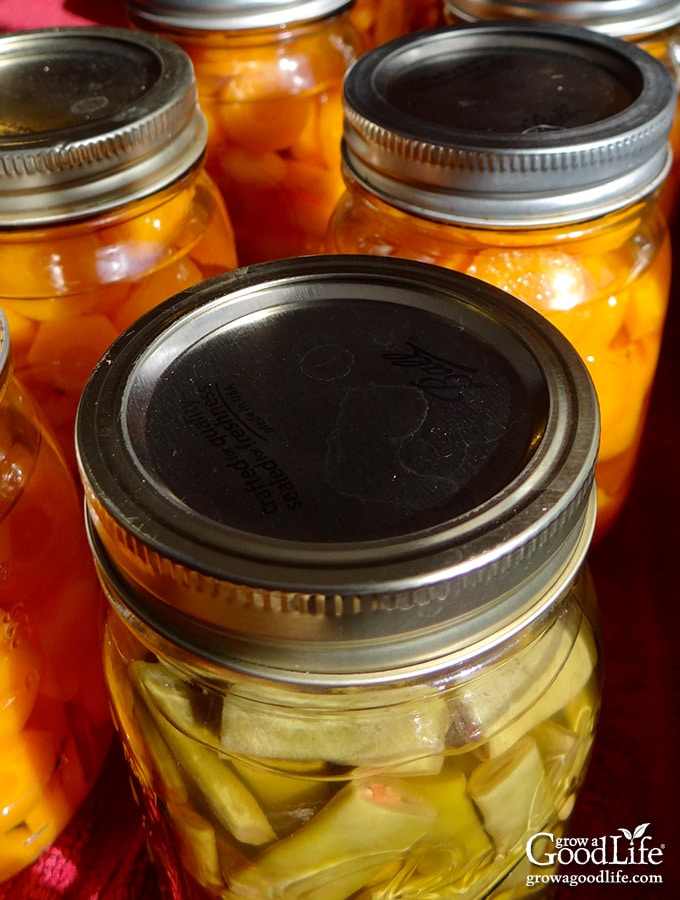 One of the delights of summer is the abundance of fresh, organic, homegrown vegetables that are available. The advantage of growing your own garden is that you can harvest and enjoy your vegetables when they are at peak flavor and nutrition.
My goal each year is to try to grow enough food for fresh eating and to preserve for winter. Since our growing season is short, this means that the majority of the harvest all comes in around the same time.
Some of the harvest can be cured and stored on shelves in our cool basement over winter. The garlic and onions are cured and stored in baskets, the potatoes and other storage crops will be harvested later in the fall and added to the storage shelves.
If you grow a vegetable garden, you know how crazy it can get when the harvest begins.
Late summer finds the kitchen counters piled high with tomatoes waiting to be turned in to tomato sauce and salsa, the refrigerator's crisper draws are crammed with string beans and carrots ready to be pressure canned, and cucumbers waiting to be turned into pickles.
Yup, it is officially canning season.
It can be overwhelming at times but here are some strategies to prepare for canning season:
6 Tips to Prepare for Canning Season
Even though I have canned for years, I always find the first canning project of the season awkward and clumsy. It takes me a few sessions to find a rhythm.
Preparing ahead of time can make the process so much easier. Take the time to evaluate your canning equipment with these tips:
Check Over Your Canners
Pull out your water bath canner and pressure canners from storage, wash everything in soapy water, and rinse well.
Water Bath Canner: Look over the canner and make sure it is ready for the season. A little rust and calcium deposits are ok because it won't come in contact with the food in the jars. However, check for chips and cracks, and make sure the handles are secure and can hold the weight of a filled canner.
If in doubt, consider upcycling the canner into a whimsical container for growing edibles and purchase a new water bath canner.
Pressure Canner: Examine your sealing ring and replace if needed. These should be replaced every two to three years. Order an extra one now so you have it on hand in case you need it. Check the pressure plugs and make sure they are clear.
If you use a dial gauge, have it tested to be sure it is accurate. Most extension offices will offer this service (look yours up here).
Review your canner's manual to refresh your memory of the canning procedure.
Collect Your Canning Utensils
Gather together all your canning utensils including your jar rack, magnetic lid lifter, bubble popper, canning funnel, ladle, and jar lifter. Wash in soapy water and rinse well. Store the clean tools in your canners so they are easy to find when you are ready to can.
Organize Your Canning Jars
Sort through your empty canning jars and arrange by size. Check the jars carefully for cracks and chips. Hold on to the original boxes for storage or purchase totes to keep the jars safe.
Take inventory of your empty canning jars so you have an idea of how many you have on hand. Keep an eye on sales flyers to make additional purchases of canning jars if needed. Wash jars in hot, soapy water and rinse well before using.
Purchase Lids and Rings
Check over all your rings and discard the ones that are distorted, dented, or rusty.
Purchase plenty of new lids early in the season. You don't want to run out when elbow deep in tomato sauce.
Review Your Canning Recipes
Pull out your canning books and check online for updated safe canning recipes. Familiarize yourself with the ingredients of the recipes and the amount of harvest needed for each procedure.
Bookmark this website: The National Center for Home Food Preservation. The canning recipes on this website are up to date and rigorously tested to be safe. Also check out the canning recipes here at Grow a Good Life. They are all safe canning recipes from tested sources.
Consider adding these books to your canning library:
Inventory Your Canning Ingredients
Assess your canning ingredient inventory and discard old or outdated items and replace with fresh ones:
Hopefully, these tips will help you plan ahead and prepare for canning season, May your shelves be filled soon with jars of homegrown goodness.
You May Also Like these Canning Recipes:
[sc:gglnews ]