Got a bumper crop of peppers from your vegetable garden? Here are ways to preserve peppers to enjoy all winter including drying, freezing, and canning.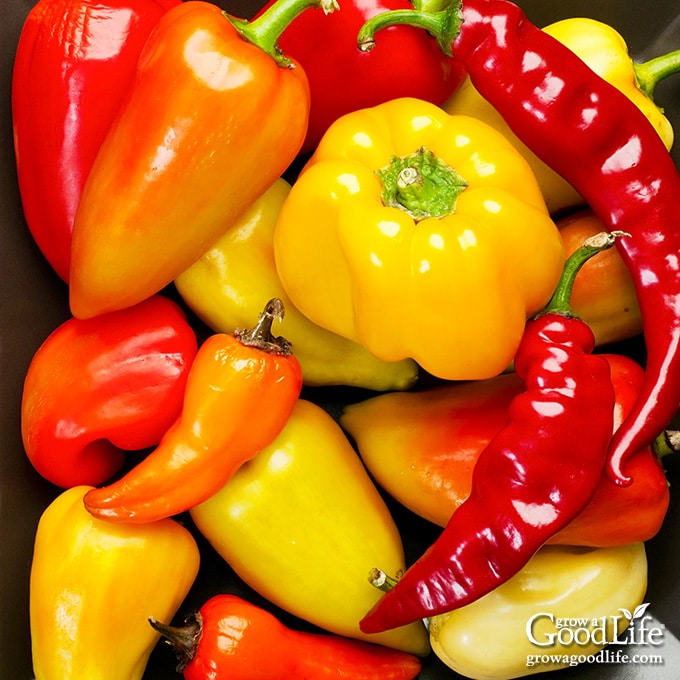 Peppers are so much fun to grow because there are so many tasty varieties to choose from. They come in numerous colors, shapes, and degrees of sweet to hot.
Growing peppers in cooler climates can be challenging. The short growing season, combined with cool, damp weather can result in plants that grow slowly. Often times they don't begin producing a harvest until well into August. Just when they are hitting their prime…bam, the season ends.
To compensate, I tend to grow a lot of pepper plants in hopes of gathering a good harvest before frost arrives. If the growing conditions are right, and the summers are hot and dry like we've been experiencing lately, I will be happy with an unexpected bumper crop.
How to Preserve Peppers
After I have had my fill of grilled salsa, red jalapeño hot sauce, and fajitas, I begin preserving peppers to enjoy through the winter months. Here are some of my favorite ways to preserve peppers to enjoy all winter long:
Freezing Peppers
The easiest way to preserve peppers is to freeze them. Peppers are one of the few vegetables that can be frozen without having to blanch first. Surprisingly, frozen peppers do not turn to mush when thawed either. They do lose some of their crispness, but maintain the flavor of fresh peppers.
You can freeze raw peppers cut into strips for fajitas and stir-fries, roast them first, peel off the skins, remove the seeds, and freeze, and even freeze whole chili peppers. Wear gloves when working with hot peppers.
Jamie Oliver recently shared a clever way to use frozen chile peppers, "Simply pop them in the freezer as they're fantastic finely grated directly from frozen, which creates a tasty, beautiful chilli dust that is great in cooking and marinades, or for sprinkling over pastas, salads, starters, antipasti, meat or fish dishes!!"
Thawed peppers can be used to make salsa, fajitas, or any cooked recipe where you would normally use peppers. Frozen peppers are easy to chop while partially defrosted.
Drying Peppers
Drying your pepper harvest is an excellent way to preserve peppers. Dehydrating concentrates the flavor of sweet peppers and heat of chile peppers.
You can add the dried peppers to soups, stews, or chilies and they will rehydrate as they are cooked. Dried peppers can also be crushed into pepper flakes or blended into chili pepper powder.
Home Canning Peppers
Most of the peppers I grow are used to make and preserve as salsa. I love having a shelf filled with jars of salsa to flavor meals all winter long until the garden produces again.
While salsa is a great way to use up that harvest, there are other ways to can peppers into shelf-stable jars for long term food storage. Here is a collection of safe canning recipes to preserve peppers, including salsas, pickles, and relish:
Traditional Zesty Salsa
A home canned salsa with tomatoes, peppers, onions, and vinegar bite for a classic zesty flavor.
Tomato Jalapeño Salsa
This safe canning recipe uses fresh lime juice instead of vinegar for a more authentic flavor.
Roasted Tomatillo Salsa
A great way to use up some of those jalapeño or serrano chili peppers is this delicious roasted tomatillo salsa home canning recipe.
Refrigerator Pickles
Quick pickles rely on vinegar and the cool temperature of the refrigerator to preserve them for a few months. You can chop and pickle any type of pepper with this easy recipe.
Pickled Jalapeño Pepper Rings
If you are aiming for longer-term storage, you can preserve pickled peppers using a water bath canner. This canning recipe is for jalapeño peppers, but you can safely swap the type of peppers used as long as the amount of peppers stays the same.
Marinated Roasted Red Peppers
Ripe red bell peppers are oven-roasted and preserved in flavorful red-wine vinegar, olive oil, and herb infused brine. This safe canning recipe is similar to the classic Italian marinated roasted red peppers.
Sweet Cucumber Relish
This sweet and tangy cucumber relish is made with cucumbers, peppers, onions, and flavored with an apple cider vinegar brine infused with pickling spices.
Zucchini and Bell Pepper Relish
In this recipe, zucchini is combined with sweet bell peppers, and onions for a sweet and slightly tart flavored relish that will dress up your burgers, sandwiches, and picnic salads.
Green Chile Peppers
You can preserve plain peppers with a pressure canner. Any type of pepper can be pressure canned using this method.
Both sweet and hot peppers can be preserved in several different ways. I hope you have found a way that works for you.
I find that peppers that have thick walls, such as sweet bells, jalapeños are excellent for freezing. Thin-walled cayenne, de arbol, and japones are easy to dry using a dehydrator. And of course, any pepper can be pickled or pressure canned into shelf stable jars for food storage.
What is your favorite method for preserving peppers? Let us know in the comments.
This article was originally published September 3, 2016. It has been updated with more information, recipes, and photos.
You May Also Like:
Good planning is key to a successful vegetable garden
Whether you are new to growing your own food or have been growing a vegetable garden for years, you will benefit from some planning each year. You will find everything you need to organize and plan your vegetable garden in my PDF eBook, Grow a Good Life Guide to Planning Your Vegetable Garden.