Are you sick of Zucchini yet? After you have baked, sautéed, stuffed, and grilled about as much as you can stand, here are three ways to preserve zucchini so you can enjoy the summer harvest bounty over the winter months.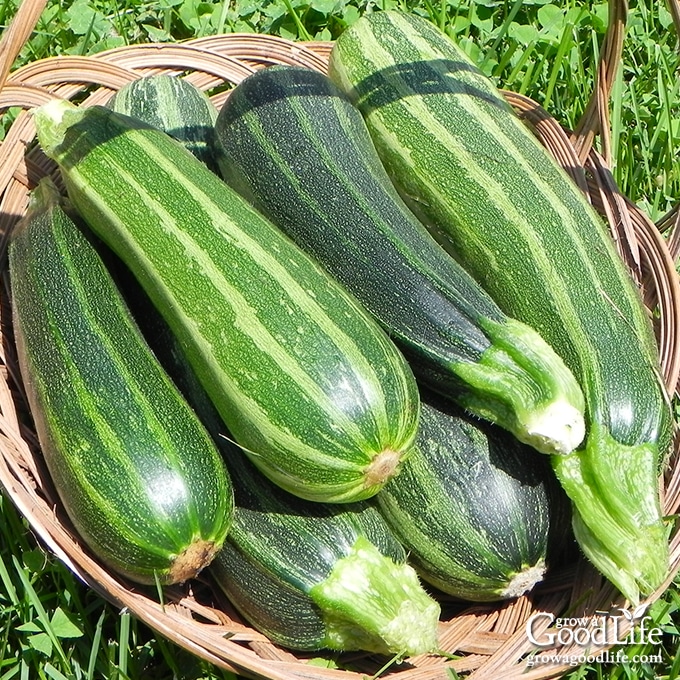 Zucchini….It's the crop that keeps on giving. It is easy to become overwhelmed by the harvest bounty collected from even a few plants in the vegetable garden.
Thankfully, zucchini is versatile and can be enjoyed grilled, fried, sautéed, stuffed, and made into zucchini garlic bites and zucchini lasagna.
By late summer, I stop trying to find new ways to use zucchini and summer squash and focus instead on methods to preserve zucchini to use over the winter months.
Here are three easy ways to preserve zucchini:
Freeze Zucchini
Freezing zucchini is one of the easiest ways to preserve an abundant harvest that comes in all at once. Having a supply of zucchini in your freezer will make it easy to grab and use in your favorite meals and baked goods.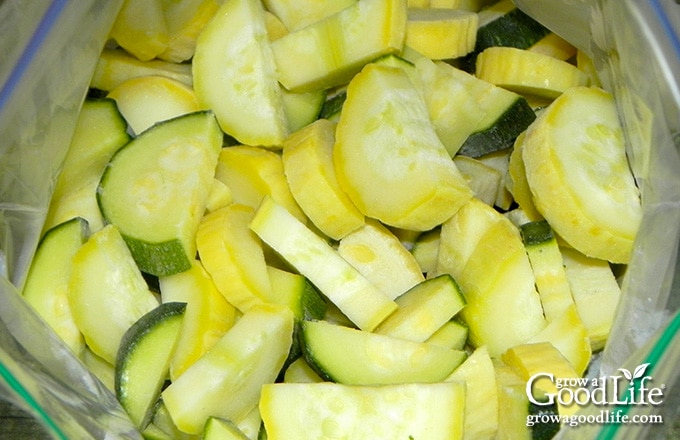 Here are 5 ways you can freeze zucchini:
Zucchini Slices or Pieces: Zucchini slices, cubes, or pieces come in handy for sautés, soups, stir-fry, and casseroles. Keep the zucchini slices frozen until you are ready to use and just toss them in.
Shredded Zucchini: Shredded zucchini can be used to make frittatas, quiche, and baked goods such as zucchini bread and muffins. Thaw the frozen shredded zucchini first before adding to your recipes. Keep the liquid if you are using the shredded zucchini in baked goods, but drain it if you are making frittatas or quiche.
Zoodles or Zucchini Noodles: Frozen zucchini noodles are a great addition to soups, stir-fry, and as a substitute for pasta topped with your favorite sauce. Use frozen and cook briefly, only about a minute.
Zucchini Halves: Blanched and frozen zucchini halves are ready for filling with you favorite stuffing and baking in the oven. Thaw before using in your favorite zucchini boat recipe, or simply drizzle with garlic and roast in the oven until tender.
Zucchini Purée: Zucchini purée is so handy to have in the freezer for using in smoothies, soups, sauces, and baked goods. Thaw before using and add to your recipes. You can also use zucchini puree in any baked goods recipe that calls for shredded zucchini.
Dehydrate Zucchini
Dried zucchini takes up very little space. Believe it or not, about four pounds of zucchini will shrink enough to fit into one pint sized jar. If you have a food dehydrator, put it to use to preserve zucchini by drying it.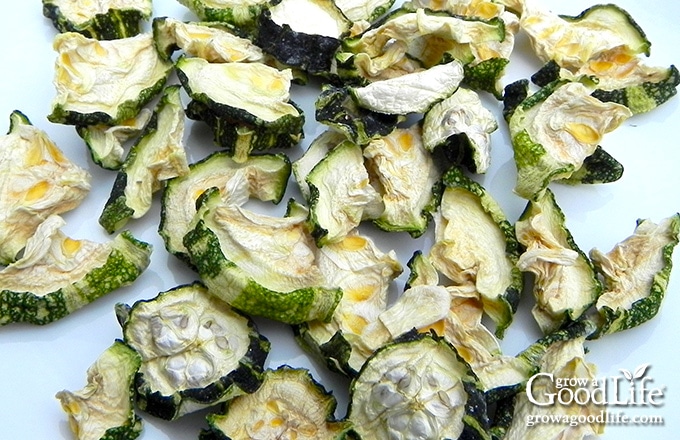 Use dehydrated zucchini in your favorite soup and pasta dishes. For pasta, just add the dehydrated zucchini to the boiling water at the same time you add pasta. By the time the pasta is done, the zucchini will be rehydrated too and ready for your favorite sauce.
Can Zucchini Pickles and Relish
Zucchini can also be pickled and canned using a water bath canner. Preserve your enormous harvest of zucchini from your late-summer garden with these safe canning recipes:
Zucchini Relish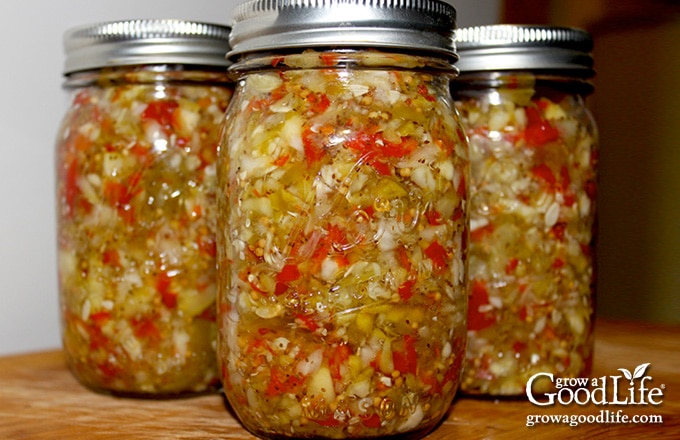 Combine zucchini with sweet bell peppers, onions, spices, and vinegar for a sweet and slightly tart flavored relish that will dress up your burgers, sandwiches, and picnic salads.
Zucchini Sweet and Sour Pickles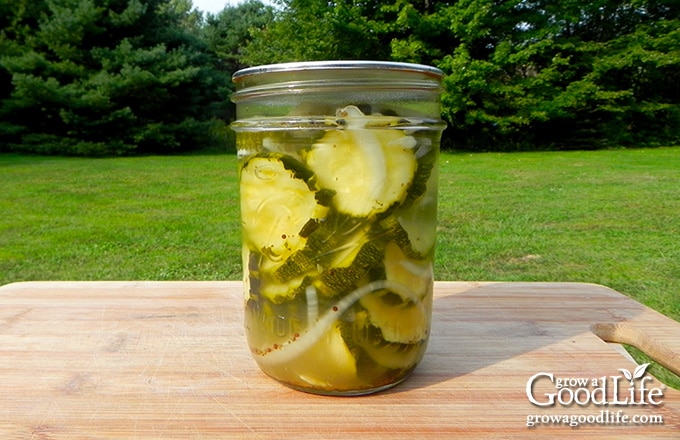 Line your storage shelves with home canned zucchini pickles, featuring zucchini, onions, turmeric, and other spices in the simple pickling brine.
I hope that knowing you can preserve zucchini and summer squash to enjoy during the winter months helps you deal with the abundant crop that just keeps on giving.
This post is part of the blogger roundup Preserving the Harvest
Do you love preserving the harvest as much as we do? Click the links below and get detailed instructions for preserving 23 of the most popular fruits and vegetables
Preserving Vegetables (in alphabetical order)
How to Preserve Carrots by Freezing, Canning, and More from Oak Hill Homestead
4 Easy Ways to Preserve Cauliflower from Dehydrating Made Easy
Cucumber Fresh Pack Garlic Dill Pickles Recipe from The Self Sufficient HomeAcre
Make Your Own Garlic Powder and Other Ways to Preserve Garlic from Learning & Yearning
How to Freeze Your Green Bean Harvest from The Reid Homestead
How to Preserve Leafy Greens from Homespun Seasonal Living
Preserving Okra by Freezing, Canning, Fermenting, and Dehydrating from Schneider Peeps
5 Ways to Preserve Onions for Storage from Rockin W Homestead
How to Dehydrate Parsnips & Make Parsnip Chips from The Purposeful Pantry
3 Ways to Preserve Peppers from Grow a Good Life
5 Ways to Store Potatoes from A Modern Homestead
Ways to Preserve Radishes from The Purposeful Pantry
How to Freeze Squash (and Other Preservation Methods) from Our Inspired Roots
Freezing Tomatoes for Preserving Later in the Year from Stone Family Farmstead
3 Easy Ways to Preserve Zucchini from Grow a Good Life
Preserving Fruit (in alphabetical order)
Guide to Preserving Apples from Oak Hill Homestead
3 Ways To Preserve Fresh Summer Berries from Better Hens & Gardens
How to Make Cherry Jam from Scratch from The Self Sufficient HomeAcre
3 Quick Ways to Preserve Grapes from Homestead Lady
3 Best Ways To Preserve Mulberries from My Homestead Life
How To Preserve Oranges On The Homestead from 15 Acre Homestead
How to Freeze Peaches from A Modern Homestead
How To Preserve Strawberries On The Homestead from 15 Acre Homestead
This article was originally published September 2, 2014. It has been updated with more information, photos, and links to the Preserving the Harvest blogger roundup.
You May Also Like:
Good planning is key to a successful vegetable garden
Whether you are new to growing your own food or have been growing a vegetable garden for years, you will benefit from some planning each year. You will find everything you need to organize and plan your vegetable garden in my PDF eBook, Grow a Good Life Guide to Planning Your Vegetable Garden.