Growing peppers is possible even if you are in cooler climates. The key is to select varieties that are adapted to colder temperatures with early maturity dates, so they grow and ripen before the first fall frosts kills the plant.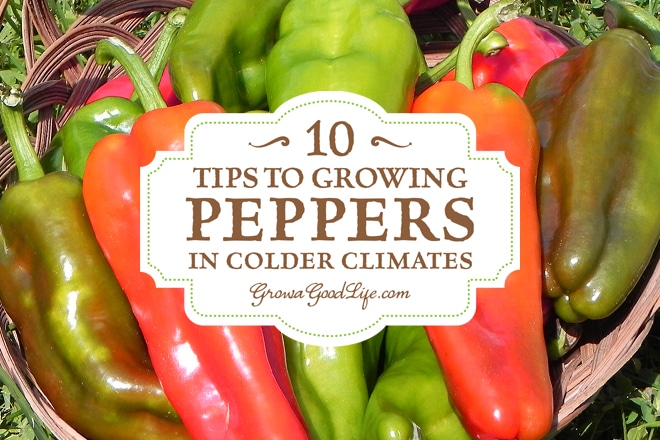 Peppers are members of the Solanaceae, or nightshade family, and the genus capsicum. They are native to Central and South America, but varieties have been cultivated and adapted to many areas across the globe.
Peppers are divided into roughly two groups, sweet peppers and hot peppers:
Sweet peppers range from the familiar blocky bell pepper to sweet, thick-walled pimiento peppers, to bull horned peppers that are great for grilling or frying. They have a mild, sweet flavor when ripe.
Sweet peppers include many varieties of bell peppers such as California Wonder, Yolo Wonder, and Purple Beauty. Sweet peppers also include varieties that are great for grilling, frying, or stuffing such as Marconi, Jimmy Nardello, and Sweet Banana.
Hot peppers are often referred to as chili or chile peppers and are spicy hot because of a chemical compound called capsaicin. The level of chile peppers' heat is measured by means of the Scoville Heat Index, developed by Wilbur Scoville in 1912. The higher the number of Scoville units that a pepper is rated, the hotter the pepper.
Examples of hot peppers are Anaheim, Cayenne, Hungarian Yellow Wax, Jalapeño, and Serrano Chili Peppers. In addition, some Banana and Cherry peppers come both sweet and hot.
10 Tips to Growing Peppers in Colder Climates
I wasn't a big fan of peppers when I was growing up. My family grew only one type of pepper in their garden and that was some sort of bell-shaped green pepper. What I didn't know back then was green peppers were immature fruits. Depending on the variety, green bell peppers change to red, yellow, or orange when fully ripe. Once bell peppers ripen, their flavor develops from pungent, and slightly bitter to a sweet, almost fruity taste. Our short growing season didn't allow time for most of the bell peppers to mature fully.
Since then I have learned that you can grow a wide diversity of peppers even if you garden in cooler climates with a short growing season. There are so many different sizes, shapes, colors and flavors of peppers that I can't resist trying different varieties and discovering which ones succeed in my zone 5 growing area.
Here are some tips for growing peppers in colder climates:
1. Select Quick Maturing Peppers: Choose varieties that mature quickly and are adapted to cool temperatures, so they ripen before the end of the season before your first frost. For sweet bell peppers, try growing Ace, Lady Bell, or King of the North. For hot peppers, choose Early Jalapeño, Hungarian Hot Wax, and Anaheim. I have had great success growing all of these varieties in my zone 5 area.
2. Start Pepper Seedlings Early: If you are growing peppers from seed, note that the date to maturity on the seed package is the date from transplant to harvest. It is not the date from germination like other seed packages. You will need to add 6-8 weeks to that date if you are growing transplants. See How to Develop a Seed Starting Schedule.
Common advice on growing peppers suggests keeping them a warm location throughout their seedling stage. Contrary to that advice, I grow my peppers in our cool basement. The plants grow slowly in this environment, but they are healthy, stocky, and will adapt quickly to the outdoors. Add a week or two to your seed-starting schedule if you are growing pepper transplants in cooler temperatures.
Most pepper seeds sprout in about 7-10 days at a temperature of 70-80?F. Germination will take longer at lower temperatures. Pre-sprout your pepper seeds for quicker germination, then transplant the sprouted seeds to your growing medium and place under lights.
Use a heat mat and the seedlings will emerge from the soil quicker. Once they do surface, remove them from the heat and keep the growing lights about 2-inches above the seedlings. Once the peppers true leaves develop, pot up the seedlings into 4-inch containers. See 10 Steps to Starting Seedlings Indoors for additional tips.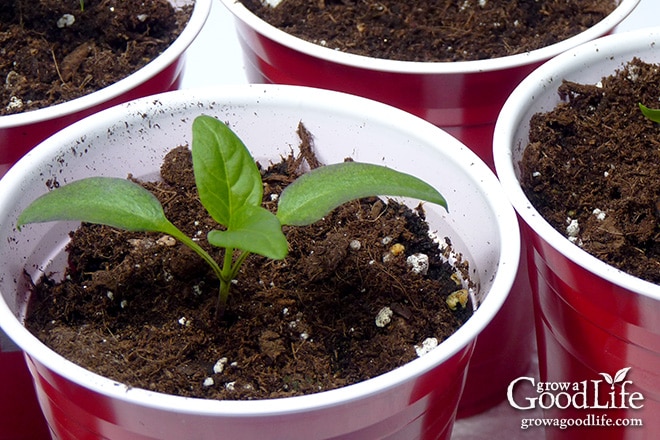 3. Fertilize Pepper Seedlings: Feed your seedlings with an organic fertilizer once the true leaves develop. Begin a fertilizing regimen using half-strength, organic liquid fertilizer such as fish emulsion or worm casting tea. Each brand is different; follow the instructions on the label for best results.
4. Select Your Planting Location: Peppers love heat. Choose a well-drained planting bed that receives at least 6-8 hours of sunlight per day. Prepare the bed ahead of time by removing any weeds and mixing in some finished compost to help the soil retain moisture and add some nutrients.
5. Wait for Warm Temperatures: Peppers are heat loving plants that cannot take cold temperatures. Moving your seedlings from indoors under lights to outdoors too soon can stunt the plants, and it may take them a while to recover reducing yields. Wait for warm daytime temperatures to begin hardening off your seedlings and wait until nighttime temperatures are in the high 50s?F before leaving them out overnight. I aim to transplant peppers to the garden 2-3 weeks after our average last frost date.
6. Pinch off Early Blooms: You may be excited to see early blooms on your pepper plants even before you transplant them into the garden. However, if you pinch these off, you will allow the pepper plant to focus its energy on growing healthy roots and branches rather than fruit. This will pay off in the long run. Healthy plants will yield healthier and more abundant peppers.
7. Transplant the Pepper Seedlings to the Garden: Transplant your pepper seedlings to the garden on an overcast day to help your plants adapt without the additional challenge of the sun. If the soil is dry, water the bed very well the day before.
Depending on the variety, plant peppers 18-24 inches apart. Close planting helps provide a leaf canopy to shade the fruit protecting it from sun scald. Dig your holes and set the transplants in a little deeper than the top of the root ball to encourage additional root growth at the base of the stem. Stake or cage larger varieties to help support the heavy fruit. Water the seedlings well after planting.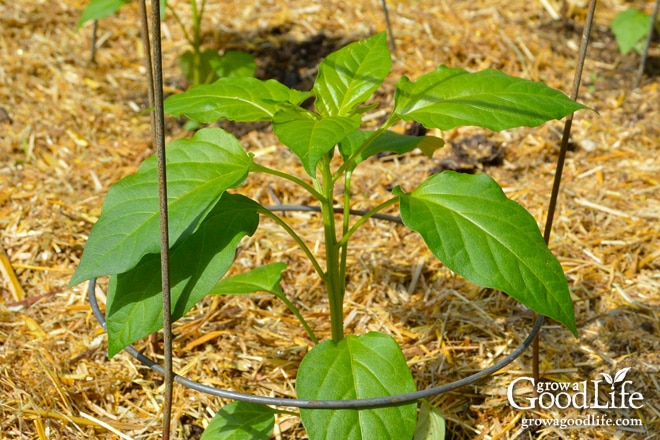 Fertilize with organic liquid fertilizer or use a slow-release organic fertilizer such as Epsoma Plant Tone or Tomato Tone. Follow the instructions on the label for best results.Most often, you will fertilize at planting time, then again when the plants begin to form peppers.
8. Water: Pamper your transplanted peppers in the beginning until they adjust to their new environment. Keep them well watered until the plants begin to sprout new leaves. Once the plants are established, reduce watering to once or twice a week when the soil feels dry.
9. Mulch: Mulch the soil surface with shredded leaves or straw to help hold in soil moisture. Keep the mulch a few inches away from the stems so it doesn't stifle the plants.
10. Harvest: Peppers can be harvested at any stage of growth, but their flavor doesn't fully develop until maturity. Pick the first two peppers on each plant when they reach a usable size. This will allow the plant to devote more energy to produce more fruit during the most ideal growing part of the season. Harvest when the peppers turn to their final expected color such as yellow, red, or orange.
Peppers that have partially changed color will finish ripening if you leave them at room temperature for a few days. Harvest all the peppers from the plant before the first frost. Frost turns the fruit into mush.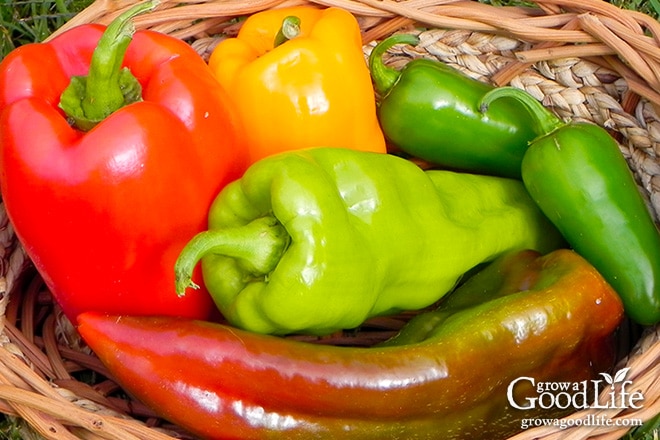 Peppers are one of the most diverse crops you can grow in your garden. Their uses range from fresh eating, to grilling, drying, stuffing, roasting, fermenting, or pickling. They can also be turned into salsa, puréed into hot sauces, used in chili, and added to stir-fries. Growing peppers is possible even for those of us with short gardening seasons. It is worth exploring different flavors and varieties to see what will thrive in your environment.
This article was originally published on June 6, 2016. It has been updated with additional information, photos, and video.
You May Also Like These Articles About Peppers:
Good planning is key to a successful vegetable garden
Whether you are new to growing your own food or have been growing a vegetable garden for years, you will benefit from some planning each year. You will find everything you need to organize and plan your vegetable garden in my PDF eBook, Grow a Good Life Guide to Planning Your Vegetable Garden.