With a little planning at planting time, garlic is one of the most trouble-free crops you can grow in the garden. Here are some tips for growing garlic.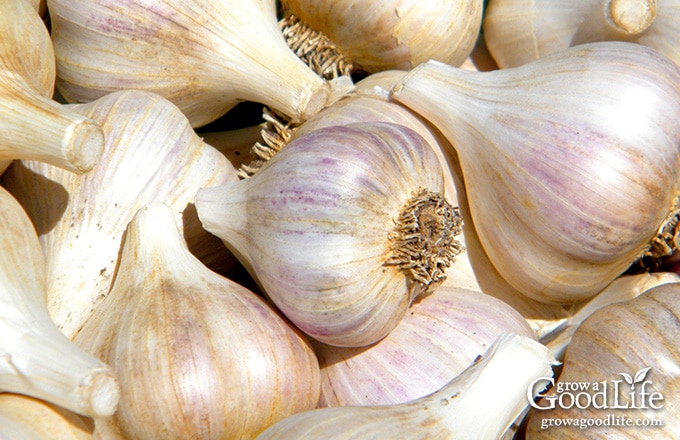 Why Grow Garlic?
More Variety: There are more than 200 cultivars of garlic available in from seed catalogs and farmers' markets in the United States. Only two varieties are commonly found in grocery stores. If you like cooking and eating garlic, growing your own lets you add different varieties to your meal planning.
Staple Ingredient in Cooking: Garlic is an essential ingredient for adding flavor in many cuisines from around the world. You will find garlic in soup and stews, snacks and dips, and stir-frys and salsas, and breads and flavored butters. With so many culinary uses, it is worthwhile to keep garlic on hand.
Health Benefits: Garlic has documented health benefits. It can help boost the immune system, reduce high blood pressure, and has antibiotic and antifungal properties. So it is a good idea to include garlic in your diet.
Stores Well: Once cured, garlic has a long shelf life. With just a little space in your garden, you can grow enough garlic to last most of the year.
Here are 7 Helpful Tips for Growing Garlic
Garlic is one of the easiest crops to grow and takes up very little room in the garden. All you need is an area that gets plenty of sun and these helpful tips for growing garlic.
1. Purchase Garlic Seed from a Trusted Source
The common white grocery store garlic shouldn't be used for seed. Chances are, that garlic was grown in the mild climate of northern California or even outside the country. It also may have been chemically treated so it won't sprout. Instead purchase certified seed garlic for the best results. Seed garlic can be found at local garden centers and online.
Some online sources I have used in the past include: High Mowing Seeds, and FEDCO. My garden is located in Maine, zone 5.
Other trusted sources include: Botanical Interest, Territorial Seeds, and Seed Saver's Exchange. Also, consider your local farmers markets, feed store, county fairs, garlic festivals, or from fellow gardeners in your area.
Try not to be shocked at the initial price of garlic seed. Remember, each clove will grow another head of garlic and will produce plenty for eating and for garlic seed for years to follow. One pound of garlic seed can yield 40 garlic bulbs or about 5 pounds of garlic depending on the variety. Planting with good quality, organic seed stock will get your garlic crop off to a good start with fewer chances of disease.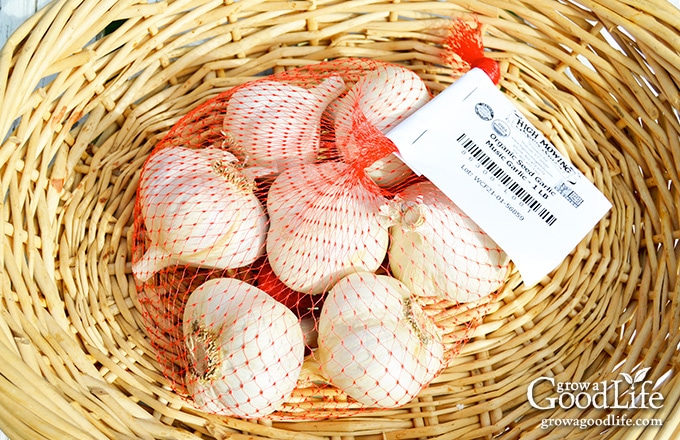 2. Select Varieties that Grow Well in Your Area
When purchasing your garlic seed, try to buy from a supplier with a similar growing environment. Garlic is adaptable to many growing conditions, but it can take several years to adjust. You will get better results right away if you grow garlic that has already been conditioned to your climate and soil type.
Garlic varieties are roughly classified into two main categories: hardneck and softneck:
Hardneck Garlic: Hardneck varieties are more suited for areas with cold winters. If you are growing hard neck garlic, it will give you two harvests. A few weeks before the garlic is finished growing, it will send up a flower stalk. This stalk is called a "garlic scape." Harvesting the garlic scape helps the plant focus its energy on growing a bulb. The garlic scapes are edible and have a delicious, mild garlic flavor. The stalk gives the garlic a stiff stem, or hardneck in the center of the bulb. 10 Ways to Use Garlic Scapes
Softneck Garlic: This is the type of garlic we are used to seeing at the grocery store. It has a white wrapping and mild garlic flavor. Softneck garlic is less cold hardy in extreme northern areas and tends to grow better in warmer climates. Softneck varieties do not produce a scape, but the foliage can be braided easily for hanging. It has a reputation for lasting a long time in storage.

3. Plant at the Optimum Time for Your Area
Plant garlic seed 4-6 weeks before your estimated hard frost date in fall (Look yours up here: PlantMaps.com). Gardens in zones 5-8 should plant mid-October through mid-November.
The goal to planting in the fall is to give the garlic a head start. Once the garlic is planted, it will begin to send out roots. The garlic goes dormant when the cold weather arrives and the ground freezes, and then begins growing again as soon as the soil warms in the spring.
Overwintering in the ground also allows the bulb to experience a cold period necessary for bulb formation. Hardneck garlic requires a period of cold winter temperatures to encourage the seed to divide and grow into separate cloves that form the head of garlic. This process is called, vernalization. Garlic is triggered to bulb when day length increases to about 14 hours.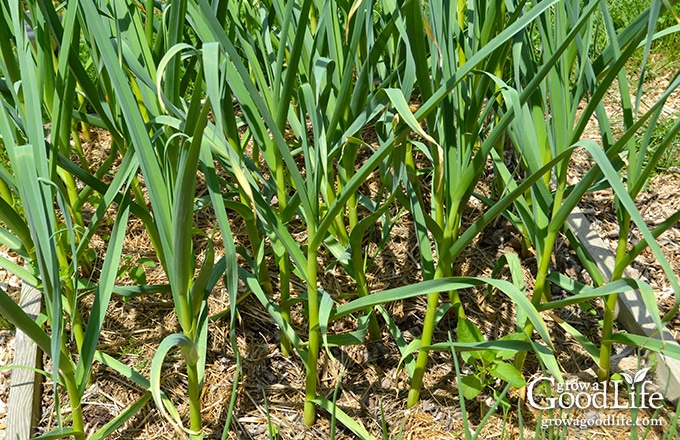 4. Prepare Your Soil Before Planting
Garlic thrives in full sun in loose soil. Choose a well-drained garden bed that receives 6-8 hours of sunlight per day. Select an area that did not have onions or other alliums growing this year. Remove weeds and work in a generous layer of finished compost and slow-release organic fertilizer according to the package directions. If the weather has been dry, water your garden bed well a day before planting.
See How to Plant Garlic in the Fall for more detailed planting information.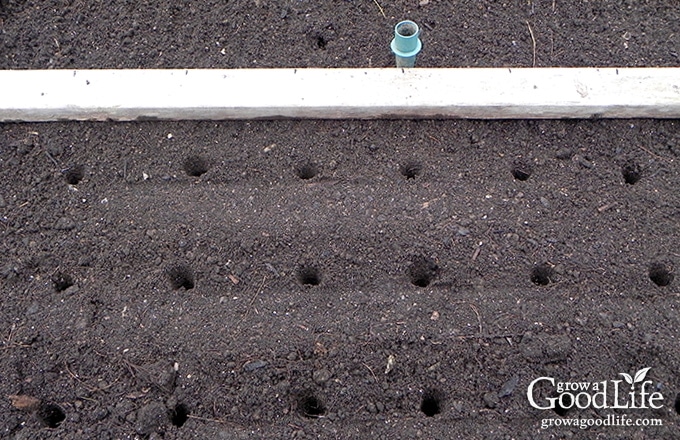 5. Mulch to Prevent Weeds and Conserve Moisture
Garlic has a shallow root system and will stop growing in dry soil conditions or when the roots get too hot. Mulching the soil surface will help prevent weeds, conserve moisture, and insulate the roots.
Water the garlic bed well after planting and add a light layer of mulch to keep the weeds down until the ground freezes.
Adding a heavy layer of mulch before the ground is frozen can insulate the ground and delay the plants from going dormant naturally. This can cause damage to the roots once the severe winter arrives.
Once the ground does freeze, add another layer of mulch to insulate and deep the soil frozen. This helps protect the roots and prevents the garlic from being heaved out of the ground by alternate freezing and thawing.
Learn more about How Mulch Helps Your Vegetable Garden.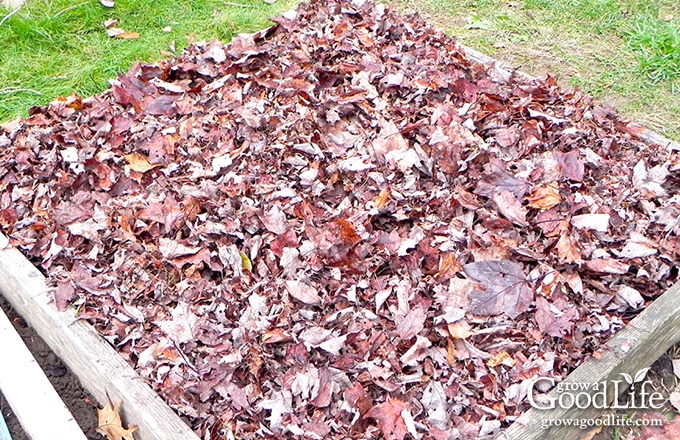 6. Remove the Garlic Scapes
Garlic scapes are the flower stalks that hardneck garlic plants produces. Several weeks before the garlic bulb has finished growing, it sends up a flower stalk. The stalk grows upwards for several inches then will curl once or twice before continuing to grow upward. Removing the garlic scape allows the plant to devote its energy into growing a larger bulb of garlic.
These tender, mildly garlic flavored shoots are edible and can be used in any recipe that calls for garlic.
See How to Harvest Garlic Scapes for more details and recipes using garlic scapes.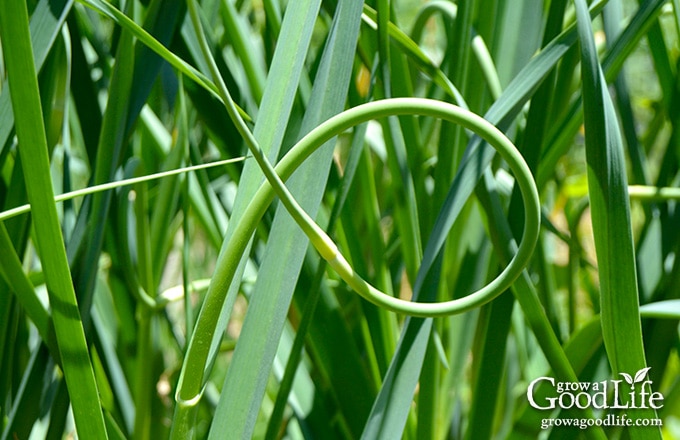 7. Time Your Garlic Harvest
Knowing when to harvest garlic can be tricky. Lifting the bulbs too early will give you undeveloped, small bulbs. Harvesting too late and the cloves could split through their skins. Either situation will affect the garlic's long-term storage potential.
The number of days to maturity varies with the climate and variety of garlic grown, but October planted garlic is usually ready by mid-July in my Maine, zone 5 garden.
Garlic is finished growing when the foliage begins to turn brown. Leaves grow from the bottom up, so the ones at the bottom will die back first. Dig up a test bulb once the bottom 2-3 leaves turn brown. The cloves should be large, and the skins filled out and tight. Stop watering and wait for a dry period to dig up the bulbs.
See How to Harvest, Cure and Store Garlic for more information on how to cure and store garlic for long-term storage.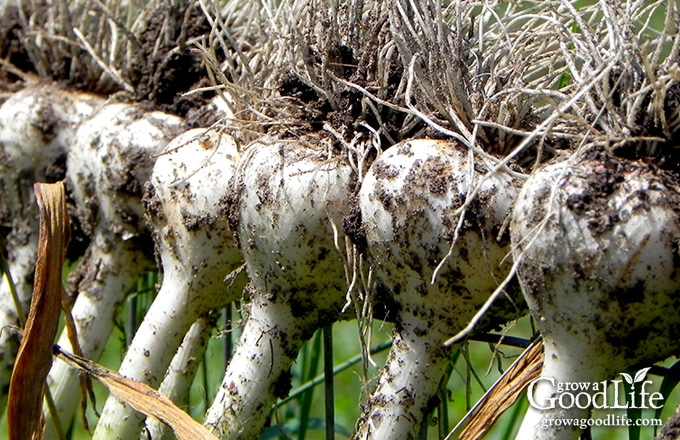 Garlic doesn't take up a lot of space in the garden or need a lot of attention. I hope these tips encourage you to grow your own garlic.
You May Also Like:
Good planning is key to a successful vegetable garden
Whether you are new to growing your own food or have been growing a vegetable garden for years, you will benefit from some planning each year. You will find everything you need to organize and plan your vegetable garden in my PDF eBook, Grow a Good Life Guide to Planning Your Vegetable Garden.