Is there anything that screams comfort food more than your classic beef stew? I call this Harvest Hearty Beef Stew because it is filled with vegetables and herbs harvested from our garden.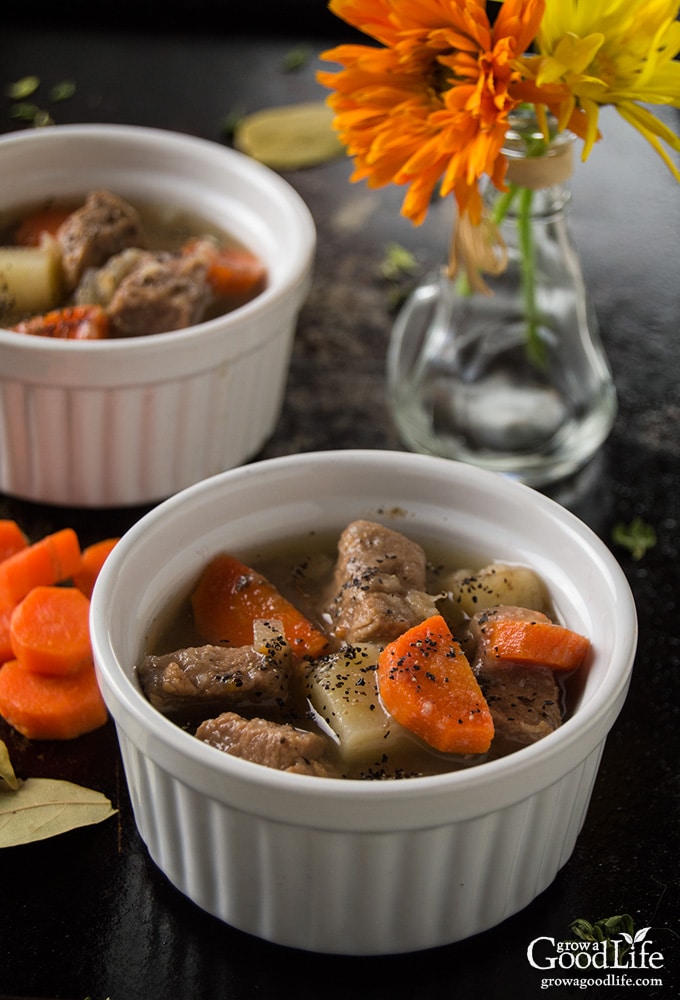 The basic garden ingredients include potatoes, carrots, celery, garlic, onions, and herbs. However, the variations of this recipe are endless. You substitute and incorporate other types of vegetables, including corn, turnip, peas, parsnips, or mushrooms for a different flavor twist. Just increase the amount of beef broth to cover all the ingredients in the slow cooker. Add corn, peas, or other soft or precooked vegetables at the end of the cooking time, so they keep their shape and flavor.
Slow cooking transforms tougher beef cuts into a tender, melt in your mouth bite.
Slow cooked stews are where less-expensive cuts of meat really shine. You want to select beef that has plenty of collagen and connective tissue. Beef cuts to consider for beef stew include, chuck, chuck shoulder, chuck roast, bottom round roast, rump roast, eye round roast, top round, round tip roast, or pot roast. If in doubt, consult your butcher for his recommended selections for your beef stew.
This recipe takes advantage of slow cooking in a crockpot allowing the flavors to infuse and the beef to transform to a tender, melt in your mouth morsel. During winter, I often simmer the beef stew in a cast-iron Dutch oven on the wood stove that heats our home.
Searing the meat, sautéing some of the vegetables, and deglazing the skillet before adding to the slow cooker gives the beef stew an extra boost of flavor. You will need to use a cast-iron or stainless steel skillet for this process. After the meat is seared, you will add some of the vegetables to the skillet to sauté and begin layering flavor. Once the vegetables are soft, you will deglaze the skillet and scrape up all the brown bits that are stuck to the skillet. These brown bits are infused with flavor. Everything gets added to the crockpot and slow cooked to a delicious, hearty, and comforting stew. No time for searing and sautéing? That's ok, just add everything to the crockpot and it will still taste wonderful.
Beef stew is a nutritious and delicious way to make use of winter storage crops. This basic recipe will serve you well through the long winter.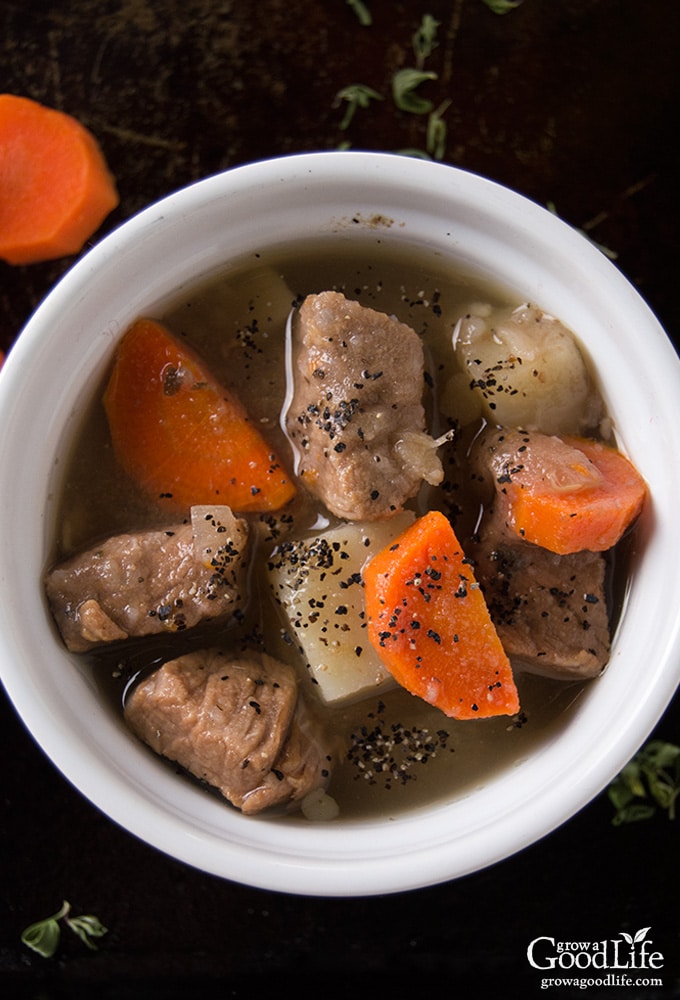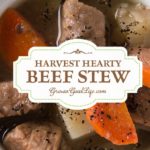 Harvest Hearty Beef Stew
Beef stew is a nutritious and delicious way to make use of winter storage crops. This basic recipe will serve you well through the long winter.
Instructions
Heat olive oil in a large skillet over medium-high heat for about 1 to 2 minutes.

In a large bowl, blend pepper, salt, and flour together until combined. Add stew beef and toss to coat.

Add beef to hot skillet and sear until browned all over, about 4-5 minutes. You may have to do this in batches so you don't crowd the pan. Remove seared beef and add to your slow cooker. Leave behind the juices and brown bits.

Add onions to the skillet and sauté until softened, about 4-5 minutes. Add carrots, celery, garlic, and sauté 4-5 minutes more.

Add 1 cup of beef broth to the skillet to deglaze the pan. As the broth bubbles and simmers, scrape the skillet with a wooden spoon to release all the flavor infused brown bits stuck to the bottom of the pan. Turn off heat and transfer everything in the skillet to your slow cooker.

Add the remaining ingredients to the slow cooker: potatoes, Worcestershire sauce, sugar, paprika, bay leaves, thyme, and enough beef broth to cover. Stir to combine.

Cover, and cook on low for 7-8 hours, or on high for 4-6 hours, stirring occasionally until the beef is tender. Remove bay leaves and thyme sprigs before serving. Taste and adjust seasoning, if needed.
Want to Learn How to Grow Potatoes?
You will find everything you need to start growing potatoes in my PDF eBook, Grow a Good Life Guide to Growing Potatoes. Whether you are striving for a few gourmet fingerling potatoes or a large crop for winter food storage, this guide will show how you can grow your own, organic, homegrown potatoes. Click here to learn more.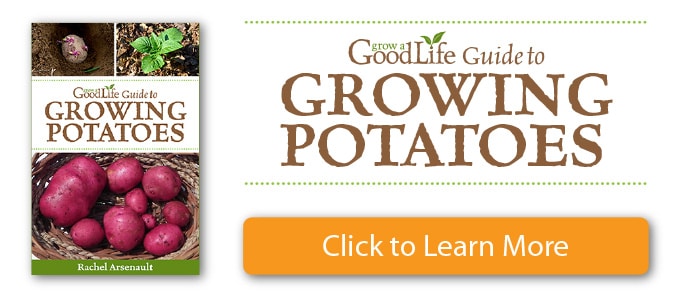 You May Also Like:
Good planning is key to a successful vegetable garden
Whether you are new to growing your own food or have been growing a vegetable garden for years, you will benefit from some planning each year. You will find everything you need to organize and plan your vegetable garden in my PDF eBook, Grow a Good Life Guide to Planning Your Vegetable Garden.