Missed your chance to plant garlic last fall? Has your winter storage garlic sprouted? Try planting spring garlic. You may not get large cloves, but you can still enjoy the mild flavor of green garlic.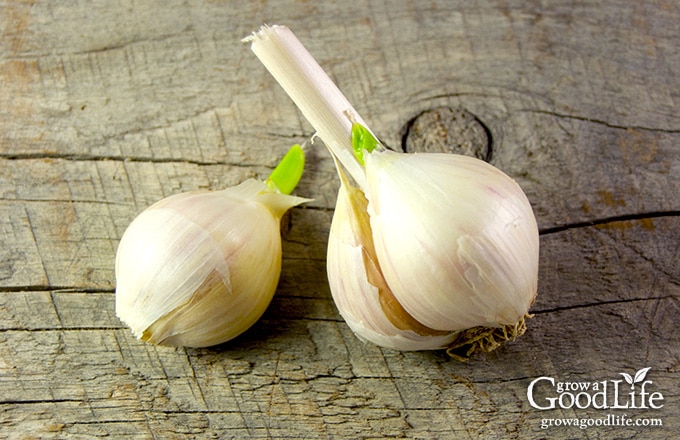 Garlic is normally planted in the fall for larger bulbs. Once planted, the garlic begins growing roots, and then goes dormant when winter arrives.
Garlic needs a period of cold winter temperatures to stress the seed and stimulate it to divide into separate cloves that form a head of garlic. This process is called, vernalization.
Once spring arrives, fall planted garlic will begin growing right where it left off. Garlic is triggered to bulb when the day length increases to about 14 hours. The more time garlic has to grow foliage before forming bulbs, the larger the heads will be come harvest time.
If garlic doesn't get a cold period of at least 40˚F for about 4-8 weeks, it may not divide into cloves that form the bulb. If you have time, you can try tricking the garlic by placing it in the refrigerator before spring planting.
Why you should consider planting spring garlic:
Even if you don't have time to cold treat your garlic, there are many reasons why you should plant spring garlic anyway.
Green Garlic Shoots: The green shoots that appear shortly after planting have a mild garlic flavor. Snip some to use the same way that you would use garlic chives.
Green Garlic Bulbs: Immature garlic bulbs have a mellower flavor than regular garlic. Green garlic and the foliage can be used raw or cooked like scallions.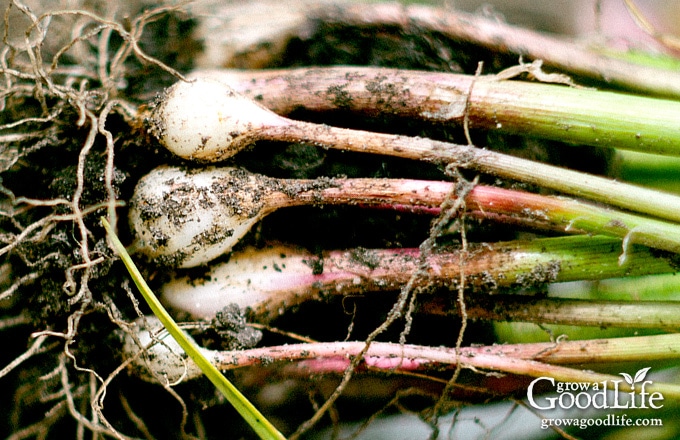 Garlic Scapes: If you planted hard neck garlic, it will produce a scape or flower stalk. These tender, mildly garlic flavored shoots are delicious.
Garlic Bulbs: If you allow the plants to grow to maturity, you should be able to harvest some small heads of garlic. Even if your spring planted garlic failed to segment into cloves, the small bulb will still have all the flavor regular garlic.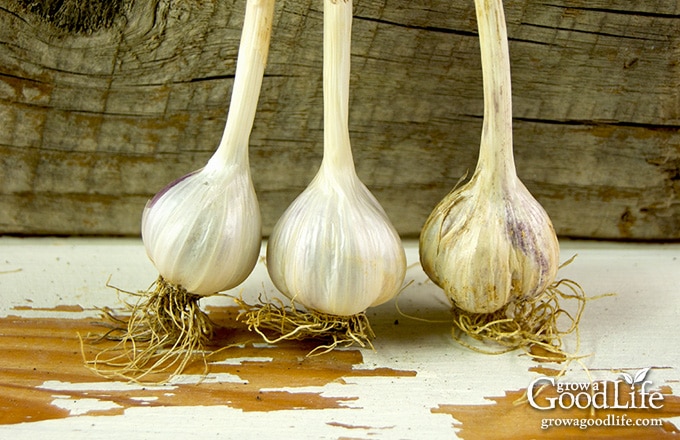 How to Plant Garlic in Spring
You can find garlic bulbs for spring planting at your local garden centers or order online. My farm store usually has garlic seeds in spring along with the onion sets and seed potatoes.
If you discover your storage garlic is beginning to sprout, go ahead and plant it and enjoy the mild garlicky flavor of young, green garlic.
1. Prepare your garden bed: Select a gardening area that receives 6-8 hours of sunlight per day. Wait until the soil has thawed and drained. To test, form a handful of soil into a ball, and then tap it with your fingers. If it crumbles apart easily, it's time to plant. If it holds firm, wait a while longer for the soil to dry out more. Remove weeds, add some finished compost, and fertilize with an organic fertilizer.
2. Plot out your planting holes: Since the bulbs are expected to be small, you can plant them closer together. Plot out spring garlic planting holes about 2-4 inches apart, and about 2-inches deep.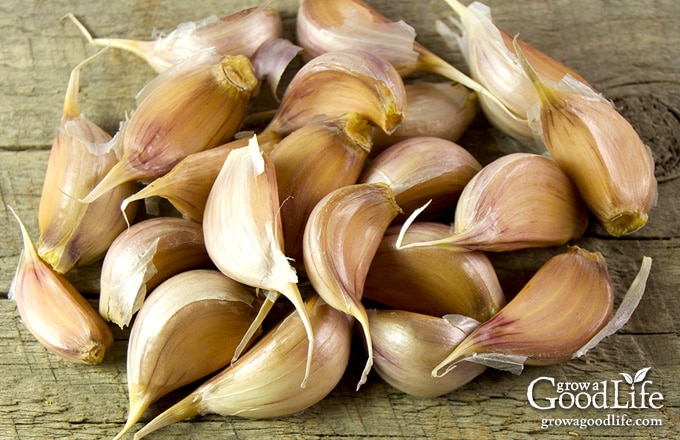 3. Separate the cloves right before planting: Separate the cloves from the bulb. Use the largest and healthiest looking cloves for planting. Save the smaller and damaged cloves for cooking.
4. Plant the garlic cloves: Place the cloves in your prepare holes with the flat, root side facing down and the pointed end facing up. Cover, firm the soil, and water well.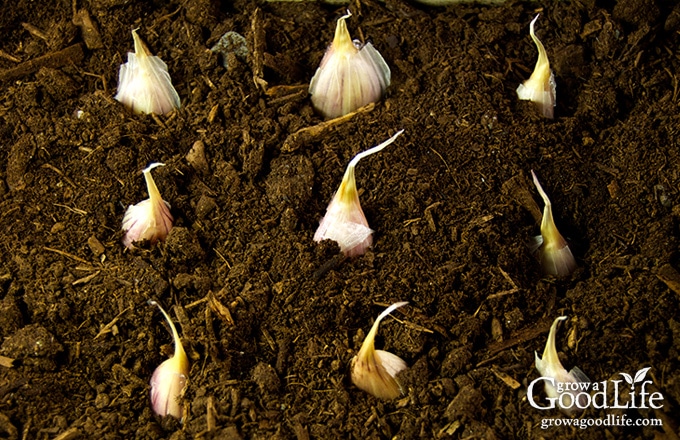 5. Add mulch to your garlic bed: Cover the garlic bed with a 2-3 inch layer of organic mulch, such as straw or shredded leaves. This will help keep weeds down.
Green garlic can be harvested at any stage once it develops shoots. All parts are edible. Enjoy the shoots in salads, as a pizza topping, or sprinkled on your morning eggs.
Green or immature garlic bulbs will not hold up in storage. Harvest what you need for meals and freeze extras for later. The longer you leave the garlic in the ground, the more advanced the bulb will be. Garlic is finished growing when the outer leaves of the plant begin to die.
No garden? No problem. You can grow green garlic in containers. Just fill your pot with soil and push the cloves in about 2-4 inches apart and 1 inch deep.
You May Also Like:
Good planning is key to a successful vegetable garden
Whether you are new to growing your own food or have been growing a vegetable garden for years, you will benefit from some planning each year. You will find everything you need to organize and plan your vegetable garden in my PDF eBook, Grow a Good Life Guide to Planning Your Vegetable Garden.