Instead of watching your summer crops struggle to ripen the last few fruits, pull them out and plant some of these quick growing vegetables for your fall garden.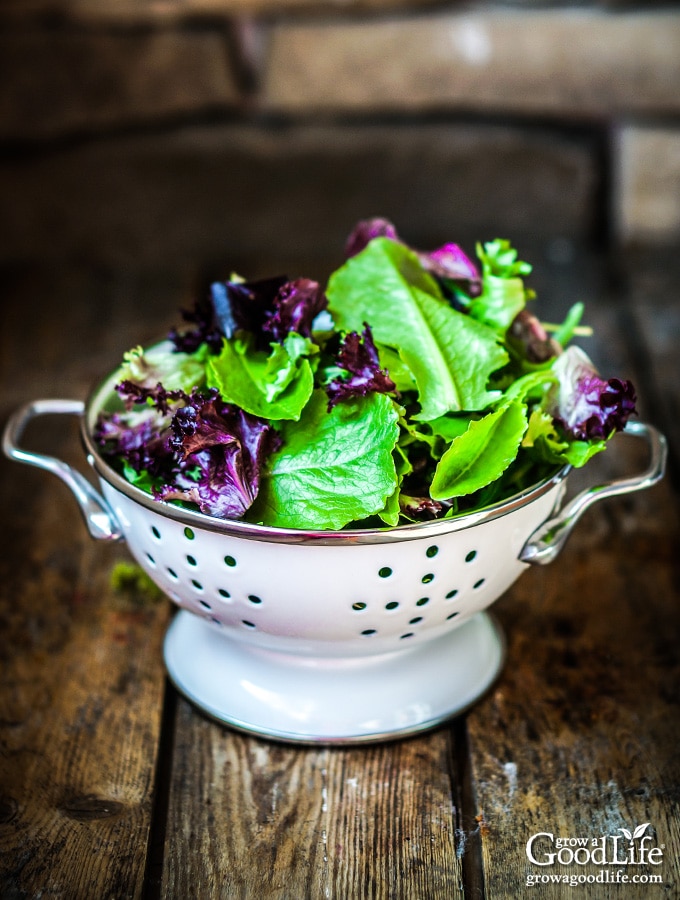 The vegetable garden shines in summer with abundant harvests. As fall approaches, most of the summer crops begin to wind down. Cooler nighttime temperatures and diminishing sunlight takes its toll.
The heat loving plants respond by slowly reducing their growth. They struggle to produce that final fruit or vegetable; they devote all their energy to growing and ripening it. The foliage often times shows signs of stress, insect damage, and disease as the plants attempt to give up its final offerings.
You can keep the garden producing healthy crops well into fall by replacing your struggling summer plants with some quick maturing vegetables that thrive in the cooler weather and lower daylight hours of autumn.
Fall Vegetable Garden Planting Tips
Temperatures can fluctuate wildly at the end of summer. Days are often hot, but nights can be much cooler. Germinating seeds in hot weather can be difficult. Warm temperatures may prevent seeds from sprouting, and hot weather will dry out the soil quickly. As the season cools down, there is also the danger of a dip in nighttime temperatures and an early fall frost.
Here are some tips to deal with the challenges of a fall vegetable garden:
Choosing the Right Crops
There are plenty of cool-season crops that thrive in autumn. Use your first expected frost date as a guide (look yours up by zip code here: PlantMaps.com), and select cool season crops with short days to maturity for your fall garden.
Check the seed package for the average days to harvest and add a week or two to account for the decreased autumn daylight. Many leafy greens will mature within 60 days. These can also be harvested earlier at baby stage for a delicate and delicious salad or an addition to homemade soups.
Starting Seeds in Hot Weather
Some seeds are difficult to sprout when the weather is too hot. For example, lettuce and spinach won't germinate when the soil temperature is over 75˚F. The soil temperature will be cooler than the air temperature. A probe type soil thermometer will give you an accurate reading.
If the weather is still hot, consider starting seedlings under lights indoors. Once the weather cools, harden off your seedlings, and transplant into the garden.
Providing Proper Moisture
Garden soil dries out much quicker in hot weather making it difficult to maintain the moisture level that seeds need to germinate and young plants to become established.
Pre-sprouting or soaking seeds ahead of time allow the seed to absorb enough moisture to trigger it to sprout. Once the seed germinates, it can be planted directly into the garden.
After planting seeds, water the well and keep the soil evenly moist until the seedlings emerge and become established. Once the plants begin to grow, let the soil dry slightly in between watering.
If you are planting fall transplants, water them well in hot weather and provide some shade until the young plants become established, and then water when the soil is dry a few inches below the surface. Mulch to help conserve moisture. As the weather cools, your plants should take off.
How to Deal with Early Frosts
Most cool-season crops can withstand a few light frosts once they are established, but young plants and newly emerged seedlings may be vulnerable.
Watch the weather and be prepared to cover young seedling if the weather dips to freezing temperatures overnight. With some protection during cool nights, most fall crops will continue to grow and produce well into early winter.
13 Cool Season Crops Ready in 60 Days:
Even if your growing season is short, you can still enjoy plenty of harvests from your fall garden if you plant the right varieties. So pull out the summer plants that are no longer producing, clear out any weeds, work in some compost into the soil, and sow some of these quick growing fall crops:
Arugula/Rocket
This spicy green is ready for harvesting in 30 days. The foliage compliments salads and adds zing to soups. Harvest: Begin cutting outer leaves once they are at least 2-inches long. Allow the plant to continue to produce harvests. Varieties to Consider: Salad Rocket, Wild Rocky, and Dragons Tongue.
Baby Carrots
Select early maturing varieties and harvest around 60 days at baby stage for a delicate, sweet flavor. Carrots can withstand some light frosts, but harvest before the ground freezes to prevent the tender, young roots from rotting. Harvest: Ready to harvest when the shoulders are 1/2 to 3/4 inches. Varieties to Consider: Little Finger, Tonda di Parigi, and Thumbelina.
Beets
Harvest fresh beet greens in about 30 days, and roots in about 60 days. Harvest: Snip beet greens when they are about 5-inches tall. Harvest the beetroot when they around 2- to 3-inches in diameter. Varieties to Consider: Detroit Dark Red, Chioggia, and Touchstone Gold.
Bok Choy or Pac Choi
Grows rapidly and is ready to harvest in 30 days at baby stage for stir-fries, soups, or salads. Harvest: Snip outer leaves allowing the plants to continue to produce. Varieties to Consider: White Stem Bok Choy and Toy Choi.
Kale
The small, tender leaves of kale can be harvested in as little as 30 days and make a nice addition to a fall salad. Kale matures fully in 60 days. Harvest: Snip outer leaves and let the plant continue to produce. Varieties to Consider: Dinosaur, Redbor, Dwarf Blue Curled, and Red Winter.
Lettuce
Leaf lettuce varieties mature within 30 days. There are so many colors and leaf shapes to add interest to salads and sandwich toppings. Cooler weather intensifies the color of red leaf varieties. Harvest: Snip outer leaves and let the plant to continue to grow and produce more foliage. Varieties to Consider: Oak Leaf Blend, Mesclun Mix, and Waldmann's Leaf.
Mustard Greens
The peppery, tangy flavored foliage pairs well with other leafy greens in salads. Japanese mustard, Mizuna has a slightly bitter, mustard flavor and lobed leaves that blends well with salad greens and is crisp enough to hold up to steaming and stir-frying. Baby leaves are ready for harvesting within 30 days, 60 days for mature leaves. The flavor intensifies as the plant matures. Harvest: Begin cutting outer leave once they are at least 3-inches long. Allow the plant to continue to grow. Varieties to Consider: Red Giant, Ruby Streaks, and Florida Broadleaf, Mustard Mizuna, Early Mizuna.
Radish
Very fast-growing and their peppery flavor complements soups and salads. Harvest: Ready for harvest in about 30 days or when the radish is around 1-inch diameter. The greens are edible too. Varieties to Consider: Cherry Belle, French Breakfast, and Watermelon Mantanghong.
Scallions or Green Onions
Adds a mild onion flavor to salads, cooked recipes, and stir-fries. Harvest: Ready to harvest at pencil size within 30 days. Pull 6-inch tall scallions at any stage and allow others to develop further. The onion flavor intensifies with age. Hearty varieties overwinter and will begin growing the following spring. Varieties to Consider: Evergreen Bunching, Tokyo Long White, and White Lisbon.
Spinach
The vitamin-rich and tasty dark-green leaves are excellent for salads and winter soups. Ready to harvest at baby stage in 30 days, 45 days for mature leaves. Harvest: Snip outer leaves and let the plants to continue to produce. Varieties to Consider: Butterflay, Bloomsdale, Space, and Tyee.
Swiss Chard
The tender, young leaves are ready for harvesting in 45 days. Harvest: Begin harvesting young leaves at 3 inches to use fresh in salads. Pick the outer leaves as needed and let more leaves grow from the center of the plant. Varieties to Consider: Fordhook, Bright Lights, and Celebration.
Tatsoi
The mild mustard flavor of Tatsoi mixes well in salads, stir-fries, and soups. The mild and tender baby leaves are ready for harvesting in 25 days and taste very similar to spinach. The full sized plant can be harvested within 50 days. Harvest: For baby leaves, cut outer leaves once they are about 4 inches or cut tatsoi at the stem when mature. Variety to Consider: Tatsoi Rosette.
Turnips
Grow turnips for both the greens and roots. Greens are ready to harvest in 30 days, roots in 60 days. Cool fall temperatures sweeten the flavor. Harvest: For greens, cut tops leaving at least 2-inches of foliage. The plant will continue to produce more foliage. Harvest roots at baby stage or allow to size up to 2 to 3 inches in diameter. Varieties to Consider: Golden Ball, Purple Top White Globe, Red Round, and White Egg.
Those who garden in areas where frost isn't expected until November or December have a wider variety of cool season vegetables they can grow in the fall garden that will mature before the ground freezes. However, even in my zone 5 garden, I can squeeze out a little more yields for fall.
—
You may be surprised what you can grow in your fall garden in as little as 60-days. Try extending your growing season into fall and you will be rewarded with fresh harvests a little longer.
Growing fall vegetables in colder climates can be a gamble, but I urge to experiment with different ways to grow more food.
This article was originally published August 20, 2015. It has been updated with additional information and new photos.
You May Also Like:
Good planning is key to a successful vegetable garden
Whether you are new to growing your own food or have been growing a vegetable garden for years, you will benefit from some planning each year. You will find everything you need to organize and plan your vegetable garden in my PDF eBook, Grow a Good Life Guide to Planning Your Vegetable Garden.