Beets do double-duty in the kitchen, producing tasty roots for canning, roasting, or boiling and fresh greens for salads, soups, and sautéing. Beets can be planted as spring and fall crops. Here are tips for growing beets plus types of beets to consider adding to your vegetable garden.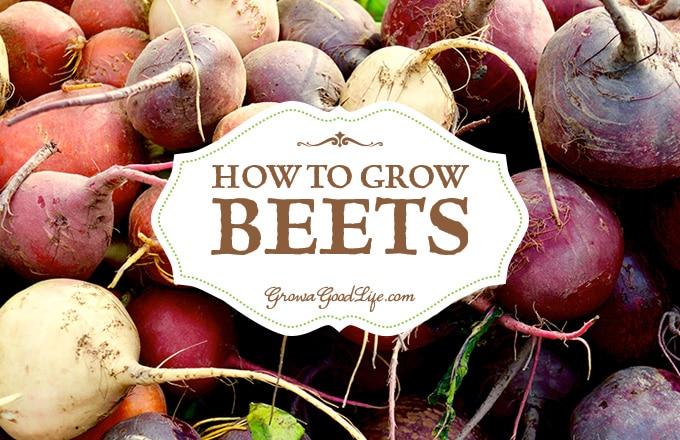 Honestly, it took a while until I actually liked beets. The first time I tried homegrown beets I wasn't impressed. They were fibrous and tasted like dirt to me.
I was pretty disappointed since I had purchased a bunch of beet seeds that year. I decided to continue planting the seeds anyway for their greens, which taste similar to Swiss card and spinach.
I didn't give up on beetroots though. When I tried them again, I was pleasantly surprised to discover that younger beets do not have the same texture and taste as older ones. Instead, they have a sweet, slightly earthy flavor. Not the dirt flavor I tasted previously.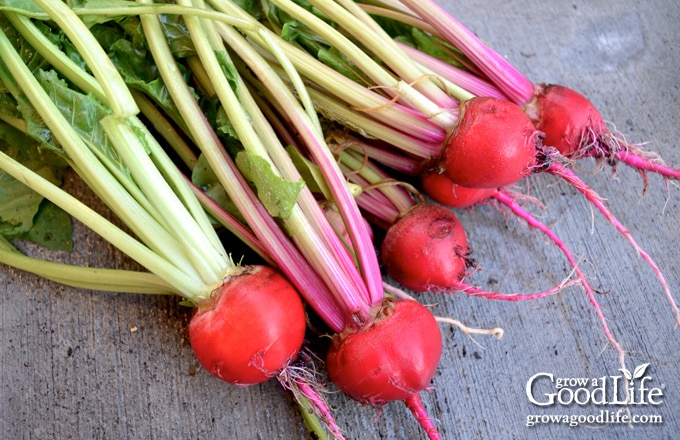 Red beets are the classic beets — dark red, earthy, and strong beet flavor. Red beets ooze their red liquid when cut and cooked.
As I explored growing and tasting a variety of beets, I found that some beet varieties are milder in flavor than the traditional red beets. Gold beets have a milder earthy flavor and white beets even less so.
White beets do not have the betalain pigment, which gives the red and yellow beets their earthy flavor as well as their color. Bonus is, both gold and white beets don't bleed like the classic ruby red beets.
Types of Beets to Consider Growing
Red Beet Varieties
Detroit Dark Red Beets: A popular deep red, round beet variety that grows up to 3-inches in diameter. It matures 50-60 days but can be enjoyed as baby beets as soon as the roots form. Enjoy both roots and greens. Detroit dark red grows well in a wide range of soil and temperature conditions. Purchase Detroit Dark Red Beet seeds.
Early Wonder Beets: A quick maturing deep red beet that grows rapidly in cool soils, maturing in 48 days. It produces globe shaped roots up to 3-4 inches. The taproot is small making this beet a great choice for growing in containers. The greens are tall red stalks with deeply red-veined glossy green foliage. Purchase Early Wonder Beet seeds.
Ruby Queen Beets: A deep red, round shaped, and sweet beet variety, with short green tops. Fully matures in 50-60 days but can be enjoyed as baby beets as soon as the roots form.
Cylindra Beets: Also known as Forono and Formanova. These beets mature in about 60 days. These beets grow long smooth cylindrical shaped roots up 8-inches long. The long shape makes it easy to slice evenly for canning and beet chips.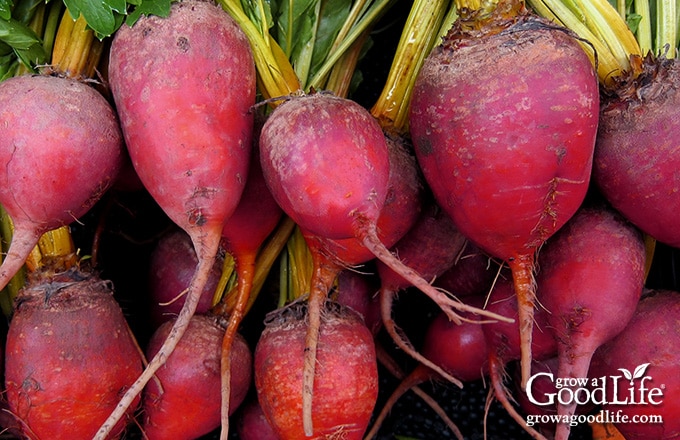 Stripped Beet Varieties
Chioggia Beets: An Italian heirloom with pretty red and white stripes. Chioggia is sweeter than regular beets and works well for roasting, pickling, or eating raw. Enjoy both the roots and greens. Matures in about 55 days. Purchase Chioggia Beet seeds.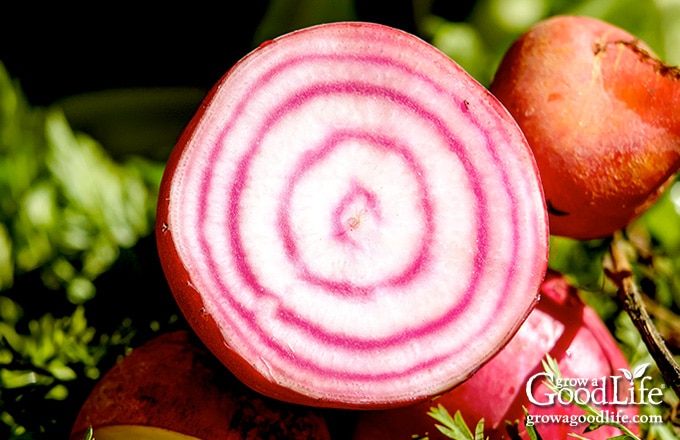 Gold Beet Varieties
Boldor Beets: The flesh is rose-gold, but changes to light orange when cooked. It has a mild, sweetness and beet flavor. Boldor is known for good germination and quick growth even in less ideal growing conditions. It fully matures in about 55 days. The greens are short light green with gold stems and veins. Purchase Boldor Beet seeds.
Golden Beets: The flesh is a light orange color. The flavor is the same as regular beets. The big bonus with golden beets is they do bleed when sliced and cooked. Matures in about 55 days.
Golden Boy Beets: Another mild flavored beet that doesn't stain like the red beets do. The flesh is golden-orange colored and the edible leaves are bright green. Harvest beet greens, young baby beets, or fully mature beets in 65 days. Purchase Golden Boy Beet seeds.
Touchstone Gold Beets: Bright orange skin with golden interior. Forms uniformly round roots with deep green, yellow-veined tops. Flavor is mildly beety. Harvest beet greens, baby beets, or fully mature beets in about55 days. Purchase Touchstone Gold Beet seeds.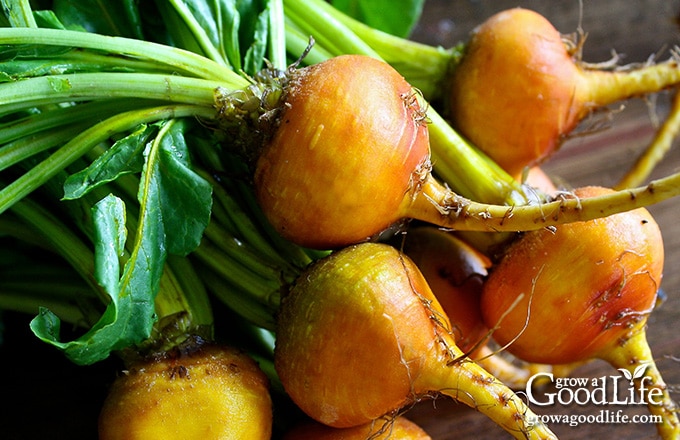 White Beet Varieties
Avalanche Beets: A creamy white, sweet beet with a mild flavor. The round roots mature in about 50 days. White beets combine well with other vegetables without staining. Harvest beet roots small, 1- to 3-inches for more tender beets. Purchase Avalanche Beet seeds.
Blankoma Beets: Similar to Avalanche with white flesh and sweet, mild flavor making them ideal for salads, soups, and pickling. Beets are best enjoyed small, 1- to 3-inches. It matures in 55 days. Harvest early for mild, baby beets. If allowed to grow too large the texture can become tough and fibrous.
White Albino Beets: Plant produces high yields of sweet white beets. Excellent flavor Beets can grow quite large without becoming bitter. Beets are white and will never stain again! Ideal for boiling, pickling, baking, and freezing.
9 Tips for Growing Beets
Beets are a cool-season crop grown for both the roots and greens. Plan on growing beets as a spring and fall crop. If your winter is mild, you can grow beets during the winter too.
Beets are so easy to grow. They don't need special treatment and are rarely bothered by pests. Beets mature in 6-8 weeks making them an ideal crop for succession planting. Sow a hand full of seeds and thin the plants in a few weeks. Add the thinned greens to your salads.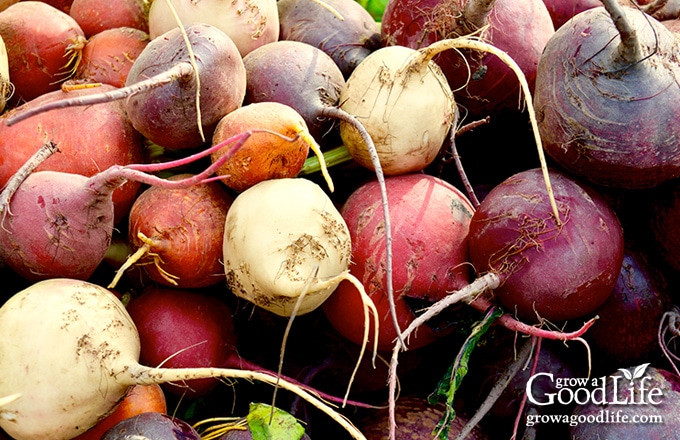 1. When to Sow Beets
Beets prefer cooler weather can tolerate some frost. Plan to grow beets during the cool gardening seasons of spring and fall. Beet can grow in full sun and also do well in partial shade.
2. Prepare Your Growing Beds
Before sowing your seeds, prepare your garden beds by removing weeds and enriching the soil with some mature compost and all-purpose organic fertilizer. Remove any large clumps and rocks. If the weather has been dry, prepare and water the bed very well the day before you sow.
3. Plant Your Beet Seeds
Sow beets in spring when soil temperature reaches 40˚F and the ground can be worked. Seeds germinate quicker in warmer soil between 55-75˚F and can take between 10-20 days to emerge from the soil. Seeds can benefit from a brief soaking in water for 4-6 hours before planting to soften seed coat. For most varieties, plant seeds 1/2 inch deep and 2-3 inches apart. Beet seeds are actually a seedpod that contains several seeds. So don't plant too close.
4. Keep the Soil Evenly Moist
Water well at planting time and keep the soil evenly moist until the seeds sprout, in about 10-20 days depending on the variety. Don't allow the soil to become waterlogged or the seeds will rot. When the beet plants begin to grow, let the soil dry slightly between watering. Water deeply and regularly during dry periods. Water stress during the first 6 weeks of growth often leads to premature flowering and low yields. Moisture fluctuations cause slow growth and root cracks.
5. Mulch the Soil
Once the beet seedlings become established, mulch the beds to help hold in soil moisture and suppress weeds. Keep mulch a few inches away from the stems of your seedlings so it doesn't smother the plants.
6. Thin Your Beet Seedlings
When the beets are about 5-inches high, thin to one plant every 3-6 inches. Toss the thinned greens in salads with your other greens. Pull out discard weeds as you thin the beets. Beets will grow small roots if they are crowded. Generously thin and keep young seedlings well weeded.
7. Succession Sow Beets
Sow beet seeds every 3 weeks for a continuous harvest. Seeds will not germinate above 80˚F. Begin sowing beets again in fall up to 3 weeks before the last expected frost date in your area.
8. Extend Your Beet Harvest
Established beets can tolerate frost to about 30˚F without harming the greens. Simply cover with hoops and row covers to prevent the foliage from becoming frost damaged as the weather cools in the fall. Harvest beetroots before the temperatures drop to 20˚F.
9. When to Harvest Your Beets
Pick beet greens when they are 5-inches tall. You can snip a stalk or two from each beet plant without compromising the root growth. Harvest the beetroot when they around 2- to 3-inches in diameter. Larger beets can become fibrous and woody.
Store freshly harvested beets along with their greens loosely wrapped in the refrigerator crisper draw for about a week. To keep greens fresh, store cut ends down in a jar of water in the refrigerator. Use in about a week.
Do you grow beets? If so, what types of beets have you liked?
You May Also Like
Resources and Further Reading
Good planning is key to a successful vegetable garden
Whether you are new to growing your own food or have been growing a vegetable garden for years, you will benefit from some planning each year. You will find everything you need to organize and plan your vegetable garden in my PDF eBook, Grow a Good Life Guide to Planning Your Vegetable Garden.