One of the most frustrating things about starting vegetables from seed is waiting for them to emerge from the soil. You can eliminate the wait time by pre-sprouting seeds.
A few years ago, I had some pepper seeds that were quite old. I hated to just throw the package away without checking to see if they were still good, so I did a seed germination test. About half of the old seeds sprouted and the rest were duds. I planted the sprouted seeds and watched the seedlings carefully to see if they would grow. They did grow into healthy transplants that were eventually planted into the garden.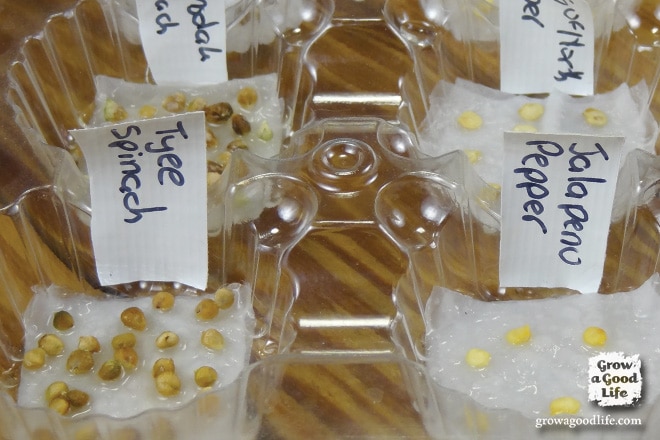 After experiencing how easy it was to actually see which seeds germinated, I decided to pre-sprout most of my indoor seedlings. I have been doing so every since. Pre-sprouting seeds, is a method used to germinate seeds before they are planted into a growing medium.
I use recycled bakery trays and moistened paper towels but any container or zipper bag will work: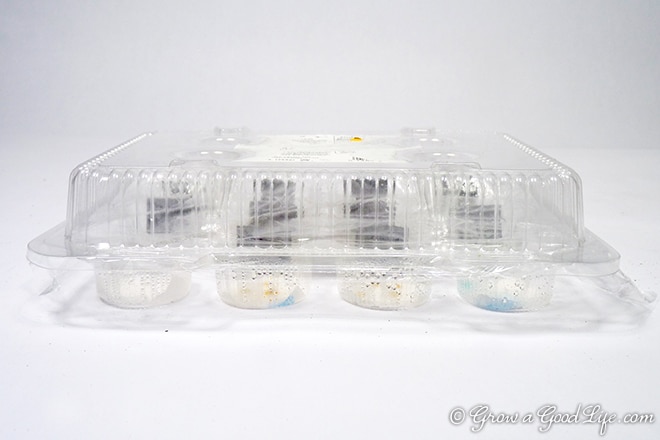 Each cell is layered with a piece of wet paper towel, labeled, and seeded. I check it daily for germination and to make sure the towel stays damp. Once the seeds sprout, they are carefully transferred into waiting soil blocks and placed under the lights. (See How to Build a Grow Light System)
Benefits of Pre-sprouting Seeds:
Saves Time. Pre-sprouting accelerates germination because the seeds can be given ideal moisture, air and temperature conditions indoors.
Eliminates Thinning Out Seedlings. No need to toss three or four seeds into a pot and hope at least one will germinate only to have all four seeds sprout forcing your to eliminate the extras.
Conserve Space. No need to seed a whole tray of seeds hoping that at least half will germinate. You only plant the seeds that sprout.
I pre-sprout a lot of my seeds that I grow under lights including tomato, pepper, eggplant, cilantro, spinach, lettuce, and kale.
You May Also Like:
Never miss a post. Sign up for the free Grow a Good Life Newsletter and we'll send you an email with all the new articles posted on the website: