Whether you are striving for a few gourmet fingerling potatoes for fresh eating or growing a large crop for winter food storage, here are several different ways to grow potatoes in your garden.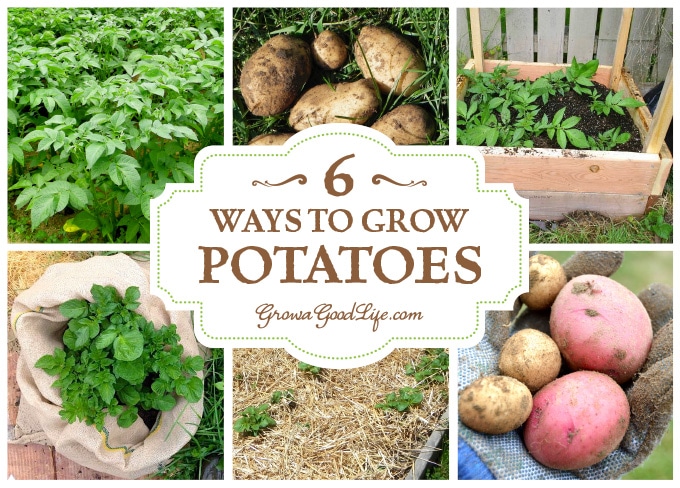 Growing potatoes is always amazing to me. You plant a small seed potato in the ground and it grows into a plant that produces an abundance of edible tubers beneath the soil. It is like a treasure hunt digging into the soil to find them. You never know what you will uncover.
Choosing how to grow your potatoes is almost as difficult as selecting the varieties you want to try. Whether you are striving for a few gourmet fingerling potatoes for fresh eating or growing a large crop for winter food storage, here are several different ways to plant and grow your own potatoes:
Growing Potatoes: Trench and Hill Method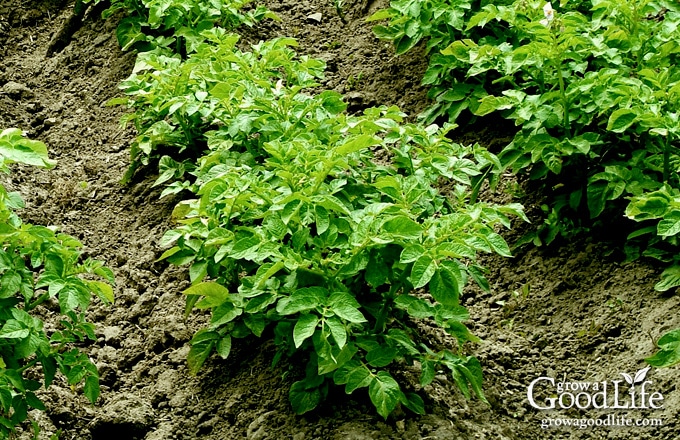 My first year of growing potatoes, I used the trench and hill method. This involves digging trenches two feet apart, mounding the soil in between the trenches, planting the potato seed, and using the mounded soil to hill the potato plants as they grow. This is the basic, proven method of growing potatoes that farmers have used for centuries only scaled down for the backyard garden.
Planting Potatoes the Grow Biointensive Way
The Grow Biointensive potato planting method involves planting the potato seed at 9-inch centers by 9-inches deep while double digging and amending the garden bed. The rows are planted in an offset, or hexagonal spacing. The closer spacing helps maximize space and reduce water loss. No hilling is required. This is my favorite way to grow potatoes.
Growing Potatoes in Bins and Towers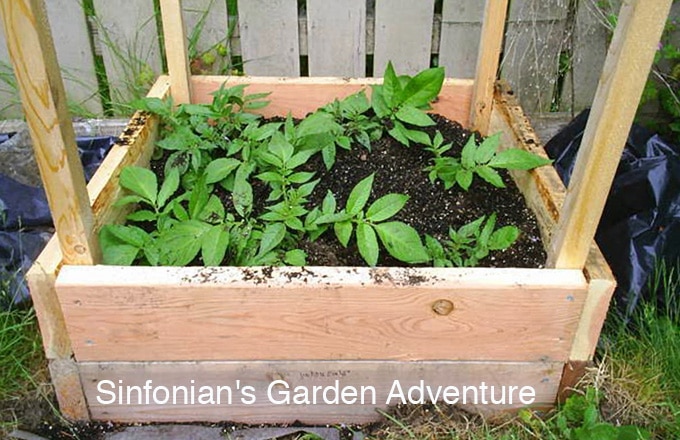 If you are short on gardening space, growing your potatoes above ground in bins, cages, or towers are a great way to grow an abundance of potatoes in a very limited space.
Potato towers were a very popular method to experiment with among my garden blogging friends back in 2010. Unfortunately, many had mixed results. Here are some tips to succeed with potato bins and towers:
Select late-season potato varieties: Late-season varieties are more likely to continue producing tubers along the stems as they are covered with soil. Early- or mid-season potatoes will only produce one set of potatoes at the bottom. Suggested late-season varieties are Binjte, Yellow Finn, Indian Pit, or Red Pontiac.
Use lightweight soil: Fill the bins with a lightweight soil mix to prevent compacting, and allow roots to spread. Amend with mushroom compost, coconut coir, sawdust, and potting mix.
Water well: Watering requirements of potato plants grown above ground are greater since the soil is not insulated as well as in the ground. The plants will stop growing if they become dry or overheated. Check the containers frequently in warm weather and water deeply so the moisture reaches the roots on the bottom. Also consider coiling a soaker hose through the bin as you the layer soil.
Growing Potatoes in Containers and Grow Bags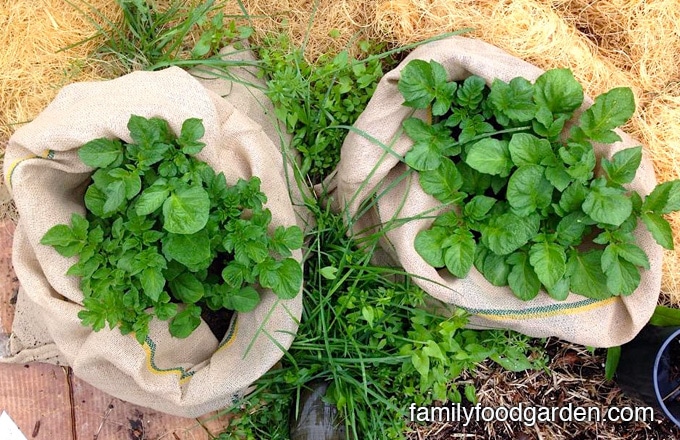 Growing potatoes in containers seem to be more successful than the large above ground potato bins. The smaller containers are much easier to care for and keep up with watering. Harvesting the potatoes grown in containers is a snap, too — instead of digging you just dump out the soil and there they are!
Growing Potatoes in Mulch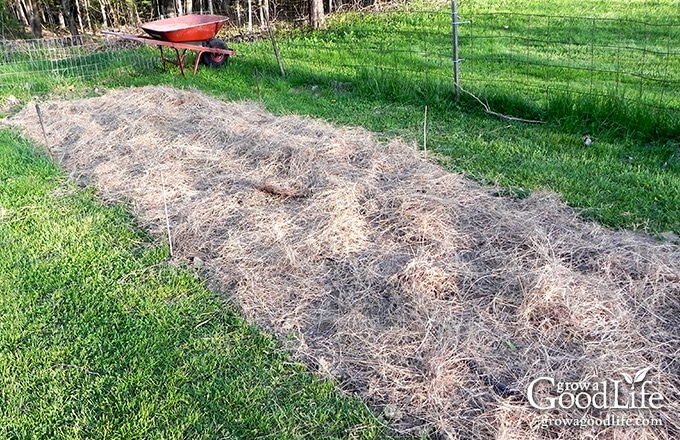 Growing potatoes in mulch requires no digging and the potatoes are much cleaner come harvest time. To plant, loosen a few inches of soil in the garden bed and work in some compost and fertilizer with a rake. Lay your seed potatoes on the soil about 12-inches apart. Cover the seed potatoes with 12-inches of organic mulch, such as shredded leaves, pine needles, leaf mold, sawdust, hay, or straw. Add more mulch when the plants are about 6 inches tall and continue mulching every 2-weeks until the plants bloom.
Planting Potatoes Back to Eden Style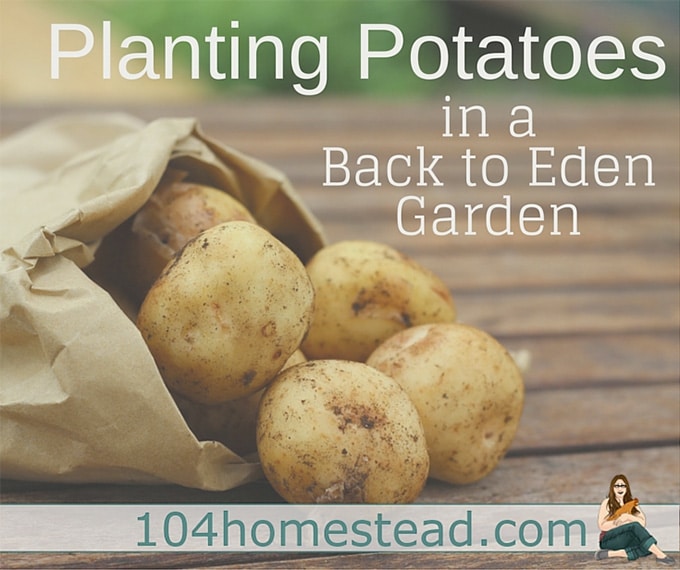 The Back to Eden gardening method involves mimicking nature's way of building healthy soil. The Back to Eden garden is never cultivated or tilled. Instead, this method involves seasonally layering the garden with compost, mulch, and wood chips to build a generous cover of deep mulch that brakes down naturally and adds nutrients to the soil and improves water retention. Much like a natural forest.
Other Potato Growing Tips:
There is no right or wrong way to grow potatoes. Different methods work for different growing locations. If you are planting potatoes for the first time or if you have planted them in the past and failed to harvest a good yield, I urge you to not give up and try a different approach until you find a method that works for you.
Want to Learn How to Grow Potatoes?
You will find everything you need to start growing potatoes in my PDF eBook, Grow a Good Life Guide to Growing Potatoes. Whether you are striving for a few gourmet fingerling potatoes or a large crop for winter food storage, this guide will show how you can grow your own, organic, homegrown potatoes. Click here to learn more.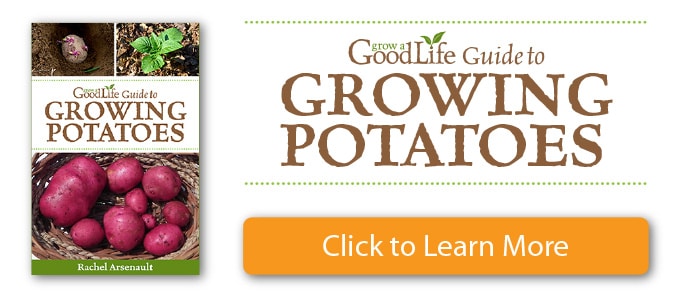 You May Also Like:
Good planning is key to a successful vegetable garden
Whether you are new to growing your own food or have been growing a vegetable garden for years, you will benefit from some planning each year. You will find everything you need to organize and plan your vegetable garden in my PDF eBook, Grow a Good Life Guide to Planning Your Vegetable Garden.