Do you love adding little heat to your food? Then try this mildly spiced roasted red jalapeño hot sauce recipe.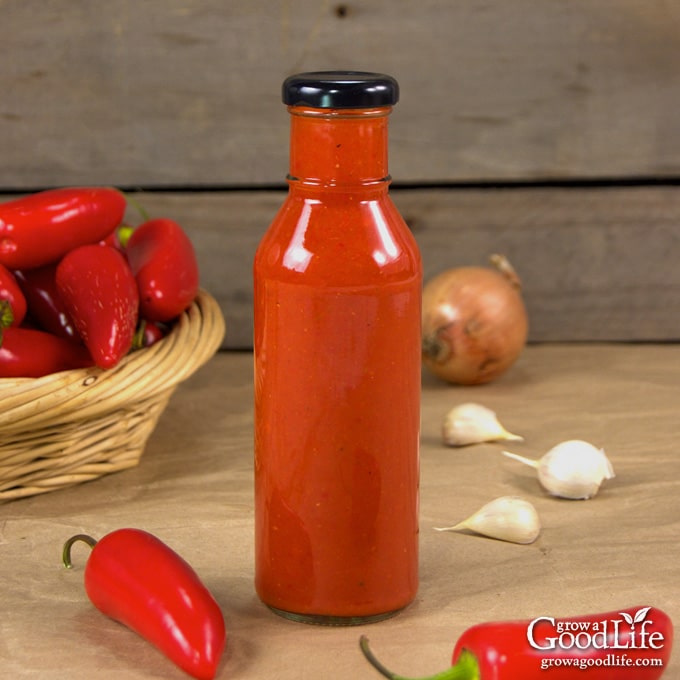 Each year, I am amazed at how quickly the seasons change from summer to fall. We held on to warm temperatures into early October this year as remnants of hurricanes brought humid weather our way.
The warm weather allowed the peppers, tomatoes, and tomatillos to push out one more round of fruit. Even though we had an abundant harvest this year, I couldn't resist allowing the plants to fulfill their desire to produce more. A few weeks later, a frost-warning forecast had me scrambling in the garden to harvest the remaining crops before they were killed by frost. I was surprised that there were so many jalapeño peppers.
We have plenty of canned tomato salsa on our storage shelves in the basement. The freezer is filled with containers of salsa verde and green chile sauce. There are also plenty of freezer bags filled with sliced sweet peppers and whole jalapeños to use as needed in recipes through the winter months.
I decided to try making some hot pepper sauce out of the bonus jalapeño harvest. I am so glad I did. It tastes amazing!
You can make a roasted hot sauce with any type of chili peppers or a mix of peppers. Jalapeños are a medium heat chili pepper, so this hot sauce is not overly hot. Removing the seeds will keep the hot sauce on the medium-hot side. Include the seeds if you like it hot. Be sure to wear gloves when working with hot peppers.
This Roasted Red Jalapeño Hot Sauce is a great way to use up an abundance of jalapeños. Skip the store bought bottles and puree up your own roasted hot sauce using good-quality ingredients.
Add a few drops of hot pepper sauce to soups, chilies, stir fry, or anything that needs an extra kick.
Enjoy a dash of with your morning scrambled eggs.
Substitute hot sauce for ketchup on burgers and French fries.
Drizzle hot pepper sauce on tacos, fajitas, or any of your favorite Mexican foods.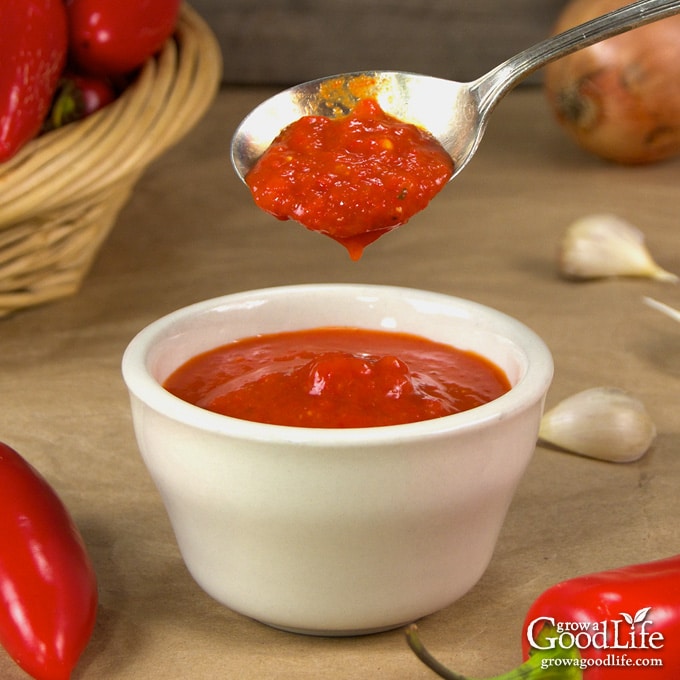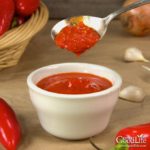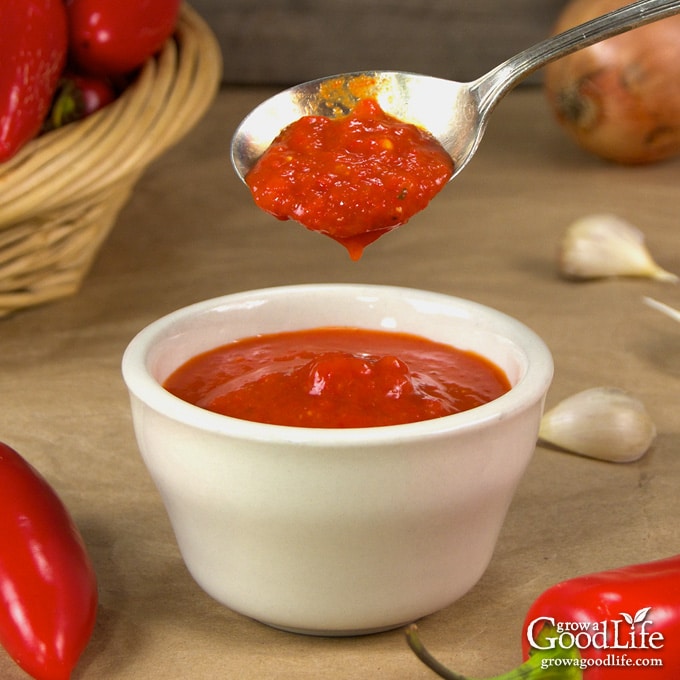 Roasted Red Jalapeño Hot Sauce Recipe
Do you love adding little heat to your food? Then try this mildly spiced roasted red jalapeño hot sauce recipe.
Ingredients
1/2

pound

red jalapeño peppers (about 5-6)

seeded and cut in half (wear gloves)

1

small

onion, peeled and chopped

2

cloves

garlic, chopped

1/2

cup

water

2

tablespoons

red wine vinegar

1

teaspoon

lime juice

salt and pepper to taste
Instructions
Add the jalapeños, onion, and garlic to a roasting pan.

Roast in a preheated oven until the vegetables are soft, about 30 minutes. Stir half way through so the vegetables cook evenly. Remove the pan from the oven and let it cool for 5-10 minutes.

Add the vegetables to a food processor or blender. Add the red wine vinegar, lime juice, water, and a dash of salt and pepper. Puree until smooth.

Transfer the hot sauce to a glass bottle or canning jar. Store in the refrigerator for up to 4 weeks or freeze for longer storage. Makes about one cup.
How do you enjoy hot sauce? Let us know in the comments!
You May Also Like
Good planning is key to a successful vegetable garden
Whether you are new to growing your own food or have been growing a vegetable garden for years, you will benefit from some planning each year. You will find everything you need to organize and plan your vegetable garden in my PDF eBook, Grow a Good Life Guide to Planning Your Vegetable Garden.