Growing a vegetable garden from seed this year? Stay organized by developing a seed-starting schedule. A seed starting schedule provides a guideline of when to sow seeds and when to transplant seedlings to your vegetable garden. Learn how to create a planting schedule with these tips.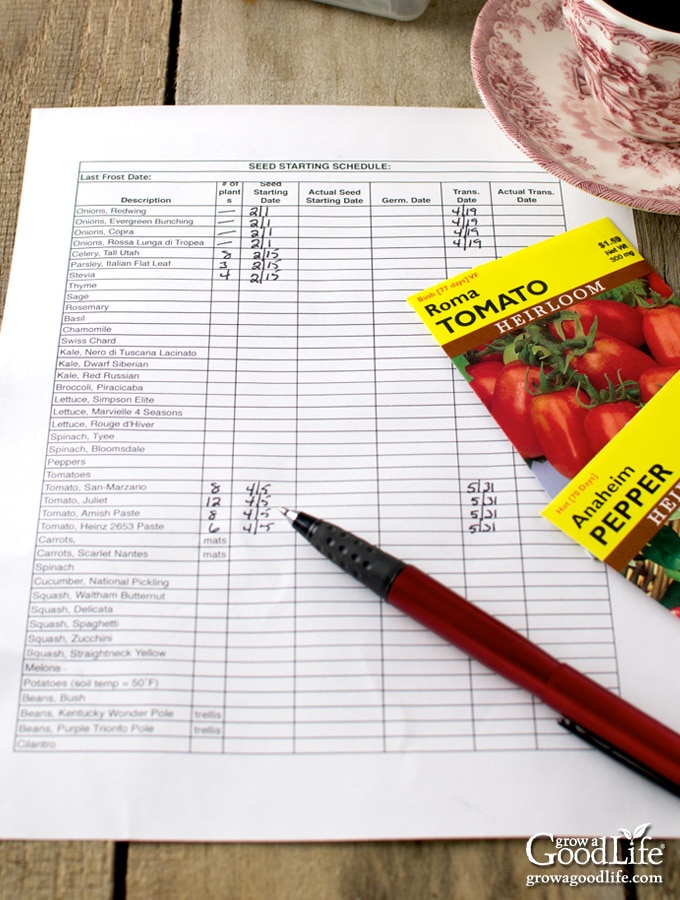 Starting transplants from seeds indoors can be very enjoyable for a gardener, especially after a long winter. I love watching life emerge from the tiny seeds and flourish into healthy seedlings. Starting transplants from seed is also less expensive per plant and offers a greater variety than buying nursery plants.
Hopefully, by now you have an idea what you want to grow in your vegetable garden, ordered and organized your seeds, and mapped out your garden beds so you know where everything will be planted and how many plants you will need to fill the space. If not, go ahead and review these articles:
Now the challenge is to figure out when to sow seeds
If you start some seeds indoors too soon, you will end up with lanky plants under the lights. Sow seeds too late and the plants will be weak when transplanted to the garden, or may not have enough time to mature and produce a harvest before your fall frost.
To help get the timing right and keep you organized, it is a good idea to make a seed starting and planting schedule. A planting schedule is used to record the dates to sow seeds indoors under lights, when to direct sow seeds outside, and when to transplant seedlings into your vegetable garden.
Developing a seed starting schedule ahead of time makes it easy to know which seeds you should be starting each week.
5 Steps to Make a Seed Sowing Schedule
Making a seed starting schedule tailored for your unique growing climate will help you sow seeds indoors at the right time, so they will be ready to transplant into the garden in spring. The schedule will also serve as a planting calendar for direct sowing seeds outside in the garden for plants that don't need a jump-start.
Planning a seed starting schedule for the first time can be a bit daunting. It becomes easier the following year because you can use the same schedule and adjust according to your notes and observations. Here are 5 steps to making a seed starting and planting schedule:
Step 1: Find Your Last Expected Frost Date
The key information to establishing the seed starting schedule is the last expected frost date for your area. This date will be used as a starting point for your schedule.
There are various sources of finding the date such as asking your neighbors, your local nursery, extension office, or enter your zip code here at PlantMaps.com. Don't become too concerned if you find that various sources provide you with slightly different last expected frost dates. It is only an estimate and may vary depending on your source, year-to-year, or even from one side of town to another. Select the average date among the sources as your starting point.
Step 2: Set Up a Chart
I use a spreadsheet with the following headers: Description, # of plants, Seed Starting Date, Actual Seed Starting Date, Germination Date, Transplant Date, and Actual Transplant Date. For simplicity, I round my dates to the nearest Sunday date.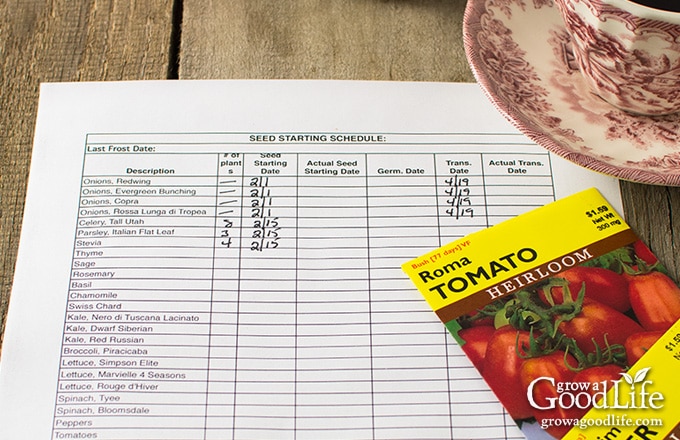 Step 3: Figure Out the Sow and Transplant Dates of Each Crop
Most often, the back of the seed package provides instructions on when to sow your seeds indoors and when to transplant the seedlings into the vegetable garden.
For example, the pepper seed package above says to "start seeds indoors 7-8 weeks before the last spring frost." If my last frost date is May 20th, counting 7-weeks backwards on a calendar lands me on April 1st.
The seed package also tells us when to transplant the seedlings, "…in the late spring after the soil has warmed." This means that peppers should be sown around April 1st and transplanted to the garden after May 20th, my last frost date. Since peppers love the heat, I usually add a week to be on the safe side and schedule peppers to be transplanted on May 27th.
Below is a general guideline on when to start seeds based on your estimated last frost date:
10 weeks: Celery, Leeks, Onions, Parsley, Shallots, and some Herbs.
8 weeks: Asparagus, Eggplant, Leeks, Onions, Peppers, Shallots, and some Herbs.
6 weeks: Broccoli, Brussels Sprouts, Cabbage, Cauliflower, and Tomatoes.
4 weeks: Cucumbers, Lettuce, Melons, and Squash.
Some crops don't need to be started early indoors under lights and can be directly sowed into the vegetable garden.
Direct seed these cool season vegetables in spring and mid-summer for a fall crop: beets, carrots, kale, lettuce, radishes, spinach, chard, parsnip, turnip, and peas.
Sow these warm season crops in summer after all danger of frost is past: bush beans, corn, cucumbers, summer squash, and winter squash.
Step 4: Record the Dates in Your Chart
In your spreadsheet, fill in the name of the crop in the description column, the number of seedlings you will need based on your vegetable garden map, the date to sow the seeds, and the date to transplant the seedlings into the garden. Continue this for each crop you plan on growing.
Step 5: Keep Notes for Next Year
You will notice that I have a column in my spreadsheet where I can record when the seed germinated and the real dates of when the seed was sown and transplanted into the garden. That way I can see whether I need to make changes next year.
One adjustment I made the second year was the seed starting date for peppers. My seed starting area is in an unheated basement so peppers tend to grow more slowly in cooler temperatures. I added on a couple weeks of growing time under the lights.
How to Keep a Garden Journal (coming soon)
—
Developing a planting schedule is a helpful step for your yearly vegetable garden planning. Creating a schedule ahead of time makes it easy to know what seeds should be started each week. Also, the schedule provides a record of when each seed was started and makes it easy to adjust from year to year.
Additional Seed Starting Tips:
Good planning is key to a successful vegetable garden
Whether you are new to growing your own food or have been growing a vegetable garden for years, you will benefit from some planning each year. You will find everything you need to organize and plan your vegetable garden in my PDF eBook, Grow a Good Life Guide to Planning Your Vegetable Garden.