Growing zucchini is so easy, and you can harvest a continuous supply all summer long. This guide will teach you everything you need to know about growing zucchini in your vegetable garden.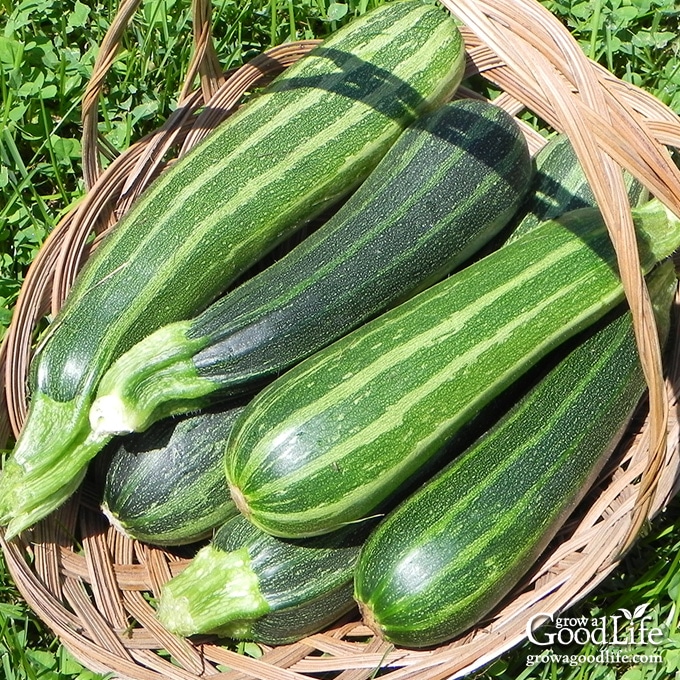 Zucchini is easy to grow, flourishes in warm weather, and produces abundantly from early to late summer until frost kills the plant. Zucchini can be used in so many ways, including raw in salads, stir-fried, sautéed, stuffed, and shredded in baked goods.
The tender squash can be enjoyed in recipes such as zucchini garlic bites, cheesy zucchini rollups, zucchini lasagna, and baked zucchini fritters. You can also preserve the abundant harvest by canning relish, sweet and sour pickles,or freezing, and dehydrating.
In this article, we cover how to grow zucchini from seed, what environment and soil is best, how to water properly, plus ways to preserve your harvest. By following these simple tips, you will be able to successfully grow zucchini in your garden!
About Zucchini
Zucchini (Cucurbita pepo) is a summer squash that is grown for its edible tube-shaped fruits that form on short vines or bush plants. While ancient domesticated squash found in caves in Mexico have been carbon dated to over 9,000 years ago, the zucchini we are familiar with is a rather new cultivar developed through natural breeding in Milan, Italy in the late 19th century.
Zucchini is a warm season annual with large leaves that are ruffled around the edges. Numerous varieties of zucchini produce fruit in a range of colors from shades of green, to yellow, white, variegated green streaks, and green and white stripes.
The fruit can be harvested at any size, and the entire squash is edible, including skin, flesh, and seeds. Even the plant's blossoms can be tossed into salads, or stuffed and deep-fried.
Types of Zucchini to Consider
So many varieties, so little space! While it is tempting to grow several different types of zucchini, just remember that once the plants begin fruiting, you will continue to get harvests almost daily until frost. This can be a lot! Here are some varieties to consider: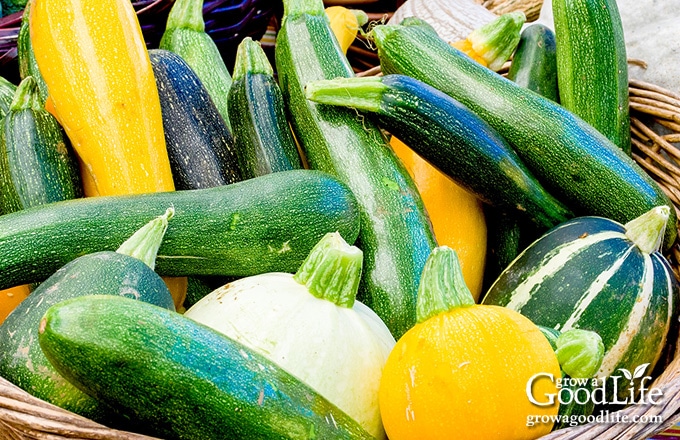 Tips for Growing Zucchini
Growing zucchini is so easy that you could simply drop the seeds onto fresh soil, and most would germinate, and produce a harvest without any assistance from you. However, to get the biggest harvest from these garden plants, follow these tips:
How Does Zucchini Grow?
Once planted, the zucchini seed will sprout and develop into a vining plant that can reach 4 to 5 feet across when mature. The plants produce bright yellow flowers that pollinating bees find irresistible.
Both male and female blossoms form on the same plant. The female flowers have a fruit located directly behind the blossom. If fertilized properly, the bloom will fall off, and the squash will grow under the large frilly leaves that protect it from the sun and hide it from predators. The zucchini develops quickly, and can be harvested in a few days.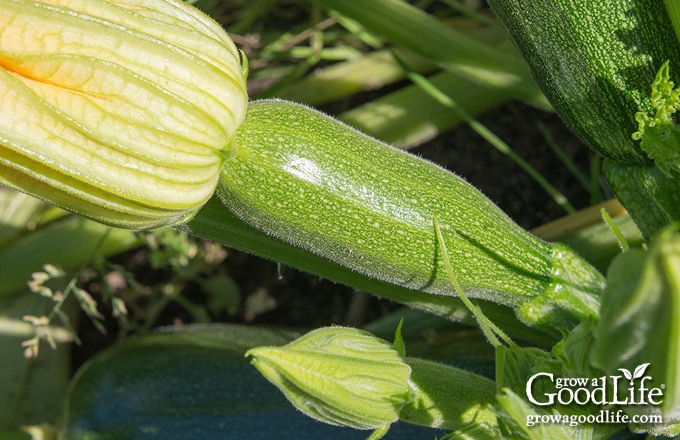 When to Grow Zucchini
Zucchini is a warm season crop that should be planted in late spring once the soil warms, and all danger of frost is past. The time to start your seeds depends on the last frost date predicted for your growing area. You can find your last frost date by contacting your local extension office or enter your zip code here at PlantMaps.com.
Plan on direct sowing seeds or transplanting seedlings several weeks after all danger of frost is past. You can give your plants a head start by starting seeds indoors about 4 weeks before your last frost date. You can also direct sow seeds in the garden.
If your summer growing season is long, you can succession plant zucchini in mid-summer for a fresh harvest right before frost. Even in my short growing season, I can grow a second round of zucchini. If I sow seeds in early July, the plants will begin producing harvests in late August until killed by frost.
Most varieties of zucchini need about 55 days from seeds to harvest, so count backward from the first predicted frost date in your area and plant the seeds 70 days before the frost date. The weather will be cooling down at this time and seeds will germinate quickly and allow enough time for the squash to mature.
Seeds can be also be started indoors in mid-summer so the plants will be ready to set out in late summer and will have time to produce even more fall zucchini before fall frost kills the plants.
Growing Zucchini Vertically
If your garden space it tight, you can make more efficient use of your area by growing even the vining types of zucchini vertically using a trellis, tying the vines to a pole, or containing the plant in a tomato cage.
My preferred way to grow zucchini vertically is by using an extra large tomato cage. It is easy to train the plants to remain in the tomato cage as it grows. The cage provides support, keeps the plant upright, and prevents it from sprawling and flopping into the garden paths. Grow one plant per support, and follow the tips in this tutorial: Growing Summer Squash Vertically.
Growing Zucchini in Pots
If you are short on gardening space, growing zucchini in containers is a great option. There are several varieties that have been developed for a more compact and bushy plant growth making them ideal for container gardening. Look for varieties with "bush" or "patio" in the name. Some bush varieties to consider include Eight Ball, Patio Star, Piccolo, and Raven Zucchini.
Zucchini has a shallow root system, but can become top heavy, and will require a large container. You could get away with growing one plant in a 5-gallon pot, but larger planters hold more moisture so you won't have to water as frequently.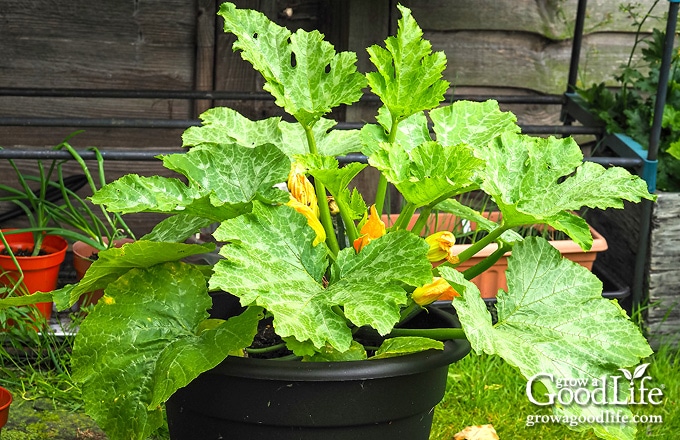 Choose a container that is at least 24-inches deep and holds 15 gallons of potting mix soil. While self-watering planters are the perfect solution to growing zucchini, you can also use large grow bags, patio pots, or wooden barrel planters.
A large pot can support up to 3 zucchini plants. If your containers are smaller, sow one plant per container. Keep the soil evenly moist until the plants are established. Then let the soil dry out a bit in between, and water when the top inch of soil is dry.
Plants in containers tend to dry out quickly, so water frequently during hot, dry temperatures or consider planting in a self-watering container.
How to Plant Zucchini
You can start zucchini seeds indoors using grow lights, purchase transplants from a garden center or greenhouse, or direct sow seeds in the garden.
Starting Seeds Indoors Under Lights
Start seeds about 4 weeks prior to your last expected frost date. Zucchini seeds are flat, pointy ovals, light tan in color, and simple to start indoors under lights. Use containers that are at least 4-inches wide and deep to support the quick growing plants: Recycled Seed Starting Container Ideas.
Fill the containers with damp potting soil to within 1/2-inch of the top of the container. Use the eraser end of a pencil to poke a hole in the soil. The holes should be 1/2-inch deep. Make 1 hole per container.
Place 1 seed in each hole and cover lightly with potting soil. Use a spray bottle to soak the soil with water. Keep the soil consistently moist but not soggy.
Place the pots in a warm location, or on a heat mat. Monitor daily for moisture needs or signs of germination. Once the seeds germinate, remove from the heat, and place under grow lights.
Zucchini sprouts are bright green. The cotyledon is the first leaf set to emerge. It will be plump, round, have a waxy texture, and may have the seed's shell still attached at first. This will fall off as the leaves open.
The cotyledons are not true leaves. They are on the plant for the sole purpose to feed the plant until the first set of true leaves grows. Once the second set of leaves develop, the cotyledons will shrivel up and fall off.
Be sure to harden off your seedlings, and transplant outdoors once the soil warms, and after all danger of frost is past.
How to Prepare the Garden Beds
Squash thrives in warm temperatures, in evenly moist, soil rich with organic matter. Choose an area of the garden that receives at least 6 to 8 hours of sunlight each day.
Growing zucchini in mounds in the center of the garden will give the plants plenty of room to stretch out. Piling soil into a small hill creates an elevated planting environment that will warm quickly, and drain well, much like a raised bed. Watering is easier too because you can target the plants' roots by filling the bowl shape at the top of the mound and let the water soak in deeply.
Before planting, prepare the garden bed by removing all the weeds, large clumps, and rocks. To form a hill, start by digging a hole about 8 inches deep in the center of your bed. Fill it with aged compost, and a slow release organic fertilizer, mix to combine with your garden soil.
Pull up the soil, and form it into a mound that is about 6-inches high and 24 inches in diameter. You can grow 3 plants in each hill. Most zucchini doesn't grow very long vines, so space each mound about 3 feet apart. Refer to the seed package for spacing suggestions.
Transplanting Seedlings
If you grow seedlings or purchase transplants from a warm greenhouse, they will need to be hardened off to adjust to the environment outdoors. The hardening off period allows your seedling to transition from the comfortable growing conditions under lights to the normal conditions they will experience in the garden. Learn How to Harden Off Seedlings with this step-by-step tutorial.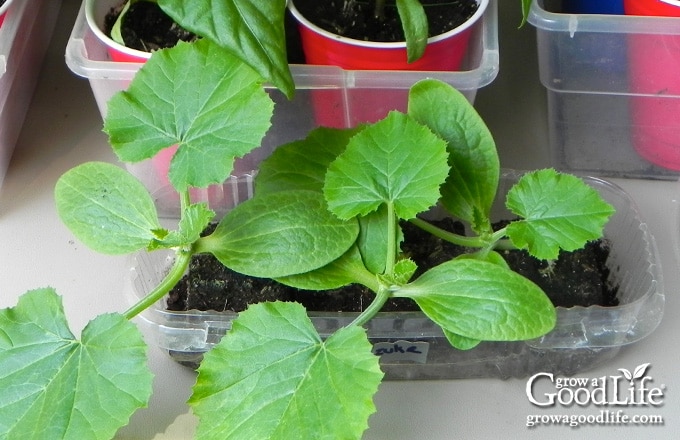 When the seedlings are ready to be transplanted, prepare the growing bed, and water thoroughly the day before you plant. Choose a cloudy day with no wind and transplant in the late afternoon or evening to give your plants time to adjust without the additional challenge of the sun.
Dig the planting holes as deep as the roots of the container. Remove the seedlings from the container, while trying to keep as much of the soil around the roots intact as possible.
Place it in the planting hole and backfill with soil. Gently firm the soil around the plant to help ensure that all the plant roots are in contact with the soil. Water thoroughly, and maintain an even soil moisture until the plants become established and show signs of new growth.
How to Direct Sow Seeds
You can also sow zucchini seeds directly in the ground about 2 weeks after your last frost date. Plant seeds 1-inch deep and 6 to 8 inches apart. Sow 4 or 5 seeds per mound, and thin down to the 3 plants per hill. Learn more about How to Direct Sow Seeds.
Prepare your soil, and make planting holes that are 1/2-inch deep and 4-inches apart. Place 1 seed in each hole, cover with soil, and firm in gently. Germination will occur within 4 to 10 days under optimum soil temperatures between 70 and 85˚F. Water well, and keep the soil consistently moist until the seeds germinate.
After the seeds sprout, continue to water every other day. When the seedlings are 3-inches tall, thin the plants to 3 per mound so they will have plenty of growing space.
After planting, be sure to keep an eye on the weather and protect the plants if frost is predicted. If a late frost occurs, cover seedlings to protect them. Remove the cover the following morning before the sun sunshine on the plants.
How to Care for Zucchini
Zucchini plants are easy to care for once they are established, but they do need a little bit of attention in order to grow and produce fruit. Follow these tips for proper care to ensure your squash plants are thriving:
Mulch the Soil
Allow the seedlings a few days to become established in their new home and start to develop new growth, and then apply a layer of organic mulch. Use straw, tree bark, compost, shredded newspaper, cardboard or other organic material as mulch. This will help the soil retain moisture, keep the soil cooler, prevent weed growth, and keep the zucchini from coming into contact with the soil. Learn more about How Organic Mulch Helps Your Garden.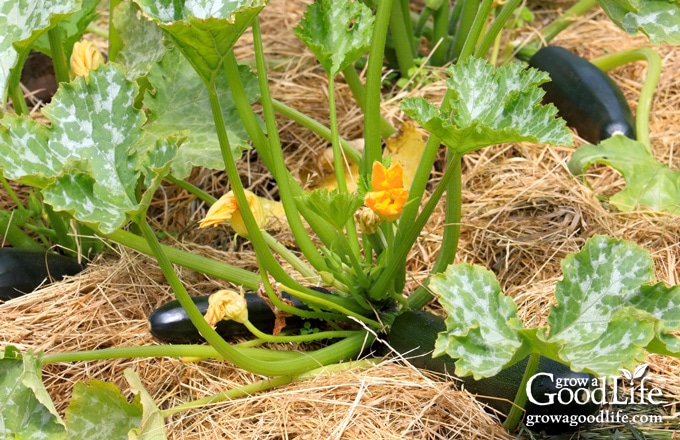 Water Regularly
Summer squash plants need about one inch of water each week either by rain or hand watering, especially when the fruit begins to set. Water your plants in the morning or early afternoon, and avoid getting any part of the plant wet. Use drip irrigation, a soaker hose, or hand water with a watering wand to deliver water at the soil level.
Keep Up with the Weeds
While mulch will help suppress weeds, some weeds will grow through. The garden should be weeded regularly, especially in the early stage. Once the plants grow, their leafy covering will shade the soil, preventing the weeds from sprouting. Learn Tips for Controlling Weeds in the Garden.
Fertilize if Needed
If you used a good quality of compost and slow release fertilizer when you prepared the garden beds, your plants will be off the great start. I don't recommend feeding the plants until they are about 1-month old. This gives them time to gather nourishment from the soil and establish a strong root system.
Side dress with additional compost once the plants begin blooming and forming fruit. Alternatively, you can feed with a balanced organic fertilizer. Apply this a week after the plant begins blooming, and then repeat this process every 3 weeks, or as the directions recommend.
If your plants are struggling, you can give them a boost by watering with fish emulsion or liquid seaweed fertilizer by following the directions on the packaging. Or create DIY water-soluble plant food with compost. Nutrient-rich compost tea can be made by adding one garden trowel scoop of compost to a 5-gallon bucket of water. Allow the compost tea to steep for 5 days, and then use it to water plants as normal. This compost tea is good for all garden plants.
Hand Pollinate if Necessary
To ensure that your zucchini blossoms are being properly pollinated, you may need to hand pollinate. Poor pollination is one of the leading causes aborted fruit. You can attract bees and other pollinators by planting flowers nearby, or you can hand-pollinate the zucchini blossoms to help increase yield.
Hand-pollination is easy. Use a clean paintbrush or cotton swab to collect the pollen off of the stamen from the male flower, and rub the pollen onto the center of the female flower. Repeat this action until all female flowers have been pollinated. Learn How to Hand Pollinate with this tutorial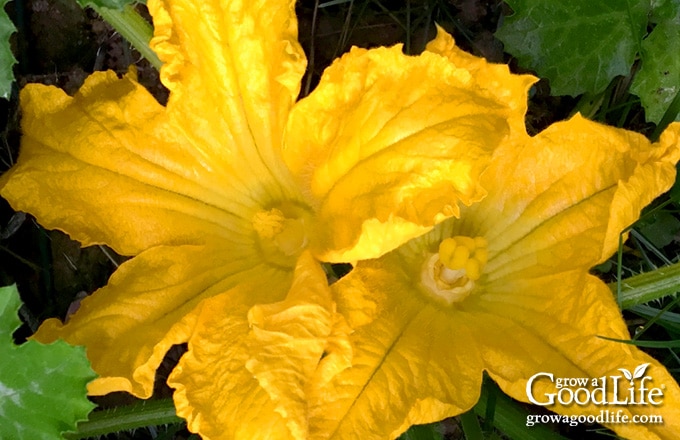 Watch for Pests and Diseases
Zucchini plants are susceptible to a few different garden pests and diseases that attack all members of the cucurbit family, including cucumbers, squash, pumpkins, and melons.
The best way to combat pests and diseases is to grow healthy plants. If your plants are struggling, they will be more vulnerable to any additional challenges. Planting in good quality, fertile soil, and providing plenty of water will help your plants grow rapidly.
Practice good sanitation and rotate your crops from year to year. Pests and fungus organisms can over winter in plant debris. Clean up the garden at the end of each season, and rotate your crops to prevent the early emerging pests from easily finding your young plants. Row covers are helpful for preventing pests from harming young plants, but remove them once the plants bloom to allow pollinators to fertilize the blossoms.
Prevent waterlogged soil by planting in well-draining soil enriched with compost. In addition, watering your plants close to the base of the plant will reduce the risk of damp foliage.
Here are some common pests and diseases to watch for:
When the plant is no longer producing blooms, or becomes overrun by squash bugs, it has completed its lifecycle. It can be removed from the garden and added to the compost bin. I like to send the chickens in to deal with the pests left behind.
When and How to Harvest
Depending on the variety, zucchini is ready to harvest within 45 to 55 days. Harvest the squash when it is 6 to 8 inches long. The fruit is the most tender and has the best flavor when they are young. You can expect to pick 6 to 10 pounds of fresh zucchini from each plant under the right growing conditions.
During harvest season, check the plants daily, and pick early in the morning for the best flavor. Zucchini grows rapidly and can develop from a tender small fruit, to baseball bat size virtually overnight.
To harvest, cut the squash off the plant with a sharp knife or scissors leaving about 1-inch f the stem attached. Be gentle so you don't injure the plant. Zucchini is best used fresh, but you can store unwashed fruit in the crisper drawer of your refrigerator for about a week, or preserve it for longer using one of the methods below.
The blossoms are also edible and can be stir-fried, stuffed with cheese and deep-fried. However, harvesting the flowers will reduce the number of zucchini that develop on the plant.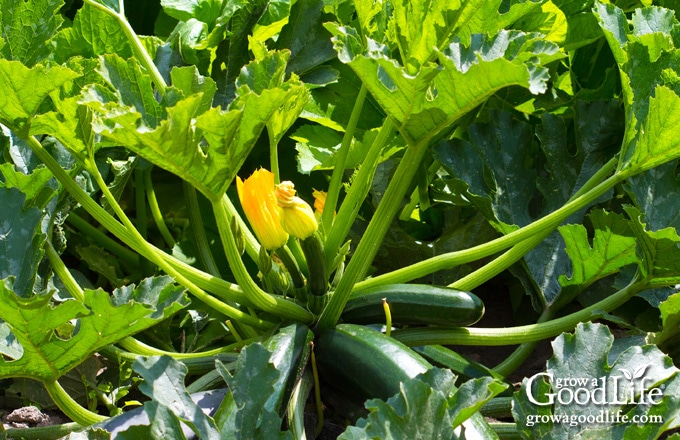 Ways to Preserve Zucchini
Zucchini is a prolific producer. By mid-summer I am always questioning my decision to grow so many plants. Especially when the harvest comes in all at once. However, that feeling subsides in the middle of winter when I am happy to cook with the zucchini that I preserved by freezing, canning, and dehydrating.
After baking, sautéing, stuffing, and grilling as much as you can, try preserving zucchini so you can enjoy the summer harvest bounty over the winter months. I have gathered all the ways to preserve zucchini in this article: Ways to Preserve Zucchini.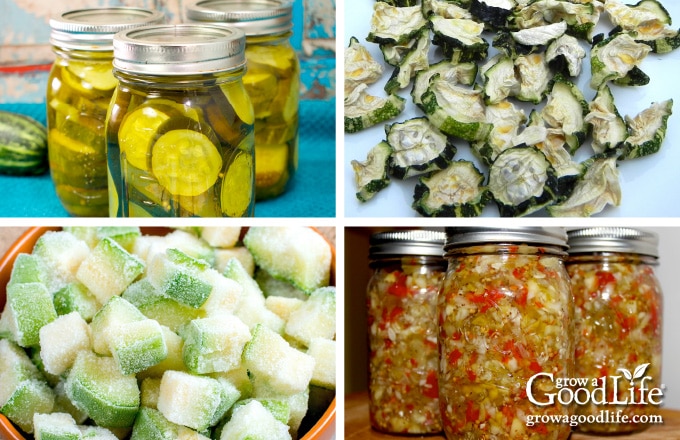 Whether you are new to vegetable gardening, or just looking for an easy crop to grow, zucchini is a great option. Zucchini is easy to grow, and the productive plants will provide plenty of fruit for recipes and preserving. I hope this guide provides you with the tips you need so you can have a successful zucchini harvest.
You May Also Like:
Good planning is key to a successful vegetable garden
Whether you are new to growing your own food or have been growing a vegetable garden for years, you will benefit from some planning each year. You will find everything you need to organize and plan your vegetable garden in my PDF eBook, Grow a Good Life Guide to Planning Your Vegetable Garden.