This sweet and sour cherry sauce recipe can be made from fresh cherries and fresh pineapple or bottled juice. It is delicious as a dip, in stir-fry, or drizzled on chicken, pork, vegetables, noodles, or rice.
Cherries are only available for a limited time during the year. When they reach my local grocery store, I like to capture the flavor and preserve them into a freezer-friendly, sweet and sour cherry sauce that we can enjoy all year.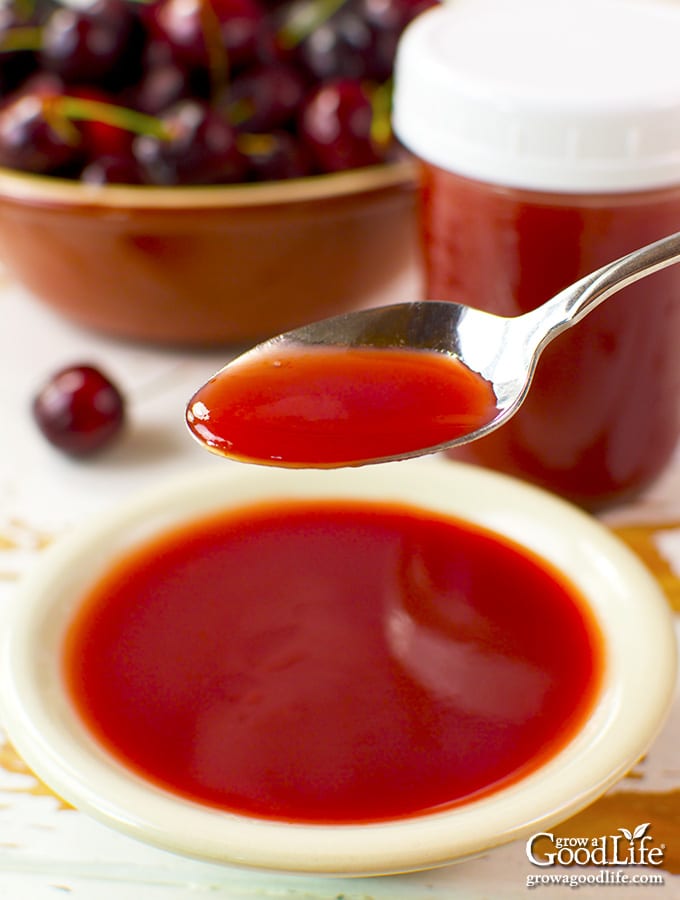 I have tried many sweet and sour sauce recipes over the years looking for the right flavor combination that matched our favorite Chinese restaurants. Most recipes I explored involved some sort of vinegar, tomato, and pineapple combination. As I experimented with recipe after recipe, I kept thinking that something was missing.
Eventually, I realized that many of our local restaurants include cherries and pineapples in their sweet and sour sauce. They usually use those nasty-fake maraschino cherries. It dawned on me that cherry was the missing flavor.
A lot of trial and error has gone into this sauce and I urge you to experiment with small batches and adjust to your liking before making a large batch for the freezer.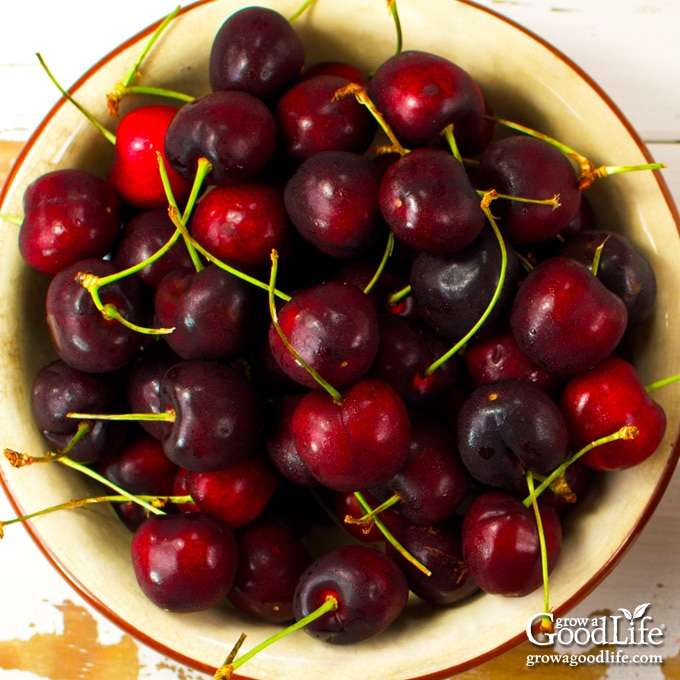 Tips for Making Cherry Sweet and Sour Sauce
Use arrowroot powder instead of cornstarch if you are using fresh pineapple or freezing your sweet and sour sauce. Cornstarch loses thickening strength when combined with the acidity of fresh pineapple (canned is ok). Cornstarch also tends to break down when frozen. I use Bob's Red Mill Arrowroot Starch.
Cherries: Both sweet and tart cherries can be used for this recipe. You may need to increase the amount of sugar to balance the sweet and sour.
Vinegar: Different vinegars will give you versatility in flavor. Experiment with white, apple cider, or rice vinegar
You can substitute bottled juice for fresh fruit. If substituting juice for fruit, eliminate the water from the recipe:
1 pound fresh cherries – substitute 1 1/2 cups of bottled unsweetened cherry juice
1 fresh pineapple – substitute 3 cups of unsweetened pineapple juice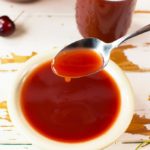 Sweet and Sour Cherry Sauce
This sweet and sour cherry sauce recipe can be made from fresh cherries and fresh pineapple or bottled juice. This cherry sweet and sour sauce is delicious as a dip, in stir-fry, or drizzled on chicken, pork, vegetables, noodles, and rice. This large batch is perfect for freezing.
Keyword:
cherry sweet and sour sauce
Instructions
Extract the juice by combining cherries, pineapple, and water in a large saucepan over low heat. Heat and simmer slowly until the fruit is soft, and the juices are released.

Crush the fruit with a potato masher and continue simmering over low heat for 5-10 minutes, stirring occasionally.

Strain the fruit through a damp jelly bag or double layers of cheesecloth. Discard the solids. Measure out 4 1/2 cups of juice. Add more water if needed.

Add the juice, ketchup, tamari or soy sauce, and vinegar to the saucepan and stir to combine. Add the sugar and simmer over medium heat. Stir until the sugar is dissolved.

Combine the arrowroot with the remaining juice and add the slurry to the saucepan. While stirring, bring the saucepan to a boil over medium-high heat. Reduce the heat to low and simmer until the sauce thickens, about 5 minutes.

Remove the pan from the heat and allow the sauce to cool. Divide into freezer containers and freeze up to a year. Yields about 6 cups.
You May Also Like
Sweet and Sour Chicken Stir-Fry
Small Batch Chokecherry Jelly Recipe
Spiced Apple Jelly Recipe
Honey Sweetened Concord Grape Jelly
Good planning is key to a successful vegetable garden
Whether you are new to growing your own food or have been growing a vegetable garden for years, you will benefit from some planning each year. You will find everything you need to organize and plan your vegetable garden in my PDF eBook, Grow a Good Life Guide to Planning Your Vegetable Garden.