This smoky, rich flavored cherry barbecue sauce can be slathered on virtually any type of meat, including chicken, pork, and beef.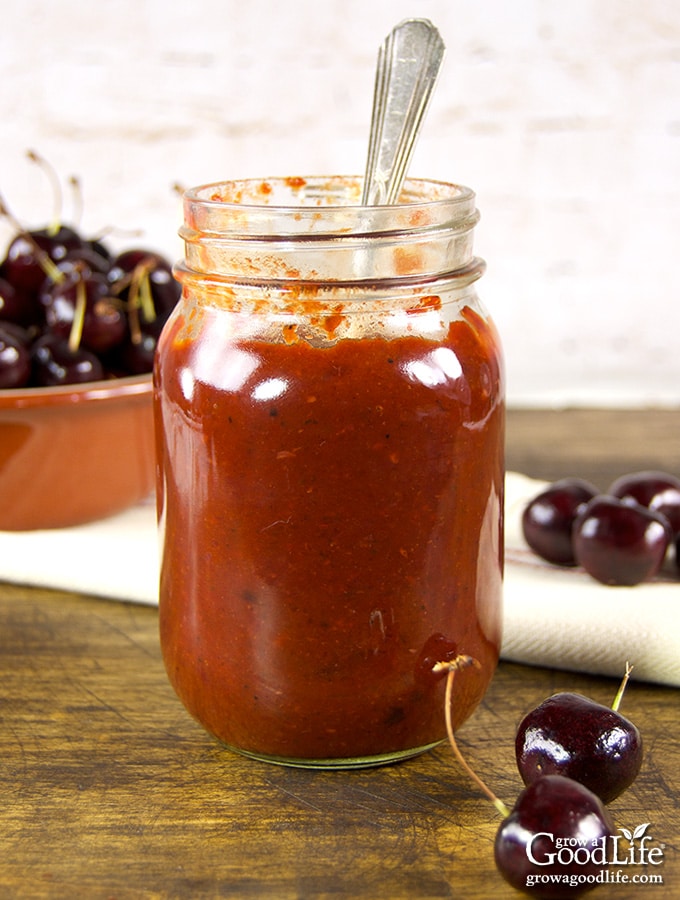 During peak cherry season, I simply can't resist grabbing the delicious little fruit each time I visit the grocery store. We snack on so many cherries every day from breakfast, lunch, and dinner.
I have preserved several batches of Cherry Jam and our year supply of Cherry Sweet and Sour Sauce is in the freezer. I even stashed a bunch of whole cherries in the freezer to use later in baked goods.
This cherry barbecue sauce recipe is a nice balance of sweet and savory with a little smoky spicy kick.
Tips for Making Cherry Barbecue Sauce
Cherries: You can use fresh or frozen cherries. Sweet cherries work best for this recipe. If you are substituting tart cherries, taste the barbecue sauce and add more sugar or honey if needed.
Pitting the cherries is the most time consuming part of this cherry barbecue sauce recipe. Get yourself a cherry pitter to make it easier.
Smoked Chipotle Chili Powder: Chipotle chili powder adds a nice smoky heat to the cherry barbecue sauce. Chipotle chili powder is ground from smoked, dried chipotle peppers. Chipotle peppers are fully ripe, red jalapeño peppers that have been smoked and dried.
If you like your barbecue sauce extra spicy, add more smoked chipotle powder until it is to your liking. If you don't have smoked chipotle powder, you can substitute smoked paprika powder or plain chili powder.
Blending the Sauce: My favorite tool for blending sauces and soups is an immersion hand blender. Simply place it into the pot, hold it against the bottom, and blend on low to avoid splashing. Carefully move it around, and in no time your cherry barbecue sauce will be nice and smooth.
You can also blend the cherry barbecue sauce with a regular blender or food processor. Allow the sauce to cool, pour it into a blender or food processor, and puree until smooth.
How to Make Cherry Barbecue Sauce
Melt the butter in a small pot over medium heat and sauté the onions and garlic.
Add all the remaining ingredients to the pot, stir to combine.
Simmer the sauce until the flavors mingle and the cherry barbecue sauce thickens.
Pureé the cherry barbecue sauce until smooth using a stick blender, blender or food processor.
Cool and pour into a jar.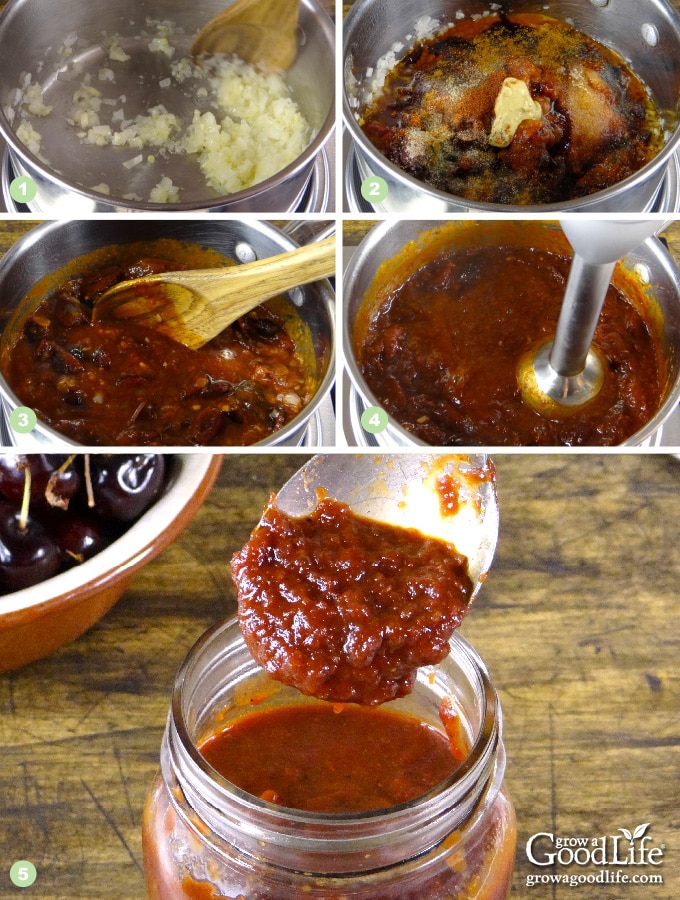 That's it! In less than an hour, you have a batch of homemade cherry barbecue sauce that you can smear on your favorite grilling meats, use as a dipping sauce, or simmer into Cherry BBQ Meatballs.
Cherry Barbecue Sauce Recipe
This cherry barbecue sauce recipe is a nice balance of sweet and savory with a little smoky spicy kick.
Instructions
Melt the butter in a small saucepan over medium heat. Add the onion and cook until softened, about 5 minutes. Add garlic and stir briefly, about 30 seconds.

Add cherries, tomato sauce, sugar, molasses, apple cider vinegar, Dijon mustard, chili powder, pepper, salt, and cayenne pepper to the pot and stir to combine.

Bring to a boil over medium-high heat, and then reduce the heat to low. Simmer, stirring occasionally until the cherries are soft and the sauce thickens, about 30 minutes.

Puree the cherry barbecue sauce with an immersion blender or food processor. Use immediately, pour into a jar and refrigerate up to 2 weeks, or place in freezer containers and freeze up to a year. Makes about 2 cups.
Nutrition
Serving:
1
tablespoons
|
Calories:
25
kcal
|
Carbohydrates:
5.4
g
|
Protein:
0.2
g
|
Fat:
0.4
g
|
Saturated Fat:
0.2
g
|
Cholesterol:
1
mg
|
Sodium:
67
mg
|
Potassium:
60
mg
|
Fiber:
0.3
g
|
Sugar:
2.7
g
|
Calcium:
60
mg
You May Also Like