Canning carrots is a great way preserve them when abundant and in season. Jars of carrots in your pantry will come in handy for quick meals, soups, or stews. Take advantage of the seasonal harvests to stock you pantry shelves with home canned carrots.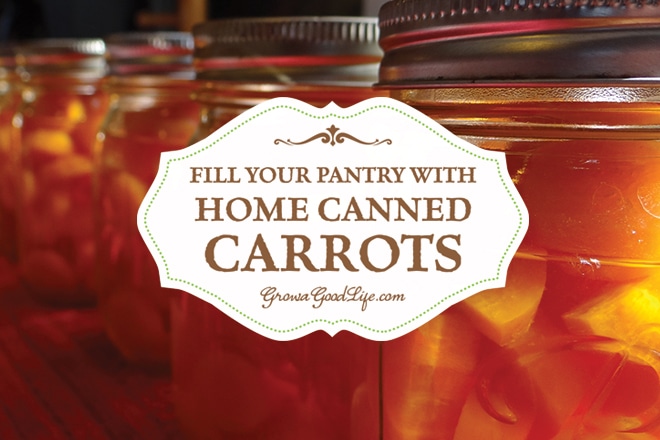 I struggled with growing spring carrots when I began a garden of my own. Finally, I vowed to conquer my spring growing problems: 4 Tips for Growing Great Spring Carrots
It Worked! We enjoyed fresh carrots all summer with the final late summer harvest of 25 pounds. The fall-sown carrots were also doing well and had the potential of adding another 20 pounds to the tally. I have never grown so many carrots before! With the fall carrots maturing soon, the summer harvest was canned and added to the food storage. It was nice to fill the pantry with fresh home canned carrots.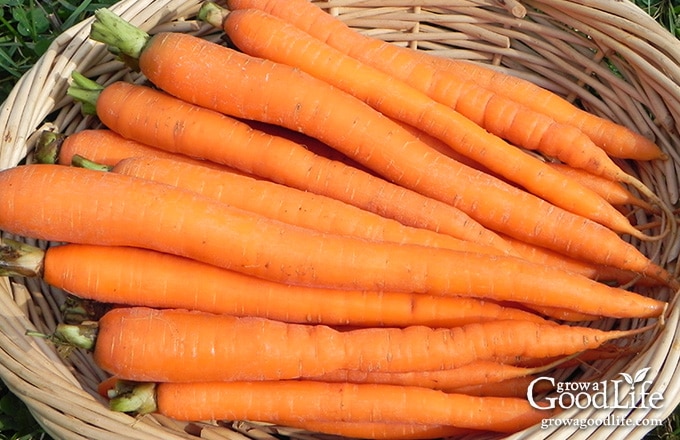 How to Pressure Can Carrots
Carrots and other low acid foods are preserved by using a pressure canner, which heats the contents to 240˚F eliminating the risk of food borne bacteria. One of the first purchases I made when I began gardening was this Pressure Canner. It also doubles as a pressure cooker and can be used as water bath canner with the lid unlocked. It holds 9 pint sized jars and 7 quart sized jars.
Other helpful canning accessories often come as a kit like this one: Home Canning Utensil Kit. It includes magnetic lid lifter, coated tongs, coated jar wrench, bubble popper, canning funnel, and jar lifter. Of course you'll need canning jars. I like canning carrots in pint sized jars.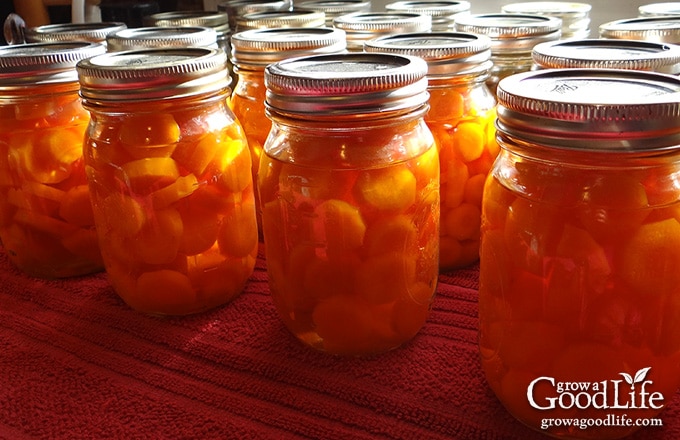 If you don't grow your own carrots, consider purchasing in bulk at a local farmer's market when in season and preserve to enjoy all year. Canned carrots can be prepared quickly for meals. Since pressure canning cooks them, they only need 10 minutes on the stove to heat up. They are also easy to add to add to soups. Add the whole jar at the end of the cooking time and boil for at least 10 minutes.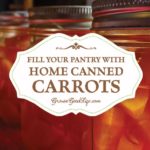 Canning Carrots
Take advantage of the seasonal harvests to stock you pantry shelves with home canned carrots.
Instructions
Prepare your jars and lids by washing in warm, soapy water and rinsing thoroughly. Place jar rack into pressure canner, set jars in the canner, add water, and boil jars for 10 minutes to sterilize. Warm lids in a small pot over low heat. Keep jars and lids warm until ready to use. (*)

Prepare your carrots by scrubbing, peeling, and washing again. Cut into slices, chunks, or large jar sized pieces.

Spread kitchen towel on the counter. Using your jar lifter, remove warm jars from canner, drain, and line up on the towel. Using your canning funnel, raw pack carrots into jars leaving 1-inch head space. If using canning salt, add 1/2 tsp per pint jar.

Ladle boiling water over carrots maintaining 1-inch head space. Remove air bubbles with the bubble popper and wipe the rims. Use your magnetic lid lifter to lift lids out of the warm water, center lid on the jar, and screw on band until it is fingertip tight.

Using jar lifter, place jars carefully into pressure canner leaving space in between them. Once jars are all in canner, adjust the water level per your pressure canner's instructions. If adding water, use the hot water from your large pot.

Process pint jars of carrots at 10 pounds of pressure for 25 minutes at altitudes of less than 1,000 ft. Follow the directions for your pressure canner and adjust processing time for your altitude if necessary.

When processing time is complete, turn off heat and allow pressure canner to cool down on its own (approximately 1 hour).

When pressure canner is cooled down, spread a kitchen towel on the counter, unlock cover and remove by tilting lid away from you so that steam does not burn your face. Use a jar lifter to lift jars carefully from canner and place on the towel. Allow the jars to cool for 12 to 24-hours. You should hear the satisfactory "ping" of the jar lids sealing.

After 12 to 24-hours, check to be sure jar lids have sealed by pushing on the center of the lid. The lid should not pop up. If the lid flexes up and down, it did not seal. Refrigerate jar and use up within a few days.

Remove the screw on bands and wash the jars. Label and date the jars.

All times are at altitudes of less than 1,000 ft. Adjustments must be made for altitudes greater than 1,000 ft. Store your jars in a cool, dark place and use within 12 months. Yields 9 Pint Jars.
*Note: Several years ago, Jarden Home Brands, the company that produces Ball and Kerr canning jars and lids announced that pre-sterilizing jars and heating lids is no longer necessary when using their brand if you are processing jars in your canner for 10 minutes or more. It doesn't hurt, so I choose to continue doing so.
Additional Canning Tips:
I use a permanent marker to write the contents and date on the jar lid. This works for my storage pantry but doesn't look very pretty when giving away jars as gifts. Here is a way to Remove Ink from Jar Lids.
Many are turned off by the idea of canned carrots, but home canned carrots are not like the mushy and metallic tasting commercially canned carrots you find in your grocery store. Just keep in mind, smaller pieces will be softer when canned.
You May Also Like:
Good planning is key to a successful vegetable garden.
Whether you are new to growing your own food or have been growing a vegetable garden for years, you will benefit from some planning each year. You will find everything you need to organize and plan your vegetable garden in my PDF eBook, Grow a Good Life Guide to Planning Your Vegetable Garden.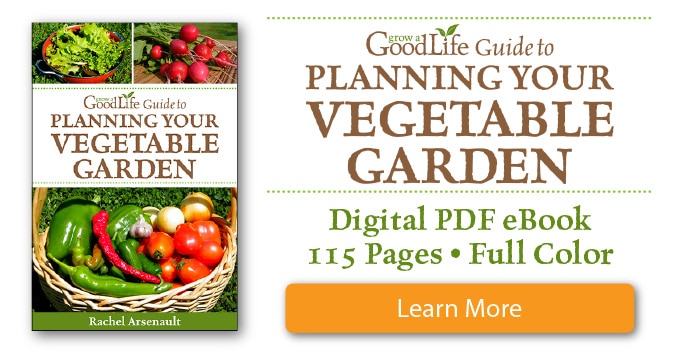 Never miss a post. Sign up for the free Grow a Good Life Newsletter and we'll send you an email with all the new articles posted on the website: