It has been quite a year here at Grow a Good Life! I am honored to have gained so many wonderful readers and I have made a lot of new on-line friends. For those of you who have been reading for a while, thank you for hanging in there as I changed things around and made some improvements.
[sc:AdsenseHORIZ ]
I couldn't be more thrilled that so many of us are taking a close look at our lives and trying to find ways to live simplify and get back to basics by gardening to grow our own food, keeping backyard chickens, and cooking from scratch using real food.
It's fun to look back over the year and see the posts you liked the most. I love knowing which articles you thought most helpful or interesting. Here are the top 10 gardening posts that received the most traffic in 2014:
Grow a Good Life's Top 10 Gardening Posts of 2014: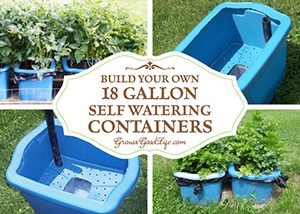 10. DIY Self Watering Containers:
This post is an oldie but goodie and still has a lot of visitors. Self watering planters are ideal for container gardening because they can be located anywhere in your yard, on your balcony, or along the edge of your driveway. See how you can build your own out of an 18-gallon storage tote. Pin it for later.
---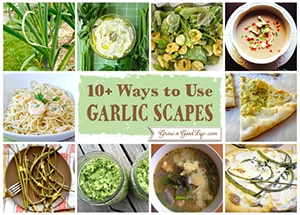 9. 10 Ways to Use Garlic Scapes:
What are garlic scapes and what can you do with them? Garlic Scapes are a much anticipated and enjoyed harvest that usually occurs mid-June in my area. Check out this post for some wonderful recipes that allow the delicate garlicky flavor shine.
> Pin it for later.
---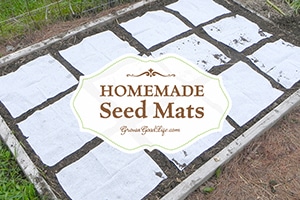 8. Homemade Seed Mats:
Instead of scattering seeds then thinning later, creating seed mats allows you to space out the seeds according to the suggested spacing on the back of the seed package or Square Foot Garden spacing. Visit the post for the step-by-step instructions.
> Pin it for later.
---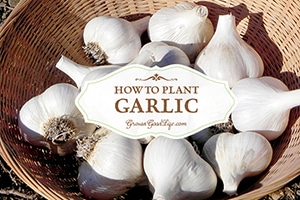 7. How to Plant Garlic:
Garlic is one of the most trouble free crops I grow in the garden. Once planted, it only requires watering and a little additional organic fertilizer around the time the garlic scapes begin to emerge. See how easy it is to plant garlic in your garden.
> Pin it for later.
---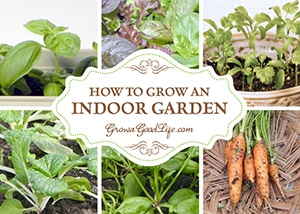 6. How to Grow an Indoor Garden:
Whether you are craving freshly grown harvests during the winter or live in an area without gardening space, you can still grow edibles in your own indoor garden. See what you can grow indoors.
> Pin it for later.
---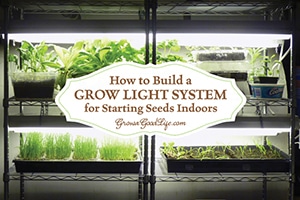 5. How to Build a Grow Light System:
This is another older post that continues to be popular. This grow light system is perfect for starting seeds indoors and growing greens in winter. See how you can assemble your own Grow Light System for around $100.
> Pin it for later.
---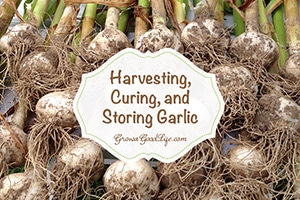 4. Harvesting, Curing, & Storing Garlic:
You must love garlic because this is the third garlic related post in the Top 10 Garding posts for 2014. See when to harvest, how to cure, and the best way to store your garlic so it lasts all winter long.
> Pin it for later.
---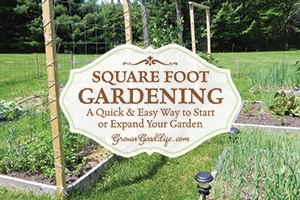 3. Square Foot Garden: A Quick & Easy Way to Begin a Garden:
If you are just starting a garden or want to expand your growing space, the Square Foot Gardening method is worth considering. The beds are easy to build with no digging or tilling required. There are minimal weeds in the beginning and planning is a snap when following the square foot spacing guidelines. > Pin for later.
---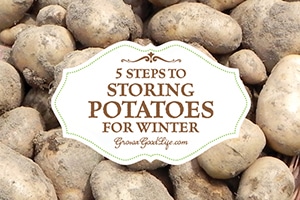 2. 5 Steps to Storing Potatoes for Winter:
Potatoes are a staple in my garden and in the kitchen. Potatoes are easy to grow, store well through the winter, and provide a nutritious addition to most of our meals. Do you grow your own potatoes or buy in bulk from a farmer market? Check out 5 easy steps to storing potatoes for winter.
> Pin for later.
---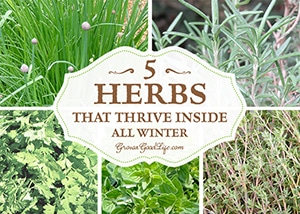 1. 5 Herbs that Thrive Inside All Winter:
There are plenty of herbs that can be grown indoors successfully through winter on a sunny windowsill. See my Top 5 Herbs to Grow Indoors All Winter.
> Pin for later.
---
Thank You for a Great Year!
Thank you so much for reading, commenting, sharing, pinning, and subscribing to the Grow a Good Life newsletter. I learned a lot about you after reviewing the top 10 gardening posts of 2014. It was very clear that many of you are seeking information on how to be more self-sufficient by growing and preserving your own food. I discovered you really love exploring creative growing methods, how tos, and diy gardening projects. I will be sharing more of these types of articles in the upcoming year.
[sc:medianetHORIZ ]
I am looking forward to 2015 and hope to encourage everyone to Grow a Good Life. The journey begins with one step…one act…one decision that can lead you to a more fulfilling lifestyle of self-sufficiency, control over the foods you eat, and the overall quality of life that you live. You don't need a lot of acreage to begin. Simply grow some greens and herbs in containers to start. I promise you, these will taste so good that you will want to grow more.
[sc:gglnews ]