If you are just starting a garden or want to expand your growing space, the Square Foot Gardening method is worth considering. The beds are easy to build with no digging or tilling required.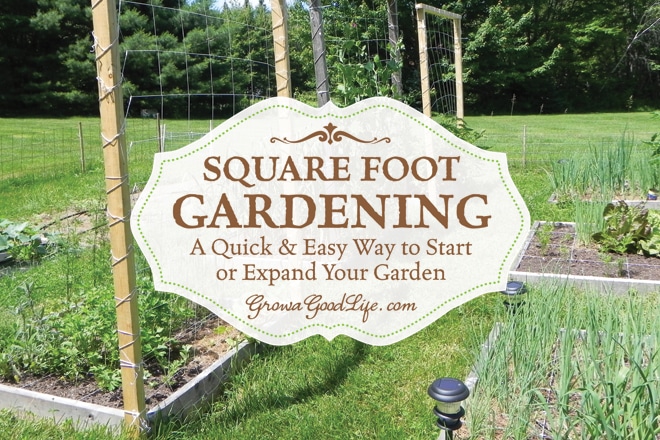 I grew up in a small town where my parents and extended family tended several vegetable gardens on our property. Each spring, the gardens were layered with manure delivered by a local farmer, and tilled into the native soil. Then the soil was raked and planted with long rows of vegetables. Since they were retired, my grandparents and great aunt did most of the work in the gardens over the growing season. As a child, I remembered that involved a lot of weeding and hoeing, weeding and hoeing. They probably enjoyed working in the garden each day, but to me it seemed like a chore.
When I purchased my home, I was thrilled that it came with a small vegetable garden bed. I dreamed of growing a garden like my grandparents did, filling the freezers full of home grown vegetables, and canning tomato sauce.
The first year wasn't stellar. The garden beds were infested with weeds, the soil was in poor shape, and I quickly discovered that I didn't have enough time to weed and hoe each day. The good news was that even with the challenges I was able to harvest enough veggies to feed the two of us. I was optimistic by what I could grow and I knew I could get more yields for my efforts if my veggies didn't have to battle the weeds for water and nutrients. I had to do something different.
How I Learned About the Square Foot Garden Method
Over the winter of 2009 I began reading All New Square Foot Gardening by Mel Bartholomew. The concept of Square Foot Gardening is to use a raised bed filled with a soil blend called Mel's Mix (1/3 peat moss, 1/3 vermiculite, and 1/3 compost from as many sources as you can). The bed is divided into one-foot sections and each square is planted according to the plant spacing described in the book.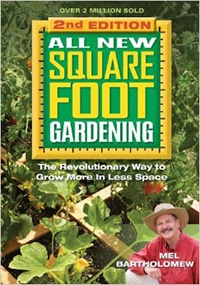 While reading the book, I was also introduced to vertical gardening as a way to save valuable garden space by growing vining vegetables on trellises instead of sprawled on the ground.
The square foot garden concept immediately appealed to me because it was fast. Build a bed, fill with soil and plant according to the charts in the book. The concept is also simple, organized, and makes it easy to plan your growing beds. I loved the idea of starting with fresh soil because I didn't have to worry about the weed infestation of the other beds. I liked organizing and plotting out the garden beds by square.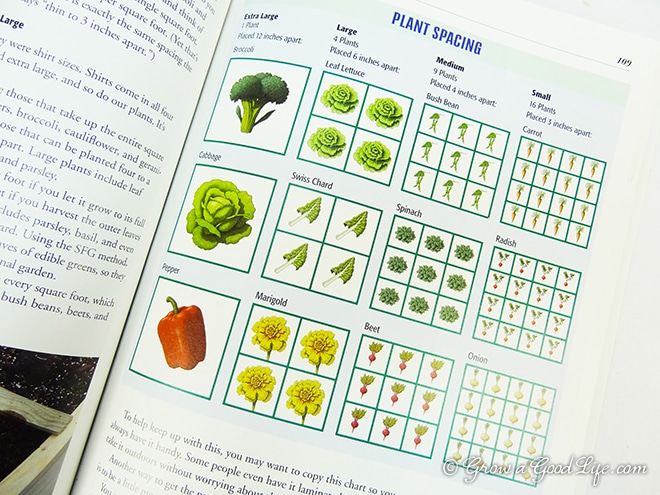 I decided to test the Square Foot Gardening method out by adding three 4×4 square foot beds to the south end of our garden area. We built, filled, and planted these beds in just a weekend. You can see the process here: How to Build a Square Foot Garden. The vegetables planted in these beds did very well.
Adding a trellis to the north side of the bed allows you to grow vining crops such as pole beans, indeterminate tomatoes, or cucumbers. Crisscross two 10-foot pieces of PVC and you have a dome that you can drape with plastic for some frost protection, deer netting to keep critters out, or row covers to keep insects off the plants.

Over the years, the garden has expanded to include additional raised beds. Adding fresh compost each year has helps maintain the soil's fertility. Although there were minimal weeds in the beginning, over time a few began to pop up. But they are much easier to control than my other beds.
I still use the recommended Square Foot Gardening plant spacing in most of my raised beds. Some have been adjusted over the years to accommodate my growing conditions or the varieties of plants I grow. The garden is an ever evolving and ever growing process, but it was encouraging to have a fresh start.
If you are just starting a garden or want to expand your growing space, the Square Foot Gardening method is worth considering. The beds are easy to build with no digging or tilling required.
You May Also Like:
Never miss a post. Sign up for the free Grow a Good Life Newsletter and we'll send you an email with all the new articles posted on the website: