Whether you are craving fresh harvests during the winter or live in an area without gardening space, you can grow edibles in your own indoor garden.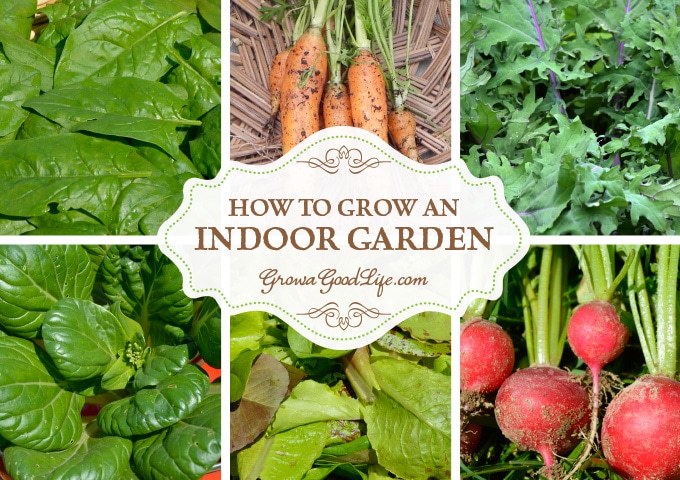 We had our first snowfall last week. I thought for sure it would melt quickly, but the temperatures remained cold and the snow held on for a while. It was a reality check reminding me that the growing season is over, soon the ground will be frozen, and the garden will be covered with a heavy blanket of snow for winter.
I miss freshly harvested greens already. Usually, I have a good supply of fall greens such as lettuce, spinach, chard, kale, pak choi, and other leafy greens to fill the refrigerator before the hard freeze. However, this year, I lost the battle with the deer, and they ate all the greens growing in the garden.
The last few years, I have experimented with growing greens indoors in the winter using my DIY Grow Light System in the cool basement. This year, I am starting some seeds early so we can enjoy fresh harvests for salads, stir-frys, or soups even if a Nor'easter rages outside.
What Can You Grow in an Indoor Garden?
Choose plants that will grow under artificial light, mature quickly, and stay compact enough to grow in containers without outgrowing their space. Most leafy greens, herbs, and a few root vegetables will grow very well inside under lights. Here are some of the things I have grown successfully inside during the winter months in a cool basement:

Lettuce: Leaf lettuce varieties mature quickly for salads and sandwich toppings. Harvest: Snip outer leaves allowing the center of the plants to continue to produce.  Varieties to Consider: Black Seeded Simpson, Tom Thumb, and Mesclun Mix.

Spinach: The vitamin-rich and tasty dark-green leaves are excellent for salads and winter soups. Harvest: Ready to harvest in a little over a month as baby spinach. Snip outer leaves allowing the plants to continue to produce. Varieties to Consider: Lavewa, Bloomsdale, Space, and Tyee.
Bok Choy or Pac Choi: Grows fast and needs lots of water so it will benefit from a larger container with more soil to hold moisture. Harvest: Ready to harvest within 4-weeks at baby stage. Snip outer leaves allowing the plants to continue to produce or harvest whole as baby size perfect for stir fry. Varieties to Consider: Bok Choy Tatsoi Rosette, and Bok Choy Toy Choy.

Carrots: Short and round varieties grow very well in 6-inch pots. Harvest: Ready to harvest in 6-8 weeks. Pull gently from the soil as needed for baby carrots. They can be left in pots to develop further. Varieties to Consider: Parisian, Little Finger, and Thumbelina.

Radish: Very fast-growing and their peppery flavor adds a kick to soups and salads. Harvest: Ready for harvest in about 4-weeks or when the radish is approximately 1-inch diameter. The greens are edible too. Varieties to Consider: Cherry Belle, French Breakfast, and Easter Egg Blend.

Herbs: Recently, I wrote about 5 Herbs That Thrive Inside All Winter on a sunny windowsill. Adding artificial lighting increases the selection of herbs you can grow inside. Harvest: Keep plants compact by trimming and harvesting frequently. Varieties to Consider: Cilantro, Genovese Basil, Italian Parsley, Oregano, Chives, Thyme, and Sage.

Microgreens: Young edible vegetables and herbs harvested within weeks of sprouting. The tender sprouts are very flavorful and nutrient dense. Harvest: Ready to harvest when the first true leaves unfurl in 7-14 days. Snip the right above the soil line. Varieties to Consider: Pea Shoots, Cress, Kale, and any Mesclun Mix or Microgreen Mix.
How to Grow Edibles in an Indoor Garden
You'll Need:
Grow Lights: See how I built my Grow Light System here.
Growing Containers: Gather up pots or containers to grow your indoor garden. Pots or containers that are 4-inches deep work well for most greens while carrots need at least 6 inches. Consider using window boxes, or recycled bakery or produce containers. Use plastic trays beneath containers to prevent water from dripping.
Soil: Select an organic, all-purpose potting mix for your indoor garden. Fertilize plants with a weak solution of Fish Emulsion when leaves show signs of stress.
Seeds or Purchased Seedlings: Buy seeds or purchase plants. Herbs mature slowly, so grow from established purchased plants for a fast harvest.
Procedure:
Build or assemble your grow light system and locate in a cool area such as a basement or spare room. Try to keep it away from wood stoves and other heat sources because warm temperatures will cause the plants to bolt, or go to seed prematurely instead of producing a continuous harvest.
If growing from seed, follow sowing instructions on the back of the seed package and keep soil evenly moist until the seeds germinate. Also see 10 steps to starting seedlings indoors. Purchased herb seedlings may need repotting if roots are showing through the drain holes.
Keep the lights about 2-inches above the plants. Adjust the lights as the plants grow. Plants grown under artificial light need at least 12-16 hours of light each day. I set my Power Strip Timer for 16 hours on, then 8 hours off.
Water twice a week or when the soil surface feels dry.
Harvest and enjoy fresh, nutritious edibles throughout the cold, winter months.
Whether you are craving freshly grown harvests during the winter or live in an area without gardening space, I hope this gives you some encouragement to start growing edibles in your own indoor garden.
You May Also Like:
Good planning is key to a successful vegetable garden.
Whether you are new to growing your own food or have been growing a vegetable garden for years, you will benefit from some planning each year. You will find everything you need to organize and plan your vegetable garden in my PDF eBook, Grow a Good Life Guide to Planning Your Vegetable Garden.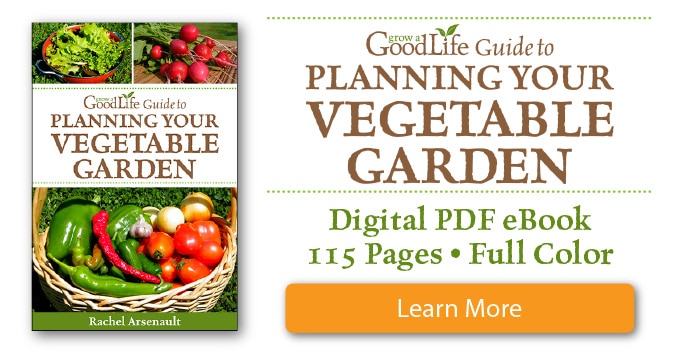 Never miss a post. Sign up for the free Grow a Good Life Newsletter and we'll send you an email with all the new articles posted on the website: