Just about everything tastes better with some garlic added. In addition, garlic has medicinal properties and helps boost the immune system, prevent heart disease, and reduce high cholesterol and high blood pressure. Garlic also has antibiotic and antifungal properties. So it is a good idea to keep plenty in storage.
Fall is the best time for planting garlic. Garlic is one of the most trouble free crops I grow in the garden. Once planted, it only requires watering and a little additional organic fertilizer around the time the garlic scapes begin to emerge.
It was beautiful last Saturday and I took advantage of the warm day to putter around in the garden. While a batch of tomato sauce simmered on the stove, I cleaned up a few beds and planted the garlic.
My garden is a mix of in-ground beds and 4×4 square foot gardens or raised beds. I usually plant garlic in one of the 4×4 raised beds rotating from year to year. Unfortunately, the raised beds have degraded to the point that they need replacing before next season. So I had to find a new home to plant the garlic.
I had Kevin help me frame out a 3×7 bed using some scrap 2x3s and settled this frame on top of the soil in one of the in-ground gardens. The soil is really good in this garden, so prepared the new bed by adding a generous amount of compost, some organic fertilizer and mixed it into the top level of the soil.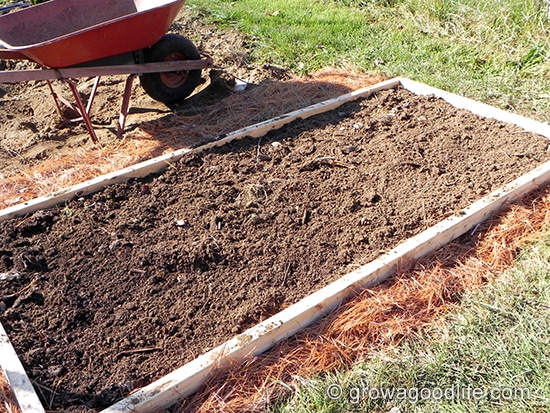 How to Plant Garlic
I sorted through my garlic and pulled out the largest cloves. I usually plant 30 cloves, which provides us with enough garlic for a year. This includes using a majority in jarred sauces and as seed for the following year.
This year I planted 45 cloves so I could share extra garlic. I couldn't source any extra garlic seed this late in the season, so I sacrificed some of my storage garlic and planted 15 extra. Luckily, I have a lot of lovely farmers markets in my area should I run out next year.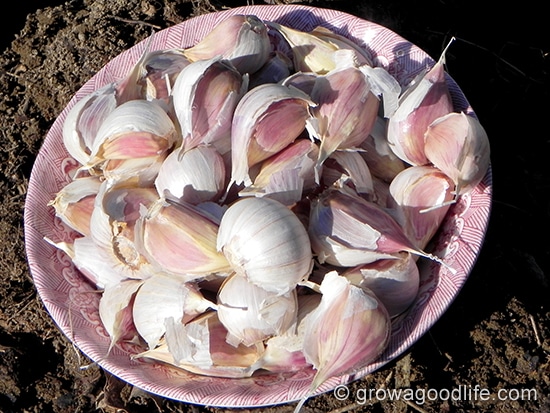 I measured and plotted the holes for the garlic spacing them 6-inches apart and 4-inches deep.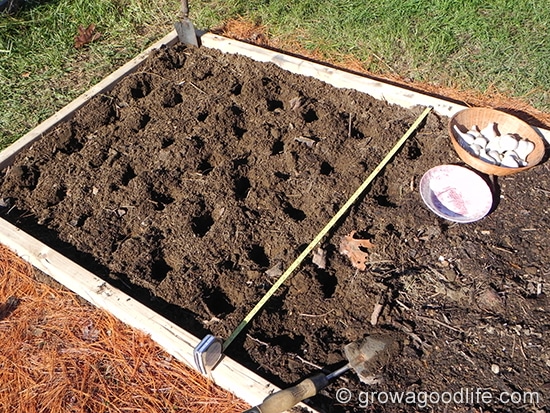 I planted the garlic making sure the pointy-ended tops of the cloves were at least 2-inches beneath the soil surface. I firmed the soil around the bulbs and added a layer of straw.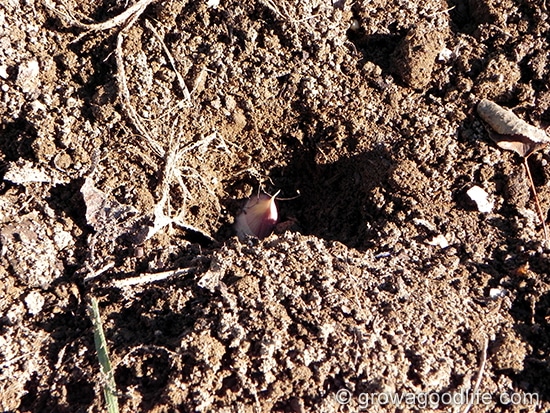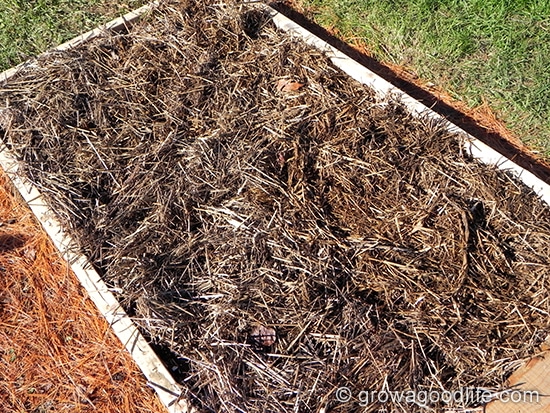 The shallow frame will help contain a layer of mulch on top of the planted garlic and allow me to place a piece of fencing on top to keep the mulch in place and prevent the neighborhood cats from digging. The fencing will be removed once the garlic grows next spring.
Garlic seed is available for purchase late summer into fall. A lot of places sell out quickly. Click here to shop for Garlic at Botanical Interest while supplies last.
Also Read:
Did you enjoy this article? Then sign up to get FREE email updates, tips, and encouragement so you can Grow a Good Life!