The unique flavor of these Italian anise cookies at Christmas is a comforting treat of family traditions and warm memories for many of us raised with Italian elders. Even if you are not Italian, these cookies are a delicious addition to your holiday cookie tray.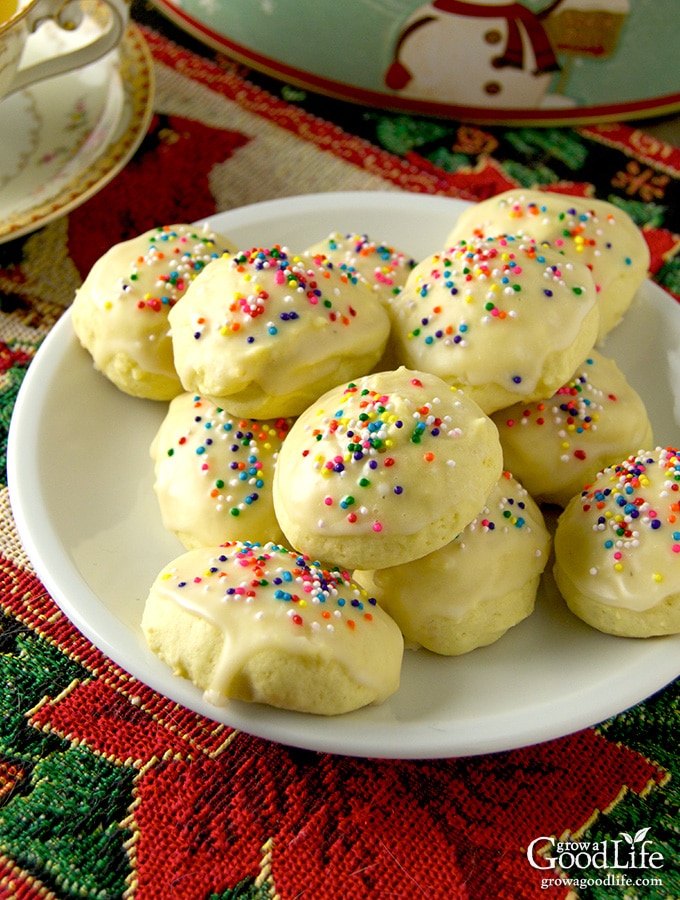 Italian Anise Cookies are a Classic Among Italian Families
There are many different recipe variations passed down from generations to generations. Each family seems to have their own unique twist. This Italian anise cookie recipe is inspired by my Aunt Mary, who we loving referred to as, "Auntie."
When we were little, we knew Christmas was coming from the arrival of the toy catalogs in the mail and the tins of cookies that Auntie brought to us. Each year, Auntie baked lots of cookies so they could be delivered and mailed to friends and family. We were more than happy to enjoy the extras well before the Christmas holiday.
Italian anise cookies stand out on the cookie tray because of its glazed top and colorful sprinkles. When you take a bite, you will be surprised by its soft interior and unexpected savory licorice-like flavor of the anise. It isn't sweet like most cookies we have become accustomed to. This Italian anise cookie pairs well with coffee or tea as an after dinner digestive aid.
These Italian cookies are made with pure anise extract and crushed anise seeds. I have heard them referred to as angelonies, angelettis, but we simply called them Italian sprinkle cookies. A close cousin is the anisette cookie, where anisette liqueur is used instead of anise seeds an anise extract. Anisette liqueur is a sweet liqueur made from anise seeds, so the flavor is very similar. Italian anise type cookies are traditionally enjoyed at Easter, Italian weddings, and Christmas.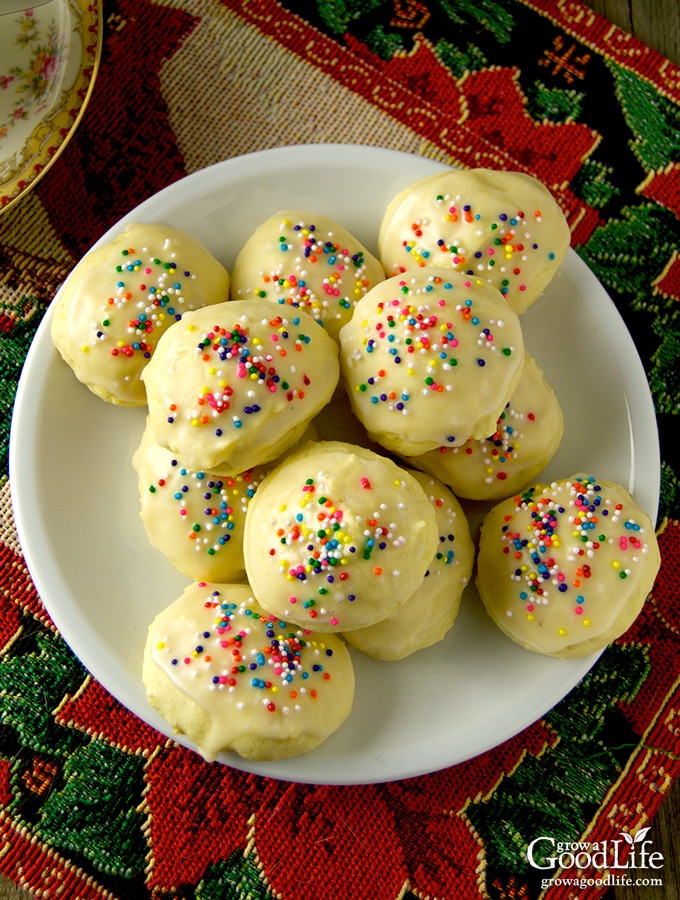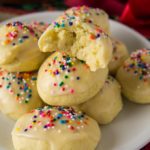 Italian Anise Cookies Recipe
A bite of these Italian anise cookies will bring back any Italian-American's memories of childhood Christmases with family. Even if you are not Italian, these cookies are a delicious addition to your holiday cookie tray.
Ingredients
Ingredients for the Italian Anise Cookies
Ingredients for the Icing
Instructions
Preheat oven to 400˚F. Line two cookie sheets with parchment paper.

Add flour and baking powder to a medium mixing bowl and whisk to combine. Set aside.

In a large bowl, beat butter and sugar with electric mixer on medium speed until fluffy, about 5 minutes. Beat in eggs one at a time; add anise extract, optional anise seeds, and mix until well blended.

Add the flour mixture a little at a time, and mix until well blended. The dough will be soft and sticky.

Drop rounded tablespoons of dough 2 inches apart onto the prepared baking sheets. Bake 5-7 minutes until bottoms are golden and the cookie springs back when pressed with your finger. Remove the cookies from the baking sheets to cooling racks to cool.

To make the glaze, whisk together the powdered sugar, milk, and anise extract in a medium bowl until smooth.

Place the cooling rack of cookies on the cookie sheet to catch the extra sprinkles. Dip the tops of cookies into the glaze, return to cooling rack, and sprinkle tops with candy sprinkles right away while the glaze is still wet. Let the cookies set until the glaze hardens.

Store the cookies in an airtight container at room temperature for up to 2 weeks or freeze for up to a month (see note below). Yield: 32 cookies.
Recipe Notes
To freeze the Italian anise cookies, place the cooling racks in the freezer until the cookies are frozen, then add the frozen cookies to a zipper freezer bag or freezer container. To thaw, remove the frozen cookies from the bag and let thaw at room temperature. If using a zipper bag, be sure to remove the cookies from the bag while they are still frozen because the icing will get sticky and messy if left in the bag.
*Make your own powdered sugar by blending one cup of pure cane sugar in a blender or food processor for a few minutes. It won't be the bright white you are used to with conventional powdered sugar, but you will avoid the refined sugar and cornstarch. Keep in mind that sugar may scratch some plastics.
A bite of these Italian anise cookies will bring back any Italian-American's memories of childhood Christmases with family. Does your family have traditions centered on food and meals? What family traditions do you carry on?
Good planning is key to a successful vegetable garden
Whether you are new to growing your own food or have been growing a vegetable garden for years, you will benefit from some planning each year. You will find everything you need to organize and plan your vegetable garden in my PDF eBook, Grow a Good Life Guide to Planning Your Vegetable Garden.