Learn how to make and preserve your own Concord grape juice at home! You control the additives and sugars.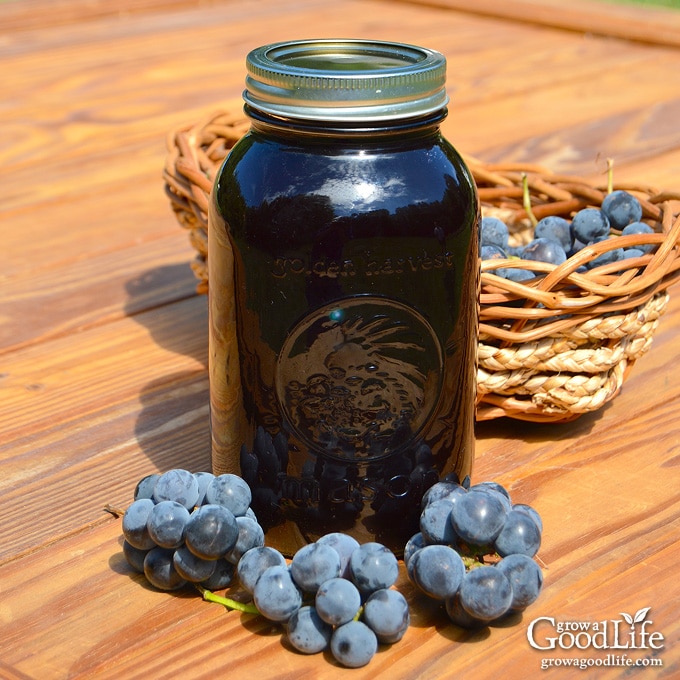 When we purchased our home, I was thrilled to discover grape vines growing along the edge of the property. The vines were extremely overgrown and extended themselves up into the pine trees. I could see fruit hanging from the top branches, but there was no way to reach it. I searched the foliage at the bottom and found a few small clumps of grapes, and identified the variety as Concord Grapes.
Concord Grapes are a hearty grape variety developed from native New England grape species by Ephraim Wales Bull in 1849 at his farm in Concord, Massachusetts. This grape variety was perfected to thrive and grow in the cold climate of New England. Concord Grapes are commonly used to make grape juice, grape jelly, and flavor candy and soft drinks.
Concord Grapes are filled with antioxidants, flavonoids, and nutrients, including potassium, vitamin K, and manganese. Studies show that grape juice made from Concord grapes may help boost immunity, maintain a healthy cardiovascular system, and aid in slowing the development of age-related cognitive decline.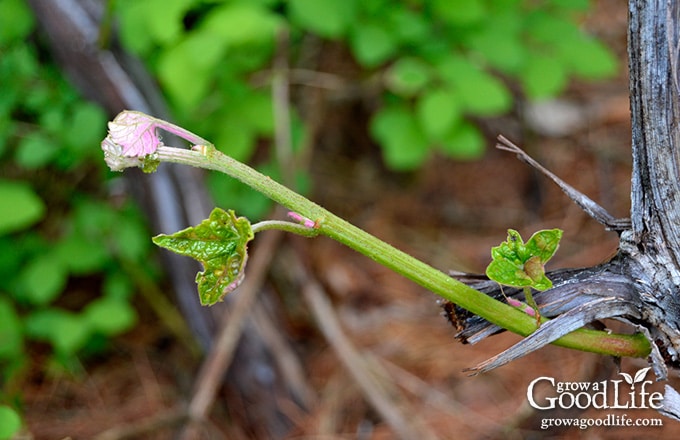 I learned from the neighbors that the original owner and builder of our home planted the grape vines, along with other fruit trees and bushes on the property. They are estimated to be 35-40 years old. The vines were neglected for at least 15 years before we purchased the property.
Luckily, Kevin knew how to care for the overgrown grape vines because his family had Concord grape vines when he was a child. Over a two-year period, Kevin worked through the tangles and gave the vines an all over heavy pruning to get them back into shape. The long vines needed to be unraveled and pulled from the trees limbs above.
Fruit is born on the previous year's growth, so we had to wait patiently a few years to see the results. Our first harvest yielded about 8 pounds of Concord Grapes that were made into jelly. Most of which was given away to friends and family.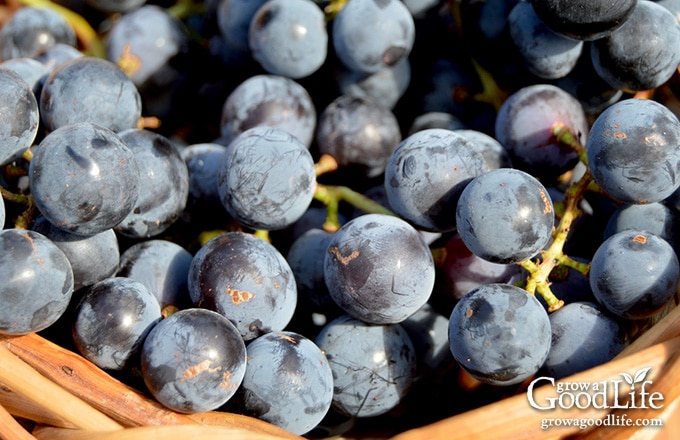 We look forward to the Concord Grape harvest each year and use it to make juice, jelly, and wine. Concord grapes are taste tested before picking to be sure they are at the peak sweetness and are usually ready in September-October.
Tips for Making Homemade Concord Grape Juice
Plan ahead and allow plenty of time. Try to plan ahead when extracting juice from fruit and even consider divided the process over a few days to allow extra time for the juice to strain and the sediment to settle completely.
Warning Concord grape juice stains. Make sure to wear clothing and use dishtowels that you don't mind getting stained. Additionally, try not to splatter any juice and wipe up drips immediately to prevent stains.
Concord grape juice can be used to make jelly, or enjoyed as a drink. If the flavor is too strong, dilute with water when serving.
Equipment needed to can grape juice:
Lids and Bands
Canning tools: lid lifter, jar lifter, canning ladle, and funnel
Plus basic kitchen supplies such as a large sauce pot, large bowl, small pot, large spoon, potato masher, and kitchen towels.
Homemade Concord Grape Juice - No Added Sugar
Learn how to make and preserve your own Concord grape juice at home! You control the additives and sugars.
Ingredients
26

pounds

Concord Grapes

washed and stemmed

1

cup

water
Instructions
Extract the grape juice by combining grapes and water in a saucepan over low heat. Heat and simmer slowly until skins are soft, and the juices are released. Gently mash the grapes with a potato masher and simmer over low heat for 15 minutes, stirring occasionally.

Strain through a damp jelly bag or double layers of cheesecloth. Discard solids. Refrigerate grape juice for 24 to 48 hours to allow the sediment to settle to the bottom. This will help eliminate crystals in your juice.

When you are ready to can your grape juice, prepare your jars and lids by washing in warm, soapy water and rinsing thoroughly. Place jar rack into water bath canner, set jars in the canner, add water, and boil jars for 10 minutes to sterilize. Warm lids in a small pot over low heat. Keep jars and lids warm until ready to use. *

Carefully remove the grape juice from the refrigerator without disturbing the sediment. Gently pour off clear liquid and discard sediment. Strain through a paper coffee filter if a clearer juice is desired. Add grape juice to a saucepan and bring to a boil. Continue boiling for 10 minutes stirring occasionally.

Spread kitchen towel on the counter. Use your jar lifter to remove warm jars from canner, drain, and line up on the towel. Use your canning ladle and funnel and add grape juice to warm jars leaving 1/4-inch headspace. Wipe the rims. Use your magnetic lid lifter to lift lids out of the warm water, center lid on the jar, and screw on band until it is fingertip tight.

Using jar lifter, place jars carefully into canner leaving space in between them. Once jars are all in canner, adjust the water level so it is at least one inch above the jar tops. Add more boiling water if needed so the water level is at least one inch above the jar tops. When adding water, use the hot water from the small pot your lids were in. Pour the water around the jars and not directly onto them.

Cover the canner and bring to boil over high heat. Once water boils vigorously, continue boiling for 10 minutes at altitudes of less than 1,000 ft. (adjust processing time for your altitude if necessary. See notes below.).

When processing time is complete, turn off heat and allow to settle for about 10 minutes. Spread a kitchen towel on the counter; remove the cover by tilting lid away from you so that steam does not burn your face. Use a jar lifter to lift jars carefully from canner and place on the towel. Allow the jars to cool for 12 to 24-hours. You should hear the satisfactory "ping" of the jar lids sealing.

After 12 to 24-hours, check to be sure jar lids have sealed by pushing on the center of the lid. The lid should not pop up. If the lid flexes up and down, it did not seal. Refrigerate jar and use up within a few days.

Remove the screw on bands and wash the jars. Label and date the jars. Store your jars in a cool, dark place and use within 12 months. Yields 7 Quart Jars.
Notes
This is a tested safe canning recipe from the Ball Blue Book Guide to Preserving. Altering the recipe may make it unsafe for canning.
Adjustments for altitude: 1,001 - 6000 feet = 15 minutes, Above 6,000 feet = 20 minutes.
This recipe is for quart-sized jars, but you can use half-pints, pints, quarts, or even half-gallon canning jars. Process in a water bath canner for the same amount of time no matter what size jar you use.
If you need immediate canning help or answers, please contact your local extension office.
Nutrition
Additional Canning Tips:
Recently, Jarden Home Brands, the company that produces Ball and Kerr canning jars and lids announced that pre-sterilizing jars and heating lids is no longer necessary when using their brand if you are processing jars in your canner for 10 minutes or more. It doesn't hurt, so I choose to continue doing so.
Resources and Further Reading:
You May Also Like:
[sc:gglnews ]