Growing Chamomile for Tea is easy. Chamomile grows best in a sunny location but can tolerate some shade. Once the plant is established, it is drought tolerant and trouble free.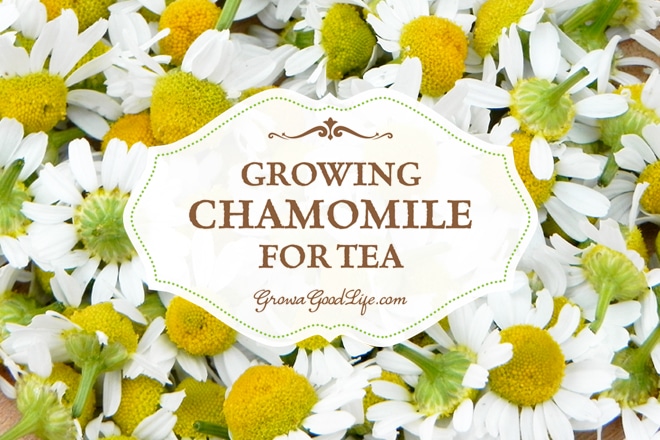 There is something so comforting to taking a break during the busy day and enjoying a cup of Chamomile tea. I like to add a drop of local honey to sweeten it just a bit. Then I take a deep lingering breath over the cup as the tea steeps and cools down enough to drink.
Chamomile is a member of the daisy family (Asteraceae) and is best known for its soothing and calming properties and its fruity, apple-like flavor. Chamomile is documented through Egyptian, Roman, and Greek history as one of the most ancient medicinal herbs. Chamomile's reputation as a remedy for relieving anxiety was confirmed in a 2009 study (Source).
Today, Chamomile is commonly used for many ailments including hay fever, menstrual disorders, inflammation, insomnia, muscle spasms, gastrointestinal disorders, and rheumatic pain. It can be applied to the skin for inflammations and skin diseases.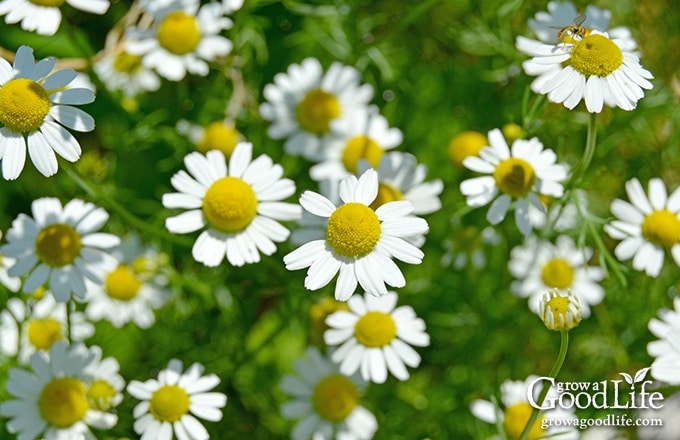 Two most popular types of Chamomile are German Chamomile (Matricaria recutita), an annual that can grow up to 2-feet high; and Roman Chamomile (Chamaemelum nobile), a perennial that grows 12-inches high. Both contain essential oils and anti-oxidants that are calming and relaxing. A few years ago, I learned how to grow chamomile from seed and have been growing chamomile for tea ever since.
Growing Chamomile for Tea
German Chamomile grows best in a sunny location in the garden but can tolerate some shade. It can grow in containers but may become top heavy, so larger containers are recommended. Once established, Chamomile is pretty drought tolerant and trouble free. It isn't a heavy feeder so will not need additional fertilizer through the growing season unless your soil is poor.
I start German Chamomile from seed indoors about 6 weeks before our last expected frost date. Seeds are sown by scattering a small pinch of the tiny seeds on the soil surface and tamp lightly. Chamomile seeds need light to germinate, so I do not cover the seed with soil before misting with a spray bottle to water. Germination usually occurs within two weeks and are thinned down to the strongest plant when the seedlings reach several inches high. Learn more about starting seeds indoors.
The Chamomile plants are hardened off and transplant to the garden along with other heat loving plants after danger of frost is past. I space them about 8-10 inches apart and water frequently until established. Usually within several weeks, the first stems are reaching for the sky and the flowers begin to form and bloom.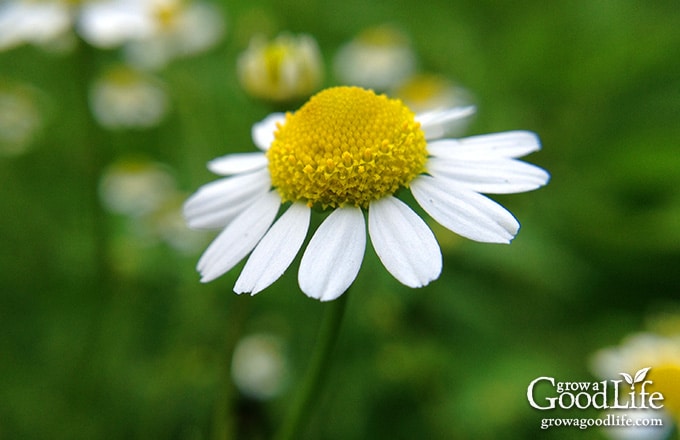 How to Harvest, Dry & Store Chamomile
Flower heads are ready to gather when the petals are flat or begin to fall back from the center. I try to gather the flowers on a sunny day after the morning dew has dried. I harvest flowers by snipping them off when they are fully open. These are layered on a plate, and allowed to dry naturally in an upper cabinet away from dust and sunlight. Depending on the humidity, this usually takes 1-2 weeks. You can tell when Chamomile is dry, by crushing a blossom or two. It should crumble easily. Once dry, store whole flower buds in a glass jar away from direct sunlight.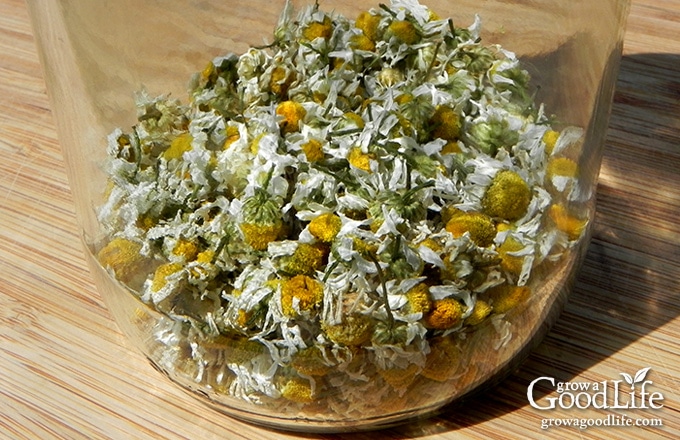 I enjoy a cup of Chamomile mid-afternoon especially when things are busily humming along. It gives me a moment to sip, gather my thoughts, and plan my next move.
To make tea, use about a teaspoon of dried chamomile flowers per cup. When it is hot outside, I add ice cubes for a fresh iced tea. Freshly harvested Chamomile can be used for tea as well, but you will need twice as much. Drying concentrates the oil and flavor.
Growing your own culinary and medicinal herbs is very rewarding. Here are some additional articles on growing and preserving your own herbs:

Sources and Further Reading:
Disclosure: Any medical information is for informational purposes only. Always do your research and exercise caution when using any herbs or plants as medicine. Chamomile is not recommended for women who are breastfeeding or pregnant, and can cause allergic reactions in people with hay fever and some types of flower allergies.
Good planning is key to a successful vegetable garden.
Whether you are new to growing your own food or have been growing a vegetable garden for years, you will benefit from some planning each year. You will find everything you need to organize and plan your vegetable garden in my PDF eBook, Grow a Good Life Guide to Planning Your Vegetable Garden.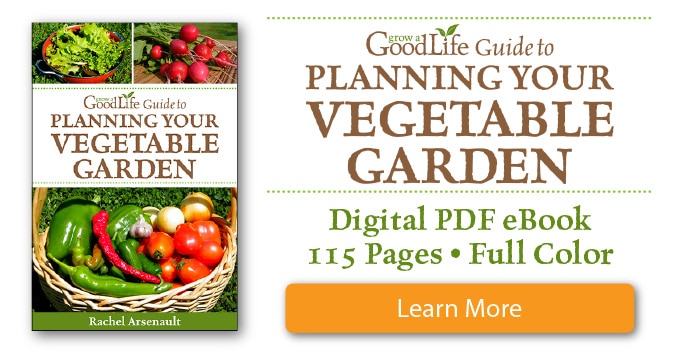 Never miss a post. Sign up for the free Grow a Good Life Newsletter and we'll send you an email with all the new articles posted on the website: