Potatoes are easy to grow in the backyard garden.
As I mentioned in my previous post, "Sourcing Seed Potatoes in Maine for the Backyard Garden," potatoes are a major storage crop grown in my garden each year. I also discussed sourcing certified seed potatoes and allowing the seed to chit or greensprout to give them a head start before they are planted into the soil.
My first year of growing potatoes, I used the traditional trench method. This involves digging trenches two feet apart, mounding the soil in between the trenches, and using this soil to hill the potato plants as they grow. Although the crop was successful, I didn't like the extra labor involved in hilling, the unkempt and messy appearance of the plot, and the wasted space in between the rows.
While I was growing my first batch of potatoes, a fellow blogger Laura at The Modern Victory Garden was experimenting with John Jeavons' Grow Biointensive Potato Planting Method that resulted in a successful harvest. This method involves garden philosophy of "Grow Biointensive."
The Grow Biointensive Potato Planting Method of planting potatoes involves planting the potato seed at 9-inch centers by 9-inches deep while double digging the garden bed. The rows are planted in an offset, or hexagonal spacing. The closer spacing helps maximize space and reduce water loss. No hilling is required. I was intrigued by this method especially since Laura's experiment was such a success. I did some further research and decided to try it the following year.
It worked! I had a great harvest!
I have modified the method a bit a little over the years to this: Planting Potatoes the Grow Biointensive Way. This method has served me well over the past few years so I haven't explored other ways to grow potatoes, but thankfully many other bloggers have experimented and they allowed me to share their experiences.
Here are 6 Different Methods for Growing Potatoes Shared by Fellow Bloggers: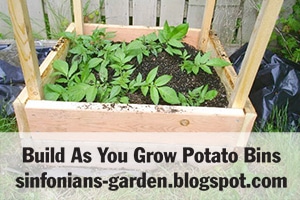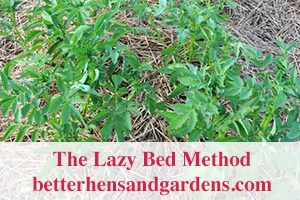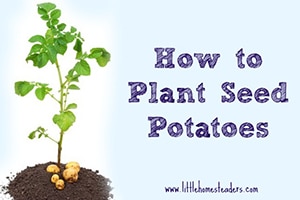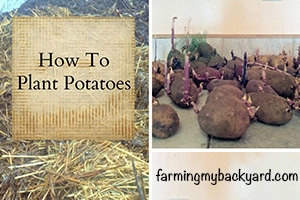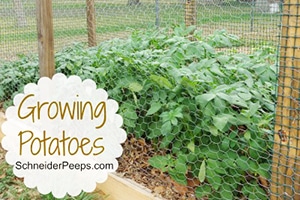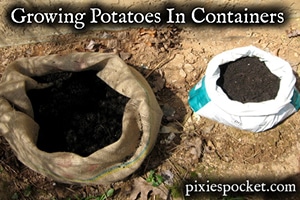 I learn from so much from other homestead and garden bloggers. There is no right or wrong way to grow potatoes. Different methods work for different growing locations. If you are planting potatoes for the first time or if you have planted them in the past and failed to harvest a good yield, I urge you to not give up and try a different approach until you find a method that works for you. Here are some methods of growing potatoes shared by fellow bloggers:
Imagine Acres also shares how they failed at growing potatoes hoping that folks will learn from their mistakes: Potato Patch.
Here are some points to remember:
Potatoes may be planted as soon as the ground can be worked in the early spring, but they will not grow until the soil temperature reaches 45˚F. Wet, waterlogged soil will cause the seed potatoes to rot. So depending on how rainy your springs are, it may be better to wait until the soil dries out a bit.
Potatoes need consistent moisture. Uneven watering may result in deformed, split or hollow heart tubers. Water regularly using a soaker hose to maintain a consistent moisture level in the potato bed averaging about 1- 2 inches (2.5 – 5 cm) of water per week.
Potatoes thrive when planted in a light, loose, well-drained soil. Add compost to the soil and mix in to keep the soil from compacting and allow roots to spread and the potato tubers to grow.
Keep the tubers covered. Potatoes will develop areas of green skin when they're exposed to direct sunlight during growth. The green areas are toxic and should be trimmed away. Prevent your potatoes from green skin by mulching heavily.
If you don't have the garden space to grow potatoes, consider using grow bags (affiliate):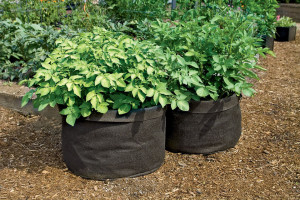 The Colorful Potato Grow Bag
from Gardener's Supply holds three to five pieces of seed potatoes and the Colorful Jumbo Potato Grow Bag
holds seven to ten pieces.
Harvesting the potatoes is a snap, too — instead of digging you just dump out the soil and there they are!
Once you harvest your potatoes, here are 5 Steps to Storing Potatoes for Winter.
Have you tried growing potatoes in your backyard garden? What method has worked for you?
Did you enjoy this article? Then sign up to get FREE email updates, tips, and encouragement so you can Grow a Good Life!