Before you throw those old seed packages away, test them to see if they are still viable using this simple germination test

As I eagerly wait for spring, and the stores begin to roll out their seed starting supplies, I find myself drawn to the seed displays. Before I know it, I usually have a few packages in my hands to purchase. Sometimes I arrive home to discover that I have duplicate seed packages.
Luckily, depending on how the seeds are stored, most seeds can last several seasons or more. They do lose potency over time and will have a decreased germination rate the older they are. Some seeds like onion, parsnip, parsley, and chives are not likely to sprout a second year. Even if they do germinate, they may not have the vigor to produce healthy plants like when they were new. When in doubt, it is best to purchase fresh seeds rather than jeopardize your crop's success.
Fedco's Seed Viability Chart will give you a general idea how long seeds will last. Use this chart as a guideline because I have experienced onion seeds still sprouting after three years and lettuce seeds only lasting over one year. It all depends on the quality of seeds and how they are stored.
Simple Seed Germination Test
Before you throw those old seed packages away, test them to see if they are still viable using this simple germination test.
Materials:
Paper towel cut in half
Zipper bag
Seeds
Water
Marking pen
Procedure: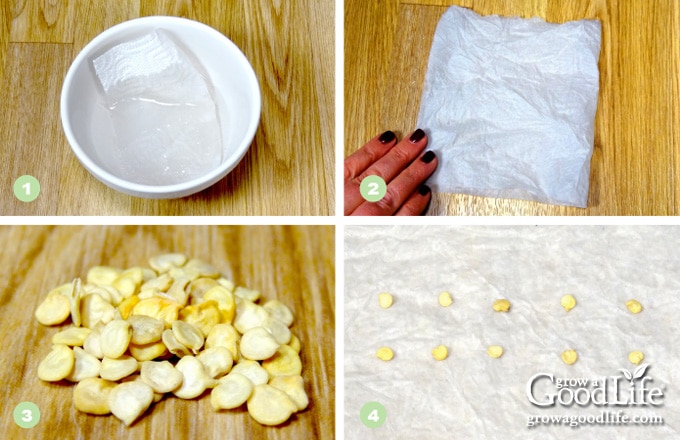 1. Moisten a paper towel and squeeze out excess water. The towel should be damp, but not dripping wet.
2. Spread the damp paper towel out on a clean surface and fold in half.
3. Select at least ten seeds from the package you are testing.
4. Spread the seeds out on one-half of the towel, so they are not touching.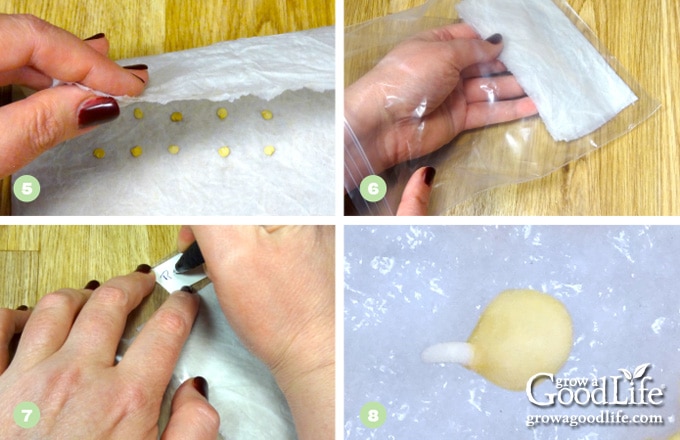 5. Fold the towel in half sandwiching the seeds between the two layers. Press down gently to make sure seeds come in contact with the damp paper towel.
6. Place the paper towel and seeds in a zipper bag and seal it to keep it from drying out.
7. Mark the bag with the date and variety of seed. Place the zipper bag in a warm place away from direct sunlight.
8. Every three days, check to see if the seeds have sprouted. Re-moisten the paper towel if it dries out.
After the predicted germination period, count the seeds that successfully sprouted and calculate the percentage that germinated out of the total tested. Example: if 9 out of 10 seeds sprout, you have 90% germination rate.
If the germination is greater than five sprouted seeds (50% percent) I will use the seeds knowing that I will have to pre-sprout the seeds or sow a little heavier to make up for the lower germination rate.

Seeds that do germinate are planted so I can observe the seedlings as they grow. If the plants are slow to grow or not healthy looking, I will throw them out and buy a fresh package. I want my seedlings to have the best shot at success.
After this simple, quick test, you will know if you need to buy new seed because the leftover seed will not sprout, or if you need to plant heavier to make up for the reduced viability.
You May Also Like:
[sc:gglnews ]