Three simple ingredients are all you need to make your own fresh, homemade egg noodles. If you keep a flock of chickens, egg noodles are a great way to use up your excess eggs.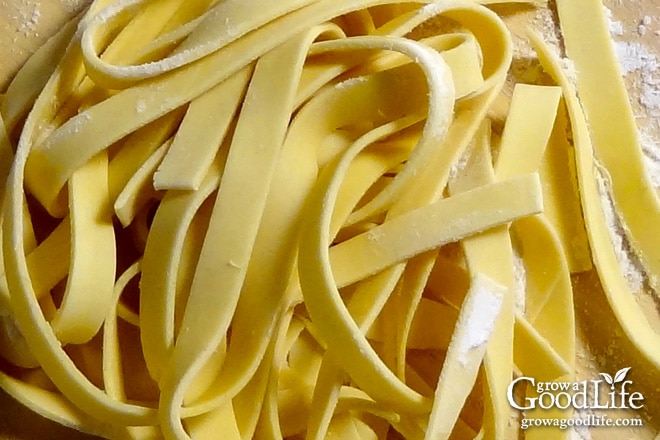 Recently, Kevin came down with a cold. When you are sick with a cold, there is nothing more comforting than homemade chicken noodle soup. I had some chicken soup in the freezer, but I didn't have any boxed pasta in the pantry. It was then that I remembered how easy it is to make your own egg noodles from scratch.
I used to make pasta from scratch all the time, but stopped after a period of pain associated with tendonitis and carpel tunnel syndrome in my wrists. Now that I am armed with additional kitchen appliances to help with kneading the dough, I couldn't wait to make my own egg noodles again. Using fresh eggs from our chickens makes homemade egg noodles extra special.
You can, of course knead the dough by hand. However, if you lack the manual strength for kneading, consider using a food processor or mixer to take on some of the labor to bring the dough together.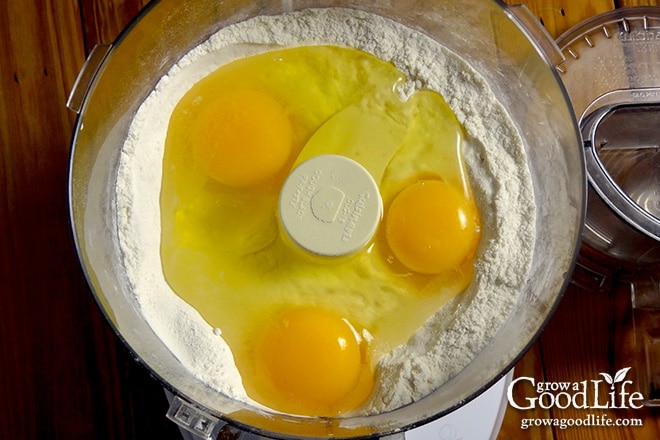 Auntie didn't have any fancy equipment. Heck, she didn't even use a recipe to make her pasta. She began with a few scoopfuls of flour on a large cutting board, made a well in the center, and added her eggs and a pinch of salt. She used her fingers to scramble the eggs and gently pull in the flour from the sides. She mixed the dough together until combined, adding flour as needed until the dough "felt" right. Then she continued kneading the dough until it formed a smooth ball.
Related: Auntie's Homemade Ricotta Gnocchi
How to Form the Egg Noodles
Here are two ways to shape the egg noodles:
Use a Pasta Machine
Running the dough through a pasta machine makes it really easy.
Start out at the thickest setting on your pasta machine. Slice off a section of dough, flatten it with your hands, and run it through the machine.
Fold the sheet into thirds and then run it through the machine two more times.
Reduce the setting to the next lower level and run the dough through the machine again. Do not fold. Run through the machine again.
Dust the dough with flour as needed to prevent sticking and keep going until the dough is 1/16″ (4 mm) thick for egg noodles.
Feel free to cut the sheets of pasta to more manageable lengths at any point in the process. Don't fret if your pasta sheets get mess up. Just fold it up, flatten it out, and begin again at the thickest setting.
Once the pasta dough is 1/16″ (4 mm) thick, cut the sheet to egg noodle size of about 2-inches, then run through the pasta machine's wide noodle cutter.
Dust the noodles with four, spread out, and set aside while you work with the rest of the dough.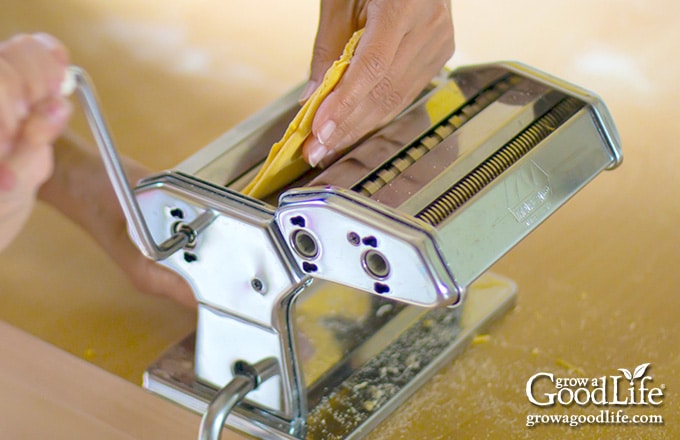 Cut the Egg Noodles by Hand
To roll your dough by hand, divide the dough into sections and roll them out one at a time.
Dust the dough, work area, and rolling pin with flour as need to prevent sticking as you roll. Lift the dough and turn frequently to also help prevent sticking. Keep rolling until the dough is 1/16″ (4 mm) thick for egg noodles.
Use a knife to cut the pasta sheets into egg noodle shapes about 2 x 1/2 inch (5 cm x 1 cm). Sprinkle flour on the noodles, spread them out, and set aside while you work with the rest of the dough.
Auntie used a rolling pin to roll out the pasta dough and cut the pasta shapes by hand with her pastry cutter or sharp knife. Cutting by hand creates a charming, rustic looking pasta that brings back warm childhood memories of large family dinners on Sunday.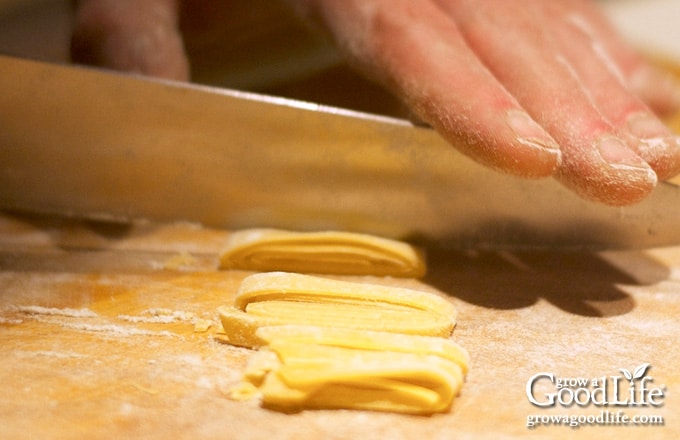 Homemade Egg Noodles Recipe
Three simple ingredients are all you need to make your own fresh, homemade egg noodles.
Instructions
Place the flour and salt in the bowl of a food processor and pulse once or twice to combine.

Add the eggs and process until the dough comes together in a loose ball. If the dough remains dry and crumbly, add about a teaspoon of water and process again. If the dough is sticky, add some flour and process again. Repeat if necessary until the dough comes together.

Remove the dough from the processor and knead it by hand briefly on a floured surface until it forms a smooth ball. Sprinkle with flour, cover with a kitchen towel, and let the dough rest for 30 minutes at room temperature.

Slice off sections of the dough and roll out to about 1/16″ (4 mm) thick using a pasta machine or rolling pin. Cut into egg noodle shapes of about 2 x 1/2 inch (5 cm x 1 cm) strips. Dust with flour and set aside.

Bring a large pot of salted water to a boil. Drop the noodles into the boiling water a few at a time and stir to keep them from clumping. Cook for 2 to 4 minutes, or until done. Drain and serve.
Nutrition
Preserving Egg Noodles for Later
There are two ways you can preserve homemade egg noodles for storage, drying or freezing:
Drying Egg Noodles: To dry your egg noodles, spread them out in a single layer onto well-floured baking sheets and allow the noodles to dry for 1-2 days, depending on the humidity. I like to place the baking sheets in the oven to keep them dust free and out of the way. Just don't forget they are in there. The egg noodles must be completely dry before you store them. You can tell when the noodles are dry, by bending them in half. They should snap easily. Once your pasta is dry, store it in an airtight container at room temperature. Dried egg noodles should last up to several months in airtight containers at room temperature.
Freezing Egg Noodles: To freeze your egg noodles, spread them out on baking sheets, place the baking sheets into your freezer and freeze the noodles for about 15 minutes, or until the individual pieces aren't sticking to each other or the pan. Once they are frozen, package them up into freezer bags and use within 6 months.
These homemade egg noodles are perfect for chicken noodle soup but can also be enjoyed tossed with some butter, Parmesan cheese, and a sprinkle of fresh herbs, or topped with homemade tomato sauce. Makes 4 to 6 generous servings.
Check out how easy it is to make your own tomato sauce from fresh tomatoes.
Get the recipe for Fresh Summer Tomato Sauce.
You May Also Like:
Good planning is key to a successful vegetable garden
Whether you are new to growing your own food or have been growing a vegetable garden for years, you will benefit from some planning each year. You will find everything you need to organize and plan your vegetable garden in my PDF eBook, Grow a Good Life Guide to Planning Your Vegetable Garden.