A tomato trellis is a freestanding structure usually made from wood or metal that is used to support the sprawling vines and heavy fruit of the tomato plant.
Providing support for your tomato plants helps keep the plants healthy, so they can produce maximum yields. The type of trellis support you will need for your tomatoes depends on the variety you are growing.
Tomatoes are one of the most popular crops to grow in the home garden. Most people who begin gardening do so with the dreams of biting into a juicy, sweet tomato picked fresh from the vine from plants that they nurtured and grew themselves.
There are thousands of different tomato varieties to choose from to grow in your garden. Tomatoes come in all shapes and sizes, including small cherry and grape, meaty round slicing, and oblong paste varieties. Their diverse flavors range from sweet to acidic and bold and earthy. Colors can range from the traditional red to pink, yellow, purple and green.
Benefits of Using Tomato Trellis Supports:
Improves Yield: Most tomato plants will grow healthier and produce a bigger yield if they are provided support to grow on. Keeping the fruit off the soil will help prevent it from rotting or becoming food for insects and slugs.
Maximizes Space: Since the plants are growing vertically, you can plant your tomato plants closer together without over crowding them.
Prevents Disease: Growing tomatoes on a trellis allows for more air circulation around the foliage. Better airflow keeps the foliage drier and less vulnerable to fungal diseases. Keeping the vines off the ground also reduces exposure to soil borne pathogens.
Increases Sun Exposure: Since the tomato plants' growth is directed upward, the fruit and leaves get the maximum amount of exposure to sunlight.
Provides Easy Access: Since the plants are upright, the tomatoes are much easier to find among the foliage. It is also easy to examine the plants for any diseases or pests.
Determinate vs. Indeterminate Tomatoes
The type of trellis support you will need for your tomatoes depends on the variety you are growing. Tomatoes are divided into two categories, indeterminate and determinate.
Determinant Tomatoes: Determinate varieties of tomatoes are also called "bush" tomatoes. These varieties are bred to grow compact plants that are about 2-4 feet tall. Determinate tomato plants grow until they reach a determined size. Then the plants stop growing and focus its energy on ripening the fruit. All the fruit of determinant tomato varieties tends to ripen around the same time. Afterwards, the plant dies.
Determinant tomatoes usually begin producing sooner so they are an ideal choice for areas with a short growing season. Determinate tomatoes are also perfect for growing in pots or self-watering planters.
Most determinate varieties need only minimal staking to support the plants. Tying the main stem of the pant to a stake or using a large tomato cage is generally sufficient to support their growth.
Indeterminate Tomatoes: Indeterminate tomato varieties are also called "vining" tomatoes. They will continue to grow and produce fruit all season until killed by frost or disease. The plants bloom, set fruit, and ripen tomatoes throughout the entire growing season. Even with a short growing season, indeterminate tomatoes and can grow up to 8-10 feet in my garden. The vines of indeterminate tomato plants need support and can benefit immensely when they are allowed to grow on a sturdy structure.
Both determinant and indeterminate varieties of tomatoes have their usefulness in the garden. Having a crop ripen around the same time is ideal for those of us who turn the tomatoes into canned tomato sauce and salsa. Tomato plants that continually produce over a long period of time result in a greater yield per plant.
9 Creative DIY Tomato Trellis Ideas
There are almost as many creative types of tomato trellis ideas as there are varieties of tomatoes to grow. Here are some tomato trellis ideas for both determinant and indeterminate varieties of tomatoes:
Tomato Supports for Determinant (Bush) Tomatoes:
The extra large, sturdy round cages that are found in your local garden centers are usually sufficient for the bush varieties of tomato plants. I use them to support my determinant tomatoes along with other crops such as eggplant, peppers, and summer squash: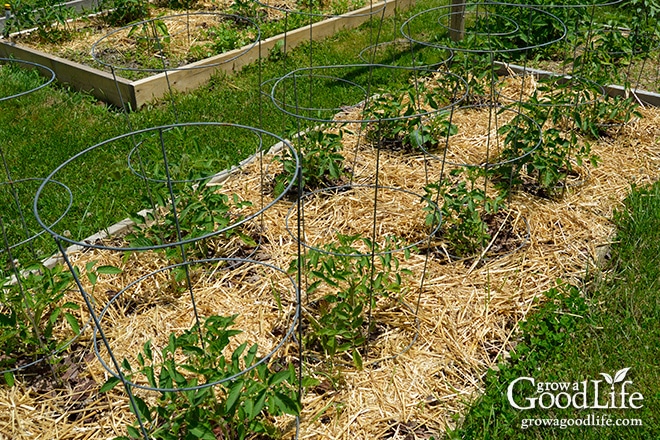 Melissa, The Empress of Dirt uses colorful round tomato cages for her determinant tomatoes that grow in containers. She adds a bamboo stake for extra support and ties the cages to her patio wall: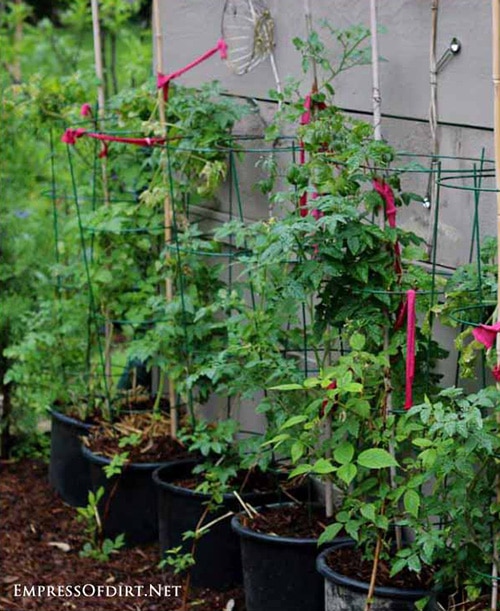 Grace Garden and Homestead built a tomato planter raised bed complete with an overhead structure to help support the tomato plants as they grow:
These square Tomato Cages from Gardener's Supply are sturdy and fold up for easy storage: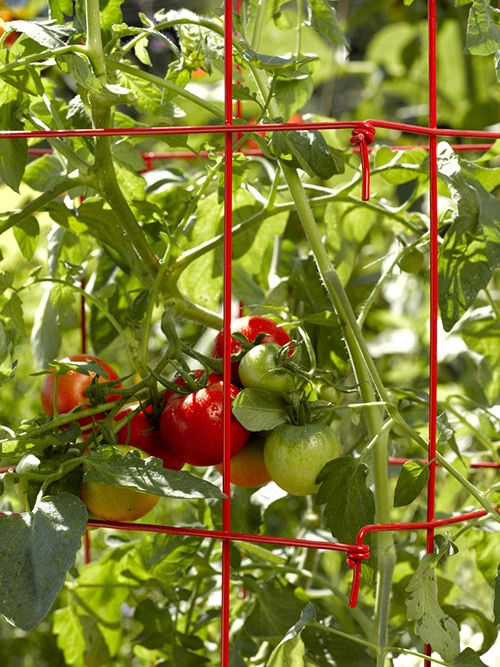 Tomato Supports for Indeterminate Tomatoes:
The round tomato cages you find in your local garden centers may be sufficient for the bush varieties of tomato plants, but they are neither strong enough nor tall enough to support the long vines and heavy fruit of indeterminate tomato varieties. For a sturdier option, consider building your own. Here are some ideas:
I use permanent trellis structures. These are attached securely to the north end of the raised beds and strung with a nylon trellis like this Vine and Veggie Trellis or reusable wire fencing. As the tomato plants grow, they are tied to the structure with cotton or jute twine.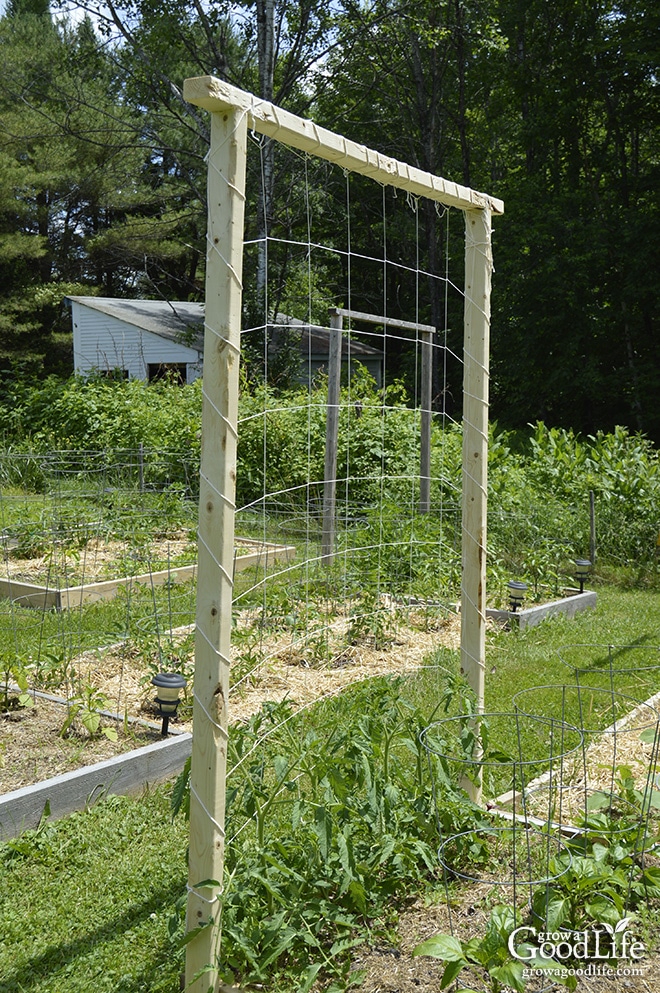 This tomato trellis method works well for my garden because I am able to rotate what is planted along the trellises each year. Indeterminate tomatoes year one, cucumbers, squash or melons year two, pole beans year three, then back to tomatoes. Crop rotation helps prevent soil borne diseases and depletion of nutrients.
Pamela at Flower Patch Farmhouse has a great tutorial on how to build a simple DIY Garden Obelisk:
Susan and her husband, Mike at Learning and Yearning designed and built this sturdy Arbor Trellis to support their tomato plants:
Teri at Homestead Honey uses durable cattle panels arched into an arbor trellis shape: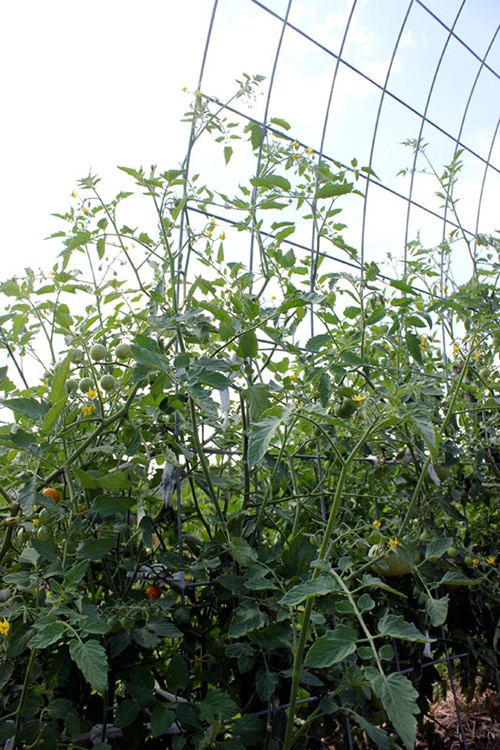 Chris creates tomato trellis supports using reclaimed wood, sturdy branches, and nylon netting at Attainable Sustainable: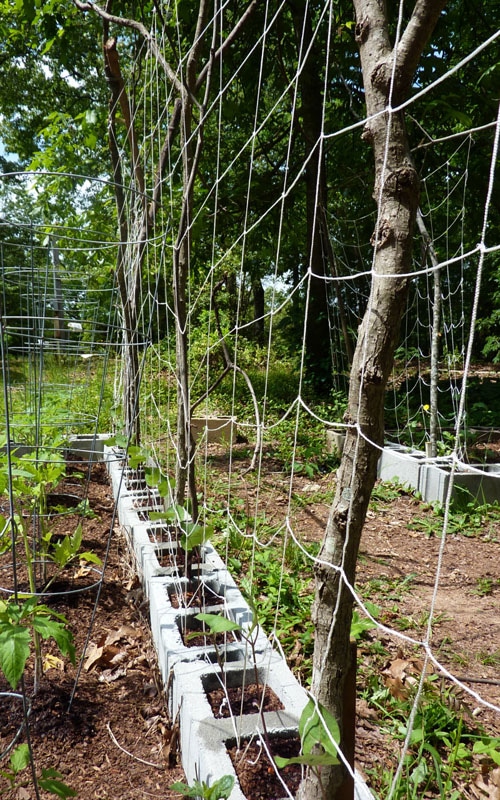 Providing support for your tomato plants helps keep the plants healthy, so they can produce maximum yields. I hope the examples presented here give you some great DIY ideas. How do you support your tomato plants? Let us know in the comments below!
You May Also Like:
Good planning is key to a successful vegetable garden
Whether you are new to growing your own food or have been growing a vegetable garden for years, you will benefit from some planning each year. You will find everything you need to organize and plan your vegetable garden in my PDF eBook, Grow a Good Life Guide to Planning Your Vegetable Garden.