These are some of the things that are going on that don't always make it to the blog but are worth acknowledging. I hoped to make it a weekly post, but with winter delayed this year there is just not much happening right now and I haven't been very motivated. Hopefully spring will arrive soon.
Snow, Snow, and More Snow.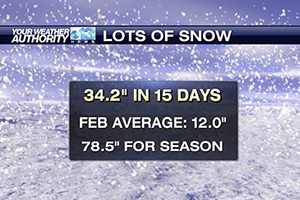 Gosh, it seemed liked it snowed so much in February. One day, we just finished cleaning up from the storm from the night before when it began to snow again. WGME, a local news station posted the graphic on the right to their facebook page. Portland, Maine has seen 78.5 inches of snow so far this season. 34.5 inches of that amount was just in February! We are about 20-miles north of Portland and I know our snowfall amounts have averaged a little higher.
Winter Keeps Its Icy Grip.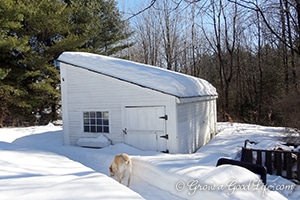 The past week has returned to cold temperatures down to negative numbers overnight. I can't remember ever experiencing negative temperatures in March until this year. The snow is about 2 feet deep and frozen. Bradie, our yellow lab can easily walk out of our fenced in yard by walking on top of the snow … and she has. Scared the dickens out of me last week when I couldn't find her. Surprisingly, she came right back when called. It has been a long time since puppy training classes and I didn't know if she would. I am so proud of her.
This has seemed like such a long winter. Usually, we don't see much snow until after Christmas. This year, the snow began piling on in December and stayed most of the winter. Spring can't come too soon!
Seed Order Arrived!
Just when the relentless snow was getting me down, my Fedco seed order arrived in the mail lifting my spirits. In this seed order and promptly sown were the Rossa Lunga di Tropea Onions. Only about half of the older Copra seeds sown a few weeks ago have germinated, so the Rossa Lunga di Tropea Onions should fill in the gap.
Seeds Sown.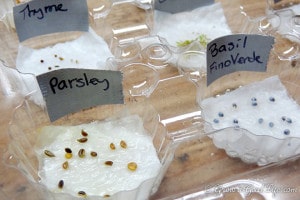 I am behind on my seed-starting schedule but it doesn't seem to matter because the garden will be late this year due to the longer winter. I have made some soil blocks and started presprouting some seeds. So far only herbs such as basil, thyme, and chamomile have sprouted. Parsley is taking its sweet time. I hope to start some spring greens this weekend.
600 Facebook Likes and Growing!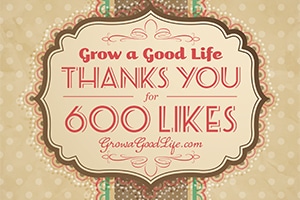 Grow a Good Life's Facebook page is growing in leaps and bounds. This week it celebrated 600 likes! Online communities continue to evolve quickly. When I began connecting online with other folks who loved gardening and homesteading, it was on gardening forums. Then many of us started blogs and we continued to share ideas and comments on each other's blogs. Now social media is opening more doors and allowing us to connect further to like-minded blogs, pages, and families who grow their own food, raise livestock, and respect their land, quality of life, and community. I am so happy to be interacting with so many bloggers and facebook pages.
Granted Membership to Homestead Bloggers Network.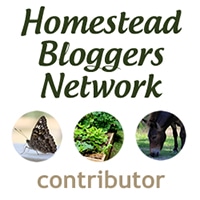 I am so thrilled to be involved with such a wonderful network of bloggers. The Homestead Bloggers Network includes like-minded folks who blog about self-sufficiency, diy, homesteading, gardening, and healthy living. The community supports and shares each other's content increasing overall reach. It is so much fun to discover new and inspiring blogs to read and learn from.
Millie Had a Rough Week.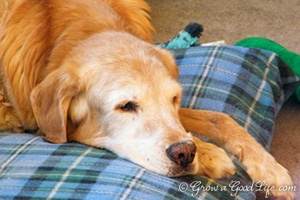 She is feeling much better now, but we were worried that she may be leaving us. Millie came to us as an old dog with many health issues that we have managed to get in control so she can live comfortably so far. Unfortunately, it doesn't take much to shift the balance.
This was another tough week. Millie had several accidents in the house. We assumed that she couldn't make it through the night and began getting up in the wee hours to let her out. Then she vomited several times. Our vet was able to squeeze in an appointment to see her Monday morning and ran a bunch of tests and found that she has UTI. So we are treating Millie for that and she is feeling much better. This week was a harsh reminder that Millie's days with us are numbered. Until then, we take each day as it comes and continue to spoil her rotten and enjoy the time we have with her.
So that is a wrap-up of some of the headlines happening here. The weather this weekend is much warmer and I have noticed the birds outside are singing their spring songs. It is a good sign that winter will be over soon.