This classic creamy, New England fish chowder uses simple ingredients and tastes like restaurant quality.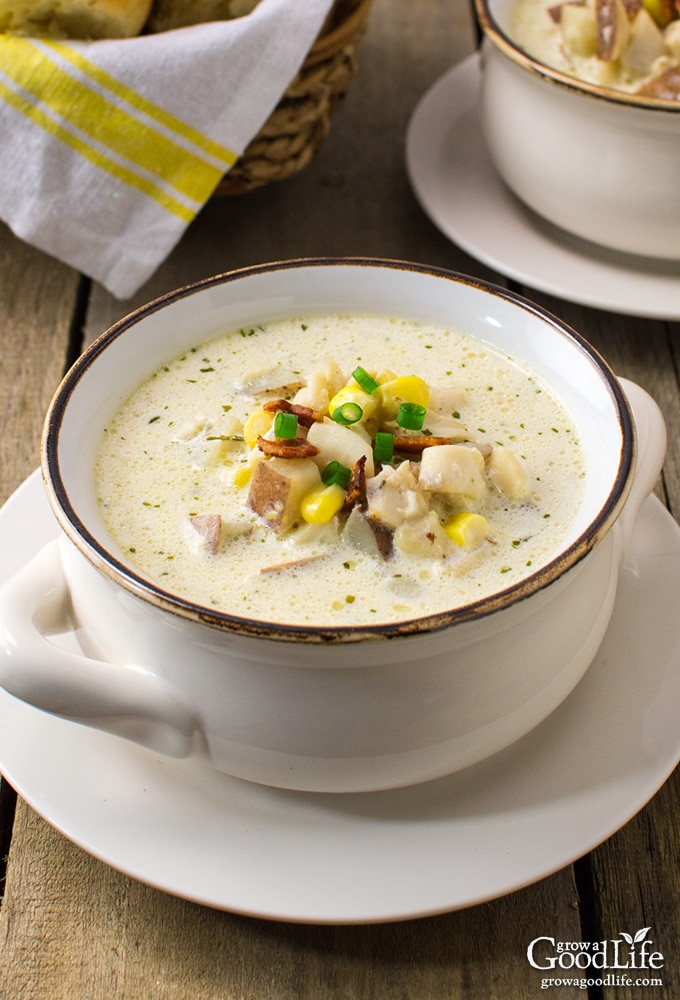 Chowders were once considered a poor man's meal. Today they are elevated to an award-winning food served in fine restaurants. Like most of the cuisines of the world, what we know as New England fish chowder came out of common sense and necessity.
The Native Americans were combining fish and seafood with available vegetables, such as beans and corn into what we know call chowder long before it was considered a recipe. The New England settlers built upon this by adding ingredients that were familiar to them such as potatoes, salt pork, herbs, and eventually milk and cream.
Chowders were a common meal for the old-time fisherman who spent months at sea. It was made from foods that could be stored on the ship for a long period of time. Among those foods were onions, potatoes, salt pork, and sea biscuits or hardtack crackers. Combine these ingredients with fresh fish and water and you have a basic chowder.
There are many variations of fish chowders throughout the world, and even among the many regions of New England. Old-fashioned recipes continue to be adapted to include new ingredients and adjusted to personal tastes. Use this recipe as a starting point and add your own twist.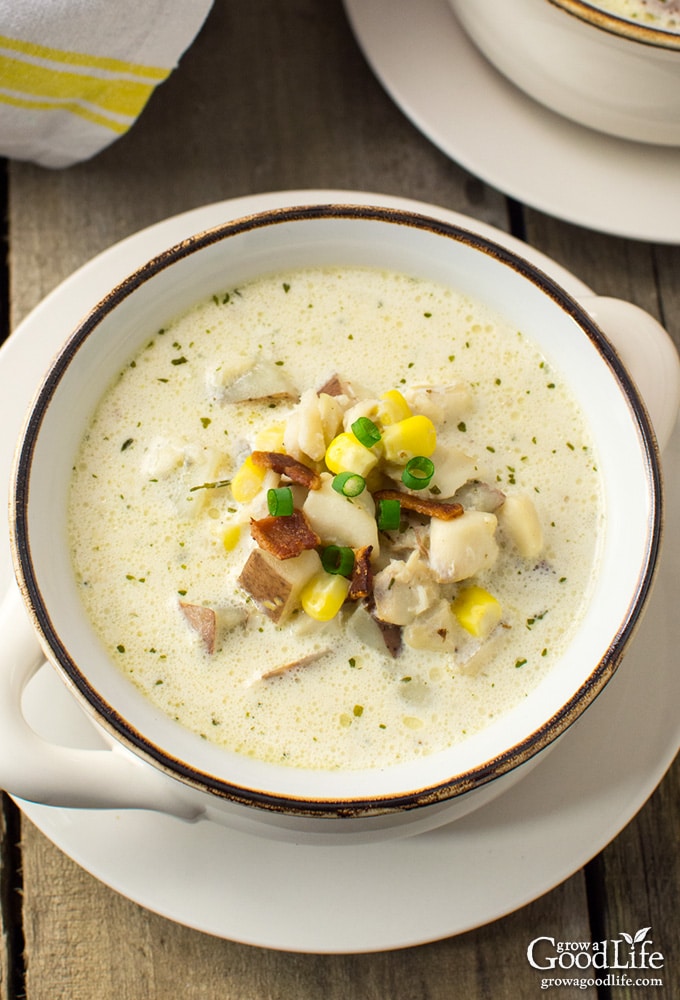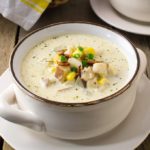 Creamy New England Fish Chowder Recipe
This classic creamy fish chowder uses simple ingredients and tastes like restaurant quality.
Servings
:
6
main dish servings
Ingredients
2

slices

bacon

1

medium

onion

chopped

4

cups

hot water

1

pound

red potatoes (3 med),

cut into 1/4-inch cubes

1

pound

skinless fish fillets (cod, haddock, or pollock),

cut into 1/2- inch pieces

1

cup

corn

2

cups

heavy cream

1

tablespoon

unbleached, all purpose flour

1

tablespoon

parsley,

minced

1/2

teaspoon

salt

1/8

teaspoon

ground black pepper

butter

green onions or chives as a garnish (optional)
Instructions
In a large saucepan over medium heat, cook bacon until crisp. Remove the bacon from the pan, place it on a plate, and crumble once it is has cooled. Set aside.

Add the onions to the bacon drippings in the pan and cook until the onions are soft, about 3-5 minutes. Deglaze the pan by adding about 1/2 cup of the water. As the liquid bubbles and simmers, scrape the bottom of the pan with a wooden spoon to release the flavor infused brown bits.

Add the rest of the water and the potatoes. Bring the pan to a boil over medium-high heat, then reduce the heat to medium and simmer until the potatoes are partially cooked, about 5-7 minutes.

Add the fish and corn to the saucepan and simmer until the fish flakes easily with a fork and the potatoes are soft, about 3-5 minutes.

Whisk the heavy cream and flour together and add it to the pan. Add the parsley, salt and pepper, and stir until the chowder is thickened. Reduce the heat to medium-low and simmer for 5 minutes longer. Serve warm in bowls topped with a pat of butter and reserved bacon. Makes 6 main-dish servings, or 10 side-dish servings.
You May Also Like:
Good planning is key to a successful vegetable garden
Whether you are new to growing your own food or have been growing a vegetable garden for years, you will benefit from some planning each year. You will find everything you need to organize and plan your vegetable garden in my PDF eBook, Grow a Good Life Guide to Planning Your Vegetable Garden.