One of the fruit trees on the edge of our property is a crabapple tree. These are often planted along with traditional apple trees to help with pollination. They are hearty trees that don't require much care.
Both crabapples and apples are in the Rosaceae family, and members of the Malus genus. Crabapples are small trees often reaching about 15-to 25-feet at maturity. The fruit is under two-inches in diameter and the flavor is very tart. My crabapples ripen before the rest of the apple trees, so I like to take advantage of their ruby goodness.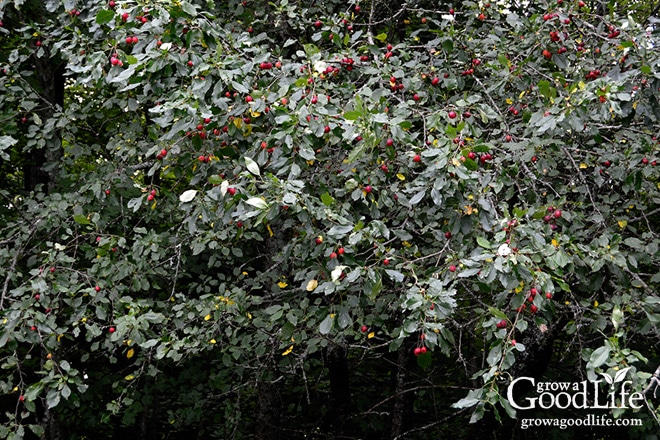 With a little sweetening, crabapples can be transformed into a delicious crabapple jelly that can be enjoyed on homemade bread, swirled into yogurt or paired with roast pork.
Crabapples have enough natural pectin so no additional pectin is needed for this Crabapple Jelly. Pectin is a naturally occurring complex carbohydrate in fruit that is concentrated in the fruit's skin and the core. When pectin is cooked, it thickens to a gel.
Select firm crabapples with no signs of insect or worm damage. Unripe fruit has more pectin than ripe fruit, but ripe fruit has more developed flavor. So try to mix about 75% ripe fruit with 25% under ripe fruit. You can tell if an apple is ripe by cutting it open and looking at the seeds. A ripe crabapple will have brown seeds and an under ripe apple will have light colored seeds.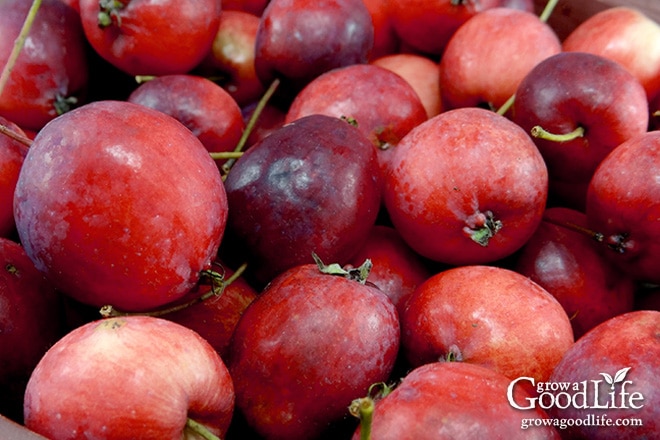 When making juice or jelly, I typically split the process over a few days to allow extra time for the juice to strain completely. This is even more important with crabapple jelly because you want to get as much of the natural pectin from the juice as you can so your jelly thickens up properly.
If you are new to making jelly, the NCHFP website has a nice description of how to tell when the jellying point has been reached: Testing Jelly without Added Pectin.
Homemade Crabapple Jelly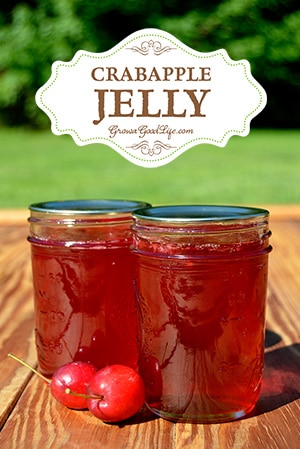 Ingredients:
3 pounds of Crabapples
3 cups water
3 cups sugar
Equipment:
Water bath canner
Large Saucepan
Small pot of water over low heat
6 half-pint jars
Lids and bands
Magnetic lid lifter
Jar lifter
Potato masher
Canning ladle
Canning funnel
Candy thermometer
Kitchen towels
Procedure:
1. Wash the crabapples plain water, remove stems, cut out any bad spots, and trim the blossom ends. Cut the crabapples in half. Use a kitchen scale to weigh out 3 pounds.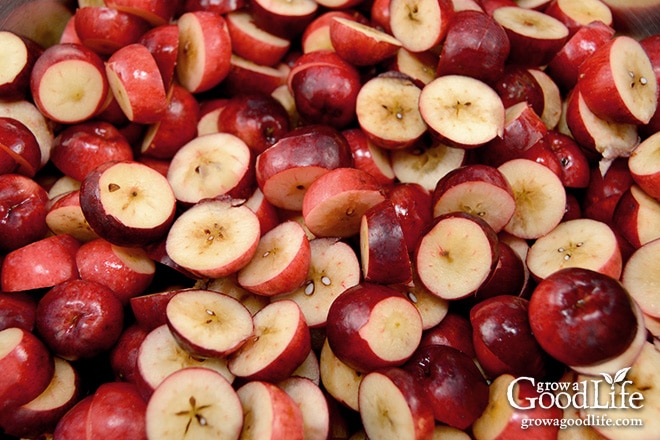 2. Extract the crabapple juice by combining the prepared crabapples in a large saucepan with enough water so that the fruit is barely covered, about 3 cups. Bring to a boil over medium-high heat, then reduce to a simmer, and cook the crabapples. Heat and simmer slowly until skins are soft, and the juices are released. Gently mash the crabapples with a potato masher and simmer over low heat for 15 minutes, stirring occasionally until the fruit is soft. Do not overcook crabapples because excess heat will destroy the pectin and change the flavor and color.
3. Strain the cooked fruit through a damp jelly bag or double layers of cheesecloth. Allow the crabapples to strain for several hours, or overnight. If you want clear jelly, do not squeeze the bag. I care more for flavor rather than appearance, so I often give the bag a squeeze to press out all the flavorful juice. Discard solids.
4. Prepare your jars and lids by washing in warm, soapy water and rinsing thoroughly. Place jar rack into water bath canner, set jars in the canner, add water, and boil jars for 10 minutes to sterilize. Warm your lids in a small pot over low heat. Keep jars and lids warm until ready to use.
5. Measure out about 4 cups of crabapple juice and pour into a saucepan, add sugar and stir to dissolve. Bring to a boil over medium-high heat, stirring constantly, until jelly stage (220°F at sea level, or until the jelly mixture sheets from a metal spoon.). Remove from heat and skim off foam.
6. Spread kitchen towel on the counter. Use your jar lifter to remove warm jars from canner, drain, and line up on the towel. Use your canning ladle and funnel and add the crabapple jelly to warm jars leaving 1/4-inch headspace. Wipe the rims. Use your magnetic lid lifter to lift lids out of the warm water, center lid on the jar, and screw on band until it is fingertip tight.
7. Using jar lifter, place jars carefully into canner leaving space in between them. Once jars are all in canner, adjust the water level so it is at least one inch above the jar tops. Add more boiling water if needed so the water level is at least one inch above the jar tops. When adding water, use the hot water from the small pot your lids were in. Pour the water around the jars and not directly onto them.
8. Cover the canner and bring to boil over high heat. Once water boils vigorously, continue boiling for 5 minutes at altitudes of less than 1,000 ft. (adjust processing time for your altitude if necessary).
9. When processing time is complete, turn off heat and allow the canner to cool down and settle for about 10 minutes. Spread a kitchen towel on the counter; remove the cover by tilting lid away from you so that steam does not burn your face. Use a jar lifter to lift jars carefully from canner and place on the towel. Allow the jars to cool for 12 to 24-hours. You should hear the satisfactory "ping" of the jar lids sealing.
10. After 12 to 24-hours, check to be sure jar lids have sealed by pushing on the center of the lid. The lid should not pop up. If the lid flexes up and down, it did not seal. Refrigerate jar and use up within a few days.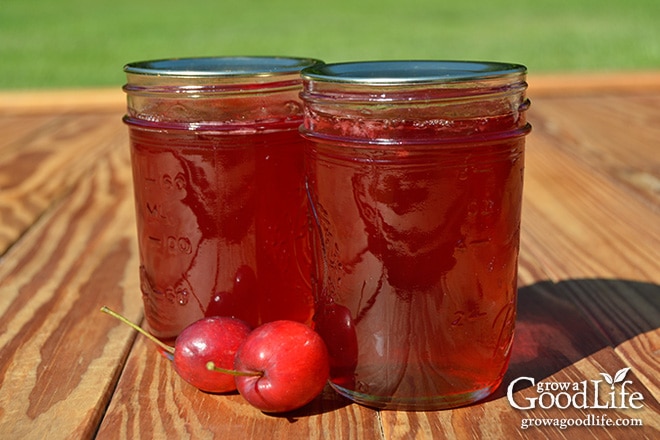 11. Remove the screw on bands and wash the jars. Label and date the jars. Store your jars in a cool, dark place and use within 12 months. Yields about 4-6 pint jars depending on the natural pectin level in your crabapples.

Additional Canning Information:
USDA Complete Guide to Home Canning
How to Can: Getting Started at the Ball Website

Granite Ware 21.5-Quart Water Bath Canner: A versatile canning kit that comes with the essential tools needed to start canning today. You'll get a 21.5-quart canner with side handles, a matching lid and jar rack. You'll be able to fill your jars quickly and safely, and the stylish porcelain exterior looks lovely in any kitchen setting. Click for more information > Water Bath Canner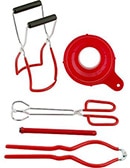 Canning Utensil Kit: This kitchen utensil set consists of different tools, each with its own specific function. Components of this home canning set include a magnetic lid lifter, canning funnel, jar lifter, jar lid wrench, and kitchen tongs. Use the lifter to extract sterilized cans from water. The funnel is designed to enable fast flow of liquid into jars. The lifter, wrench, and tongs help in handling and opening the jars. The kitchen tongs have a handle made from vinyl for better grip. The set is long lasting and is simple to use. > Canning Utensil Kit
Did you enjoy this article? Then sign up to get FREE email updates, tips, and encouragement so you can Grow a Good Life!