"I love pickles!" Kevin said as I planned the garden soon after moving to our property.
With this in mind, I intended on growing a bunch of pickling cucumbers. I was not a fan of pickles, so normally I grew only a few cucumber plants to eat fresh and in salads. However, this was the year I acquired a lot of canning jars, and I was determined to fill each one with garden grown goodness.
Cucumbers ended up exceeding my expectations that year and were my most prolific producers. I barely kept up with processing them into endless batches of pickles. I made Bread and Butter Pickles, Kosher Dill Pickle Spears, and Sweet Pickle Relish.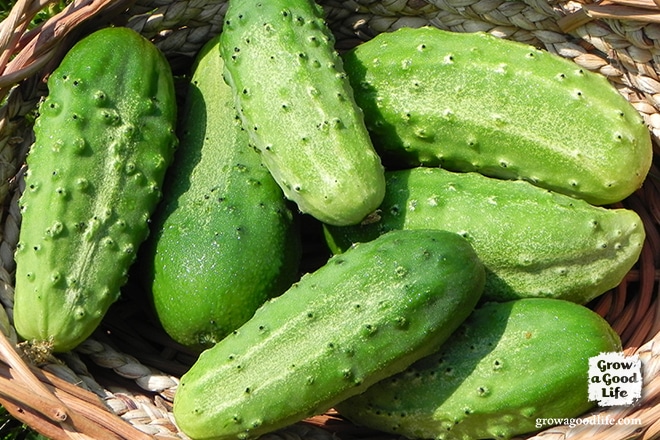 Soon my shelves were filled with jars and jars of pickles. We had so many pickles that I began asking Kevin if he wanted pickles almost with every meal. I gave jars of pickles and relish away and still had shelves full years later.
Thankfully, I learned my lesson and only plant just a few cucumber plants to provide enough for fresh eating and a few batches of canned pickles and relish. I never liked pickles until I tried Granny's Bread and Butter Pickles recipe. This pickle recipe won me over and quickly became my go-to recipe for pickles.
Granny's Bread and Butter Pickles Recipe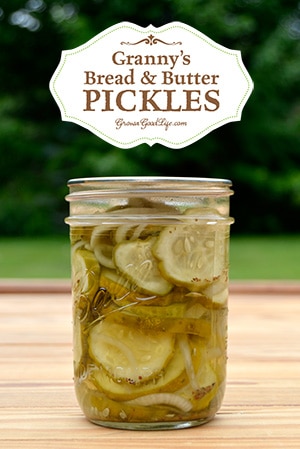 Ingredients:
6 lbs cucumbers, cut into 1/4-inch slices
2 lbs onions, thinly sliced
1/3 cup canning or pickling salt
2 cups sugar
1 tablespoon mustard seed
1 tablespoon dry mustard
1 teaspoon turmeric
1 teaspoon celery seed
1 teaspoon peppercorns
3 cups vinegar
2 quarts crushed ice or ice cubes and water
Equipment:
Water bath canner
Large pot
Small pot of water over low heat
6-7 pint jars
Jar rack
Lids and bands
Magnetic lid lifter
Jar lifter
Canning funnel
Bubble popper
Kitchen towels
Procedure:
1. Wash cucumbers, cut into 1/4-inch slices discarding ends. Peel and thinly slice onions. Combine sliced cucumber and onions a large bowl. Sprinkle salt over the top, cover with ice and water, and let stand 3 hours.
2. Prepare your jars and lids by washing in warm, soapy water and rinsing thoroughly. Place jar rack into water bath canner, set jars in the canner, add water to cover jars, and boil jars for 10 minutes to sterilize. Warm lids in a small pot of water over low heat. Keep jars and lids warm until ready to use.
3. Drain and rinse the cucumbers and onions thoroughly.
4. In a large pot, combine sugar, spices and vinegar. Heat just to a boil. Add drained cucumber and onion slices and return to boil. Reduce heat and simmer for 5 minutes.
5. Spread kitchen towel on the counter. Using your jar lifter, remove warm jars from canner, drain, and line up on the towel. Using your canning funnel, pack hot cucumber and onions loosely into hot jars leaving 1/4 inch of headspace.
6. Ladle the hot liquid over the pickles maintaining 1/4 inch of headspace. Remove air bubbles with the bubble popper and wipe the rims. Use your magnetic lid lifter to lift lids out of the warm water, center lid on the jar, and screw on band until it is fingertip tight.
7. Using jar lifter, place jars carefully into water bath canner on the jar rack leaving space in between them. Once jars are all in canner, adjust the water level so it is 2-inches over the tops of the jars. If adding water, use the hot water from your small pot.
8. Cover the canning pot and bring the water to a rolling boil over medium-high heat. Process pickles for 10 minutes (adjust processing time for your altitude if necessary).
9. When processing time is complete, turn off heat and allow the canner to cool down for 5-minutes. Spread a kitchen towel on the counter. Use a jar lifter to lift jars carefully from canner and place on the towel. Allow the jars to cool for 12 to 24-hours. You should hear the satisfactory "ping" of the jar lids sealing.
10. After 12 to 24-hours, check to be sure jar lids have sealed by pushing on the center of the lid. The lid should not pop up. If the lid flexes up and down, it did not seal. Refrigerate jar and use up within a few days.
11. Remove the screw on bands and wash the jars. Label and date the jars. Store in a cool, dark location. Allow 4-5 weeks for the pickles to develop their flavor.
If you know someone who doesn't like pickles, let them taste these pickles. Granny's Bread & Butter Pickles are so sweet that it may just convert them into a pickle lover too.




Granite Ware 21.5-Quart Water Bath Canner: A versatile canning kit that comes with the essential tools needed to start canning today. You'll get a 21.5-quart canner with side handles, a matching lid and jar rack. You'll be able to fill your jars quickly and safely, and the stylish porcelain exterior looks lovely in any kitchen setting. Click for more information > Water Bath Canner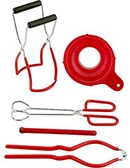 Canning Utensil Kit: This kitchen utensil set consists of different tools, each with its own specific function. Components of this home canning set include a magnetic lid lifter, canning funnel, jar lifter, jar lid wrench, and kitchen tongs. Use the lifter to extract sterilized cans from water. The funnel is designed to enable fast flow of liquid into jars. The lifter, wrench, and tongs help in handling and opening the jars. The kitchen tongs have a handle made from vinyl for better grip. The set is long lasting and is simple to use. > Canning Utensil Kit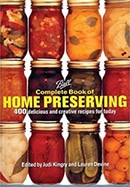 Ball Complete Book of Home Preserving: The book includes comprehensive directions on safe canning and preserving methods plus lists of required equipment and utensils. Specific instructions for first-timers and handy tips for the experienced make the Ball Complete Book of Home Preserving a valuable addition to any kitchen library. These 400 innovative and enticing recipes include everything from salsas and savory sauces to pickling, chutneys, relishes and of course, jams, jellies, and fruit spreads. > Ball Complete Book of Home Preserving


Did you enjoy this article? Then sign up to get FREE email updates, tips, and encouragement so you can Grow a Good Life!