It is common for mice to seek out a warm place for winter. Often times, they find their way into your home. Here are some tips to keep mice out of your kitchen.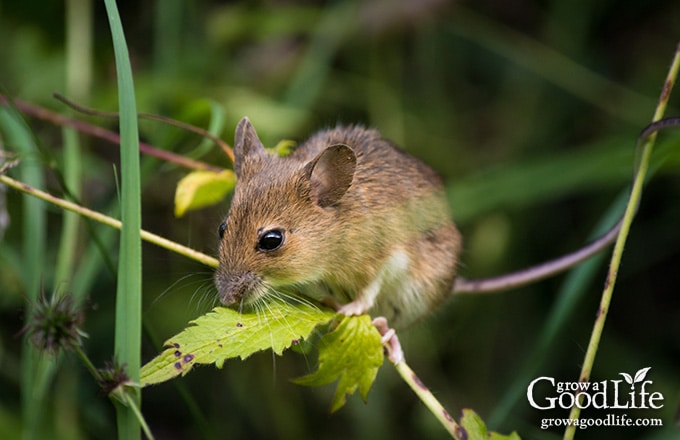 Recently, I walked into the kitchen I spotted a mouse running across the kitchen counter and jump behind the oven. Kevin pulled out the oven's bottom draw, the mouse ran out, and one of our cats, Jasmine caught it. As Kevin and I tried to get the mouse from Jasmine, she ran upstairs and set it free and it ran into our bedroom closet. Ugh!
I was planning on taking the afternoon to do some Christmas shopping. So much for my shopping plans. While our cats, Jasmine and Mysty hunted down the mouse in the closet, I spent the afternoon tearing apart the kitchen and moving the appliances so that I could search for mouse sized holes and clean everything from top to bottom. I didn't find any signs of mice in the lower cabinets, but couldn't be sure they weren't running around in there. So I pulled out all the pots and pans and washed them. Then cleaned the insides of the cabinets.
We often have mice making their way into the house to find a warm place for winter. It is just a part of living in the country. Most times they stay in the basement and some live traps and our two cats keep them in check. Of course, I would prefer to not have them in the house at all, but it is impossible to keep them out completely. Nevertheless, I have no tolerance for mice in the kitchen.
How to Keep Mice Out of Your Kitchen:
1. Reduce Population: Mice can reproduce at surprising speed. A female can have up to ten litters each year with 3-14 babies each litter. Try to trap as many as you can and get rid of them. When using no-kill traps, be sure to release the mouse far away from the house or they will find their way back. We found this mouse trap works really well. It is metal, so mice can't chew their way out.
2. Prohibit Entry: Mice can fit into very small dime-sized openings. Make sure any holes and gaps around the plumbing under your sink, around the electrical to your appliances, and behind your cabinets are blocked. Use steel wool and stuff tightly into the holes. Wear gloves to protect your fingers or use a pencil to poke it snugly into any holes.
3. Eliminate Food Source: Don't leave food out on the counters especially overnight. Wipe up all crumbs from the countertop, clean your stovetop after dinner, and sweep or vacuum the floor. Take out the trash. Rinse or wash dishes before going to bed and remember to empty the kitchen drain. Store foods in glass or plastic containers and keep pet foods in an enclosed tote or container.
4. Repel With Peppermint: Mice don't like the scent of peppermint. I mix up a spray bottle with half vinegar, half water, and a few drops of Peppermint essential oil. I use this mixture as a cleaning spray to clean the kitchen walls, cabinets, and floor. I use this spray for everyday kitchen cleanup. As an extra deterrent, I also put a few drops on cotton balls and rags and place these under the oven, sink, and beneath the cabinets.
Later that afternoon, Jasmine caught the mouse that was in the closet and it was disposed of. Good kitty.
I still wondered if there were other ways that mice could gain entry to the kitchen area. In the fall, I had done all the prevention methods mentioned above and while I cleaned I double-checked that all openings were secure and tried to find any areas missed. I didn't find any additional holes under the cabinets. I just had to wait and see if the peppermint worked to deter mice from the kitchen.
A few days later, we found out how a mouse could get into the kitchen easily as I spotted Mysty running up from the basement with a mouse in her mouth. As my mind was still wrapping itself around what I was seeing, Mysty set the mouse free in the living room. Eek!!
So what do you do when there is a mouse running around your living room?
I have spent hours trying to capture frightened mice in the house that one of the cats proudly brought to me. They are extremely quick and agile when running for their lives.
I have found that their instinct is to seek out a safe place to hide. I have discovered tossing a towel on the mouse usually stops it in its tracks because it thinks it is under cover and hiding. Then you can carefully place an inverted container over the mouse, slide the towel out, then slide something flat underneath to enclose the mouse so that it can be disposed of.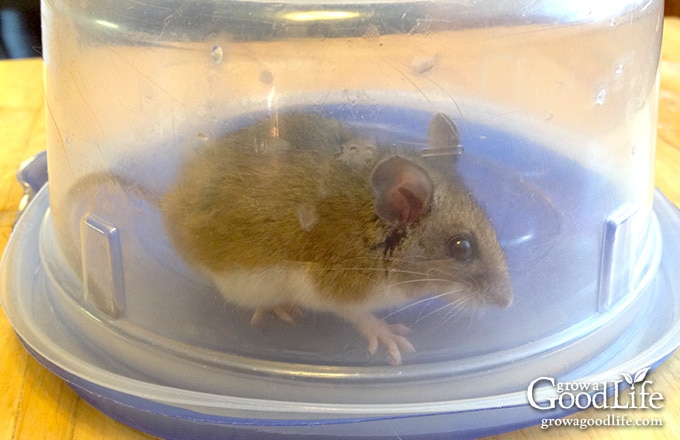 Usually, I call Kevin for help at this point and he takes the container far away from the house and releases the mouse.
You May Also Like
Good planning is key to a successful vegetable garden
Whether you are new to growing your own food or have been growing a vegetable garden for years, you will benefit from some planning each year. You will find everything you need to organize and plan your vegetable garden in my PDF eBook, Grow a Good Life Guide to Planning Your Vegetable Garden.