This chicken paillard dish is served with a flavorful mushroom marinara sauce — and is quick and easy to prepare at home. Get dinner on the table in 30-minutes!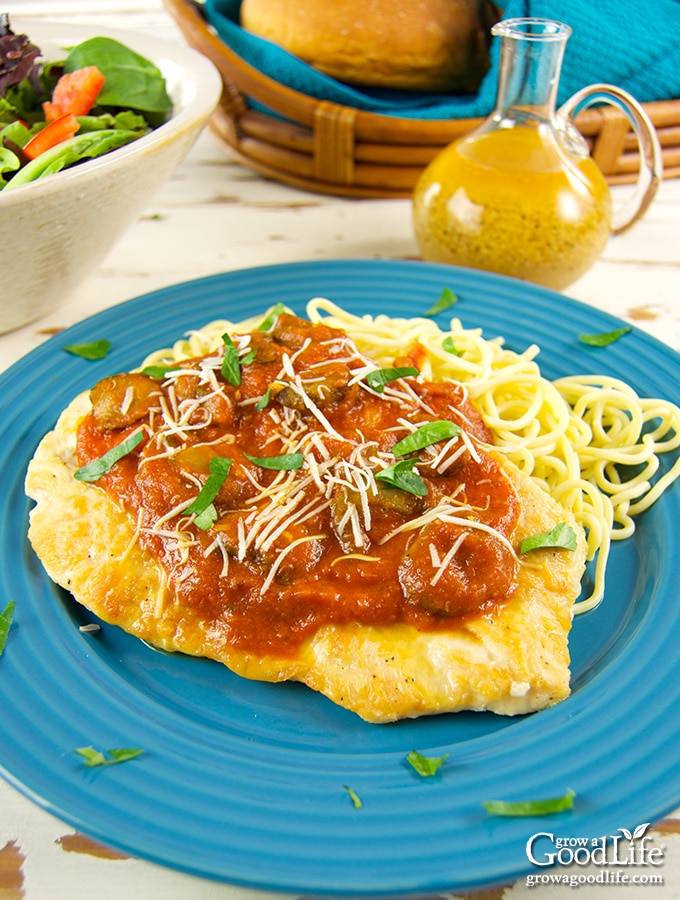 This is a toss together recipe that I have been making for years. To be honest, I didn't know what "paillard" was when I began experimenting.
I just knew I wanted to pound the boneless chicken breast thin so it would cook quickly and evenly. It worked so well, that I ended up using variations of this recipe over and over.
"Paillard" is a French cooking term for a thinly pounded piece of meat. When you pound chicken breasts into thin cutlets, the meat browns and cooks evenly. Pounding also helps tenderize the meat.
How to Paillard Chicken Breasts
1. Trim your chicken breasts. Use a sharp knife and cut away any fat and membranes. If your chicken breasts are large, go ahead and butterfly them first by slicing them in half part way, and flipping the top over before pounding.
2. Place one chicken breast on a non-porous cutting board. Layer a sheet of plastic wrap over the chicken breast. I often re-use the freezer zipper bag that I store my chicken in. You can also use the plastic wrapping from the chicken package or fresh plastic wrap. You just want something to protect the breast meat from splitting.
3. Pound the chicken thin. Starting at the thick end, pound the chicken breast with the flat side of a meat mallet or rolling pin until it is uniformly to 1/2-inch thick. Set the flattened chicken breast in a plate and repeat with remaining breasts.
Steps to Making Chicken Paillard and Mushroom Marinara Sauce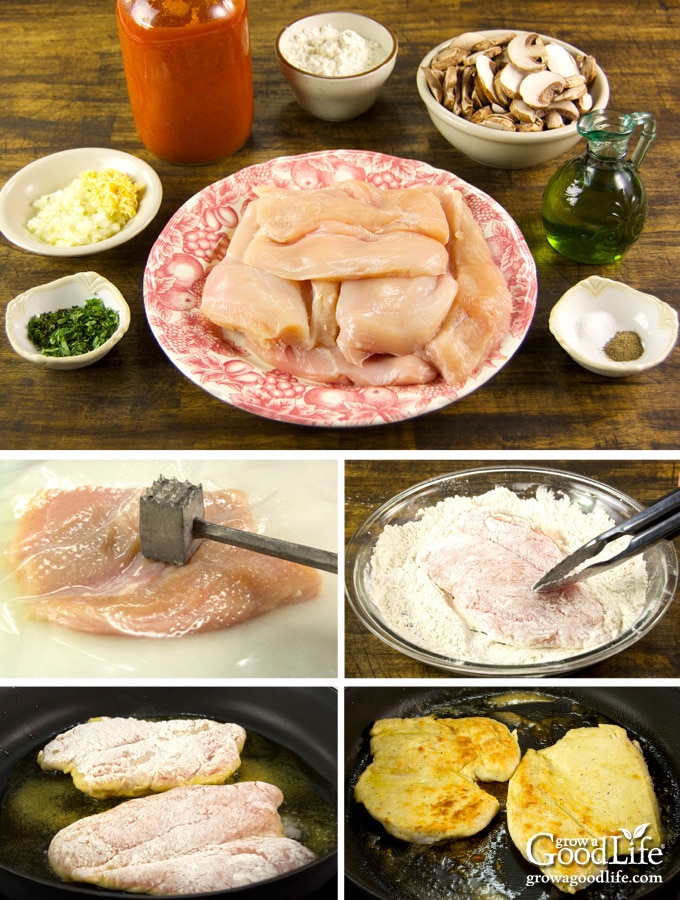 Pound or paillard the boneless chicken breasts thin so they will cook up quickly in a skillet.
Dredge the chicken cutlets in seasoned flour so it will develop a light, golden-brown crust when pan-fried.
Preheat your skillet over medium-high heat. Add your olive oil and butter. When the pan is hot, add your prepared chicken breasts and brown on each side.
After the chicken is cooked, remove it from the skillet to a baking sheet and pop it into a warm oven while you make the mushroom marinara sauce.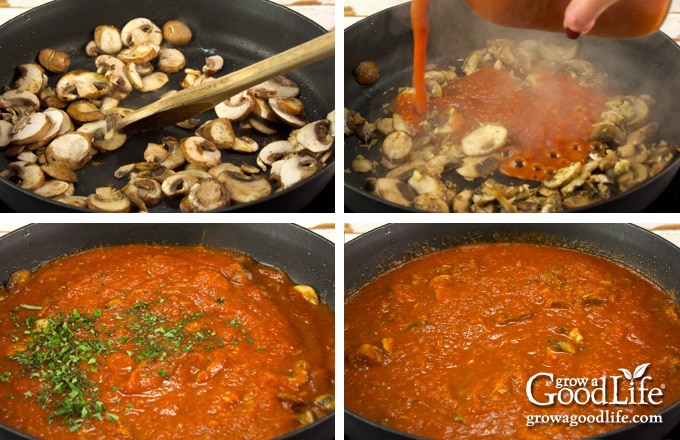 Use the flavorful drippings left over in the skillet as the base of the tomato mushroom sauce. Add mushrooms and garlic to the pan drippings and sauté until softened. Add crushed tomatoes, herbs, and simmer to allow the flavors to mingle.
Layer pasta, chicken, sauce, and grated Parmesan cheese and you have a delicious meal in less than 30 minutes.
Consider serving with roasted garlic rosemary bread and a side salad with homemade Italian salad dressing to round out the meal.
Chicken Paillard with Mushroom Marinara Sauce
This chicken paillard dish is served with a flavorful mushroom marinara sauce -- and is quick and easy to prepare at home.
Instructions
Bring a large pot of salted water to boil. Add the pasta and cook and drain according to the package directions.

While the pasta is cooking, heat a large skillet over medium-high and preheat your oven to 150˚F (65˚C).

In a large, shallow dish, combine flour salt and pepper.

Dredge the chicken cutlets in the seasoned flour, shake off excess, and place on a clean plate. Repeat with the remaining chicken breasts.

Add the olive oil to the skillet. When the oil shimmers, add the chicken, and cook until lightly browned, about 3 minutes. Turn the chicken over, and cook 3 minutes more. Remove chicken to baking sheet and place in the preheated oven to keep warm. Repeat with the remaining chicken breasts.

Add the mushrooms and garlic to the drippings in the skillet and cook until tender and lightly browned, about 5 minutes.

Add the crushed tomatoes, Italian parsley, thyme, oregano, basil, and salt and pepper. Stir to combine, reduce heat to low and simmer for about 10-15 minutes.

Plate the pasta and place the chicken cutlets on top. Ladle the tomato mushroom sauce over the chicken and pasta. Garnish with reserved chopped parsley and Parmesan cheese. Serves 6-8.
Nutrition
Calories:
399
kcal
|
Carbohydrates:
58.4
g
|
Protein:
24.3
g
|
Fat:
9
g
|
Saturated Fat:
1.1
g
|
Cholesterol:
77
mg
|
Sodium:
144
mg
|
Potassium:
1647
mg
|
Fiber:
6.9
g
|
Sugar:
14.1
g
|
Calcium:
710
mg
|
Iron:
0.7
mg
You May Also Like: