This homemade blueberry syrup sweetened with honey lets the true fruit flavor stand out. You can use fresh or frozen berries in this blueberry syrup recipe. Enjoy in tea, in yogurt, as an ice cream topping, or try a fruity twist on pancakes this weekend.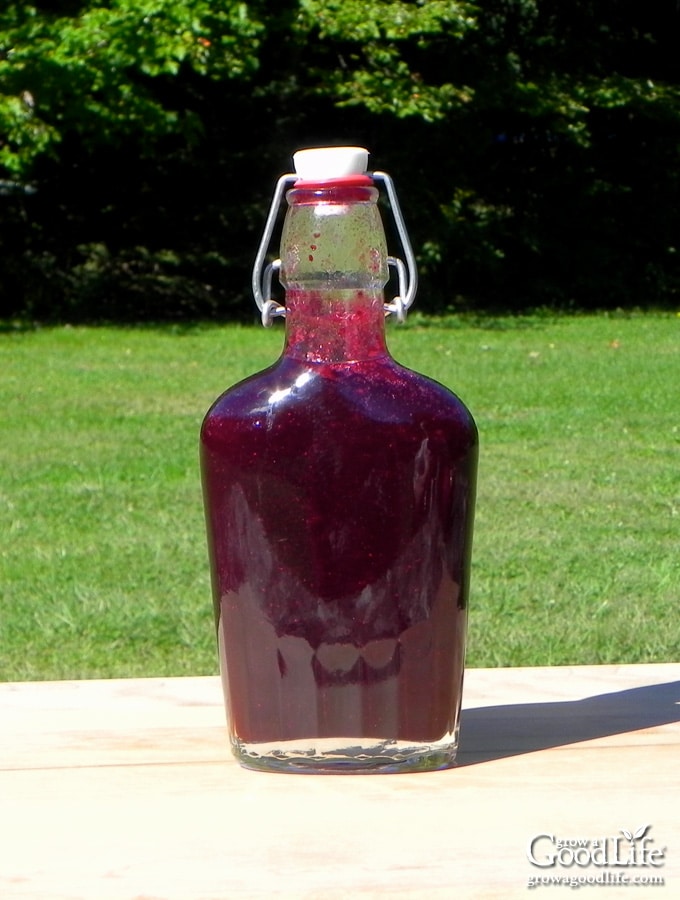 We're big fans of blueberries here in New England.
While I was growing up, it was an annual family ritual to visit our favorite spots each year in late July through August and pick as many wild blueberries as we could in an afternoon. Many of these were eaten fresh or in a cup with a little milk and sugar. The majority of the bounty was frozen to enjoy all year. It was always a treat when my Auntie delivered freshly baked blueberry goodies.
Our local picking grounds were along railroad tracks that cut into a granite hillside. Summer cottage vacations always seemed to have a patch of wild blueberries growing nearby too and I have warm memories of eating fresh blueberry muffins every morning during our vacations at the lake.
Our acidic soil is the perfect environment for both wild and cultivated blueberries. Wild, lowbush blueberries grow in a dense carpet from underground runners or rhizomes. They tend to be found in dry, open ground, sunny meadows, down dirt roads, and along hiking trails.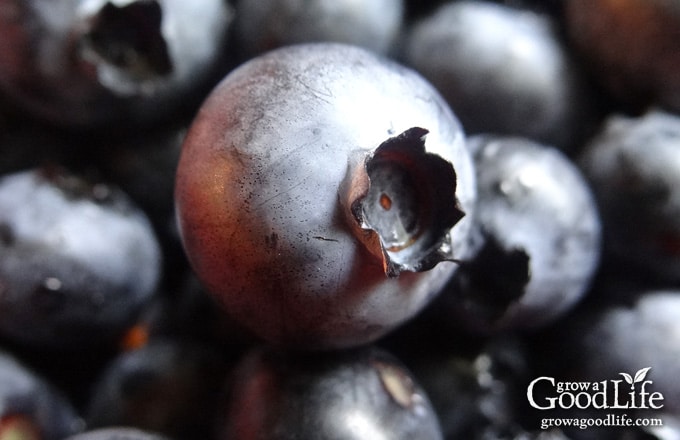 Blueberries are considered a "Superfood" and are packed with nutrition, antioxidants, and are a great source of fiber. Just one cup of raw blueberries provides 114 milligrams of potassium, 24% of the suggested daily intake of Vitamin C, and 14% of the recommended daily fiber. Antioxidants in blueberries include anthocyanins, which might help fight cancer and flavonoids that may improve learning and cognition.
We didn't know much about the health benefits of blueberries when I was a young. We just knew they tasted good and were a free source of fruit for our family to enjoy. It was also fun to forage for the ripe fruit and discover bushes heavy with berries as we scrabbled along the trails and brush.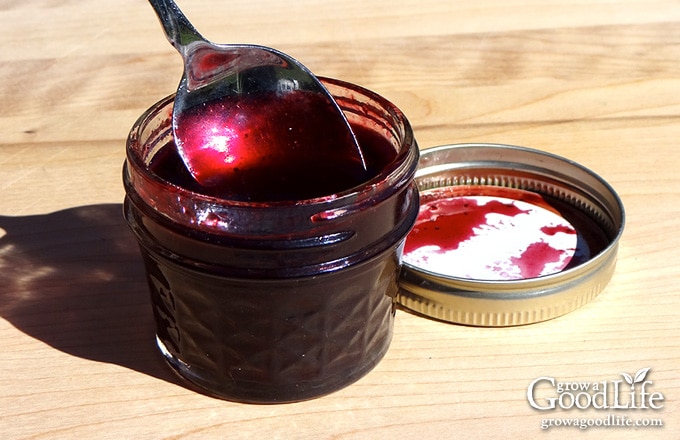 When we purchased our property, there were eight mature high bush blueberry plants lining the driveway. Like their wild counterparts, these plants require very little care and continue to produce pounds of berries each year.
This year, the harvest began the last week of July and we picked every day for almost a month, ate our fill, and managed to stash some in the freezer to enjoy later. One of the things I experimented on this year is blueberry syrup.
After a few batches and a few modifications, I am very happy with this recipe. We soon discovered that we also enjoy blueberry syrup with honey drizzled over warm pancakes, stirred in yogurt, and as an ice cream topping. I am sure we will discover other uses.
Steps to Making Blueberry Syrup with Honey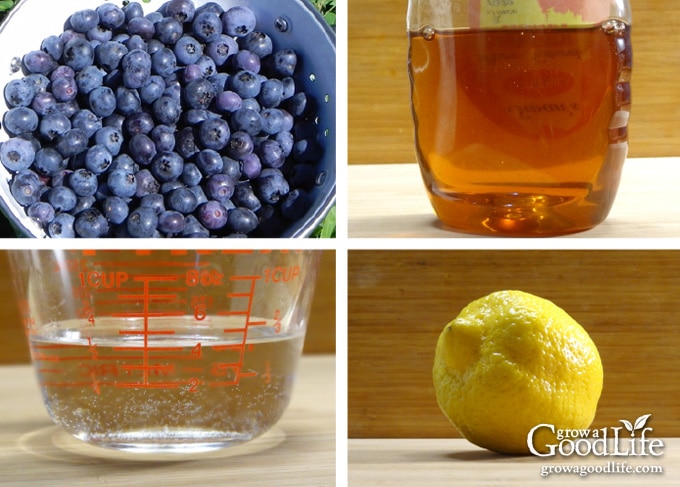 Step 1: Peel several strips of zest from the lemon, and then juice the lemon. Set aside.
Step 2: Juice the blueberries by combining them with water in a pot over low heat. Once the blueberries soften, mash them with a potato masher and stir and simmer until the juice is extracted. Strain the juice and discard the solids.
Step 3: Add the juice back into the pan. Add the lemon zest and honey. Bring to a boil and simmer to thicken. Add the lemon juice, boil for one minutes more, and then remove the blueberry syrup from the heat. Discard the lemon zest.
Step 4: Serve warm or let the blueberry syrup cool, pour in to clean jars or bottles, and refrigerate.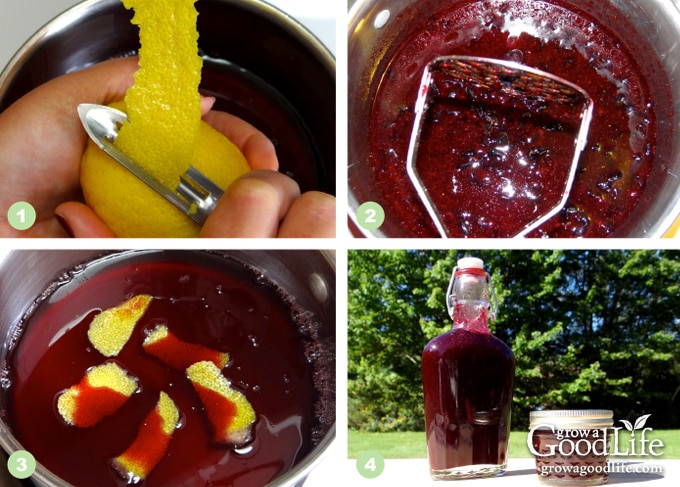 Homemade Blueberry Syrup with Honey
This simple blueberry syrup with honey recipe can be made with fresh or frozen blueberries. You can also use other varieties of berries such as strawberries, raspberries, blackberries, cherries, or a mix of berries.
Ingredients
4

cups

blueberries

1/2

cup

honey

1/2

cup

water

1

lemon
Instructions
Using a paring knife or vegetable peeler, peel five 1-inch strips of zest from the lemon then juice the lemon reserving 2 tablespoons of lemon juice. Set aside.

Extract the blueberry juice by combining blueberries and water in a saucepan over low heat. Gently mash the blueberries with a potato masher and simmer over low heat for 15 minutes, stirring occasionally.

Strain the juice into a heatproof bowl, pressing hard on the solids. Discard the solids.

Return the blueberry juice to the saucepan. Add the lemon zest and honey. Mix to combine.

Bring the saucepan to a boil over medium-high heat until the mixture thickens enough to coat the back of your spoon or registers 225°F on a candy thermometer, about 10 minutes

Add 2 tablespoons of lemon juice. Continue stirring and boil over medium-high heat for 1 minute.

Remove from heat, discard lemon zest, and allow the blueberry syrup to cool.

Pour into just-cleaned bottles. Cover and refrigerate. Use within 2 weeks.
Nutrition
Are you interested in preserving a large batch? Then refer to this safe canning recipe from Ball.
Sources and Further Reading:
You May Also Like:
Good planning is key to a successful vegetable garden
Whether you are new to growing your own food or have been growing a vegetable garden for years, you will benefit from some planning each year. You will find everything you need to organize and plan your vegetable garden in my PDF eBook, Grow a Good Life Guide to Planning Your Vegetable Garden.