This week the tomatoes are coming in at a much quicker pace, along with pole beans, peppers, lettuce, and summer squash. Each morning, I walk out to the garden with harvest basket in hand and I work my way though the garden picking whatever is ripe. Most days look like this:
I've been harvesting the tomatoes partially ripe to save them from insect and critter damage. It doesn't take long until they ripen on the kitchen counter. Juliet continues to produce the majority of the tomato harvest along with some Heinz 2653:
There were enough ripe tomatoes to make our first batch of fresh salsa:
This week, the Roma and Amish Paste tomatoes will be ready too:
A few zucchini and more crookneck squash. The yellow crookneck squash plants escaped the deer damage and are putting out a lot of fruit. I dehydrated a lot of this weeks harvest for winter soups.
The potatoes are finished growing and the foliage is almost dead. The majority of the tubers will be left in the ground until fall to allow the skins to toughen up before harvesting and storing for winter. Until then, I am harvesting as needed for fresh eating:
There was a lot of excitement in the mini-coop this week. Emily (Silver Laced Wyandotte) laid her first egg last week and coached the other two this week as they took their turn in the nesting box: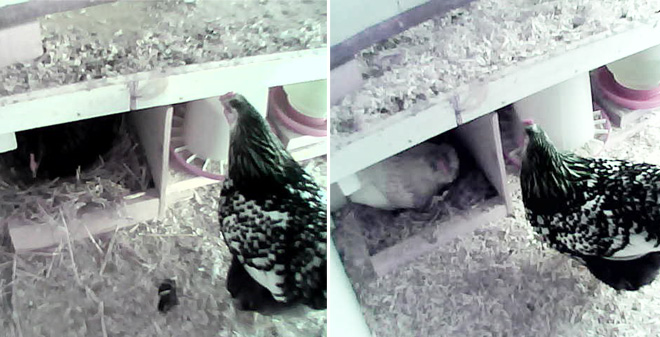 Soon Claire (Cuckoo Marans) began adding her dark brown eggs to the daily gathering. A few days later, Phoebe (Easter Egger) added her beautiful blue eggs:
Hot, sticky, humid late summer temperatures turned into humid and rainy days by the weekend. The garden needed the rain, but the increased dampness will allow fungus and disease to spread easily. Early blight is beginning to take hold on the bottom branches of the tomato plants and is rising upwards. I am observing a big difference in the garden beds that were amended heavily with compost made from the chicken manure. These plants are much healthier. We will see how they do next week.
That is all for harvests this week. See what others are gathering from their gardens at Daphne's Dandelions.
Never miss a post. Sign up for the free Grow a Good Life Newsletter and we'll send you an email with all the new articles posted on the website: