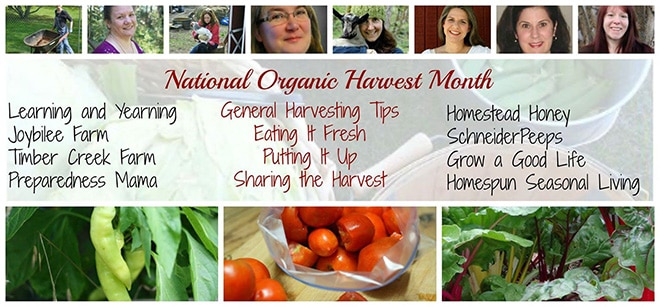 [ssba]
In 1992, the Organic Trade Association named September as "National Organic Harvest Month." The objective of Organic Harvest Month is to bring awareness to the value of organic agriculture and the growing organic products industry from farm to marketplace and in your own backyard garden.
I have partnered with some remarkable bloggers to bring you an entire month long celebration of National Organic Harvest Month including harvesting tips, recipes, preserving, sharing, and how to prepare your garden future harvests.
Please be sure to check out their tips and more: Kathie from Homespun Seasonal Living – Teri from Homestead Honey – Chris from Joybilee Farm – Susan from Learning and Yearning – Shelle from Preparedness Mama – Angi from SchneiderPeeps – Janet from Timber Creek Farm
Celebrate National Organic Harvest Month:
[pt_view id="04b6d8a2e0″]
Recipes Using the Harvest:
[pt_view id="d007ffd34a"]
Preserving the Harvest:
[pt_view id="a5bc84c199″]
Preparing for Future Harvests:
[pt_view id="45442c2c2b"]
Good planning is key to a successful vegetable garden.
Whether you are new to growing your own food or have been growing a vegetable garden for years, you will benefit from some planning each year. You will find everything you need to organize and plan your vegetable garden in my PDF eBook, Grow a Good Life Guide to Planning Your Vegetable Garden.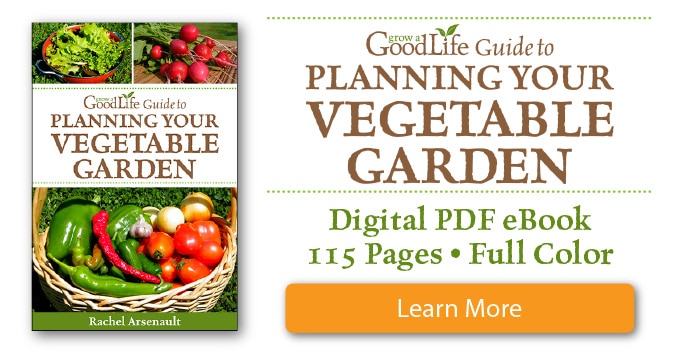 Never miss a post. Sign up for the free Grow a Good Life Newsletter and we'll send you an email with all the new articles posted on the website:
[ssba]