Make your own chive blossom vinegar. See how easy it is to infuse vinegar with a subtle onion essence and a purple blush of color.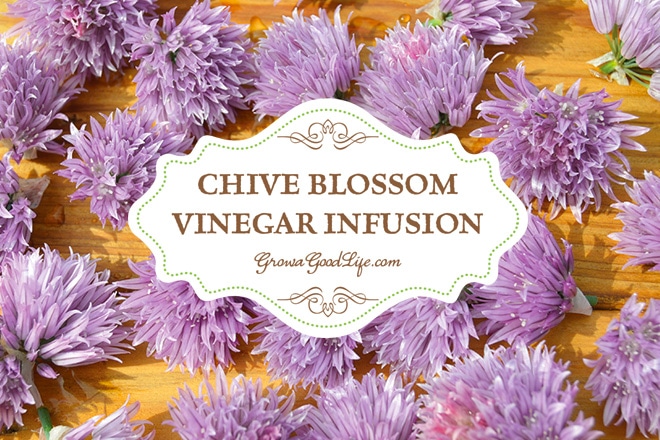 The chive plants are in full bloom right now. In addition to the two clumps growing in the garden, I have at least six different clusters around the property. The majority of these extra plants are self-sowed and pop up in unexpected places at the edges of the yard.
Most often the only way I know they are there is when I see as splash of color when their purple orb flowers bloom this time of year. The pollinators love the blossoms and I often leave the flowers to mature, go to seed, and surprise me again next season.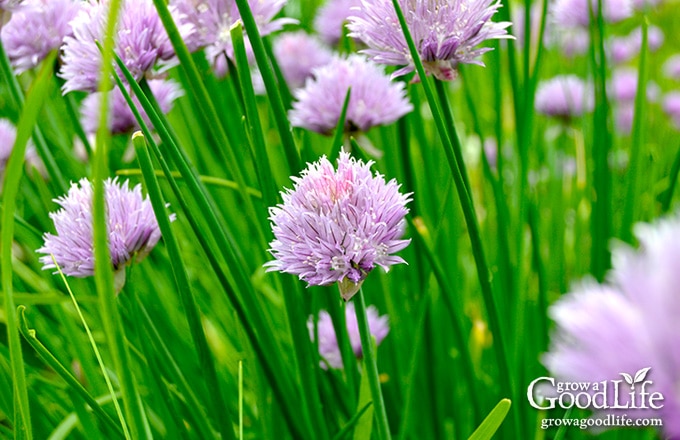 Chive blossoms are edible and have a mild onion flavor that compliments any dish that you would use onions in. I often snip apart the florets and add to scrambled eggs or sprinkle them in a green salad. They add a nice subtle onion essence and a purple pop of color. Another way I enjoy chive blossoms is infusing them into chive blossom vinegar.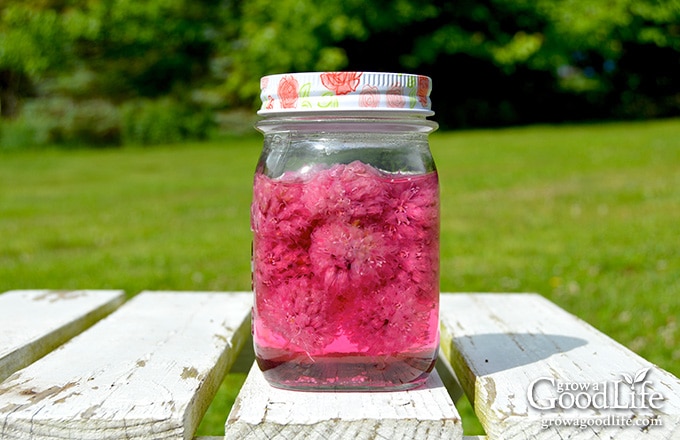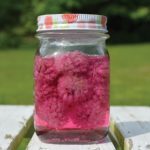 Chive Blossom Vinegar Infusion
Use chive blossom vinegar in marinades, salad dressings, and wherever you would normally use vinegar. It makes a lovely hostess gift too.
Ingredients
2

cups

chive blossoms

enough to fill a pint jar

1 1/2

cups

white wine vinegar

or champagne, rice, or distilled white
Equipment:
1

small saucepan

1

pint

jar

1

kitchen towel
Instructions
Rinse the chive blossoms in water and spread them out on a clean kitchen towel to dry.

In a small saucepan, warm vinegar over medium low heat to a simmer (not boiling). Turn off heat.

Loosely pack chive blossoms into a clean glass pint jar.

Carefully pour warm vinegar over chive blossoms leaving about a 1-inch space at the top of the jar. Cover the jar and store in a dark, cool location for 3-4 days.

Once the vinegar has infused and turned a lovely shade of purple, strain out the blossoms and store vinegar in a clean glass jar or bottle. Compost the spent chive blossoms.
Use chive blossom vinegar in marinades and salad dressings (Try this Mason Jar Chive Vinaigrette Recipe), and wherever you would normally use vinegar. It makes a lovely hostess gift too.
You May Also Like:
Good planning is key to a successful vegetable garden.
Whether you are new to growing your own food or have been growing a vegetable garden for years, you will benefit from some planning each year. You will find everything you need to organize and plan your vegetable garden in my PDF eBook, Grow a Good Life Guide to Planning Your Vegetable Garden.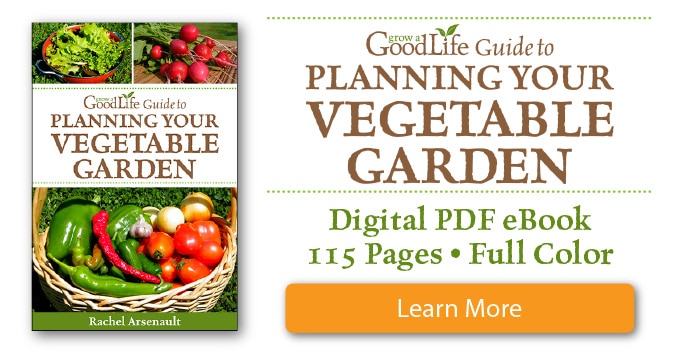 Never miss a post. Sign up for the free Grow a Good Life Newsletter and we'll send you an email with all the new articles posted on the website: