I have gathered together on this page some resources and products I feel may benefit some of you on your own personal journey to Grow a Good Life. Please check back periodically because I will be updating this page from time to time.
Disclosure: I am an affiliate of some of these companies, which means that I receive a small commission if you purchase from the site through my link. This commission helps support Grow a Good Life and is at no additional cost to you. Please know that the companies featured here are evaluated and chosen carefully. I only recommend products or services I personally use or believe will add value to you.
Gardening:

Soil Block Makers are spring-loaded tools that form and compress the soil mixture into blocks. Once ejected, each block has an indentation at the top of the cube to plant your seed.  Soil Block Makers are available at Amazon and other places online. Seek out the quality Ladbrooke brand and it will last forever.
> See Soil Blocks for Growing Seedlings
Favorite Seed Companies:
Fedco is a Maine cooperative seed and garden supply company that has operated since 1978 in Maine. The seeds I have ordered over the years have always been high quality. Fedco is a great source of certified-organic cultivars and regional heirloom varieties.
Johnny's Selected Seeds is an employee owned Maine seed company originally established in 1973 that offers a wide variety of certified-organic, hybrid, open-pollinated, and heirloom vegetable, herb, and flower seeds. Seeds I have ordered have high germination rates and produce healthy plants.
Pinetree Seeds is a family owned and operated business out of New Gloucester, Maine. Pinetree Garden Seeds was founded in 1979 with a mission to offer high quality seeds in smaller quantity seed packages that are affordable and more manageable for a typical home gardener. Offerings include heirloom seeds, gardening tools, books, live plants, and soap making supplies.
Education: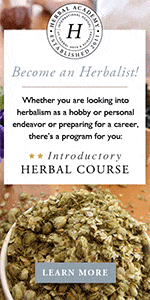 Herbal Academy Online Courses: No matter where you are in your herbal studies, the Herbal Academy has a training program for you!