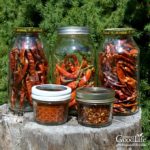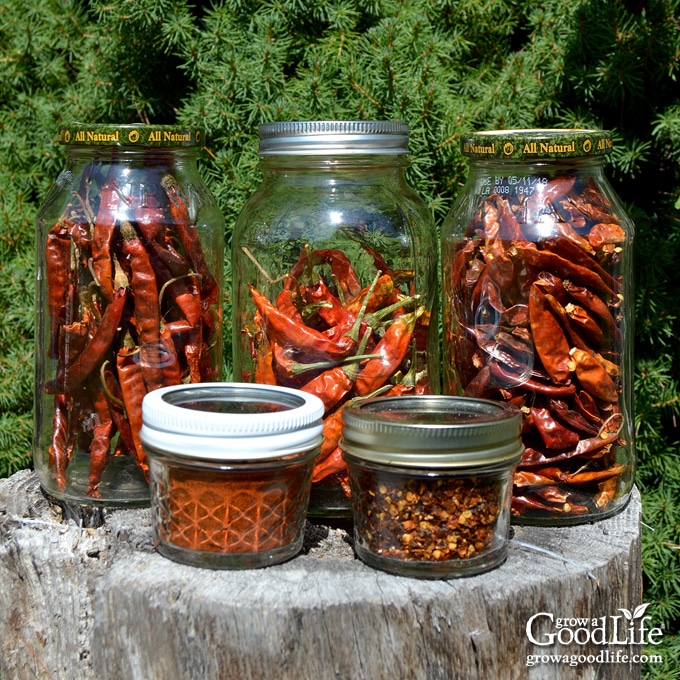 Print Recipe
How to Dry Peppers for Food Storage
Whether you found a great deal on peppers at the farmers market or harvested a bumper crop of chiles, you can turn that bounty into a shelf stable pantry staple that will add lots of flavor to your meals. Here are 3 ways to dry peppers for food storage.
1

pound

hot chile peppers

about 10 to 12 peppers

1

pound

sweet bell peppers

about 4 to 5 peppers
Air Drying Chili Peppers
Choose thin walled hot peppers for air-drying. Thick bell peppers will not dry fast enough and may begin molding.

Thread the chilies on string. Use a needle and thread to string the peppers together through the stems. Leave space in between the peppers for airflow.

Hang the chili peppers to dry in an area with good airflow and sunshine. Depending on the humidity in the air, this method can take 3-4 weeks until the peppers are fully dry.
Dehydrating Peppers with a Food Dehydrator
Small chilies can be dried whole. Bell peppers will dry quicker cut into pieces. Remove the stems, seeds, membranes, and cut bell peppers into uniform pieces.

Spread the pieces out on the drying screens and set the temperature between 125˚F and 135˚F (or per your food dehydrator's instructions).

Swap the screens frequently and remove the peppers that are dry. Dehydrating time can take 4-12 hours depending on the peppers.
Drying Peppers in the Oven
Cut larger peppers into uniform pieces so they dry quicker. Small peppers can be dried whole. Use gloves when handling hot peppers.

Spread the peppers out on baking sheets and place in a 150˚F oven. Leave the door open a crack to allow moisture to escape.

Check on the peppers every 30 minutes and rotate and remove the ones that are dry. Depending on the peppers, drying in the oven can take 1-2 hours.
Serving:
0.5
g
|
Calories:
2
kcal