Homemade food gifts are always remembered because they are personal and come from the heart.
I love preserving extra salsa, jam, and jelly each year for gift giving. I package these up in gift baskets along with some homemade cookies, breads, and other complimentary specialty items.
Since I am not very crafty, I reached out to my blogging friends and asked if they would share their homemade and hand crafted gift ideas. I am honored to curate an amazing assortment of creative and inspirational projects for making personal gifts for everyone on your list. I will be sharing these projects in the upcoming weeks as the holidays grow near. For now, please enjoy some delicious homemade food gifts that even the non-crafty folks can make.
Over 20 Homemade Food Gifts from the Kitchen
Show your foodie friends and loved ones that you care by giving homemade edible gifts that they will truly enjoy. Need some ideas? Here are some culinary inspired presents that you can make in your kitchen:
Tinctures, Extracts, and Infusions
Tinctures, extracts, and infusions need at least 2-4 weeks for flavors to develop fully. There are so many possibilities that you may become addicted to exploring different flavors. Start making these early and you will be ready to bottle several up to give to someone special.
Homemade Jams, Jellies, and Condiments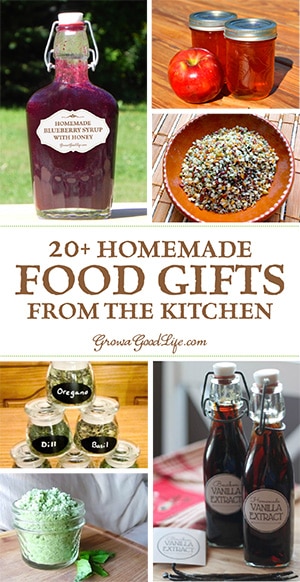 Giving homemade food gifts from homegrown ingredients from your garden makes the present extra special. If you preserve your own food, you may have plenty of jam and jelly to give away as presents. Dress up your jars with labels, ribbons, and add to gift baskets or gift bags:
Herb and Spice Blends
If you grow your own herbs, dehydrate extra so you can give some away as gifts. Or purchase quality herbs in bulk and create your own homemade spice blend combinations. Package these up in sweet jars or tins and add a decorative label.
Treats and Baked Goodies
Homemade sweets and baked goods are always appreciated presents and hostess gifts. Wrap up these treats in decorative gift bags or tins, dress them up with ribbons and labels, and give them as festive food gifts to family and friends.
DIY Culinary Kits
Overwhelmed with all the ingredients and instructions needed to make your own home made food gifts? Then consider these easy use kits. Each kit contains all the ingredients, step-by-step instructions, and containers to make your own homemade food gifts.
What homemade gifts will you give this year? Let us know in the comments. Don't miss the other posts in the series: +15 Bath and Body Gifts and 10+ DIY Gifts for the Home!
You May Also Like: